The World's Best Holiday Markets and Festive Towns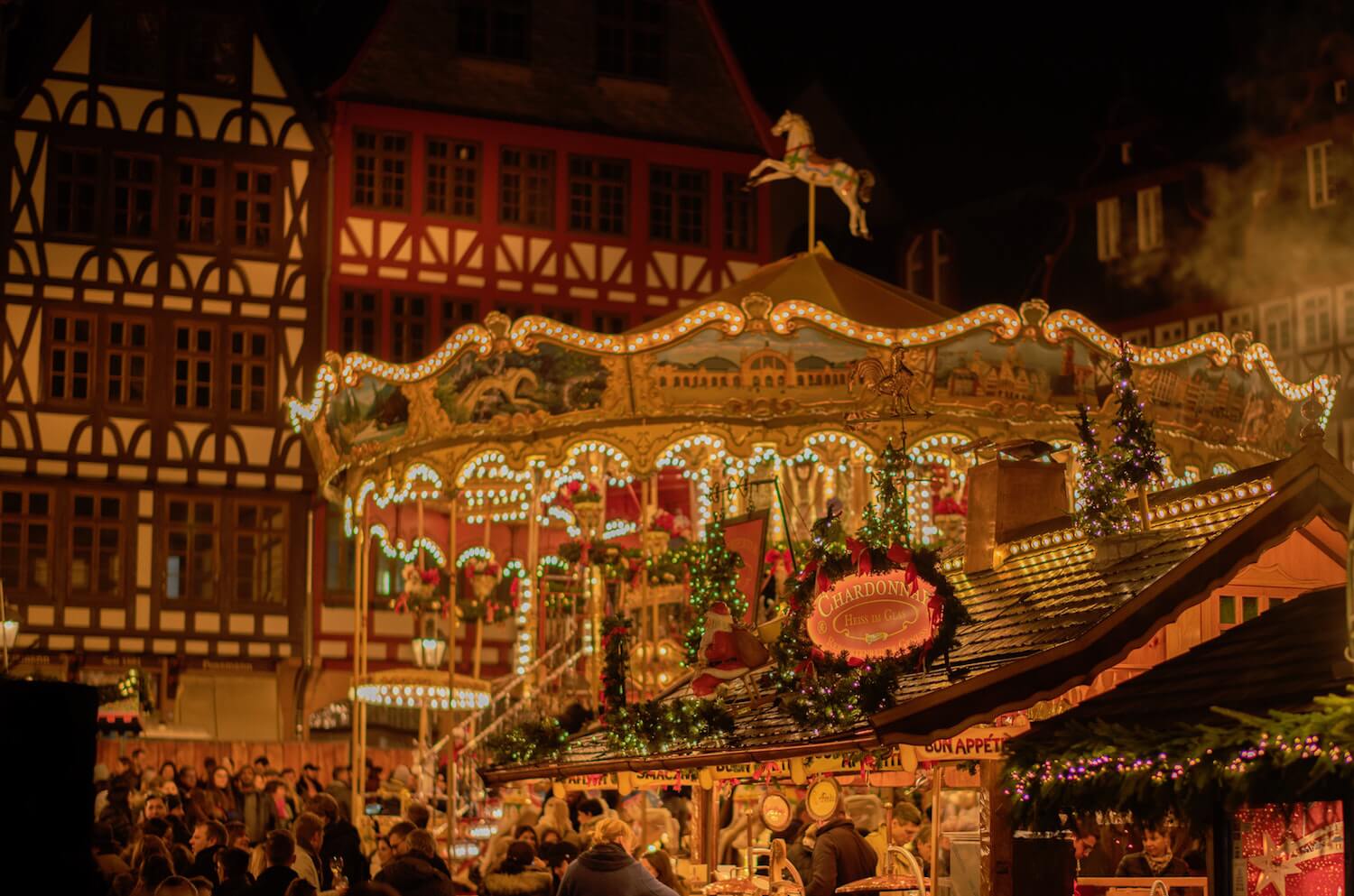 The World's Best Holiday Markets + Festive Towns
Nothing evokes festive feelings like sipping warm boozy beverages, shopping from little stalls and gliding around the ice skating rink at a holiday market. If you're looking for a change of scenery this year, these festive towns have yuletide magic in spades.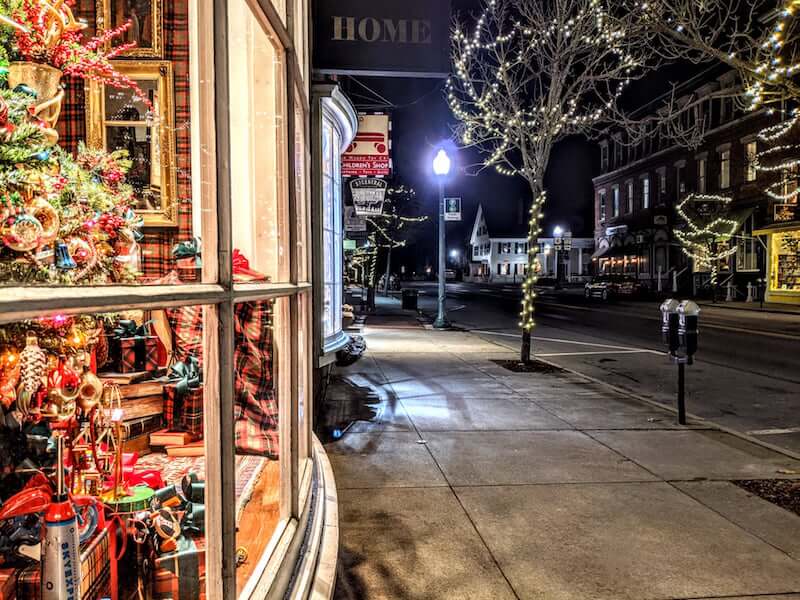 Wassail Weekend in Woodstock, VT
Cradled by Vermont's Green Mountains – an area that epitomizes every season – Woodstock is a big hit with tourists all year round, but it's during the holidays that the town shines brightest. Every year in December, Wassail Weekend sees Woodstock's historic homes and shops draped in festive sparkles, streets occupied by horse-drawn carriages and sidewalks illuminated by rows of lanterns. Find yourself a window seat in a cozy restaurant and watch as the snow swirls and settles.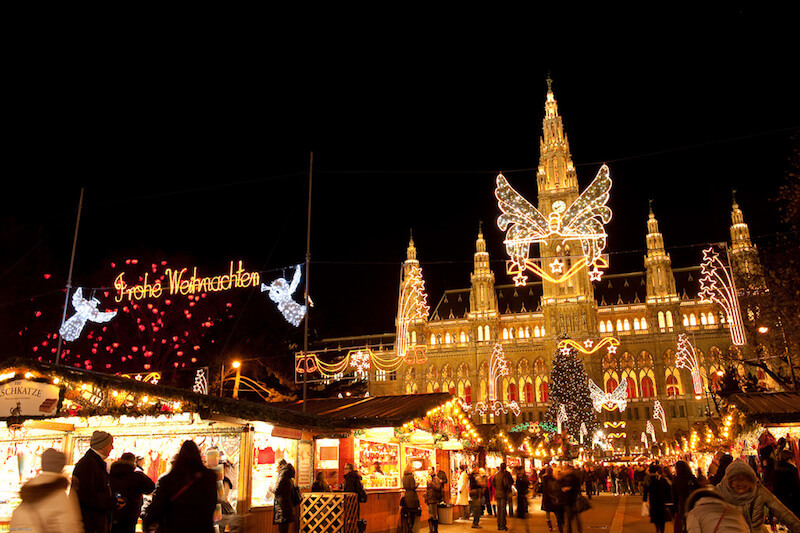 Vienna's Christmas Markets
Vienna's Christmas markets are rumored to date all the way back to the Middle Ages. Though the tradition has grown and evolved since then (there are now 20 separate locations across the city), the city's elegant historic architecture is still the perfect backdrop for festive revelry. Perhaps the most striking of all is the Vienna Christmas Dream Market – a twinkling sprawl of over 100 stalls arranged in front of the gothic, cathedral-esque towers of City Hall. Post-shopping spree, stay for a hot punch and a spin around the ice "landscape," which encompasses a giant rink and skating path.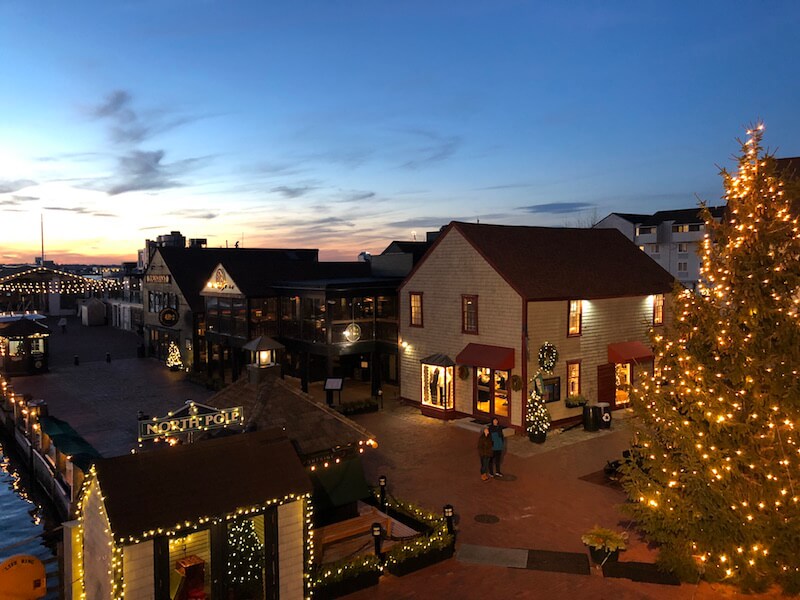 Christmas in Newport, RI
The port city of Newport, Rhode Island is famous for its annual summer regatta, but travelers looking for a holiday season getaway will find plenty to love in winter, too. December 1st marks the start of Christmas in Newport, a tradition celebrating its 50th anniversary in 2020. Attend the Bowen's Wharf Tree Lighting, join a Holiday Lantern Tour led by the Newport Historical Society, or visit The Breakers and The Elms, two Newport mansions festively decorated with vibrant poinsettias, extravagant wreaths and lavishly ornamented Christmas trees.
Yuletide festival in Taos, NM
At the annual Yuletide Festival in Taos you'll find caroling, crafting, bonfires, concerts and lots of opportunities to buy the artisanal art, textiles, jewelry and ceramics this artsy town is famous for. During daylight hours, hit nearby ski slopes, soak in steamy hot springs, or hike the Rio Grande Del Norte national monument. Return once night falls to soak up the ambiance of Taos' famous adobe buildings illuminated by hundreds of glowing farolitos (paper lanterns).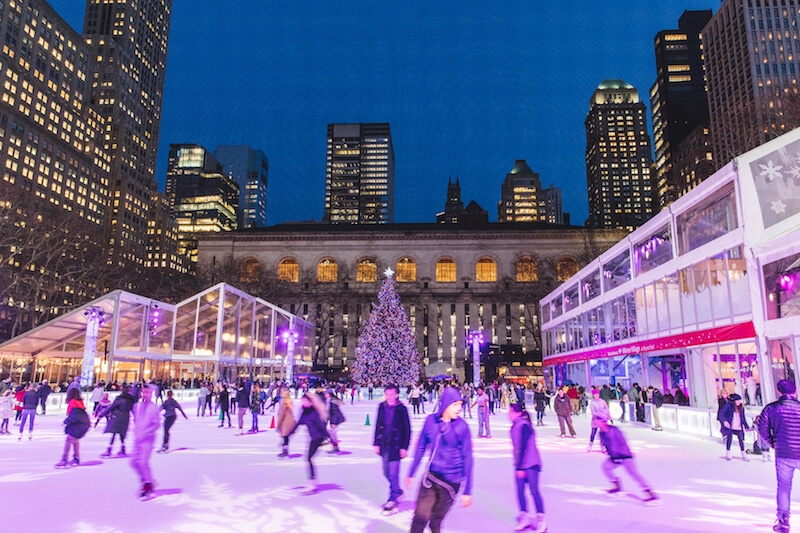 Bank of America Winter Village at Bryant Park, NYC
If you've ever marveled at New York's infectious energy, try visiting during the holiday season, when bars get a kitsch festively themed makeover, ice rinks are erected in everybody's favorite parks, carolers sing on the street corners, and a plethora of unique seasonal shows play on theater stages. NYC has more than its fair share of festive markets too, and our top pick is the Bank of America Winter Village at Bryant Park. Browse the stalls, guzzle some glühwein and circle the city's only free ice skating rink.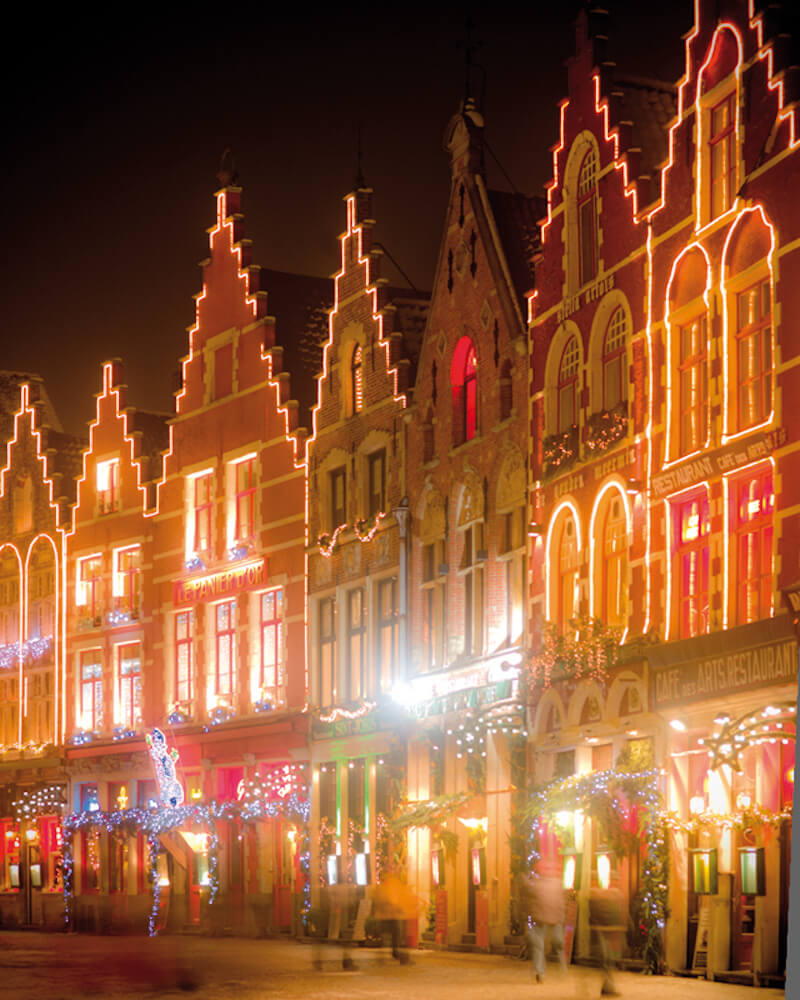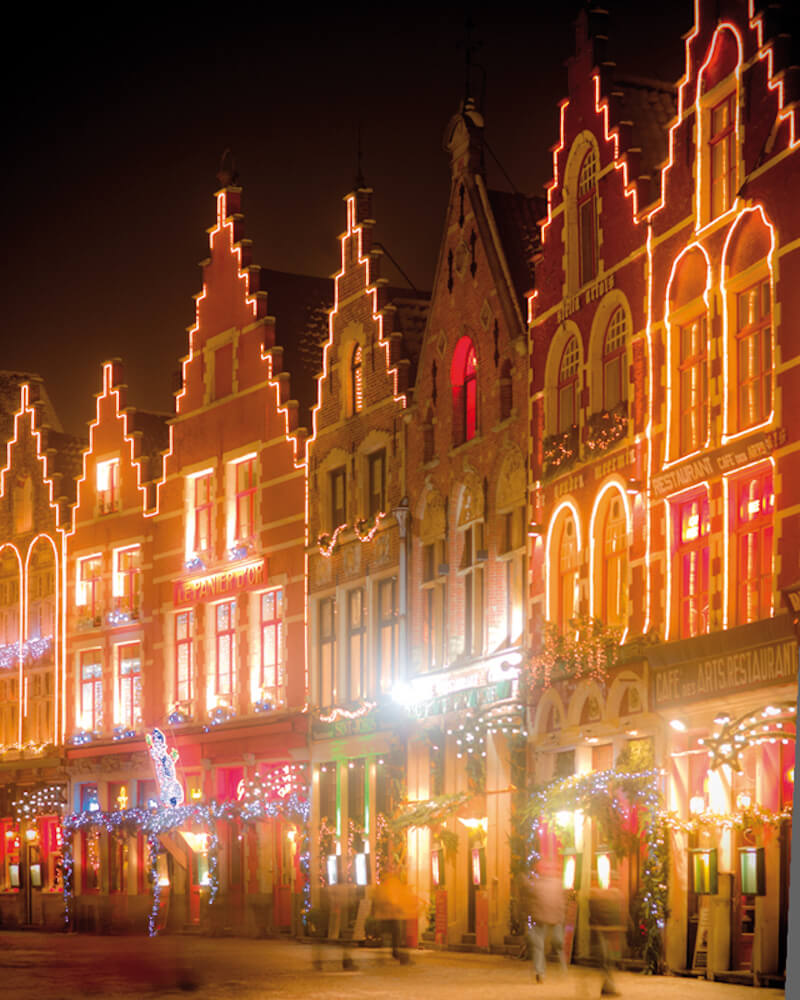 Bruges Winter Glow, Belgium
Belgium is up there with Germany when it comes to European destinations that excel at Christmastime ambiance (though German cities have largely canceled the festivities for 2020). This year, Bruges, arguably the country's coolest city, is pausing its popular market in favor of a more social distance-friendly event dubbed Winter Glow. Follow an illuminated trail through 10 locations, soaking up famous landmarks resplendent with glittering lights and decorations.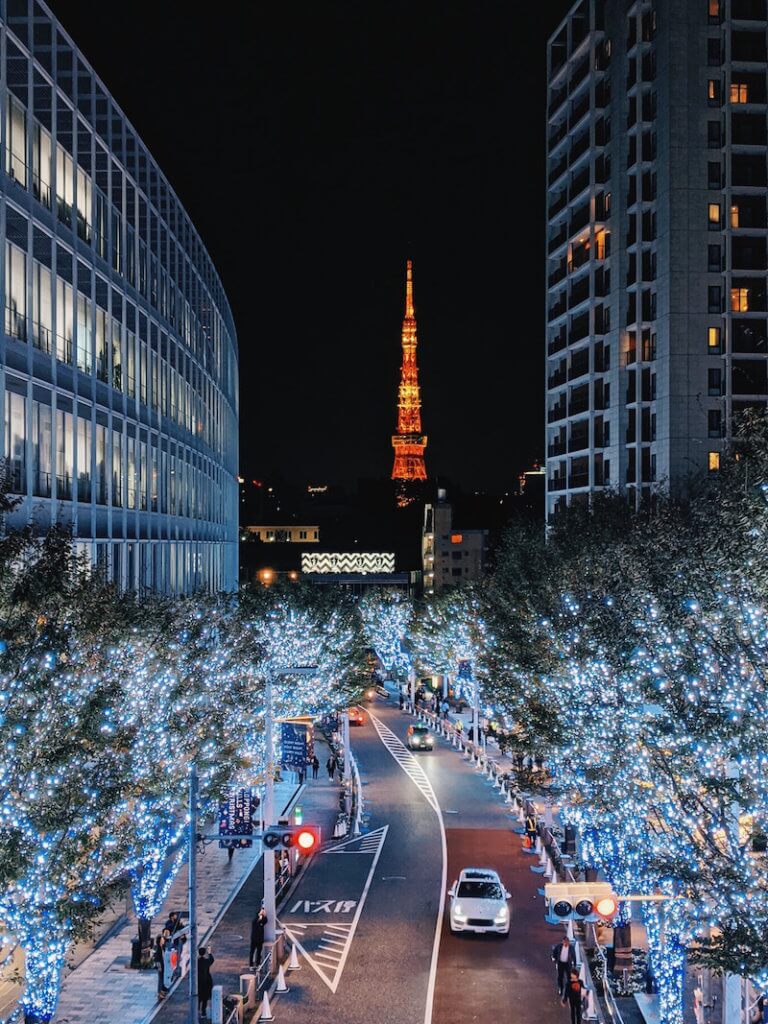 Tokyo Christmas Market
Every year Tokyo's Hibiya Park is transformed into a European-style Christmas market that's become a seasonal staple for visitors and locals alike. There are, of course, the usual stalls filled with food and gift items, an array of lights and live musical performances, but the most unique element is an authentic Christmas Pyramid – a decorative German carousel filled with festive figures.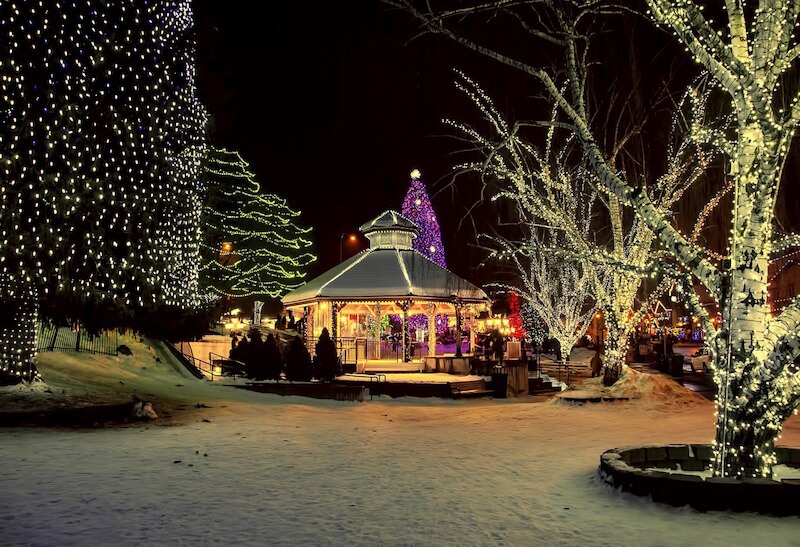 The Village of Lights in Leavenworth, WA
Bavarian-style buildings and the snow covered peaks of Washington state's Cascade Mountains make the town of Leavenworth an idyllic place to spend the holidays. This year, the annual Christmas Lighting Festival has been canceled to help reduce crowds. Instead, local authorities will be keeping the alpine main street illuminated every night until Valentine's Day, and offering plenty of freebies and incentives for midweek visitors.
Natchitoches Christmas Festival, LA
Billed as one of the oldest community-based holiday celebrations in the U.S., Natchitoches, Louisiana has been decorating its streets with sparkling lights since 1927. The festival has grown exponentially since then, evolving into a six-week celebration with 100 set pieces, 300,000 lights, a parade, firework display and a Santa Claus house. The celebration starts the Saturday before Thanksgiving and runs until January 6th.