Swimming Pools 2.0
Swimming Pools 2.0
A New Breed of Swimming Pools Defies the Expected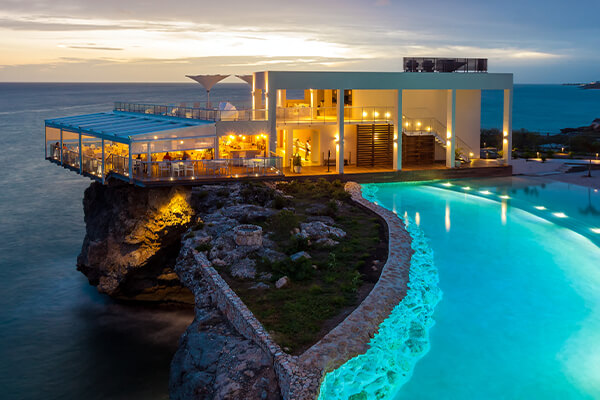 Forget the classic kidney-shaped hotel pool. Designers, architects and engineers are taking water way beyond the expected shapes, sizes and locations to create innovative water worlds that top skyscrapers, jut over sidewalks and even float on top of the water. Ready to dive in?
Inn Crowd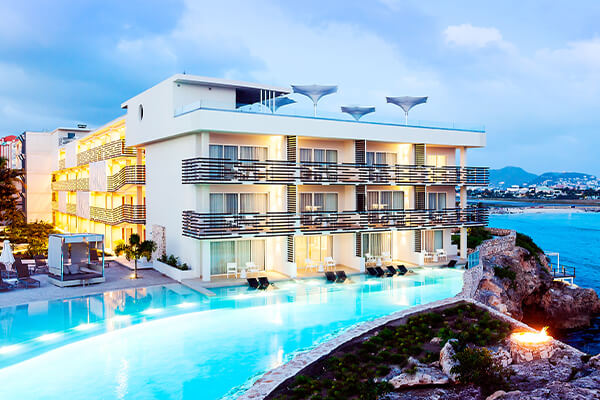 With breathtaking views overlooking Maho Bay in the Caribbean, this private man-made pool at Sonesta Ocean Point Resort seamlessly blends into its horizon. Perched cliffside, the edge pool appears as though it is an extension of its natural surroundings. Having recently reopened following Hurricane Irma, the brand-new Sonesta Ocean Point Resort in St Maarten features 130 spacious, luxury suites. The adults-only, all-inclusive resort has debuted two new restaurants while continuing to offer access to Serenity Spa and Casino Royale. Seas the day.
Launch Pad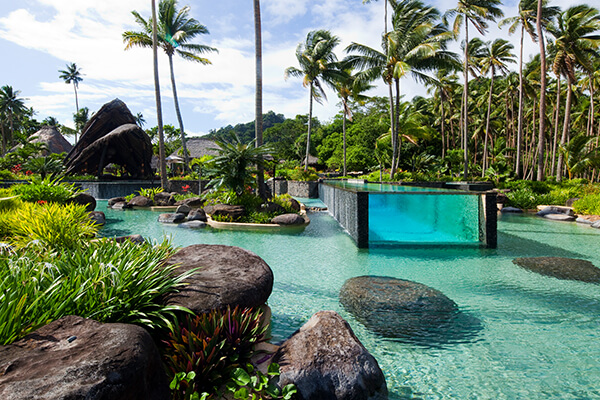 A pool within a pool takes the traditional in-ground water feature and elevates underwater activities above ground in this stunning, 82-foot glass cube. The sculptural creation forms a visual centerpiece at Laucala, the 3,500-acre Fijian island once owned by Malcolm Forbes that is now an ultra-private resort surrounded by rainforest-laced landscapes, volcanic mountains and stunning beaches. While each of its 25 villas comes with its own Infinity perch for private ocean views, the glass pool is the only one to help inspire an Instagram sensation all its own with guests using the see-through siding for back-side "selfies."
By the Numbers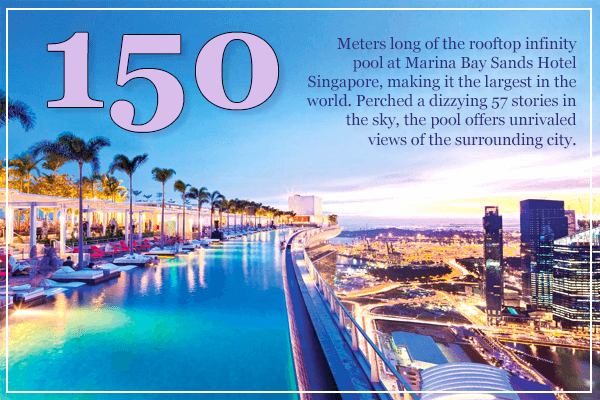 Well + Good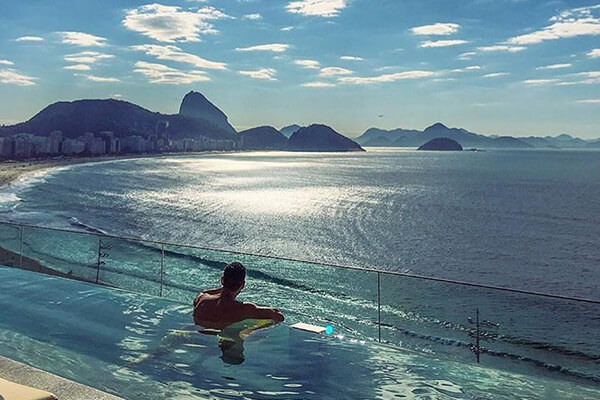 A narrow ribbon of water perched on the 11th and 12th floors runs along the top of Emiliano Hotel in one of Rio's liveliest neighborhoods. Boasting expansive city and Copacabana beach views, the hotel is designed by Chad Oppenheim of Oppenheim Architecture and Arthur Casas with its distinctive white shutters punctuated by lozenge-shaped holes. For visitors looking to escape the hustle and bustle of Copacabana, Emiliano Hotel delivers a calm oasis of luxury with a range of energizing and detoxifying treatments at Spa Santapele.
Eat, Drink, Repeat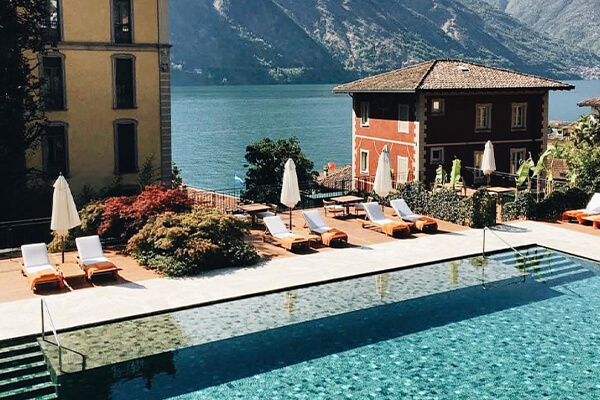 Looking for a swim to remember? This may be it. Floating along the shores of Lake Como, the pool at The Grand Hotel Tremezzo allows swimmers to gaze out at the azure water and take in the breathtaking scenery of the Grigne mountains. Whether it's a romantic evening spent overlooking the water or a sunny day spent lounging by the pool, the hotel also showcases the very best that Italian cuisine has to offer. Situated on an elegant terrace overlooking the lake, La Terrazza offers the ideal setting for a romantic evening while L'Escale serves local dishes within a wine cellar home to more than 1,300 Italian labels.