10 Stylish Motels That Break the Motor Lodge Mold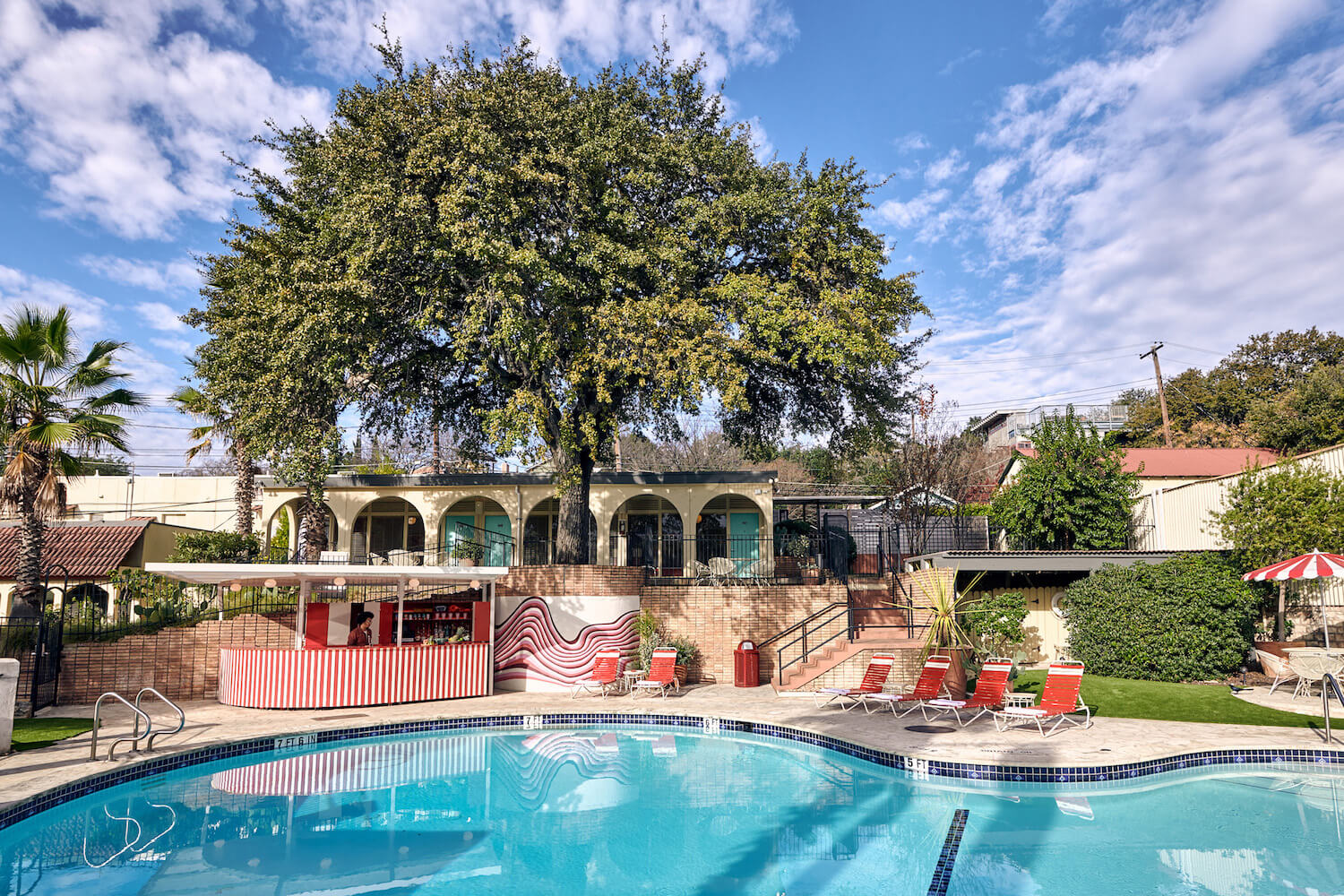 10 Design-Forward Motels Breaking the Motor Lodge Mold
A new breed of motels is shedding stereotypical associations you might have about motor lodges. Rather than a cheap and convenient place for travelers to rest their heads, these design-forward establishments have the feel of a boutique hotel, complete with stylish interiors, and luxurious amenities. In other words, they're places you'll genuinely love staying in. Read on for a few places we've personally bookmarked.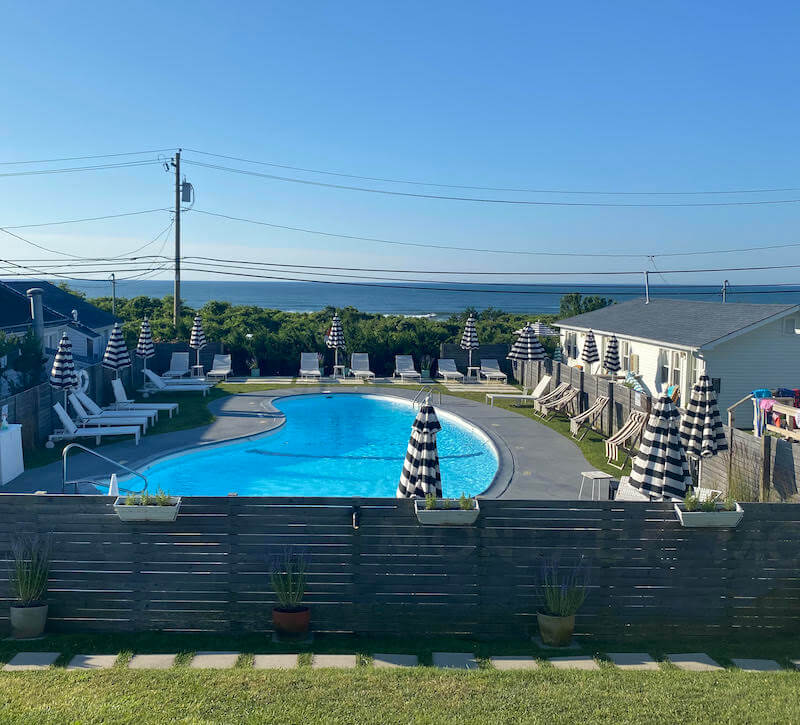 Breakers Montauk, Long Island NY
About a 15-minute walk from the center of Montauk, directly across the street from a wide sand-dune fringed beach, you'll find
Breakers
, a thoroughly modern motel. Access your pristine room with a keycode (check-in is totally contactless) and note the mini kitchenette – ideal if you'd rather eat some meals on your private deck instead of venturing to one of the seafood restaurants in town. Breakers also has a pool with ocean views if you're feeling too relaxed to walk 20 feet down to the beach.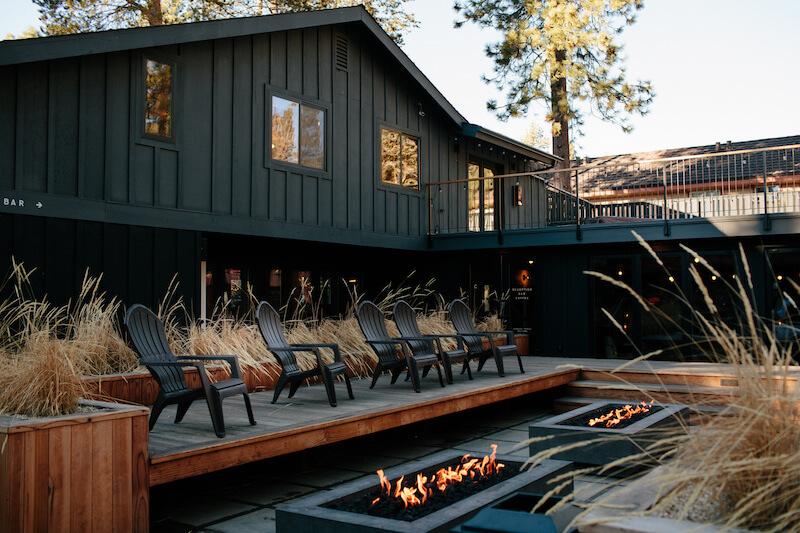 Coachman Hotel, Tahoe CA
Though its location, close to the pine-covered mountains and sparkling water of Lake Tahoe, is ideal for nature excursions, the
Coachman Hotel
is more than a crash pad between adventures in the Californian wilderness. Rooms here are thoughtfully designed and cognizant of the setting (e.g. rubber flooring at the entrance for wet boots, skis, or swimsuits) while also being super comfortable and aesthetically pleasing, with slate-gray wood paneled walls and sumptuous linens. After a day of exploring, an on-site pool, hot tub, and fire pit make it easy to connect with your fellow adventurers.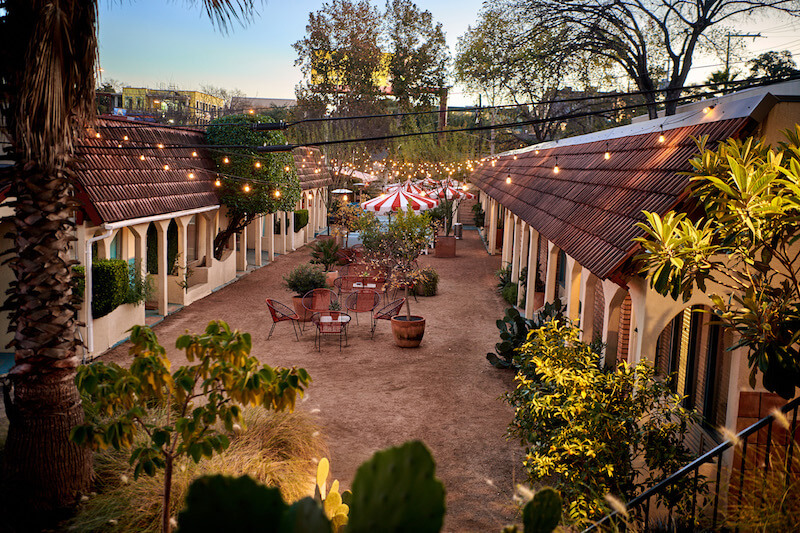 Austin Motel, TX
Austin Motel
is famous for live entertainment and a buzzy after-dark scene, which normally revolves around its retro kidney-shaped swimming pool (don't miss the
full moon swim
events, complete with tropical cocktails and DJ-spun tunes). The motel, which was resurrected by Bunkhouse group, is right at home in the trendy, lively South Congress neighborhood. Start your evening with a poolside drink, then head out to sample the local bars and restaurants. The following day, nurse your hangover amid potted greenery in Austin Motel's peaceful courtyard.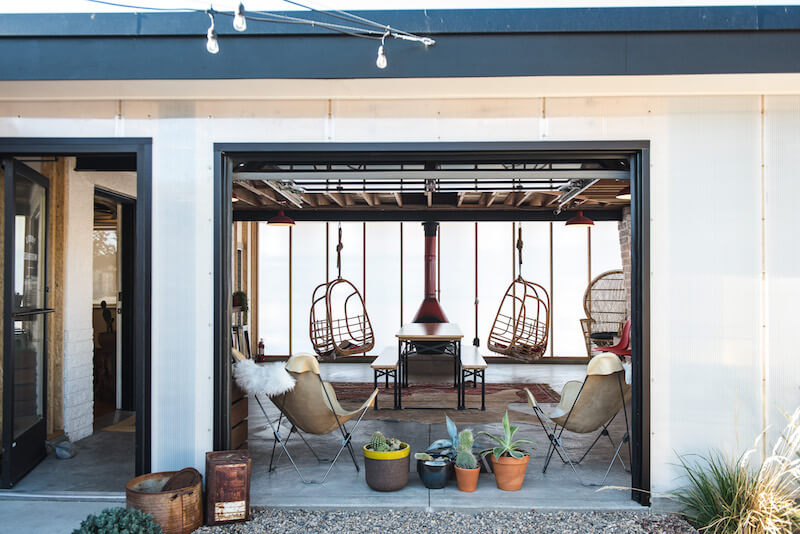 Amigo Motor Lodge, Salida CO
Like many properties on this list, the
Amigo Motor Lodge
was built from the bones of an old motel, and it cleans up very well indeed. The newly renovated rooms are the epitome of casual, stylish comfort – handwoven Mexican-design throw pillows, antler wall hangings, mid-century modern bedside tables, and velvet-covered couches in vibrant colors. After a great night's sleep you'll be ready to explore the Rockies – soaking in hot springs (there are four close to the motel), skiing Monarch Mountain, or hiking one of the nearby "14ers" (mountain peaks that exceed 14,000 feet).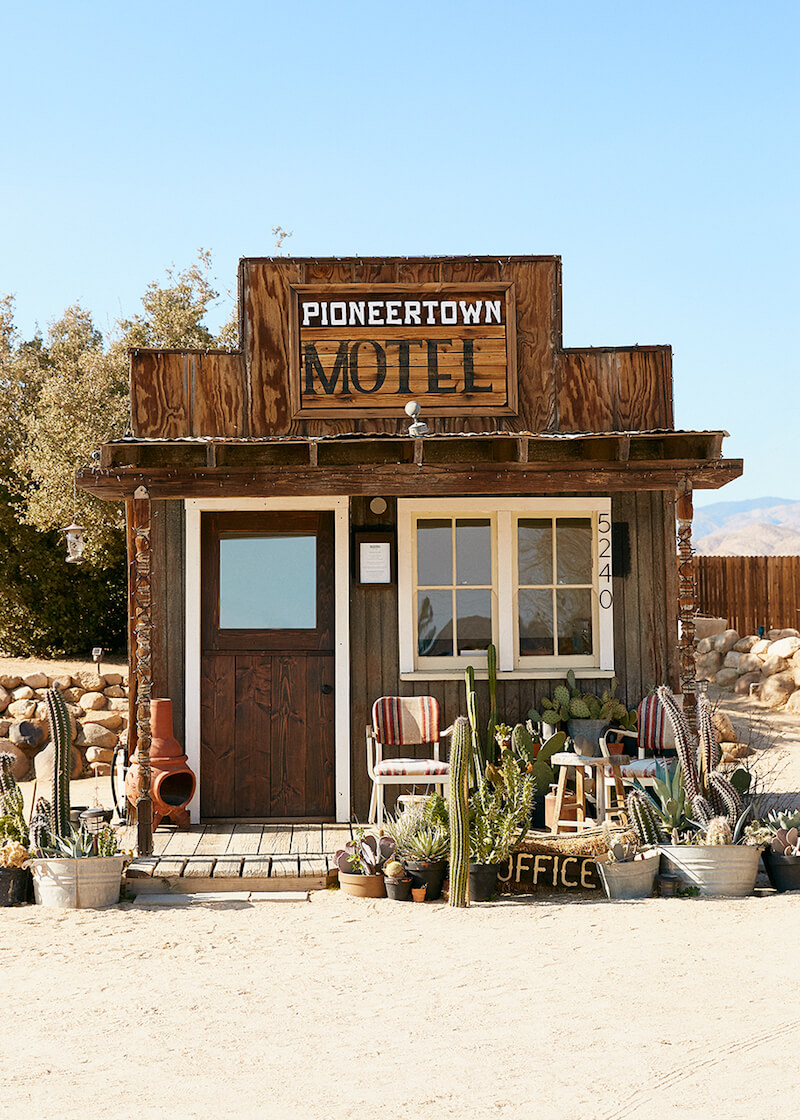 Pioneertown Motel
About 125 miles outside of Los Angeles you'll find Pioneertown, a desert community founded in the 1940s by the stars of old western movies. The Pioneertown Motel dates back to that same period (Gene Autry is said to have played polka until sunrise in room #9) but was revamped several years ago for city slickers seeking a bohemian desert escape. Inside, vaulted dark wood ceilings, cowhide throw pillows, and woven wall hangings embody the new western aesthetic. Outside, wide desert vistas, Joshua trees, and gleaming starlight cultivate complete peacefulness.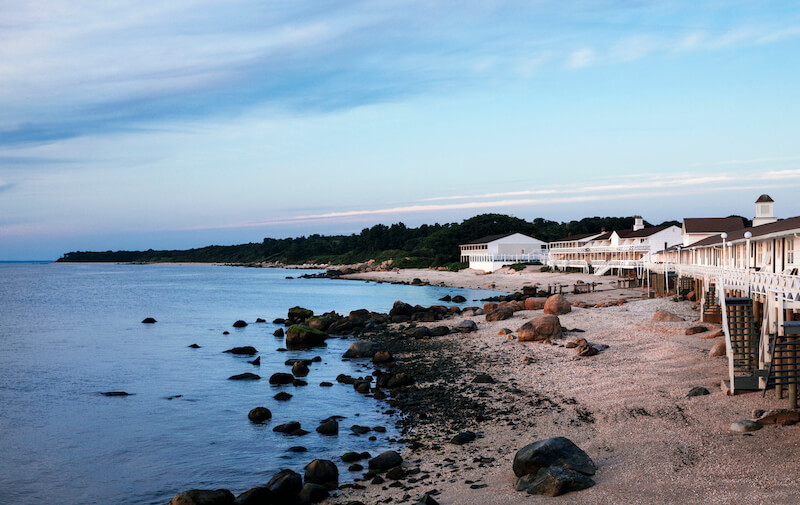 Sound View, North Fork NY
Fashioned after the serene aesthetic of classic North Fork seaside homes, the rooms at
Sound View
open directly onto the hotel's private beach, so there's nothing between you and the calm surface of the Long Island Sound. The North Fork of Long Island is known for its vineyards, farms, fishing villages, and a laid-back pace that New York City residents appreciate. Spend your days chilling on the sand or next to the pool, or sign up for one of the hotel's social distance-friendly activities, including an ocean-side painting class and a chef-led farm tour.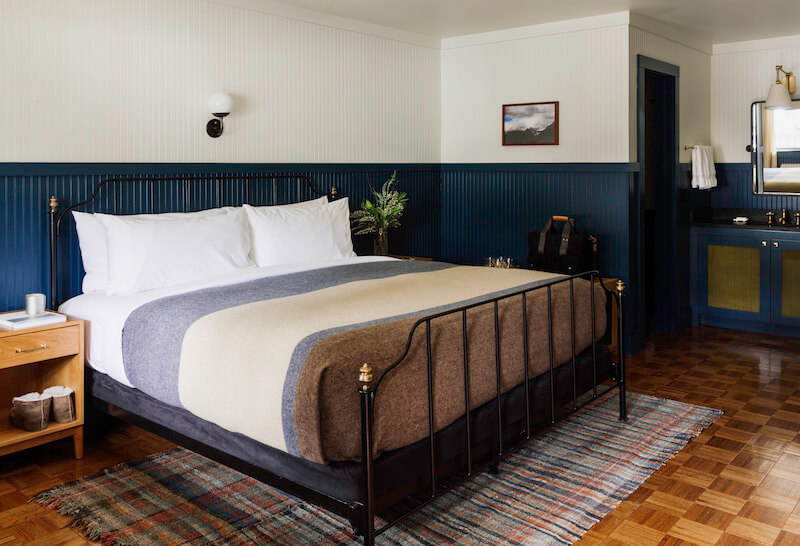 Anvil Hotel, Jackson WY
Situated right on the edge of Yellowstone in Wyoming,
Anvil Hotel
was created for explorers, by explorers. After a day of hiking and bison spotting in the national park, you'll sleep like a log in Anvil's bedrooms. Each one is outfitted with vintage touches like an iron bed frame, brass fixtures, and Woolrich blankets, creating a look that feels clean and modern while also providing a little western flair. This is the Cowboy State after all.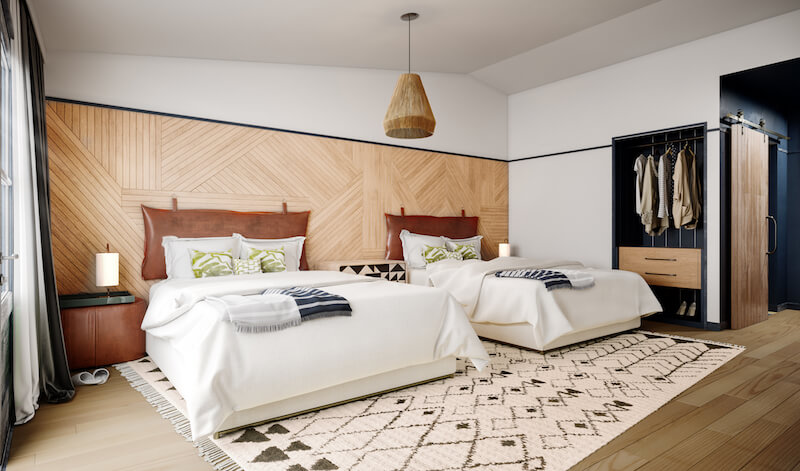 Calistoga Motor Lodge & Spa, Calistoga, CA
Although
Calistoga Motor Lodge & Spa
was inspired by the classic American road trip, it's the kind of place you'll want to remain for an extended period of time. Besides beautiful rooms (picture blonde wood, soft white linens, and splashes of navy blue) a pool and spa, the stand-out feature at Calistoga Motor Lodge is its convivial atmosphere. Community building is central to the motel's ethos, so look out for group games and activities from happy hours to hikes.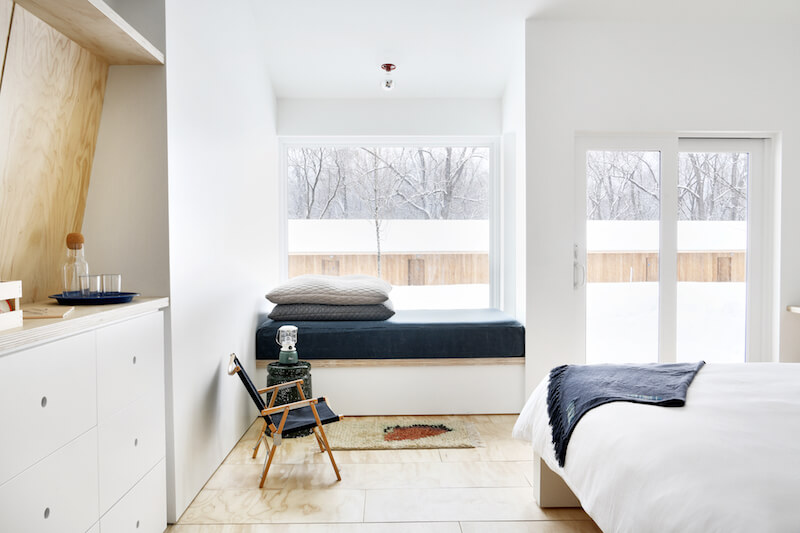 TOURISTS, the Berkshires MA
If you've been craving time in the woods, preferably accompanied by the sound of flowing water and birdsong, head to
TOURISTS
, a forest retreat in the Berkshires. Set on the banks of the Hoosic River, and within easy reach of art galleries, craft breweries, and the Appalachian Trail, it's the perfect base for enjoying a little bit of all the best things. TOURISTS' rooms are minimal and modern, featuring organic materials that bring the beauty of the outdoors inside.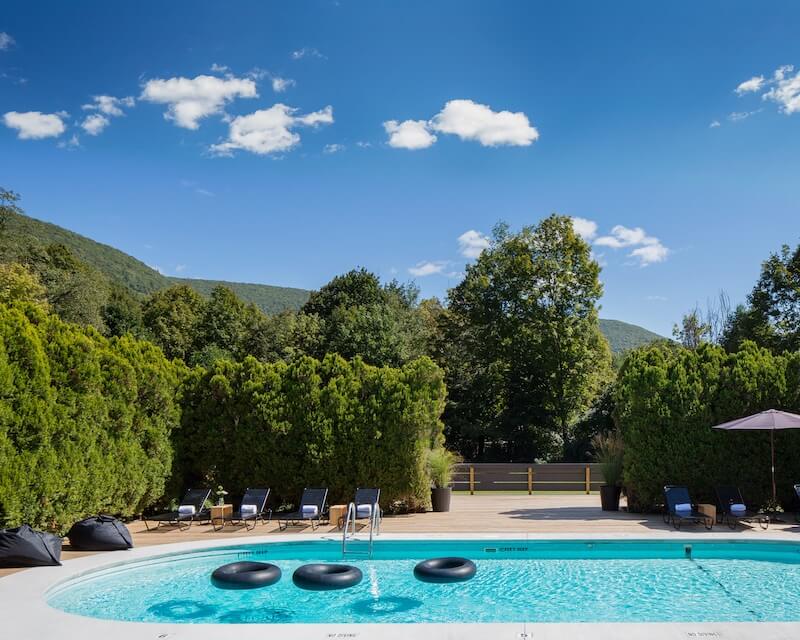 The Graham & Co.
Snuggled in the forested Catskill mountains of upstate New York,
The Graham & Co.
is a 20-room motel with "unpretentious but considered accommodations." The bedrooms, which surround a small swimming pool, are simple and cozy with wood paneled walls, cowhide rugs, and butterfly chairs. Whatever season you visit The Graham & Co. you'll find activities aplenty, from skiing or hiking on Hunter Mountain to exploring Phoenicia town's local stores and restaurants by bicycle.