Ibiza Travel Guide: Explore the White Isle
Ibiza Travel Guide: Everything You Need to Know About the White Isle
There's something special about Ibiza – a particular blend of bohemia, hedonism, and mysticism that makes it a trendsetter in the worlds of style and sound.
The most famous island in the Balearic archipelago, Ibiza is the kind of place where you can start your day at a yoga retreat that's been going since the 90s, disappear into the island's tranquil interior for a pastoral adventure, join an evening drum circle, then rub shoulders with celebrities at a swanky beach club. And as a judgment-free destination shaped by hippies and rebels, there's no better place to be unapologetically yourself.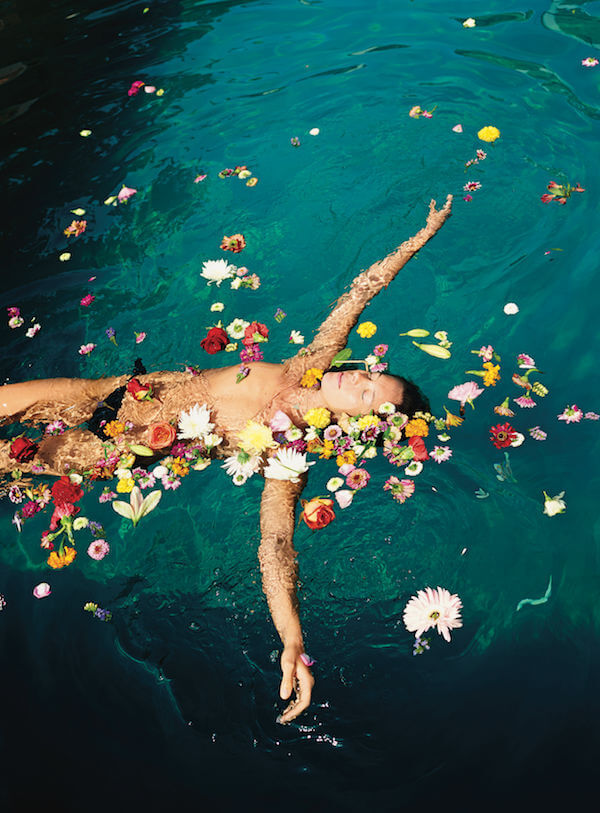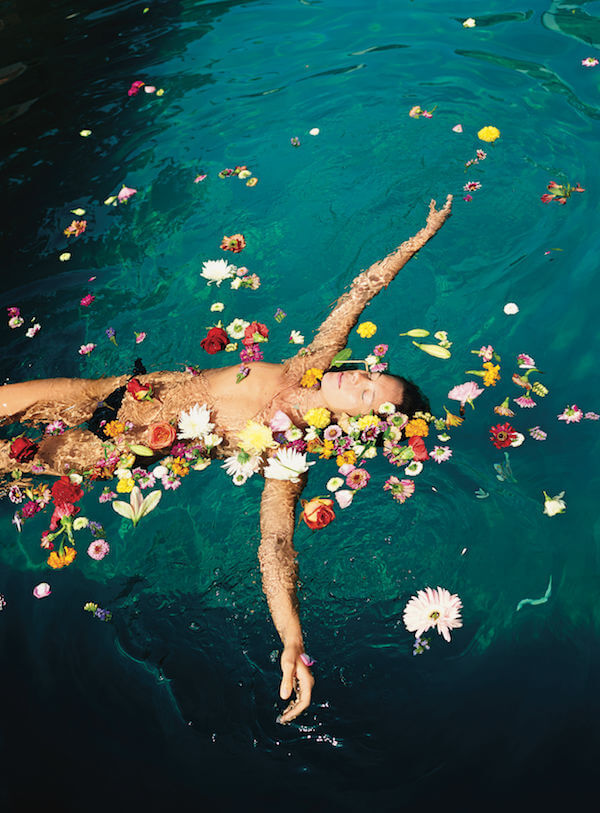 Read Before You Go: Ibiza Bohemia (published by Assouline)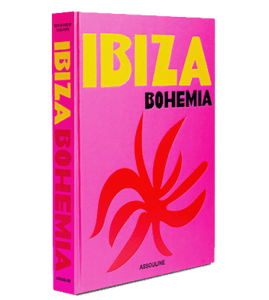 A look at the colorful cast of trend-setters, free-spirits, and unabashed eccentrics that call Ibiza home, curated by fashion stylist and editor Renu Kashyap and travel writer Maya Boyd.
Explore the chilled northern wilderness on horseback
Bohemian culture still thrives at the northern end of Ibiza. It's also the place to experience a wilder, more untouched side of the white isle – countryside scented with pine trees and ocean salt, and quiet cerulean coves without a package tourist in sight. To soak it all up, book a half or full-day trek at Ibiza Horse Valley – a sanctuary that rescues abandoned or mistreated horses and rehabilitates them with natural herd living. You and your chosen steed (meeting and picking your horse is part of the experience) will ride through the mountains, down to a remote beach, and into the ocean for a swim on horseback. It doesn't get more idyllic.
Beach clubs are a cultural institution during the Ibizan summer. Lounge on daybeds shaded by white linens, eat Mediterranean meals washed down with rose, and dip your toe in the Ibiza nightlife scene without going full mega club.
One of the swankiest and most popular beach clubs on the island, Blue Marlin transforms into an open-air dance spot after sunset, with live DJs and strong mojitos keeping the party lively. It's also a see-and-been-seen kind of place, so come dressed to impress.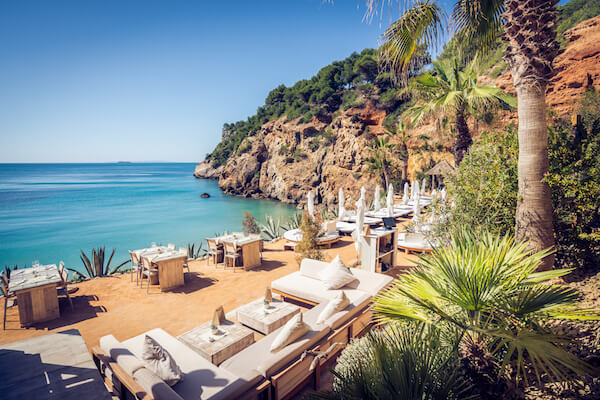 Perhaps the most beautiful beach club on the island, Amante sits on a cliff overlooking a private cove. An award-winning restaurant, weekday yoga classes, and outdoor movie screenings with bean bags and blankets make it an appealing place to decamp from sunrise until the small hours.
Shop at Ibiza's famous hippie markets
Remember the 2000s boho-chic fashion moment, popularized by Sienna Miller, Kate Moss, Nicole Richie, and the Olsens? That's Ibizan style distilled, and the 15-year interim period has made fringed boots and belted kaftans feel summer-perfect again. You can pick up bohemian clothing, accessories, ceramics, and other handmade goods from artisans all over the world at one of Ibiza's famous hippie markets. We recommend Punta Arabí on Wednesday in Es Caná, Las Dalias on Saturday in San Carlos, and San Rafael every Thursday during high season (June through September).
Discover hotels hidden amid the island's pastoral interior
While the party-hearty San Antonio coast and Ibiza Town area are both saturated with accommodations, it's the private villas and hidden hotels nestled in Ibiza's bucolic inlands that reel us in.
The first thing you'll notice about Ca Na Xica is its capital-T shaped saltwater pool – an azure oasis in a landscape of terracotta soil. Twenty light and spacious suites open onto views of olive trees, fruit orchards, and swaying barley fields. If that wasn't tranquil enough, an on-site spa offers holistic treatments and a relaxing jacuzzi pool.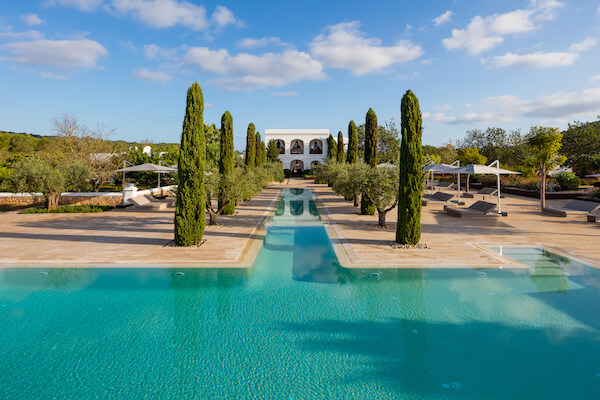 In the remote northern countryside, you'll find La Granja, a farmstead focused on sustainable, biodynamic farming and food education. The property includes a beautiful old farmhouse, decorated with natural materials in shades of cool ash and stone, which is available for group bookings on request.
Cas Gasi is a sprawling estate-turned-boutique-hotel with an eclectic feel. Think Moroccan doorways, squishy antique armchairs, terracotta floor tiles, and brass bedsteads. Its expansive gardens conceal secret yoga spots, pools, and sun-dappled reading nooks for a moment of restorative solitude.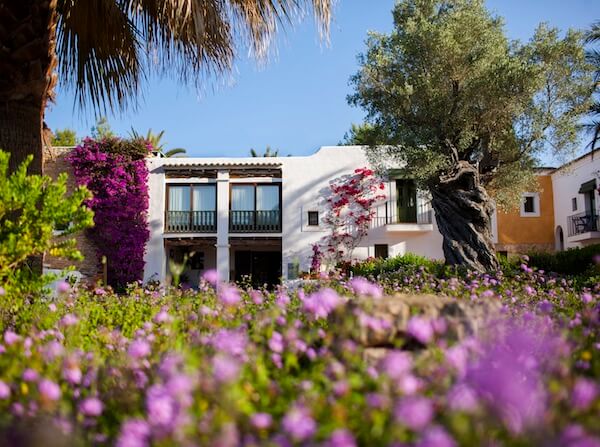 As you would expect from a destination famed for its nightlife, Ibiza makes a big deal over sunset. There are a plethora of ways to spend magic hour, from drinking cocktails at Cafe Del Mar or Sunset Ashram, to getting out on the ocean with Chilli Pepper Charters.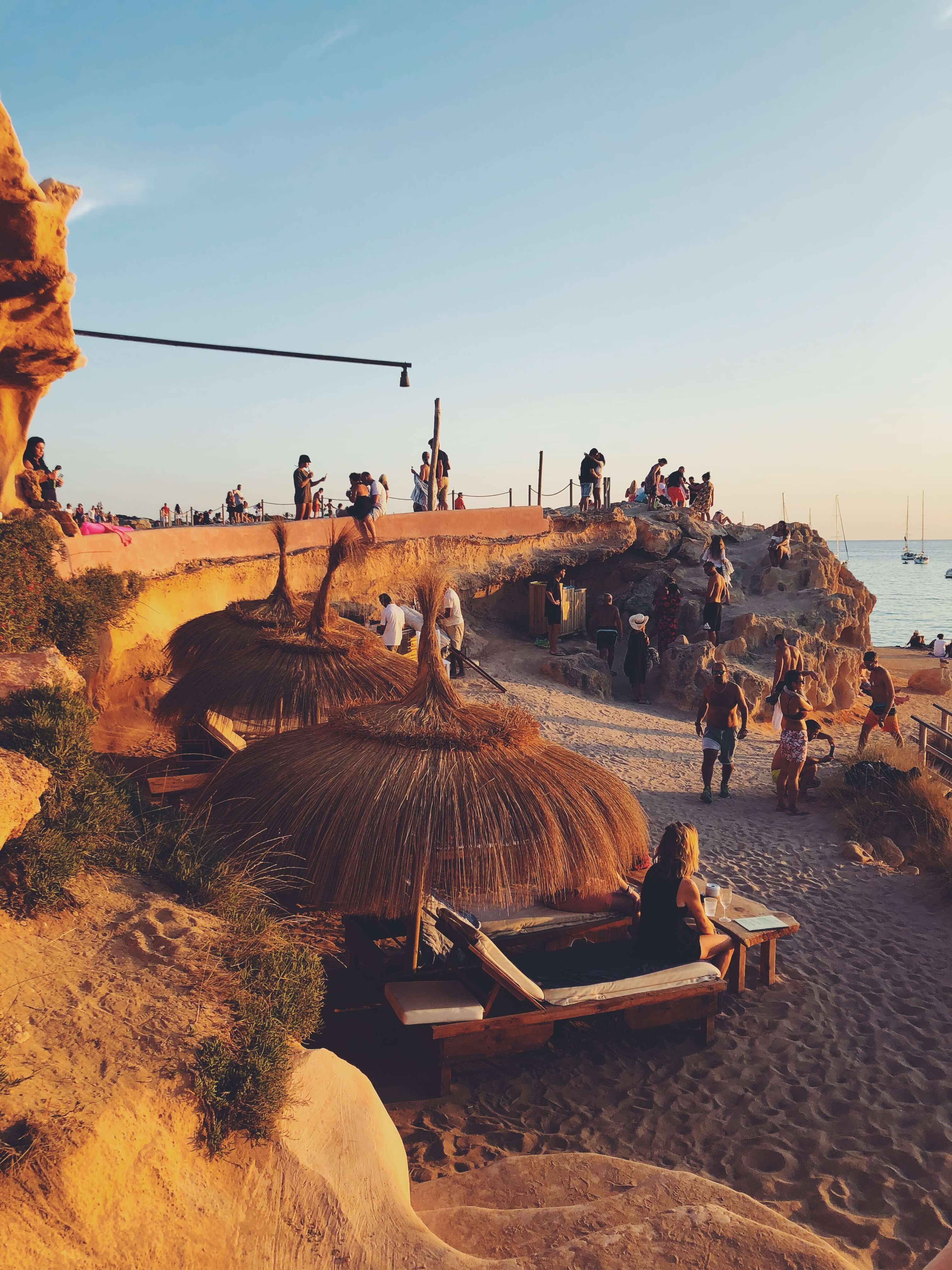 But for a less crowded, more relaxed end to the day, wave off the sun at popular hiking spots Cala D'Albarca cove or Es Vedra, a limestone island shrouded in myth and folklore. Don't forget to cheer as the last slither of crimson dips below the horizon – that's a tradition in Ibiza.
Dine in Santa Gertrudis: The Notting Hill of Ibiza
The melting pot of locals and expats who call trendy Santa Gertrudis their home have created a culinary scene worth day-tripping for.
Inspired by "science, nutrition, and a love of good food," Wild Beets chef Cliff Grubin whips up rainbow plates that are as beautiful as they are healthy. While the restaurant has solid lunch offerings (macro bowls, veggie burgers, and overflowing crispy tacos), the dinner menu shines for its inventiveness. Think charred watermelon, with red pepper sorbet and pickled cucumber.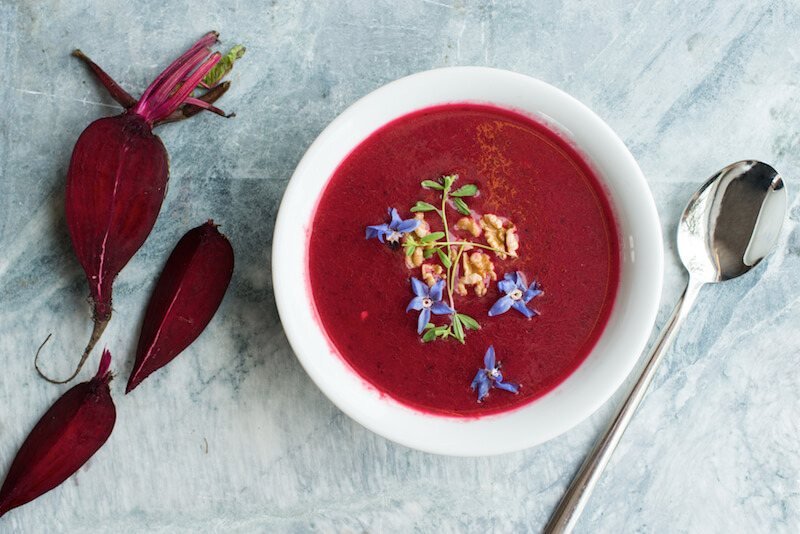 Grab a table on the shaded terrace at Macao Cafe and enjoy some of the island's best Italian fare. Hunks of salt flake-sprinkled focaccia, saucy pizzas, and simple-but-moreish pasta dishes are the ideal lunchtime indulgence with an extra-cold glass of white wine. Come for dinner and sip limoncello under the lanterns until closing time.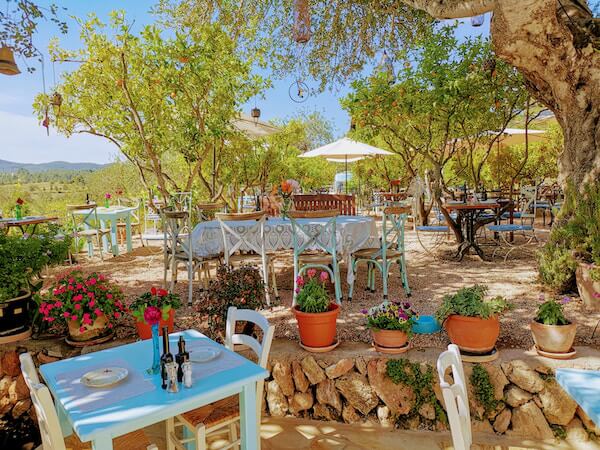 It's hard to imagine a more scenic lunch spot than La Paloma, a family-run organic restaurant 10-minutes from town. Sit among citrus trees and celebrities, savoring Mediterranean dishes made from ingredients grown on-site.
Wander the historic Dalt Vila
Ibiza's fortified old town, Dalt Vila (which translates as "upper town" owing to its hilltop position) was one of the most important coastal cities in the Mediterranean at one time. Now it's every bit as beautiful and historical as you would expect from a UNESCO World Heritage Site. Explore hilly cobbled streets, grab a glass of sangria on a plump cushion S'Escalinata bar, watch an outdoor movie on a rampart with Cinema Paradiso, and climb the Cathedral of Nuestra Señora de las Nieves for views all the way to Formentera, Ibiza's sister island.