Alfresco Pampering: The Best Outdoor Spas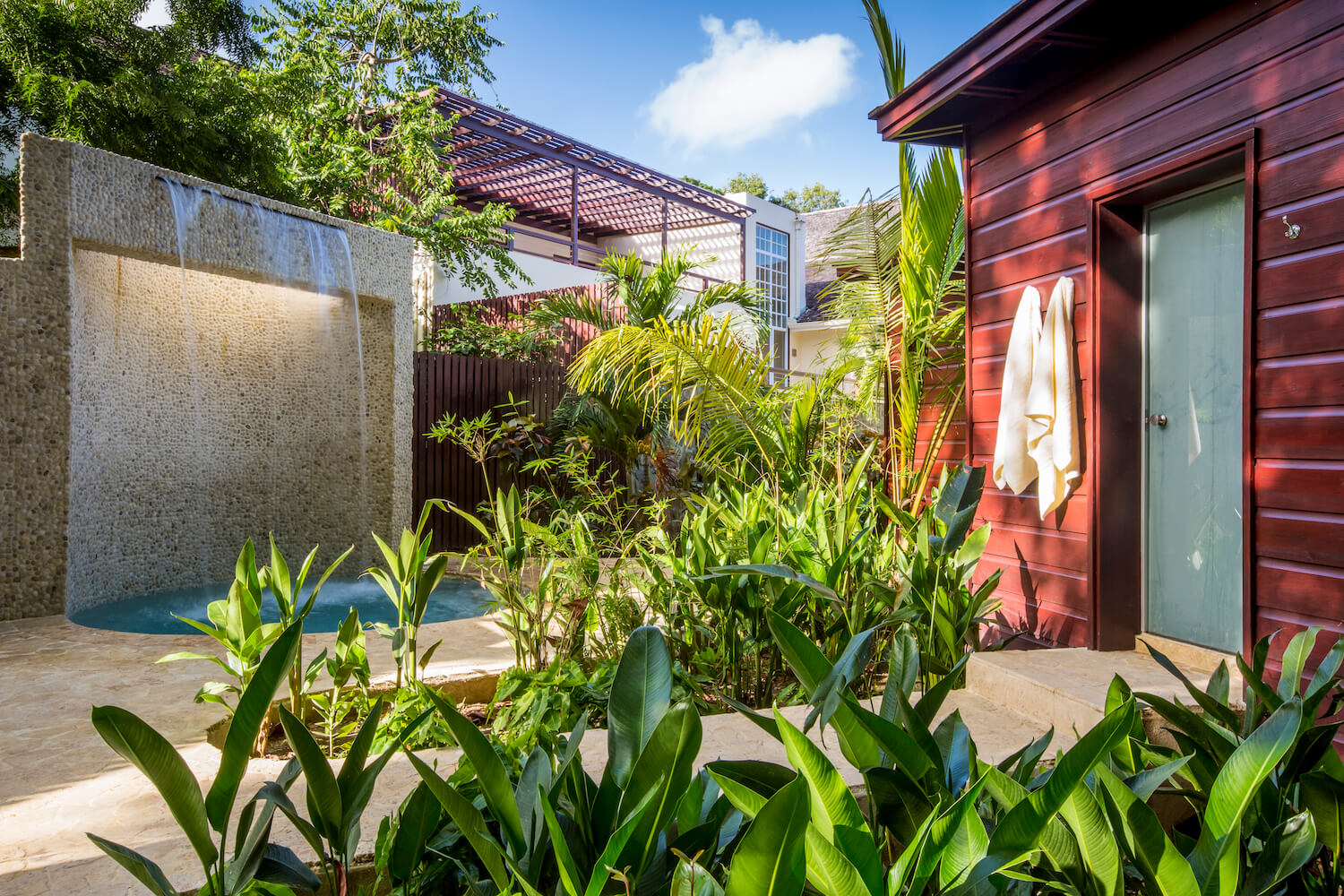 Alfresco Pampering: The Best Outdoor Spas
These hotels are offering pampering services in outdoor settings, so you enjoy your spa treatment with the added perk of a relaxing playlist compiled by Mother Nature.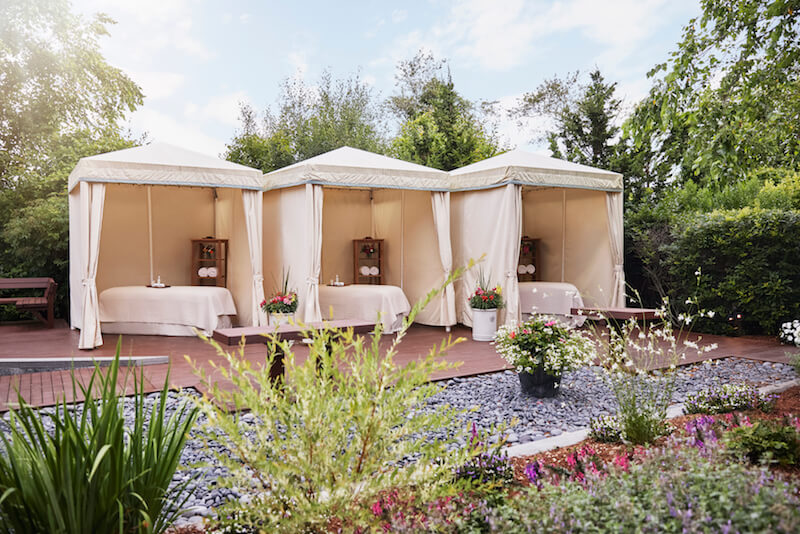 Private Cabanas at Chatham Bars Inn, Cape Cod
If the Cape Cod shore isn't quite relaxing enough, turn up the chill at Chatham Bars Inn's private spa cabanas. First, take advantage of the heated pool and hot tub in the spa's Japanese Zen garden, then opt for the 60-minute rejuvenating scrub – a signature treatment incorporating ingredients from the on-property 8-acre farm, finished with a light massage. Those who are serious about bolstering their wellbeing might consider booking one of the adult-only Spa Suites. Plump bedding, oversized hydrotherapy tubs, saunas, steam showers, yoga mats, and a wellness-themed mini library make this the perfect place to stage your own private retreat.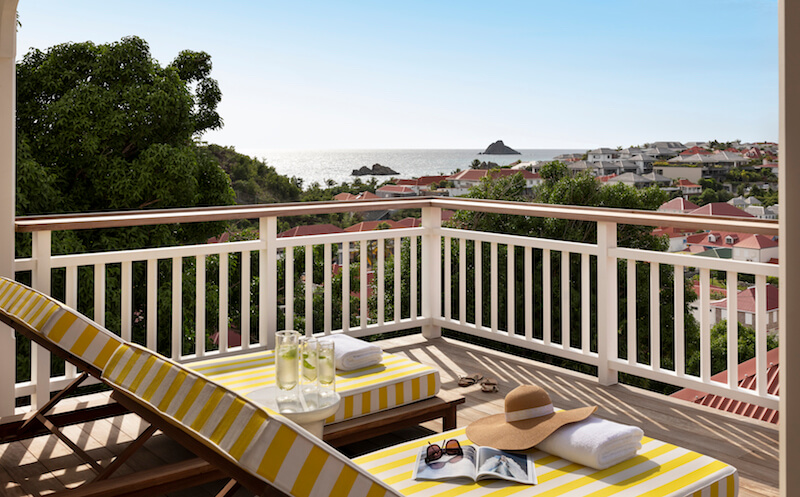 Private Terrace Treatments at Hotel Barrière Le Carl Gustaf, St. Bart's
Boasting 23 rooms (including 13 bungalows), each with its own terrace and plunge pool, Hotel Barrière Le Carl Gustaf is well suited to bubble vacationing. The St. Bart's hotel, which is set to open in October of 2020, is home to the Diane Barrière Spa – a French company which believes in personalizing each treatment to the guest's specific needs and desires. Savor your holistic spa experience poolside or in the complete privacy of your own space.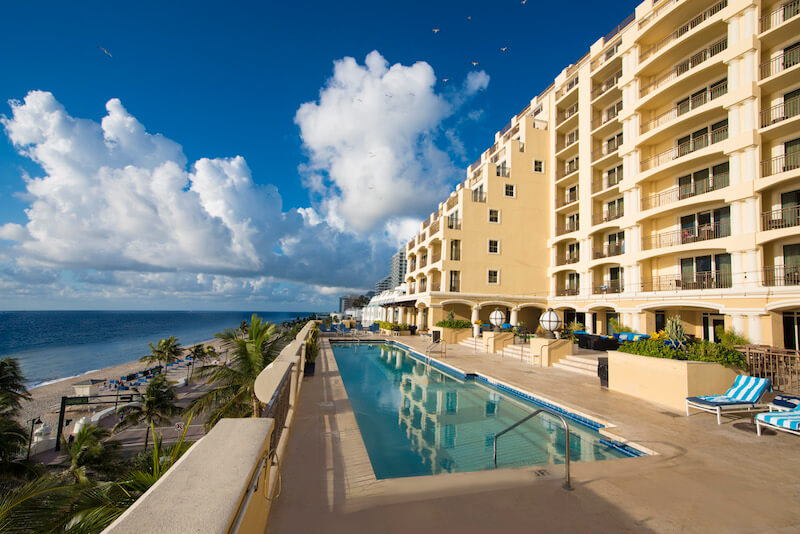 Oceanside Pampering at The Atlantic Hotel & Spa, Florida
The only thing more calming than the beach is having a massage on said beach. This can be arranged at The Atlantic Hotel, a boutique property boasting the biggest full-service spa in Fort Lauderdale. Book the hotel's signature Atlantic Massage – Swedish with a spine-tingling Moroccan oil scalp treatment to finish – and receive the treatment right on the shore of the Atlantic Ocean.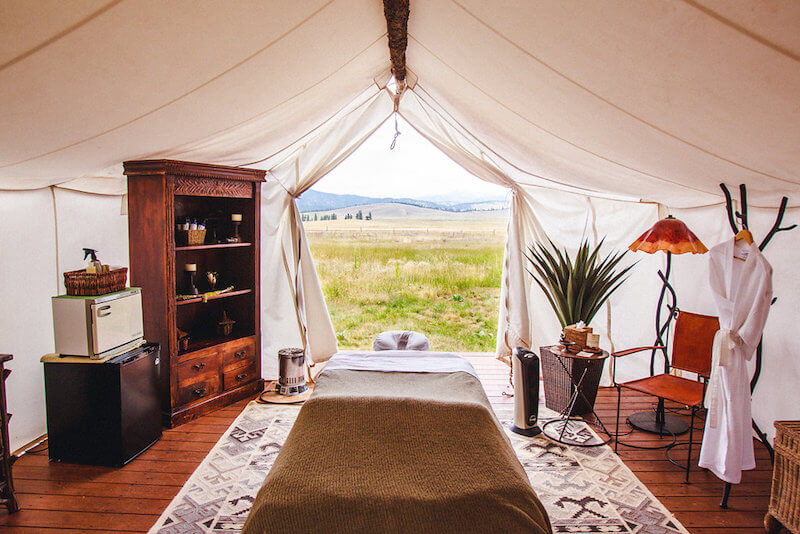 Spa Tents at The Resort at Paws Up, Montana
It's hard to imagine a resort better suited to pandemic vacationing than Paws Up, a Montana ranch with glamping and cabin accommodations and its own outdoor spa. The Paws Up Spa Town is composed of a collection of spacious canvas tents, arranged around the edge of a pretty, pine-fringed meadow. In the privacy of your own adequately ventilated treatment tent, enjoy the massage of your choice – everything from deep tissue and reflexology to myofascial release and lymphatic drainage. An additional super cute detail: when you book a 60-minute spa treatment, your dog gets a free 15-minute massage of their own (Paws Up is a pet-friendly resort).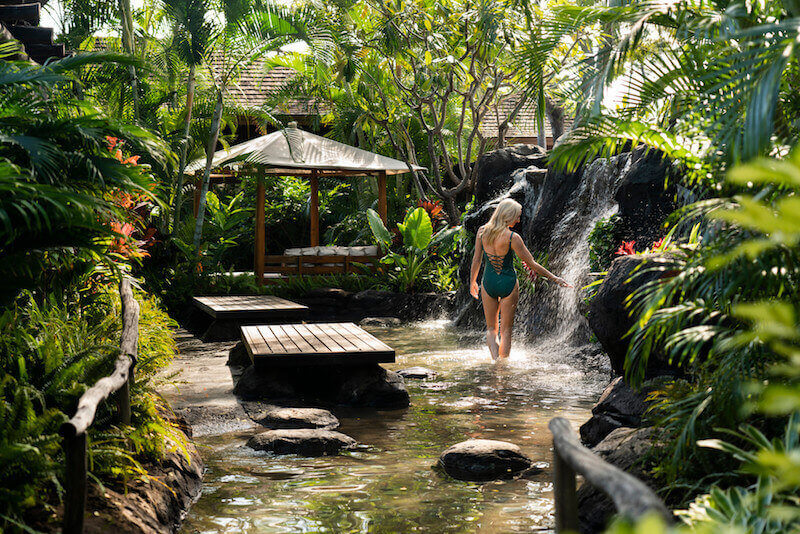 Spa Hales at Four Seasons Hualalai, the Island of Hawaii
The sunny west coast of the Island of Hawaii provides the perfect tropical conditions for outdoor spa experiences. At the Four Seasons Hualalai, treatments are held in little hales – traditional Hawaiian structures – so you get a pleasant tropical breeze during your experience. Try the lomi lomi massage – an ancient healing technique incorporating long rhythmic strokes – then enjoy some chill time in the spa garden before reluctantly heading out.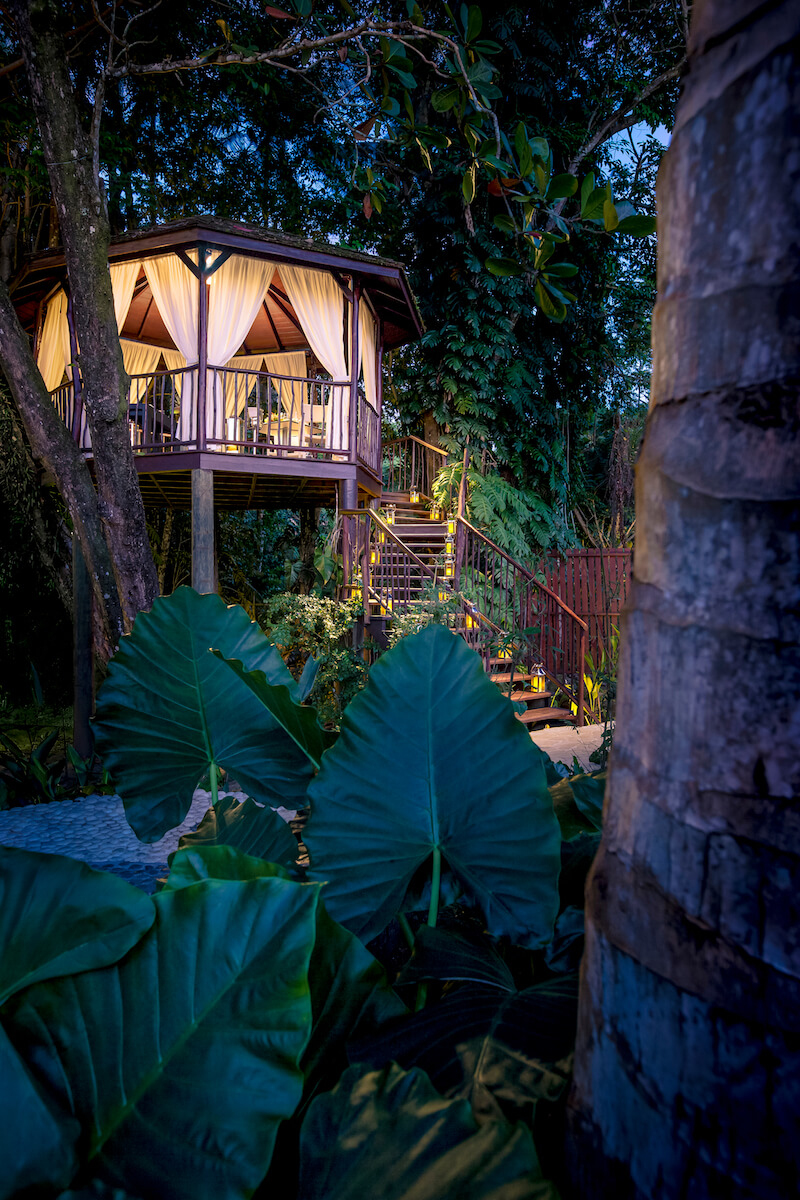 Treatments in a Tree House at Marigot Bay Resort & Marina, St. Lucia
When it comes to isolated spa locations, it doesn't get more perfect than the treehouse at Marigot Bay Resort & Marina in St. Lucia. Couples can enjoy private treatments in the rainforest canopy, surrounded by balmy breeze and birdsong. The spa's extensive menu is inspired by the island's Amerindian heritage and incorporates a selection of indigenous ingredients. Case in point: the signature moon phase rituals, which combine three treatments aligned with the lunar phases.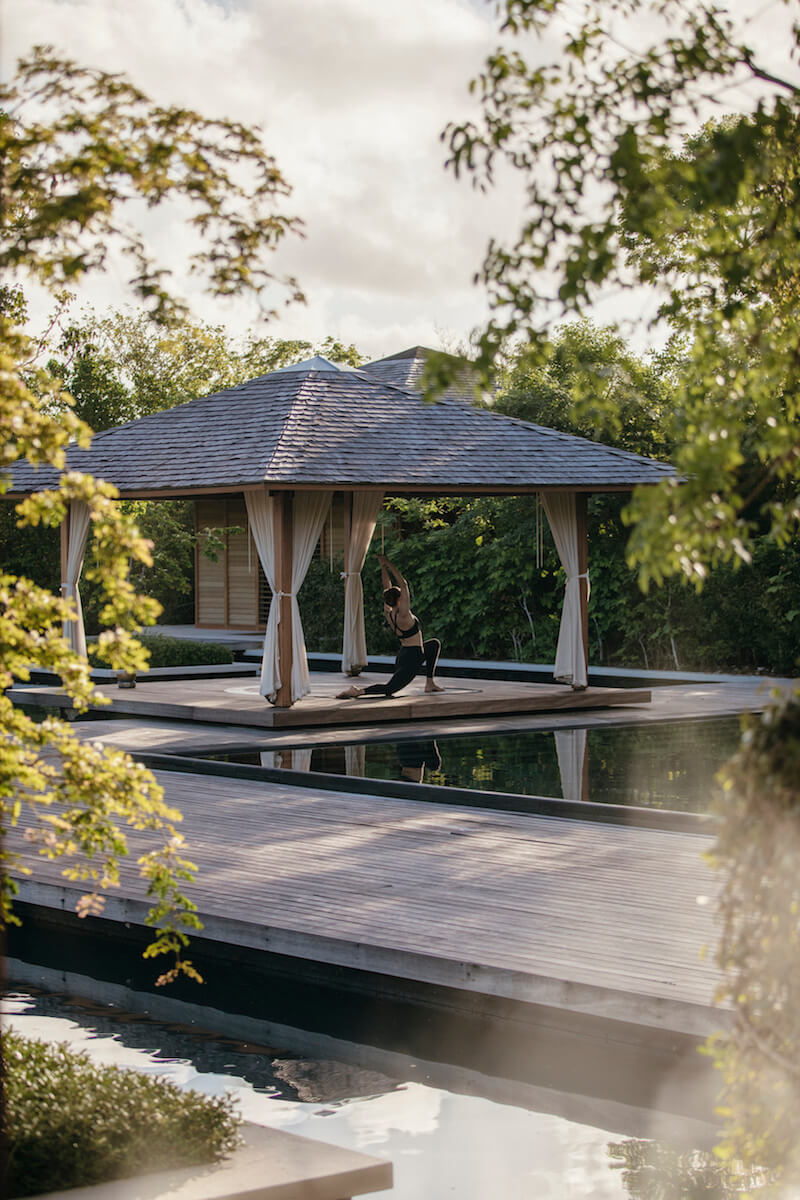 Waterfront Spa at Amanyara, Turks & Caicos
Amanyara means "peaceful place," which will make complete sense when you arrive and find yourself cradled between a marine national park and a nature reserve on Providenciales Island. In true Aman style, wellness features heavily at the resort in the form of immersions and programs tailored to each guest's goals. Treatments and classes – from yoga to Thai massage – are offered outdoors on the sala, which has curtains for privacy. Not bothered about being pampered in public? Relax by the pool and enjoy reflexology or a hydrating hair mask with scalp massage.