How to Hike The Wave, America's Most Exclusive Outdoor Destination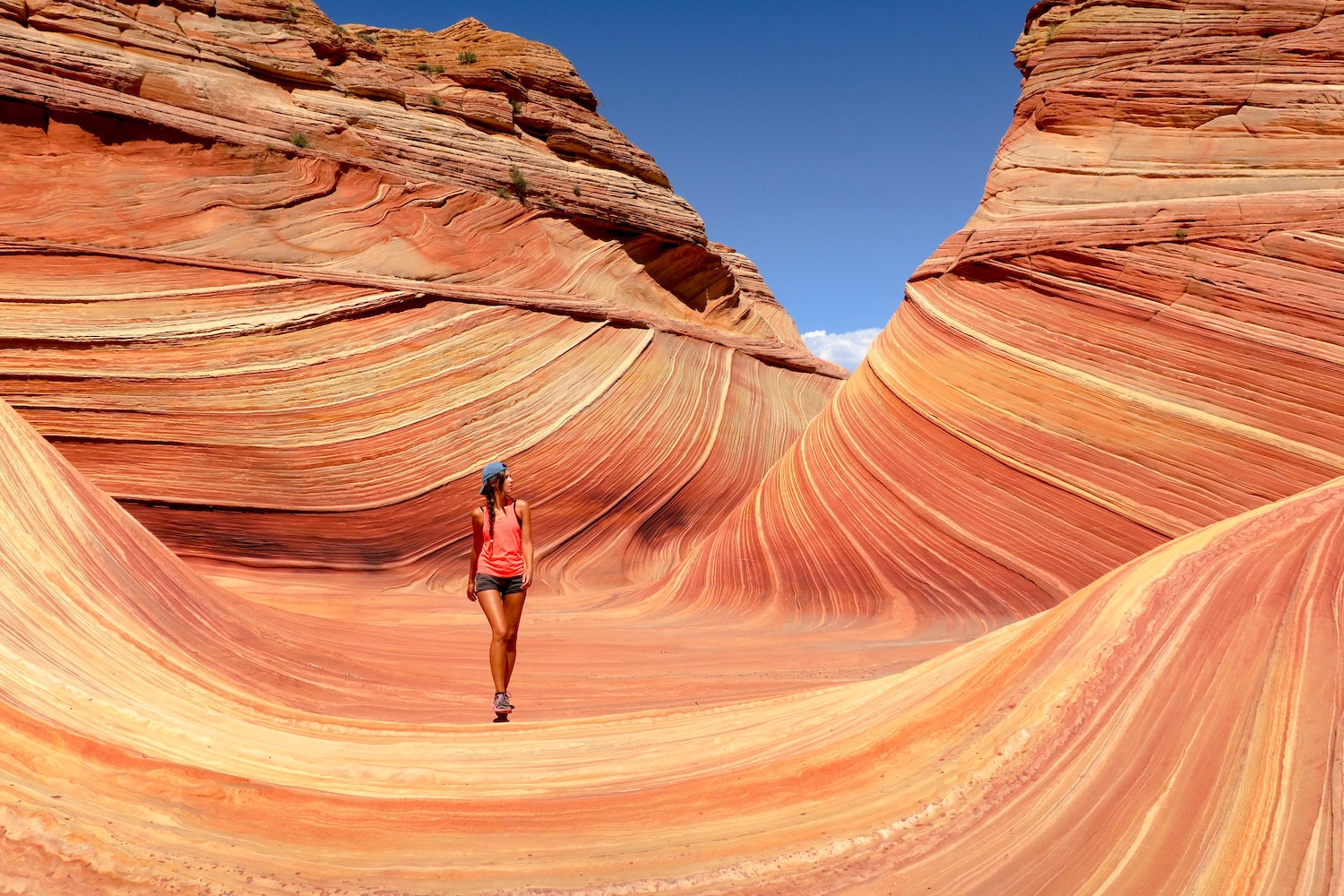 How to Hike The Wave, America's Most Exclusive Outdoor Destination
The Wave is one of the most beautiful places in America, but you can't just turn up and visit...
By

Esme Benjamin
Following a surge in pandemic-era domestic travel, America's hiking trails and areas of natural beauty are more popular than ever. The country's most famous national parks, from Yellowstone to Glacier, smashed their previous visitation records in 2021, making finding a quiet trail or an uncrowded summit challenging. But one bucket-list spot in Arizona/Utah's Coyote Buttes North, known as The Wave, offers jaw-dropping scenery without throngs of other people. The catch? Only lottery winners can visit.
You might have seen images of The Wave on Instagram – smooth undulations of pink and orange sandstone, striped like ripples on water. Entry to The Wave, which is accessed by an unmarked trail, is via permit only, and permits are granted to just 64 hikers a day. To be in with a shot at visiting this mind-meltingly beautiful place you must enter the US Bureau of Land Management's permit lottery, which allocates 48 permits four months in advance and a maximum of 16 permits daily. With demand vastly outpacing availability, winning The Wave lottery can take patience through multiple attempts, but the lucky ones are guaranteed to have one of the most special and memorable nature experiences of your life.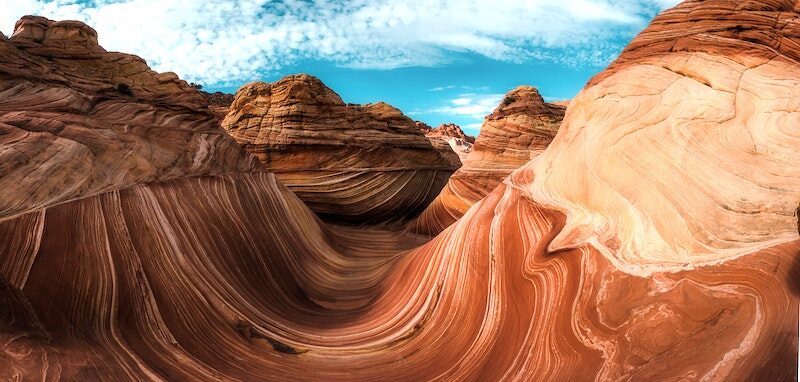 How to enter the advanced lottery
To enter the advanced lottery for The Wave, visit recreation.gov and submit your application four months before the date you hope to visit. If you want to hike in September, for example, you can apply any time during the month of May (note that your odds of winning are better if you take your trip during the peak summer or winter months, when demand is lower). You can enter three potential dates for your trip, but in the event you win and can no longer make those dates work, you will forfeit the opportunity; no rescheduling is allowed.
When you apply, include the names of everyone in your group (a maximum of six, including infants) and any dogs who are coming along (they don't count towards your quota but will require an additional fee). You can also nominate three "alternate permit holders," who will still be able to use the permit in the event you can no longer make it.
Once you've paid your application fee of $9 and hit "submit" you should receive an email confirmation. Then keep everything crossed and wait for the winners announcement, which occurs on the first of every month, right after applications from the previous month close (to use our previous example, winners who submitted their applications for a September hiking permit during January would be notified on June 1st).
How to enter the daily lottery
The daily lottery, which allots permits just three days in advance, is a great option for those who are already in the local area. To enter, click the link from your phone and make sure your GPS is turned on. As long as you're in the "geofenced" location, which includes nearby tourist towns, you'll be able to apply any time between 6am and 6pm for a permit. Winners will be notified by 7:15pm and should be prepared to attend a safety briefing in either Page or Kanab the following day, when they'll also pick up their permit. On day three, the permit becomes valid and the hiking can commence.
A silver lining if you're not one of the lucky ones: Bryce, Zion and Grand Canyon National Parks, and Monument Valley are only a day-trip distance away.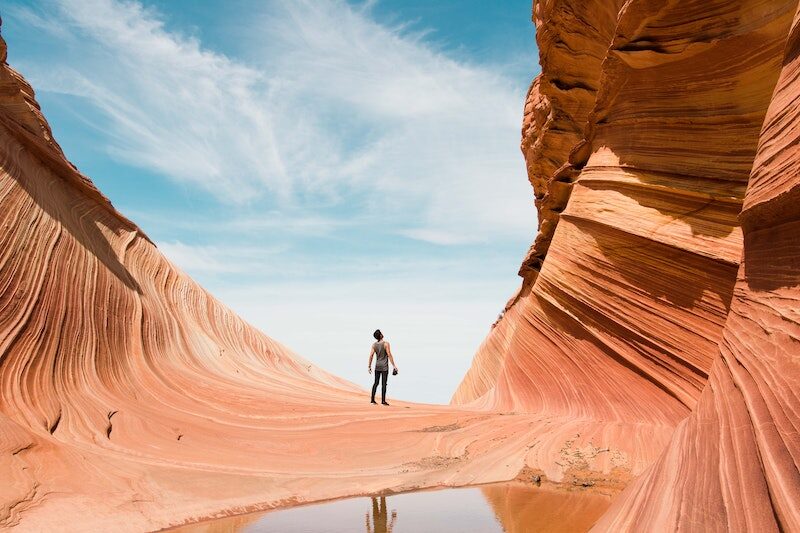 How to prepare for your hike to The Wave
The Wave is accessed via a six-mile round-trip hike with no signposts. Considering the area has no cell phone signal for GPS, it's easy to get lost, and with temperatures reaching extreme highs and lows in Coyote Buttes North, you'll need to be prepared.
New York-based photographer Mandy Guo and her friends won the daily permit lottery in July of 2020. Before they set off, the group downloaded a map to The Wave on the AllTrails app and went over the routes and landmarks to look out for. They also checked the weather forecast. Rain can make the road into Coyote Buttes impassable, but scorching sunshine comes with its own challenges, including risk of dehydration and sun stroke. Since her hike was during the peak of summer, Cho packed several energy bars, four liters of water and some energy/electrolyte drinks. Even with plenty of liquids, she was feeling hot and dehydrated after eight hours of exploring and taking photos in 90-100°F heat. "I would strongly suggest bringing an umbrella to block the sun when you're resting," Guo added.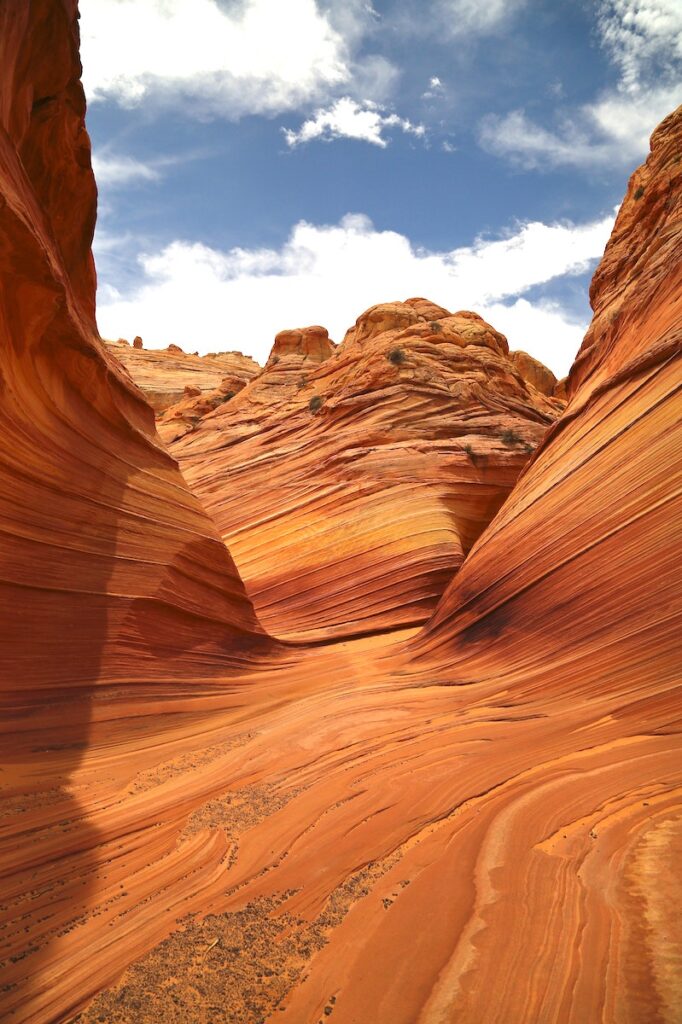 Is The Wave worth the effort?
Mandy Guo is well traveled and has explored America's national parks and wilderness areas extensively, but The Wave was unlike anything else she's experienced.
"The colors of the Wave are as vibrant as what you see online, and the most special part about it is that this landscape is so beautiful, yet so fragile," explains Guo. "The Wave has many many layers of sandstone, which give it that ocean wave look, yet if you don't pay attention, even a small step could destroy these delicate layers."
Although The Wave is the primary reason hikers go to such lengths to visit Coyote Buttes North, Guo recommends venturing past it, down a path flanked by mushroom-shaped hoodoos.
"Many people just stop at The Wave, but if you walk 10-20 minutes more, you'll reach the Second Wave," she explains. "The Second Wave is more of a pinkish color, and you'll most likely have the whole place to yourself."
At a time when it's increasingly difficult to find an area of wilderness that isn't brimming with other humans, The Wave offers a unique outdoor adventure. So, register for the lottery and keep everything crossed.