Ubud, Bali
Ubud, Bali
Traditional Indonesian Culture in its Trendiest Form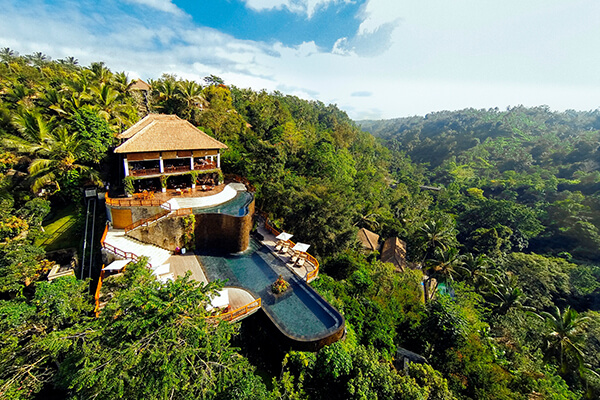 Even on an island as lovely as Bali, Ubud stands out as an exceptionally beautiful place. For starters, there's the scenery: jade hills, ornate Hindu temples, and sorbet sunsets reflected in drenched paddy fields. But the residents of Ubud also contribute to its beguiling quality. A blended community of Balinese artists, healers, and expat taste-makers offer visitors experiences that span the mystical to the gastronomic, and everything in between. One visit to this magical town, and you'll dream of joining them.
---
The Must-Do

You'll see ads for a slew of Instagrammable swings close to Ubud, but your best option is still Zen Hideaway, an Airbnb whose unfathomably photogenic backyard rope swing led the trend. While the property itself is rarely available, it is possible to reserve a swing session during the between-guests cleaning hours. While most similar swing experiences are essentially a crowded photo op, with a line of people waiting impatiently for their turn, Zen Hideaway gives you 30 full minutes without an audience. Hold on tight (there's no harness), launch yourself off the soil ledge, and soar over palm trees and river rapids below.
The Table

Showcasing Indonesia's natural bounty with mouthwatering results, Locavore is an award-winning restaurant where every element of your meal from the veggies to the ceramic plate they're served on is sourced locally. The two multi-course menus – 'locavore' or vegetarian 'herbivore' – are both a memorable adventure for your taste buds. Expect flavors and textures you've never encountered before, like roasted quail breast smothered in ginger-cinnamon butter, served with smoked pumpkin and a charred pineapple gel, or banana blossom simmered in a white curry with fresh turmeric leaves, peanut oil vinaigrette, crispy green leek, and spiced roasted coconut.
The Inn Crowd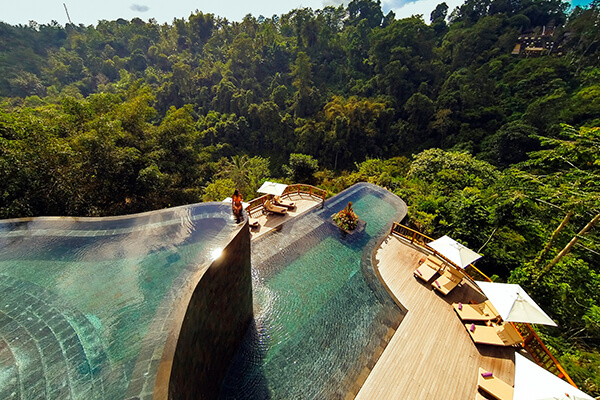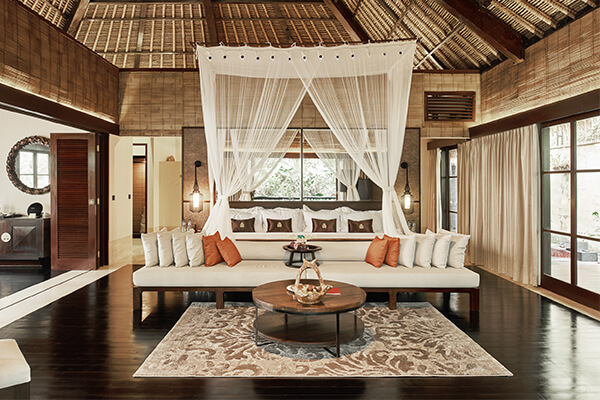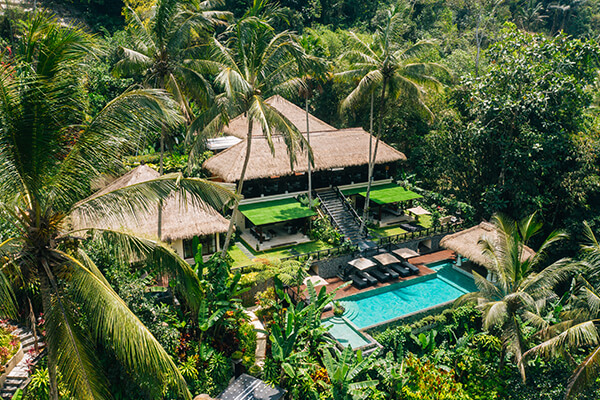 A deserved fixture on virtually every list of the world's best swimming pools, Hanging Gardens of Bali's curvaceous, tiered infinity pools are truly swoon-inducing. But the hotel's appeal doesn't end there. On an orchid-strewn hillside, forty-four villas decorated in traditional Balinese style offer guests the ultimate luxury: seclusion and tranquility. Polished teak, locally spun silk throws, and carved terrazzo bathtubs give the interior a traditional Balinese feel. Outside, you'll find a private deck with jungle views and a mini infinity pool made for sunrise skinny dipping.
The Last Call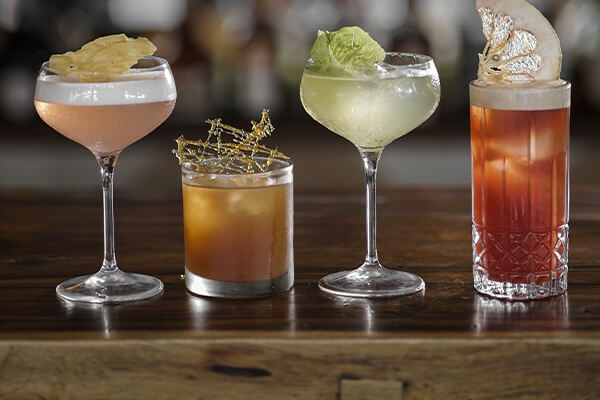 The uniquely Indonesian cocktails at this gastro-bar are a collaboration between the establishment's mixologists and chefs. Fresh ingredients and a selection of local and imported liquors combine with distinctive results. Think brem (rice wine) or arak (a spirit made from anise) sweetened with jackfruit syrup, hibiscus soda, or fermented banana, and cut with the sour contrast of pickled chili pepper, lime skin, or orange bitters.
The Downshift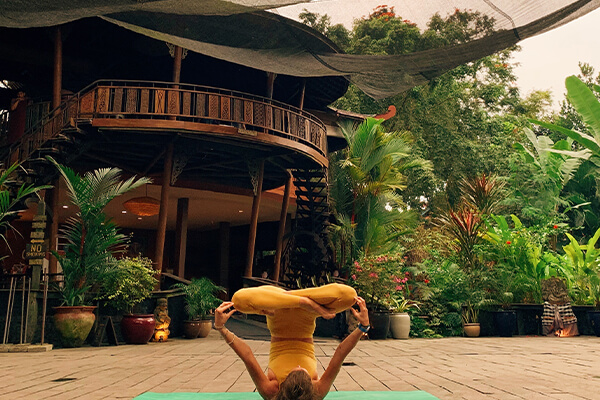 There are a ton of tucked away places to get a yoga fix in Ubud, but one studio, in particular, stands out for its vast range of additional wellness services. Yoga barn is a sprawling holistic space that blends seamlessly into the jungle and offers everything from detox retreats and meditation lessons to Ayurvedic spa treatments and cold-pressed juices. Since its opening in 2007 the venue has expanded from a single 'barn' to six individual studios hosting 130 classes per week. Whatever style of yoga you're into, you'll find it here.