A Travel Expert's Tips For Visiting Tahiti
Dream Trips: A Travel Expert's Tips For Visiting the Islands of Tahiti
By

Esme Benjamin
Hello, world. It's been a while! This past year, the pandemic put a lot of things into perspective, and left many of us contemplating which places we absolutely had to see in our lifetimes. This series of stories is designed to help you plan that once-in-a-lifetime trip, and because many once-in-a-lifetime trips are logistically complex, we've tracked down travel experts to provide some essential pointers.
Merehani Parker is the director of Tahiti Islands Travel and a born and raised Tahitian. In her very expert option there are three things that make Tahiti special and unique. Firstly, the scenery – bright blue lagoons and lush valleys so stunning that "even the postcards don't do it justice." Secondly, the culture – a blend of traditional Tahitian and French sophistication. Thirdly, the wonderful people, who, Parker assured me, will do anything and everything for visitors they connect with, despite the fact tipping is not the norm on the islands.
Tahiti's remote location in the Pacific Ocean, equidistant from Los Angeles and Sydney, means only around 200,000 visitors per year. It's an off-the-beaten-path destination and a once-in-a-lifetime trip for many travelers. As Parker puts it, "Everybody around you has been to Italy or France, but how many make it to Tahiti? Whether you're staying at a luxury resort like The Brando on Marlon Brando's private island or a family-run pension, you'll still be part of that exclusive group of people who get to visit our islands."
As an overseas territory of France, the islands of Tahiti are subject to the same pandemic laws, which means they are currently closed to visitors despite having only a small number of coronavirus cases. However, officials are hoping to reopen by May, so start planning that dream trip for later this year.
Navigating the islands of Tahiti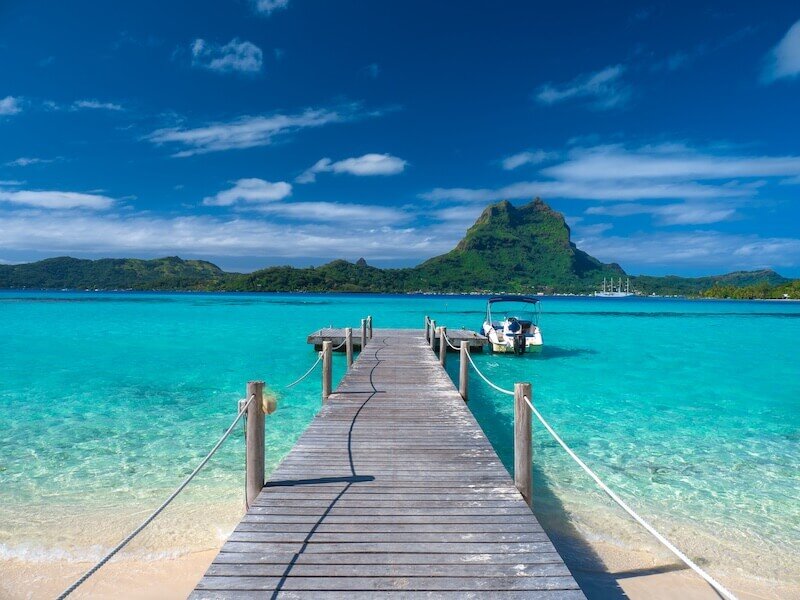 The collection of islands is known interchangeably as French Polynesia (the political name) or the islands of Tahiti (the tourism name – though you may have heard the destination referred to simply as Tahiti).
"People will say they're going to Tahiti but spend one night there and then visit the outer islands – Bora Bora, Taha'a, Marquesas, Tetiaroa etc.," says Parker. "It's a bit like saying you're going to Hawaii but really you're visiting Oahu. That's why we in the tourism industry refer to them as the islands of Tahiti rather than just Tahiti."
The islands are arranged into five groups: the Society Islands (which includes Tahiti itself as well as popular honeymoon destination Bora Bora), the Tuamotu Islands (known for diving and pearl farming), the Austral Islands (the agricultural heart of the destination and best place to spot migrating whales), the Gambier Islands (black pearls hotspot) and the Marquesas (birthplace of tattoo art). Visitors arrive at Faa'a International Airport in Papeete, Tahiti's capital city, and from there they can island hop to their hearts' content.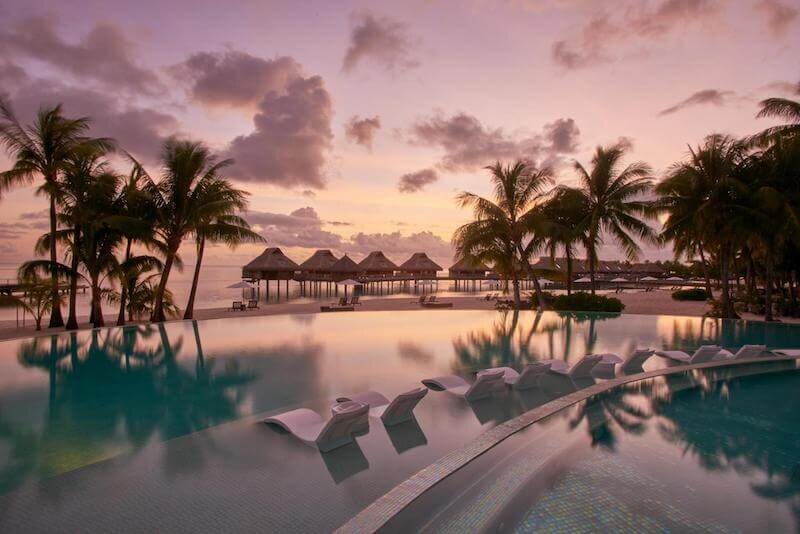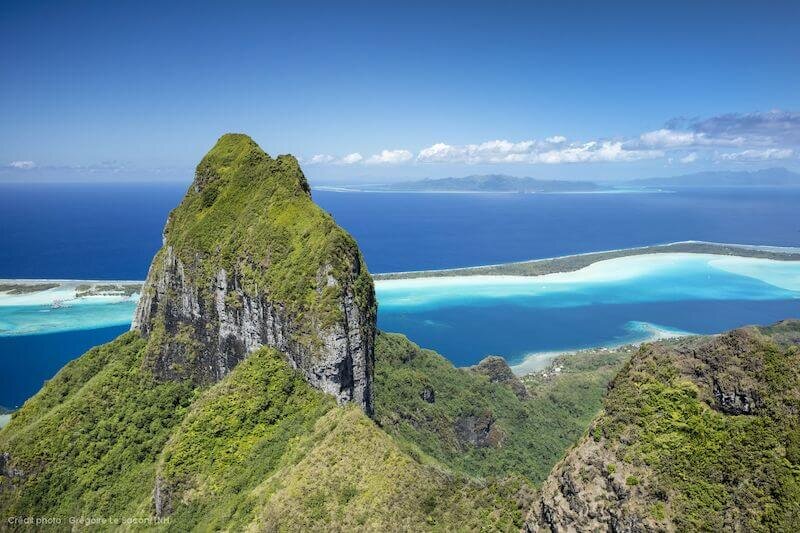 Most visitors only spend a day or two on Tahiti, but the destination's largest island shouldn't be overlooked. "It has the deepest, lushest valleys," says Parker, "and you won't get those in Bora Bora." Rent a car, explore those valleys and head out to the peninsular where you can take a jet ski tour. It's a side of French Polynesia you might not experience otherwise.
Water-based activities are central to any Tahiti trip, naturally. Spend a day in crystal clear lagoons swimming with huge schools of fish or snorkeling with manta rays, sharks and turtles. "If you go out to the Tuamotu Islands during the right season we have hammerhead sharks," notes Parker. "And between July and October there are whales traveling through our islands to give birth on their way south."
One must-do that you might not have thought of is a helicopter tour. "I was amazed going from Bora Bora to Taha'a by helicopter," she says. "You see the hues of blues and green in the lagoon and then you see all those mountains. It's beautiful."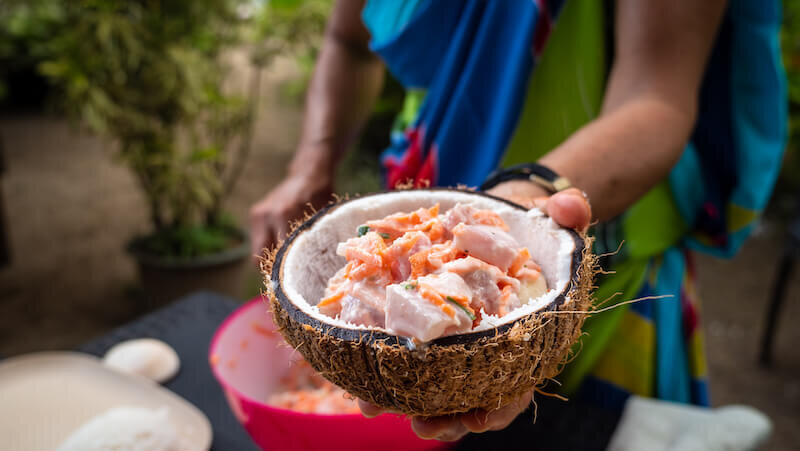 As a local, Parker's eyes light up when she talks about classic Tahitian dishes all tourists should sample. The poisson cru – raw fish marinated in lime juice and coconut – "has to be tried," she says, "that's a no-brainer." Her personal favorite, though, is a dish called poulet fafa – a stew made of taro leaves, coconut milk and chicken. Look out for fresh fruit juice stalls all over the island and don't miss Sunday brunch – Parker recommends treating yourself to firi firi, a local donut made with coconut milk.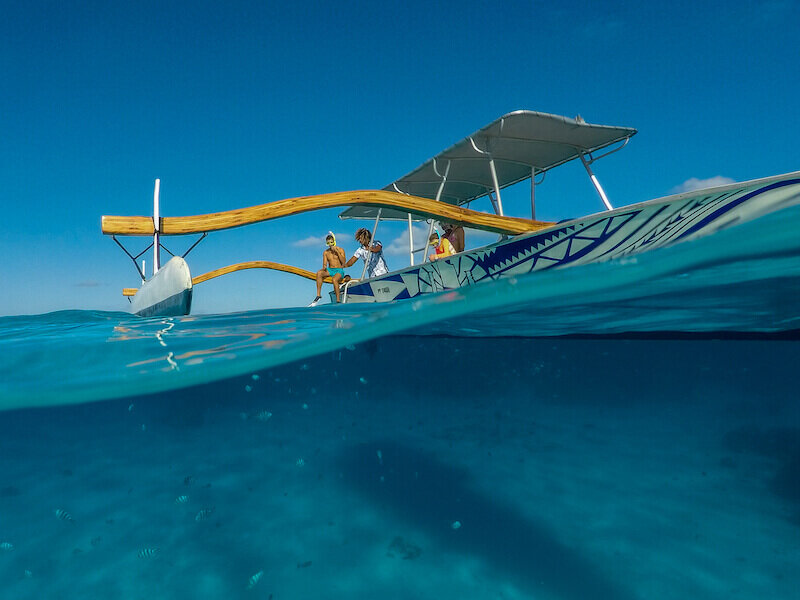 Mosquito repellent and a good sunscreen are essentials for a destination as tropical as Tahiti. Parker also recommends reef shoes and, while the virus is still around, your own snorkeling equipment if you'd rather not rent from one of the local operators. Though Tahiti is balmy all year round, it never hurts to bring a light layer or two for cooler evenings.
Souvenirs to bring home from Tahiti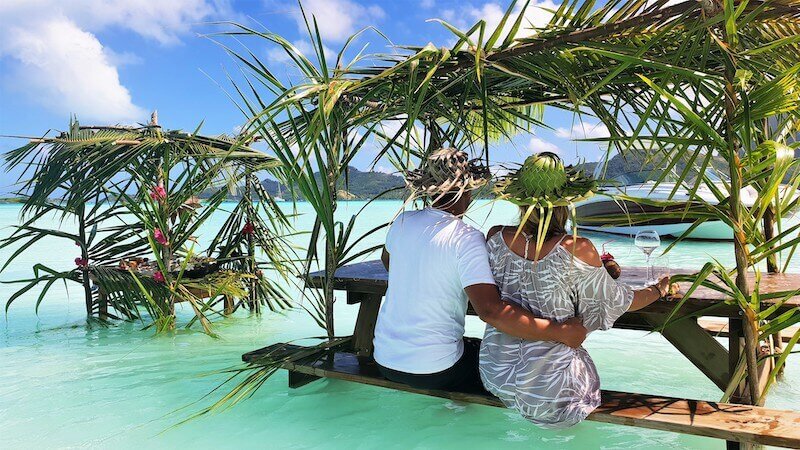 Black pearls. Parker's tip is to buy the pearl you feel a connection to. Each one is unique and jewelers sometimes spend years hunting for pearls that are a similar shape, size and color to complete a necklace or set of earrings.

Monoi oil. Tahitians use this hydrating oil on their skin and hair to nourish and condition. It smells amazing, too.

A pareo. Some tourists use these sarongs as table cloths but Parker doesn't endorse that. Wear it the traditional way, tied around your waist or chest.

Sculptures. The Marquesas Islands in particular are famous for their skilled artists. Bring home a traditional carving that looks like it belongs in The Metropolitan Museum of Art.

A tattoo. The Tahitians were one of the first cultures to develop the practice of tattooing – often in a ceremonial fashion. "In French Polynesia your tattoo was like your ID," explains Parker. "According to a tattoo, you could tell a person's rank, what tribe they were from, which island and details about their genealogy."
Visit Tahiti Islands Travel