Vedangi Kulkarni: Travel and the Kindness of Strangers

Travel and the Kindness of Strangers
Vedangi Kulkarni, the youngest woman to have circumnavigated the globe on a bicycle, shares how kind strangers propelled her journey....
During a year when tensions have been running high, and we've been told to keep our distance from those outside our households, the kindness of strangers feels more important than ever. The neighborhood mutual aid initiatives, the local restaurants feeding front-line workers, the rainbow drawings and messages of support hung in living room windows – these things have meant so much over the past eight months. Humans need each other, especially when things get tough.
This week's interviewee, record-breaking cyclist Vedangi Kulkarni, would be the first to admit she couldn't have lived her dreams or completed her goals without a helping hand along the way. In 2018, aged just 19, Vedangi rode 29000km around the world in 159/160 days, becoming the youngest woman to have circumnavigated the globe on a bicycle. The challenges of such an adventure – from crazy storms to a robbery at knife-point – might have seemed unsurmountable if it weren't for a cast of kind and curious strangers. In exchange for their aid and hospitality, Vedangi brought them inspiration – a reminder that we can achieve amazing things if we're bold enough to try.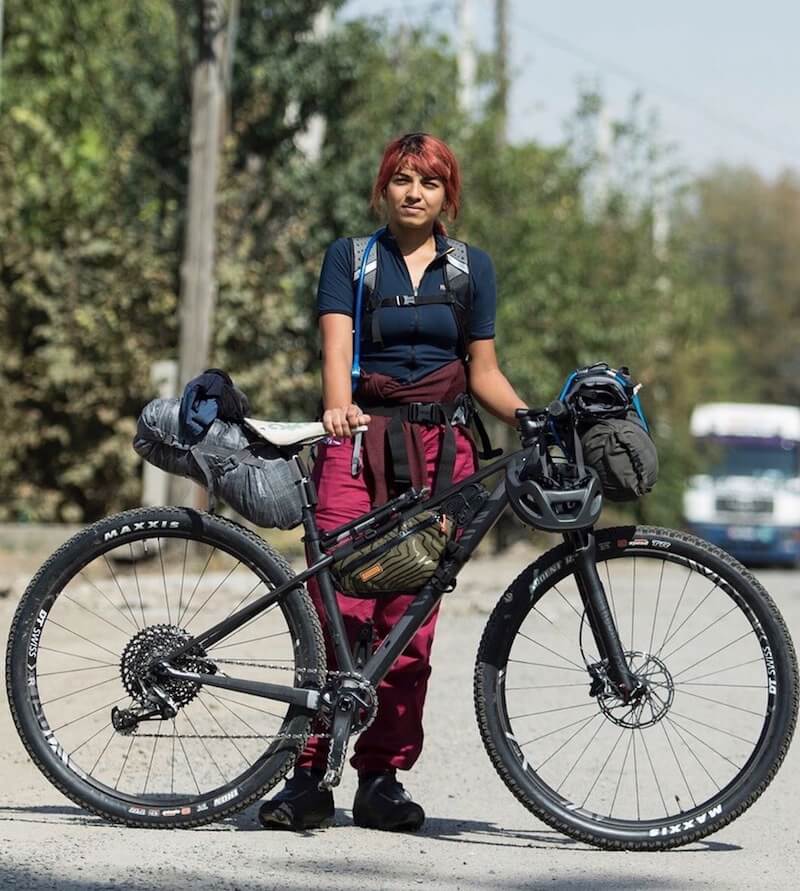 Esme Benjamin: Tell me, where did you get your adventurous spirit from?

Vedangi Kulkarni: My parents. When my dad was in his youth he used to go trekking in the Himalayas. He always encouraged me to get outdoors and do fun stuff. My mum loves to drive long distances, so when I was growing up we used to travel a lot. My dad worked abroad, and during those days he was home with us, my mum and I used to take time off from work and school and go explore the country with him. Those were experiences that instilled the adventurous spirit in me. My parents also encouraged me to read travelogues and try to understand what goes into the process of planning an adventure. On the last few days of the trip we'd do whatever I wanted. Giving me that responsibility was awesome. It made me feel confident when I moved overseas.
EB: I recently interviewed Rainer Jenss, founder of the Family Travel Association, and that was one of his top tips: let kids get involved with the planning and decision making. Were your parents always encouraging you to be more curious?

VK: Definitely. When we'd travel around India and see foreign tourists my mum used to encourage me to talk to them, find out where they're from and ask them about their country. I felt that one day I'd grow up and find a way to visit all these places I found so interesting.
EB: What inspired you to do your first big trip cycling through the Himalayas?

VK: I had gone for a shorter trip with my then-boyfriend, and the field director of that trip saw me ride and said, "Hey you're really good at this." I kept in touch with him and he told me there was a longer route that goes across the Himalayas. I was 17 at the time, which means I was too young to join any of the organized trips, but I decided that I wanted to do it by myself. My parents followed me at a 15 km distance, just in case, but I was riding my bike solo and having the time of my life.

EB: A few years later you moved to the UK and did some longer rides there as well. Tell us a bit more about that experience.

VK: When I first got to the UK I decided the only way I could truly get to know the country was by traveling slowly across it. So I cycled from Bournemouth, on the southern coast of England, to John o' Groats up in the northeast of Scotland. I wasn't properly equipped, I didn't even know what I was doing counted as a "bikepacking" adventure. But along the way I knocked on random doors, and people invited me in, gave me tea, gave me dinner, said I could stay over. I met so many lovely people who I still stay in touch with.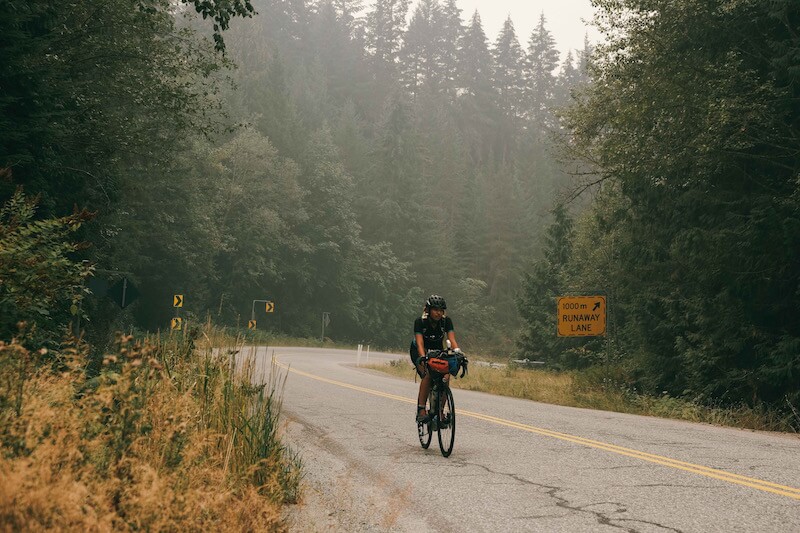 EB: Many people are apprehensive about solo travel. How did positive interactions with strangers give you the confidence to pursue bigger solo rides?

VK: The Himalayan ride gave me confidence that I was physically strong enough, but I had the mental support of knowing my parents were close by. On the UK ride there was nobody to help me besides kind strangers. One day, I was fixing my bike and a woman came over and asked me what I was doing. It turned into a conversation, and she said, "You look really young. How old are you?" I told her I was 18. She thought my ride was inspirational, so she invited me in and asked me to speak to her daughter. Then her husband walked in and pulled out a map and asked me to show him where I was going. Initially I planned on doing a 400k ride, but as I looked at this huge map of the UK I found myself pointing to the opposite end of the country and saying, "that's where I'm going – to John o' Groats." None of it was planned, which was one of the reasons why I wasn't equipped.

EB: I love that! They were inspired by what you were doing and, in turn, you got inspired by their enthusiasm for the mission.

VK: That's why I ended up deciding on the spot I'd go all the way to John o' Groats. Because those people were so kind to me it made me realize that, actually, I'm going to meet good people anywhere I go. I believe in the good in the world and the kindness of strangers because of those experiences I had in the UK.
EB: So, when did the moment come when you decided to circumnavigate the globe on your bike?

VK: On my UK trip I was reading a book called This Road I Ride by Juliana Buhring, who's the first woman to set the round-the-world record. When I reached the end of my journey I was like, "Now that I know I can rely on myself and I can truly venture into the unknown, maybe I can allow myself to dream bigger." I came back and did a ton of research. I realized this was what I wanted to do and this was how I'd train, and I decided to go for the world record.
EB: Are there any examples of people being there when you needed them that stick out from that journey?

VK: So many! On day three in Australia, in the middle of the desert, a guy was throwing cans of coke to me out of his car window. I kept stashing them in my pockets until I didn't have any space left. Eventually we both stopped and started talking. He told me he was an ex-drug dealer who had been to prison a few times. He looked intimidating, with silver grillz on his teeth, but the minute we started speaking I got a good vibe. He ended up calling his wife and put his daughters on FaceTime to chat with me. Before he left he said, "If any motherf***er in this country gives you trouble, you call me," and gave me his number. For the entire time I was in Australia he kept texting to check in and make sure I was ok.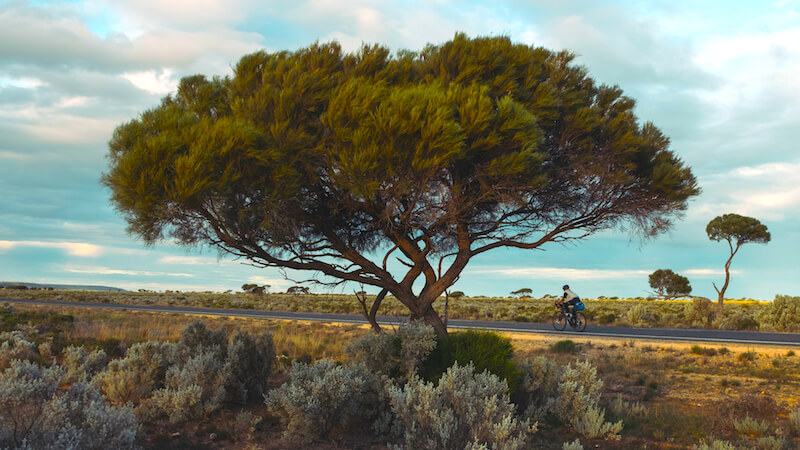 EB: Interesting that in both these encounters you ended up telling your story to the stranger's young daughters.

VK: Yes! Another one that sticks out was in the Canadian prairies. I was at a gas station, looked up at the sky and a storm was rolling in. I knew I needed to take shelter, but I didn't have a tent - I was usually wild camping in laybys with a sleeping bag and mat. I went to this tiny village and the only motel was closed. I couldn't see anywhere to shelter, so I knocked on the door of a house next to the motel to ask them if they knew the owner. The man who opened the door was a huge, muscled guy and I felt scared and vulnerable until we started chatting. He invited me in. Him and his wife had five kids and they gave me pizza, grapes – all kinds of party food. They were such a lovely family. I stayed the night and the next day they all rode their bikes with me to the highway.
EB: Were there any experiences that challenged your confidence?

VK: I got mugged in Spain, at knife point. I was in the hills of Merida, it was late and a couple of guys on motorcycles pushed me off the bike. While one was going through my stuff, the other held a knife to my neck. To keep the fear away I focused my attention on memorizing the motorbike's number plate, and what the guys looked like. It was a really traumatizing experience and ended my bid to become the fastest woman to cycle around the world, which was my original goal. At that point I was just grateful to be alive. I found my way to a gas station and the man there took me to the hospital and helped me find a place to stay. If really kind people hadn't helped me out in a really tough situation, I don't think I would have been able to continue the ride.
EB: We've all put adventures on hold this year. How has the pandemic been for you?

VK: I've used this time to explore locally, and it's been a blessing in disguise. I recently went on a trip to Scotland for a long period of time. I've been there before, but on a bike I had noticed much less. When I hiked in the Highlands I really saw the true potential of the hills and the elements. It truly made me realize I can have big adventures right here. Everything depends on how I define adventure.
EB: Tell me a bit about your business, because I know you're helping people plan and execute adventurous travel now.

VK: After I dropped out of university last year I set up a business called the Adventure Shed, and through it I help other people plan adventures by acting as their expedition manager. So currently I'm working with two polar explorers - one planning an Antarctic crossing and one planning a walk to the South Pole. I'm also working with someone who is doing a round-the-world triathlon, someone planning to run the longest distance in a year, and someone who is planning to run across a couple of continents.
EB: Sounds like you've been busy. Have you got any trips planned for yourself?

VK: The next one is a 1000-1200k ride in Southwest England. I'm working on a route that crosses all the national parks, areas of beauty, and landmarks of historic or geographic importance. I'm going to recce the route and make a video and blog, and in the future I would like the route to be a race or a challenge of some kind. It's harder than I had anticipated, and I realized how much I don't know about the region where I live. There's so much history to dig into! Next year or the year after, I'll be traveling across all the arctic regions using my own physical power, utilizing old migration routes. My idea is to talk with the indigenous communities and see how climate change has impacted their lives. I'm fascinated by the survival techniques - fishing, hunting, making a fire – and whether climate change has impacted that.


Find out more about Vedangi on her website, or follow her on Instagram @wheelsandwords