Pandemic Twists on Celebratory Dining

Pandemic Twists on Celebratory Dining
The stretch of time between Thanksgiving and New Year's Day is usually filled with assorted celebratory group meals and holiday parties. But with a second wave of the pandemic in full swing, many of us are rethinking our usual traditions. How do we navigate the season of togetherness when we're being advised against gathering? How do we create the same levels of joyfulness despite the challenges of the virus and everything we've endured this year?
Thankfully, we've come a long way since March in terms of knowledge and strategy. We have widely available, rapid testing and tactics for keeping social interactions relatively safe. And the travel industry, which is essential to bringing people together at this time of year, is working hard to reduce the risk in shared spaces, from plane cabins to hotel restaurants.
Ahead of Thanksgiving, I spoke to Daniel Hostettler, the president and group managing director of Ocean House Management Collection (an ensemble of luxury hotels in Rhode Island) and president of North American for Relais & Chateaux. Daniel and his team have created some of the most interesting pandemic solutions for celebratory dining and togetherness that I've come across, and, with winter imminent, things are about to get even more creative.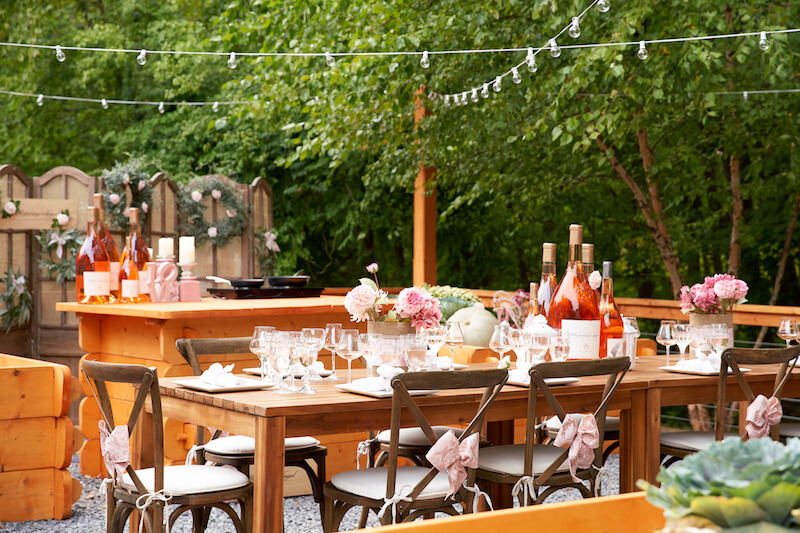 Esme Benjamin: You've had such a long and interesting career in hospitality, but I'm sure you've never dealt with anything like the pandemic before. How have the last few months been treating you?
Daniel Hostettler: We've actually been extremely fortunate because New York, Connecticut, and Massachusetts have traditionally been about 90% of our guest base anyway, and the drive markets were the first to recover. The European business that we lost for the high season has been more than made up by New Yorkers and Bostonites that want to get out of the city and come to a small seaside resort where they can feel safe.
EB: It seems like a lot of U.S. hotels and resorts have been busy over the summer, which is really great to see. What are some of the things you have put in place in terms of health safety protocols that really made the difference in the last few months.
CH: Well, we developed an entire program while we were closed, which we call "OH Well." Essentially, what we did was map the guest experience from beginning to end, and every point in between. Our properties are all Relais & Chateaux, which really represents an ultra luxury level of service. We knew service levels were going to be different reopening in the COVID world, but we wanted to make sure that they weren't less. We added the fogging down of all the outdoor patio furniture three times a day, distancing in the restaurants, and we put a Molekule air purification unit in each of the rooms, which cleans the air every 30 minutes. And then we really took a look at all the food and beverage outlets and tried to figure out how we could re-envision those and create some unique dining experiences.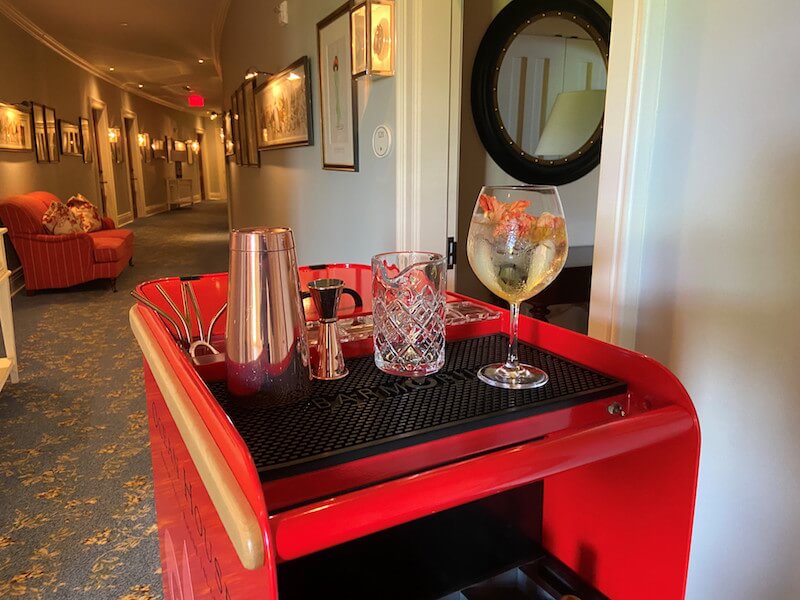 EB: How do you think the pandemic has changed what you consider to be a five-star luxury level of service?
CH: I think it's definitely a bit more hands off. The challenge is trying to maintain that intimate guest connection that's expected at a five-star level in a small independent property. So, it's remembering to smile, even behind the mask, and continuing to use the guests' names. We try to let the guests be in charge every step of the way, so instead of saying, "we're not going to clean your room or do turn down while you're here," our approach was to say, "we're going to clean your room daily and do turn down every evening just as we always have, unless you tell us differently." Guests were asked at check-in and we found that 95% of them continued to want the full service, but there were some that were a little more COVID conscious and didn't want anyone in their room once they arrived. In the spa we took particular measures to leave a half hour between treatments, which we had not done previous to COVID, so that the entire treatment room could be sanitized. And we changed the uniform of the massage therapists to hospital scrubs so they could literally change clothing between every service. We really left it up to the guests. Do you want your massage done with gloves or without gloves? It's always been about customizing the experience to what the guest is looking for, and I think that's even more true now with COVID.
EB: Yes, everybody is so particular about their space now and the sort of consideration that they expect from other people, which must make intuitive service much more tricky. All those little things that would normally be appreciated, you can't guarantee they'll be appreciated during the pandemic, can you?
CM: Right. It's about imagining every touch point and how the guests might feel about it. At our bistro we have a famous Sunday brunch, which is an all-you-can-eat raw bar experience. We knew people wouldn't want to stand in line at a buffet, so now we use tiered stands – the kind normally used for afternoon tea – to hold all of the things that would normally have been on the buffet.
EB: I know Ocean House has extensive dining options. How did you go about making them more COVID-appropriate?
CM: We anticipated that some guests would want indoor fine dining, and some would want outdoor service, and some might want a grab-and-go option, where the staff are just dropping the food and leaving. So really it was about trying to create every option for the guests, from the traditional, indoor full-service, to no service at all, to something incremental.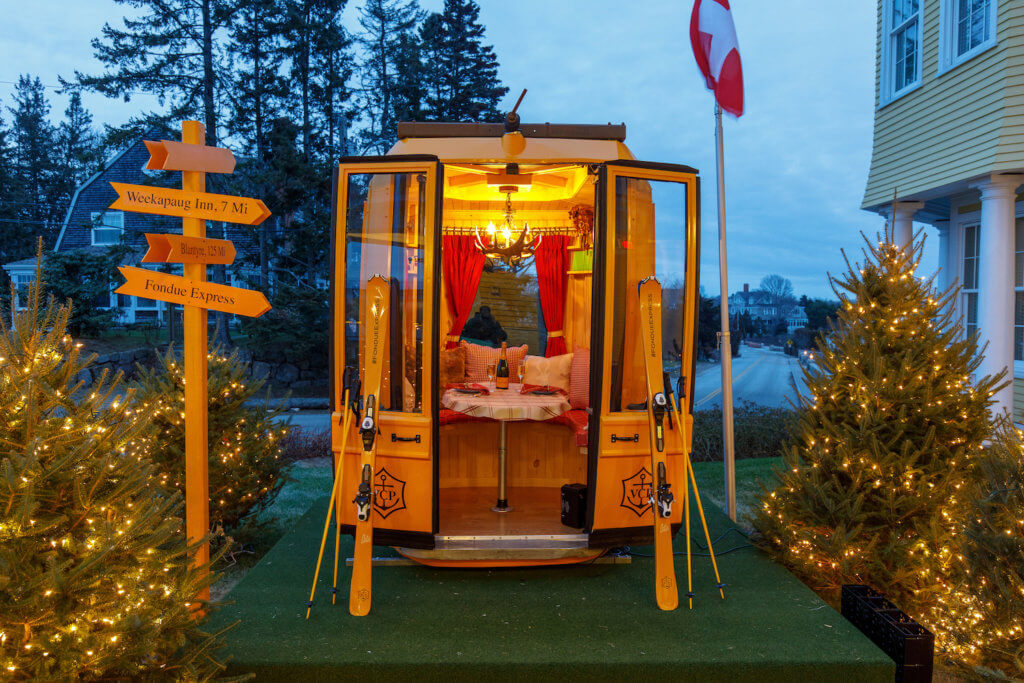 EB: Obviously, a lot of the COVID dining solutions have been outdoors because it's safer. What options for outdoor dining are you creating now winter is on the way?
CM: Every evening we are going to show a classic Christmas movie by the outdoor swimming pool. We've strung lights and placed electric blankets over the lounge chairs, and we tuck you in and serve you a TV dinner of gourmet lobster mac and cheese or a beef brisket in a bento box. Then, we bring the bar cart over to you and serve cocktails and truffle popcorn, and you can sit out as the snow falls and watch a movie.
EB: Have any of the guest preferences or requests surprised you?
CM: Interestingly, Coast, our fine-dining restaurant, has been busier than ever. It has always been a special occasion restaurant with a six-course tasting menu – the sort of place guests might reserve for a celebration. I think because all of the Michelin-starred restaurants in New York were closed, we found that every guest who came wanted the fine-dining experience at least once, even though it's indoors.
EB: Let's do a quick fire round. I'll name common dining experiences that one might have on vacation, and you can tell me how your team is reimagining them. So, let's start with cocktail hour...
CM: We had a custom-made bar cart designed, which doesn't look too dissimilar to what goes down the aisle in an airplane. It's fully stocked with a cocktail and little canapés served in a box, and we go door to door from 5 p.m. to 7 p.m. every evening. Guests can sit in their room or on the patio and look out at the ocean while they enjoy their drink.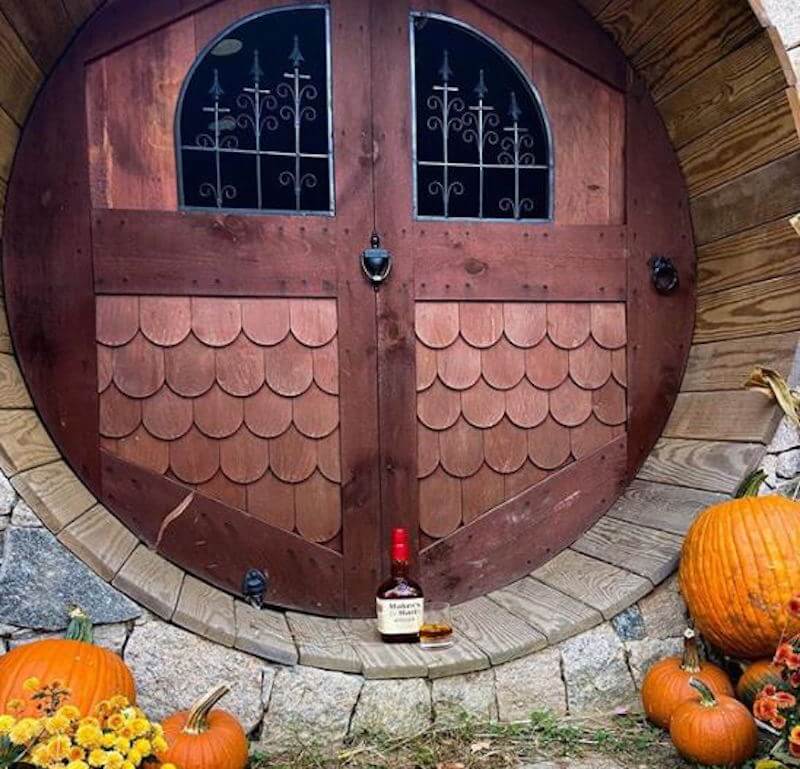 EB: What about a big family meal?
CM: We riffed on the doorknob menus that you have in hotels, and we created an evening menu where you check the boxes of all the things you want for dinner. Then, there's a section that lets you select where you want the food served – your room, the beach, the croquet lawn – and a spot to write in the time. When you arrive in that location your food and wine are already on the table set up like a picnic. There's a server in the area in case the guests need something, but, in general, it's designed so that you can have a family meal with no contact with the staff.
EB: A romantic dinner?
CM: At our Fondue Village we have vintage gondolas, and we've gutted the inside and paneled them in wood to create an alpine, après ski feel like you'd get in St. Moritz. We do a three-course menu with cheese fondue and charcuterie, and each course is matched with champagne from our partner, Veuve Clicquot. For October/November you're surrounded by hundreds of pumpkins, and when we get to December the pumpkins disappear and we replace them with a dozen Christmas trees with little twinkly lights. This is our third year doing it, and we've had more anniversaries and proposals in those gondolas than ever before.
EB: A casual lunch?
CM: At The Preserve, we have two hobbit houses bolted into the side of the mountain, with these cozy wood burning fireplaces inside. We partnered with Maker's Mark and created a three-course, family-style barbecue menu, and each course is matched with a bourbon. They seat up to six people for lunch or dinner every day, and you're in this underground cave with the roaring fire. It's unique, but very much a jeans-and-sweater experience.
EB: And finally, how about a fine-dining or culinary experience?
CM: At the Ocean House Center for Wine & Culinary Arts you can have a lunch or dinner designed by our director of culinary education, and she'll be teaching you about what you're eating. You can either cook with her or she'll do the demo while you sit and watch and have a glass of wine, and then she'll serve it to you right at the chef's table.
EB: These sound amazing. This year, we're all living for those rare celebratory moments, especially during the holiday season. It makes such a difference to be able to do something a bit special.
CM: At each of the properties we've really tried to consider what guests are looking for. People are missing experiences because they are spending so much time at home, so how do we create these unique moments while they're with us – memories they'll take home with them? That's the goal.
Visit ohmcollection.com