The Best Ski Resorts in the US 2021/2022
Where to Ski in 2021/2022 and What to Expect on the Slopes
Even beach devotees have to admit that gliding down a mountain of fluffy fresh snow, the icy air pinkening your cheeks, sounds like a freeing, thrilling way to spend another pandemic winter. Add to that the fact that winter sports naturally lend themselves to social distancing (you can only get so close to other people with 5-ft boards strapped to your feet) it's no surprise many Americans are planning to hit the slopes this winter.
Despite being a relatively safe pandemic leisure activity, resorts are continuing to update their services and facilities for COVID. Some of the rules are old news by now (wear a mask indoors and on gondolas, keep a sensible distance from others while in line, etc.), but you'll encounter some deals on lift passes and an untraditional après ski scene, too.
Read on for a list of the best ski resorts in the U.S., along with what to expect from each during this 2021-2022 season. In case you're new to winter sports, or would simply prefer a more low-key skiing experience this year, we've also included suggestions for smaller mountains in each state.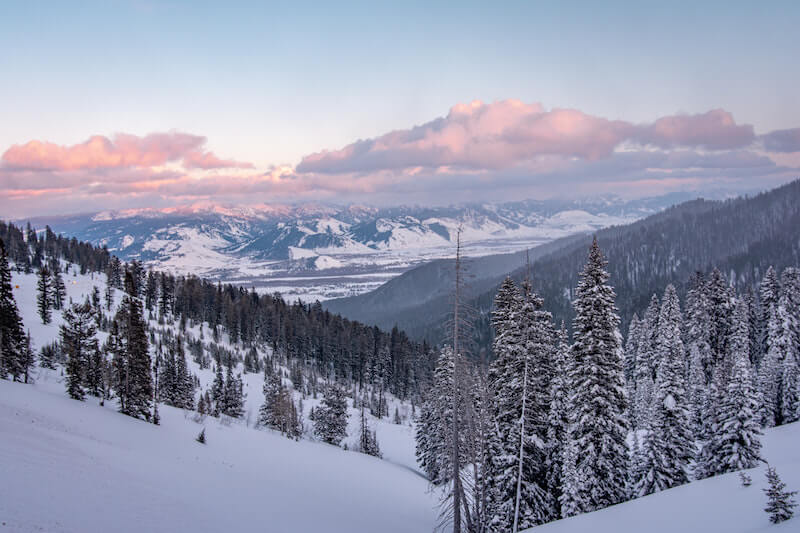 Jackson Hole Mountain Resort, Wyoming
Dramatic, Switzerland-esque natural beauty and triple-digit snowfall make Wyoming's Jackson Hole one of the most popular ski spots in the country. The resort is famous for its steep, challenging runs (hello, Corbet's Couloir) and formidable backcountry terrain, both of which make it a go-to for advanced skiers, but thanks to some recently reconstructed mountainside, you'll find plenty of intermediate-friendly slopes, too.
After a big tourism boom since the pandemic began, Jackson Hole is preventing overcrowding for winter with reduced daily capacity, although lifts and gondolas will be filled once again. For the best rates and your desired dates get your lift tickets at least 14 days in advance.
Alternative Option: Grand Targhee
On the western side of the Teton Mountain Range you'll find the smaller, quieter and snowier Grand Targhee resort. Its perfect powdery bowls and glades are made for intermediate and beginner skiers, and, like Jackson Hole, Grand Targhee has gorgeous backcountry trails to explore on snowshoe or fat bike.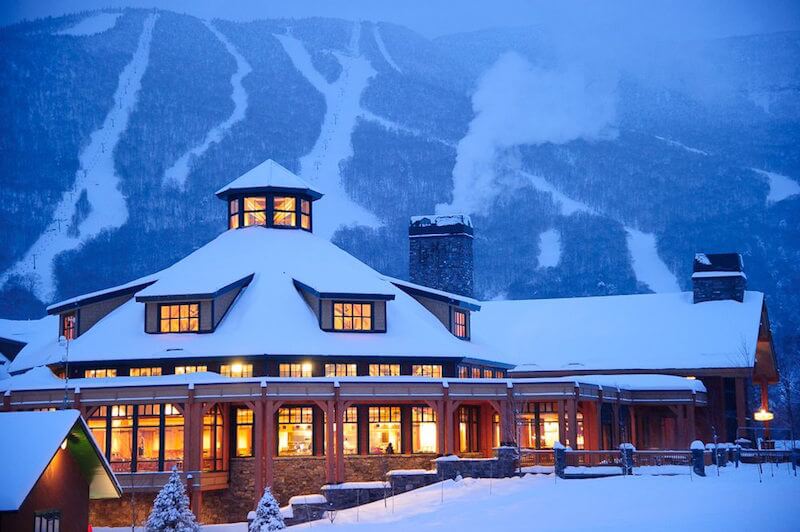 Stowe, Vermont
It's hard to imagine a more picturesque winter destination than Stowe, a classic New England town with sweet local stores and a steeple-topped church, settled at the foot of Mount Mansfield—the highest peak in Vermont. The famous "Front Four" – National, Goat, Starr and Liftline – have been thrilling advanced skiers since the 1930s, while the gentler Spruce Peak will appeal to those with less experience on the slopes.
Stowe's ski season starts November 19th, and season passes are available for advance purchase for 20% off until the 21st. There will be no reservation system this winter and lifts will be filled to capacity. It's also important to note that resort restaurants require reservations made a day or more in advance, and proof of vaccination is needed for indoor dining.
Alternative Option: Magic Mountain
Magic Mountain was founded by Hans Thorner, a Swiss immigrant and one of the country's first qualified ski instructors, who said its topography reminded him of the Alps. Fans of Magic Mountain praise the narrow, twisty trails which descend 1,500 feet – virtually all of it vertical – but the resort also prides itself on a family-friendly atmosphere and easy-to-navigate layout.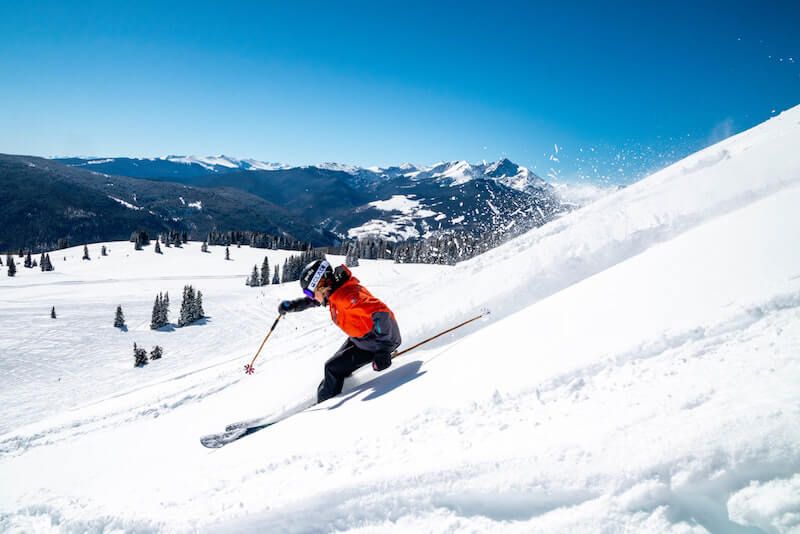 Vail, Colorado
Vail is up there with the most famous ski resorts in the world for very good reason. This sprawling mountain town is complete with 5,289 acres of varied skiing terrain, more than 30 lifts, pristine powder, a vibrant après scene, and a buzzy Bavarian-style village. Like Stowe, Vail will be offering 20% off seasonal passes until November 21st. And keep in mind, you will need reservations and proof of vaccination to dine indoors at the resort.
(Pssst! Book Vail's hippest hotel, The Sebastian, using our link and get an upgrade on arrival (subject to availability), free daily buffet breakfast, $100 credit for spa or dining, and early check-in/late check-out.)
Alternative Option: Sunlight Mountain
Sunlight Mountain prides itself on being less expensive and less hyped than other Colorado resorts, while still offering everything you could want from a day on the slopes. Explore 72 trails, 50 percent of which are suitable for beginner and intermediate skiers, then head to the world's largest hot springs pool for an après soak.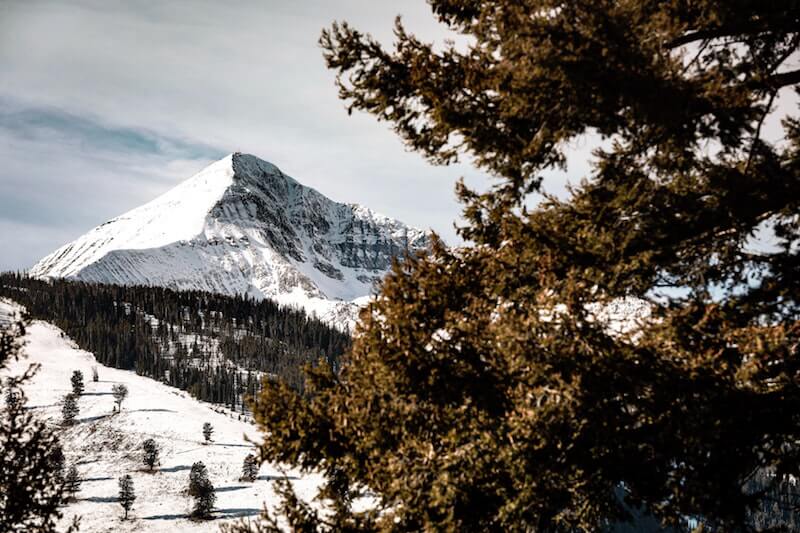 Big Sky, Montana
In true Montana style, Big Sky is vast and beautiful. From the resort's highest point, Lone Peak Tram, you can see three states and two national parks before taking off to explore 5,800 acres of skiable territory below. Big Sky is also a mere hour from Yellowstone if you decide to take a day away from the slopes in favor of trekking through the park's beautiful, frozen landscape.
Big Sky doesn't currently have a reservation system in place, or any COVID-related restrictions. However, they are monitoring the situation closely and things may change, so get your lift pass early.
(Pssst! Use Big Sky's Stay & Save offer and get 10% off your lift pass when you book accommodation)
Alternative Option: Lost Trail Ski Area
Straddling the Montana-Idaho border, among the Bitterroot Range of the Northern Rockies, Lost Trail Ski Area has a distinctly laid-back vibe. You won't have to wait in lines for the lift or swerve to avoid other skiers, here. Family owned and operated, the resort is also beloved throughout the state for its warm, child-friendly approach.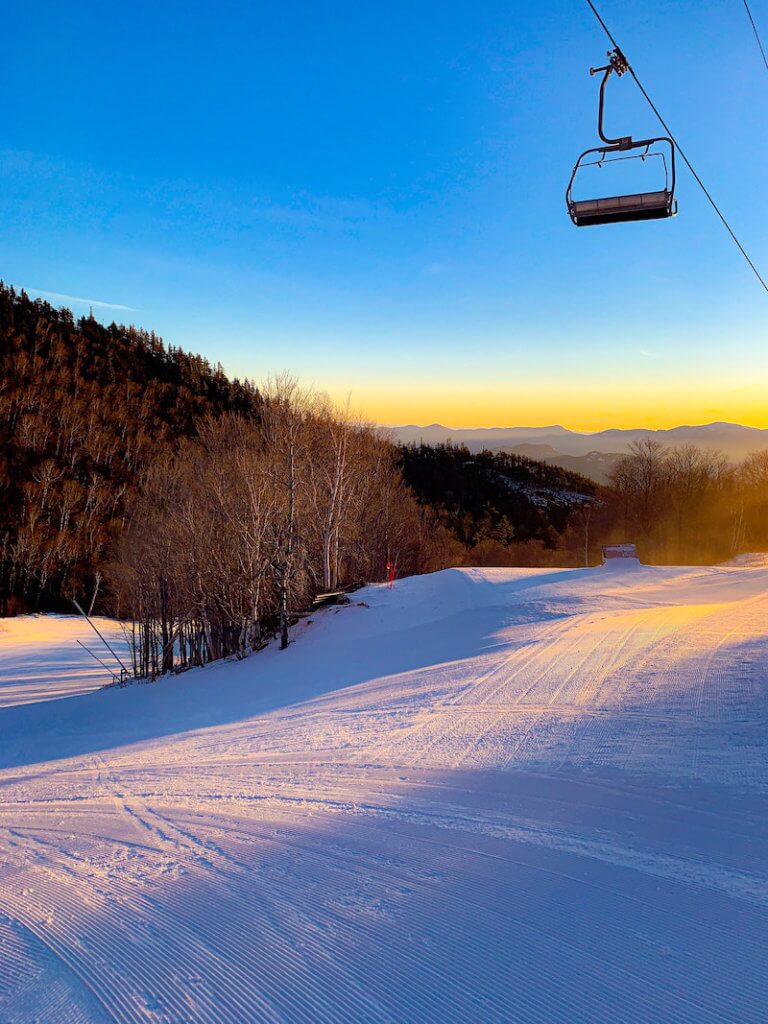 Whiteface Mountain, New York
Lake Placid's Whiteface Mountain has some legitimate credentials – it was the site of the 1980 Winter Olympics, and visitors can still participate in specific Olympics-themed activities, including bobsledding. Despite having hosted some of the world's all-time winter sports pros, there's plenty for beginner and intermediate skiers to love, too – more than 60 percent of the mountain's runs are appropriate for those with less experience on the slopes.
Whiteface Mountain is currently asking that everybody wear masks indoors when not dining, and that unvaccinated guests also mask-up outdoors.
Alternative Option: Gore Mountain
Though it's not as famous as Whiteface, Gore actually boasts the largest amount of skiable terrain of any New York mountain – 439 acres. Gore is praised for its smaller crowds and the sheer variety of slopes, from the challenging backside trails, Rumor and Lies, to the Nordic Center – a groomed 5k trail network for cross-country skiing and snowshoeing.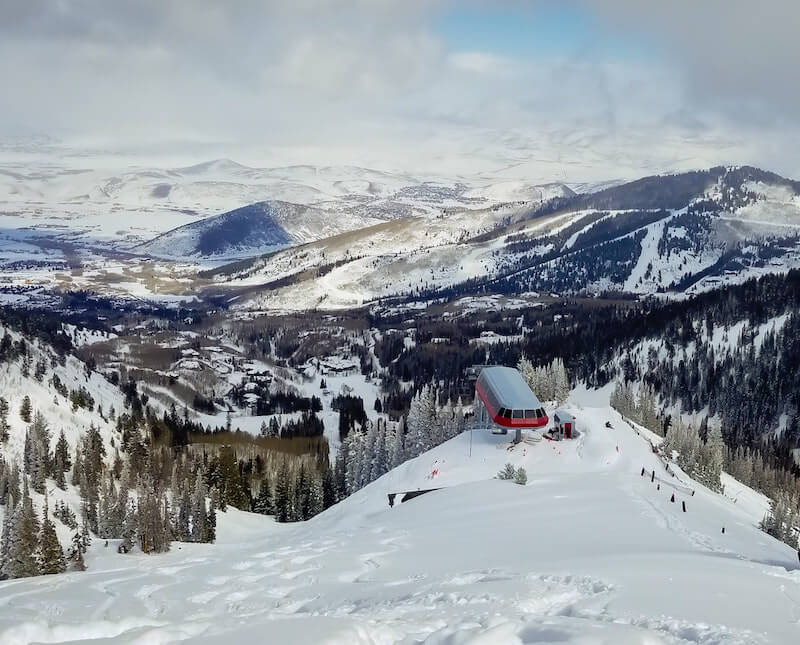 Park City, Utah
What was once an old mining town is now one of the world's most celebrated ski resorts. Park City Utah, which hosted the Winter Olympics in 2002, boasts the largest amount of skiable terrain in the country – 7,300 acres of breath-taking vertical drops and idyllic bowls. The giant resort has something for everybody, but intermediate skiers will appreciate that half of Park City's 300+ trails are blue runs.
Part City is offering 20% off season passes until November 21st, and will require reservations and proof of vaccination at restaurants.
(Pssst! Book your Park City stay at The St. Regis Deer Valley using our link and get an upgrade on arrival (subject to availability), full breakfast for two served at the restaurant, $100 food and beverage credit, and early check-in/late check-out.)
Alternative Option: Beaver Mountain
Family owned and operated Beaver Mountain prides itself on creating a welcoming atmosphere for all skiers, from those learning to love the sport to those seeking a challenge. Gentle Ben has a soft rise that's great for children and beginners working on their confidence, while Rodeo Grounds' 1,000 ft of vertical and 3,500 ft run dotted with jumps, tabletops, jibs and rollers will satisfy the advanced skiers in your group.