Glamping 2.0
Glamping 2.0
Next-Level Luxe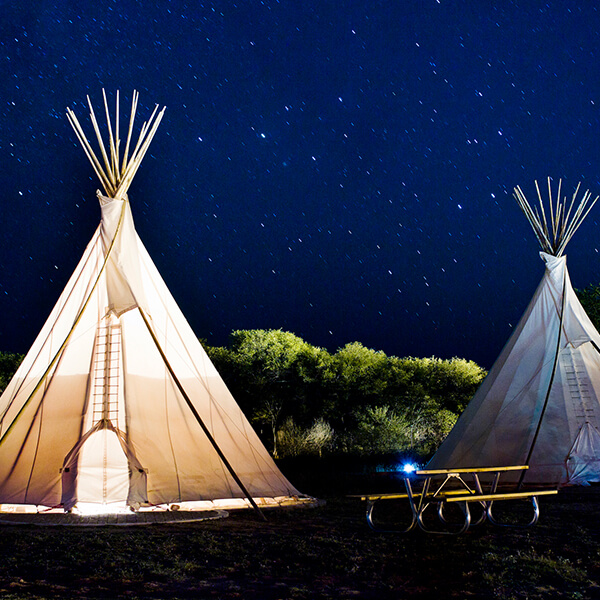 Glamping is growing up, edging closer to brick-and-mortar hotel experiences in terms of comfort, amenities and design. The latest wave of luxe camping experiences pushes the notion into even more extreme terrain for people looking for truly unique rooms of their own.
Field Notes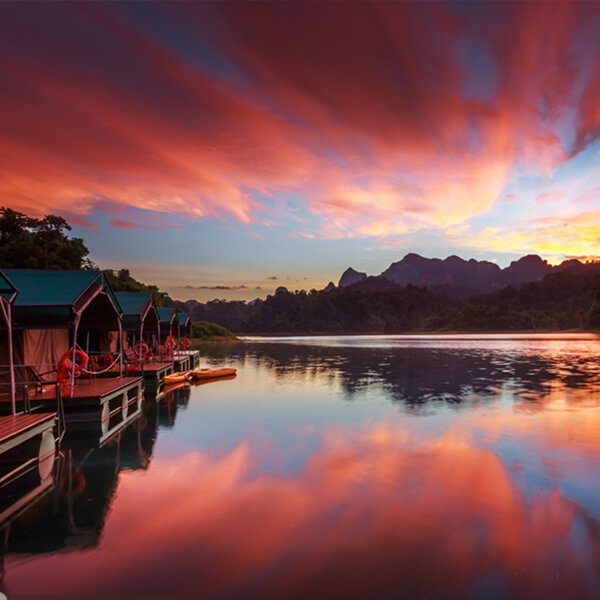 Move over minibar; constellation maps are the new must-have amenity at a growing list of luxe campsites that now rival top boutique hotels with their design, sense of serenity and unrivaled access to natural wonders.
1. Located in the lush forests of the Julian Alps and minutes from the crystalline Lake Bled, Slovenia's Garden Village Bled boasts 23 units, including a tree house with live trunks growing through it, and pier tents suspended on stilts that jut over a trout-filled stream.
2. Aman-i-Khás, one of the uber-exclusive installations by Aman Resorts, features 10 elegant "tents" (they're outfitted with leather ottomans and twin writing desks) in the brushwood outskirts of India's Ranthambore National Park. During the day, visitors can partake in a safari through the park, which remains one of the best locations in the world to spot wild tigers, as well as crocodiles, leopards, jackals and approximately 300 species of birds.
3. Suspended over the serene emerald waters of Cheow Lan Lake in Thailand's Khao Sok National Park, Elephant Hills Rainforest Camp constructed 20 floating eco-friendly safari tents that sit directly on the water (and are safely anchored in place). Take a kayak trip from your door, or venture over to Elephant Hills, the camp's sister organization that encourages ethical treatment and interaction with local elephants.
By the Numbers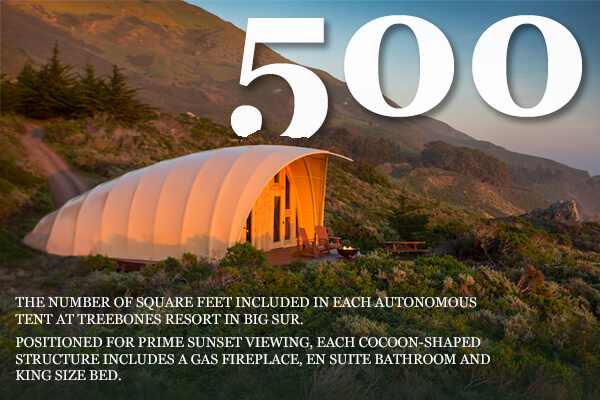 Inn Crowd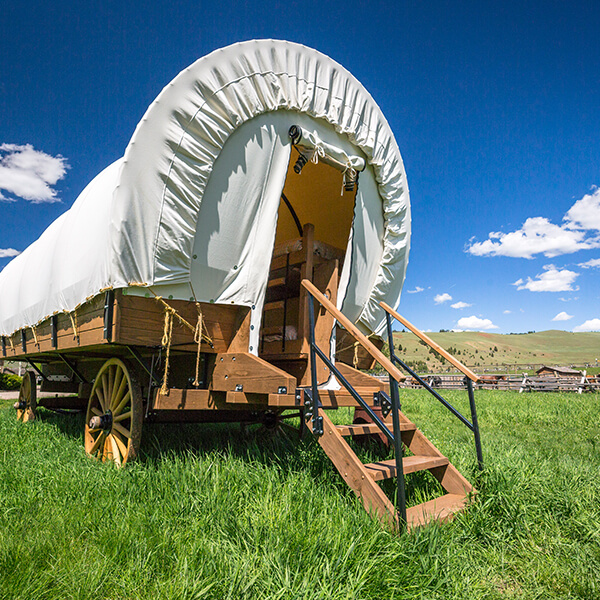 As Montana's only five-star guest ranch, The Ranch at Rock Creek is an opportunity to experience real Montana with a luxurious twist. Set on 6,600 acres of untouched wilderness and nestled in an isolated valley south of Glacier National Park, the property remains a working cattle ranch that's been in operation since the late 1800's. While its original 19th-century barn still stands, the ranch's other structures have been reimagined into rustic-chic accommodations where cowhide rugs meet canopied beds. The ranch takes rural living to the next level via canvas-cloaked homesteader wagons and personalized cabins that hug up against Rock Creek. Decked out with wood burning stoves, outdoor cedar soaking tubs and individual fire pits, the cabins' stunning décor is only rivaled by their surroundings: moose, elk and wolves meander through the property, while hiking, horseback riding (featuring a Summer Cowboy Breakfast), guided photography workshops and Blue Ribbon fly-fishing are a step out the front door.
Launch Pad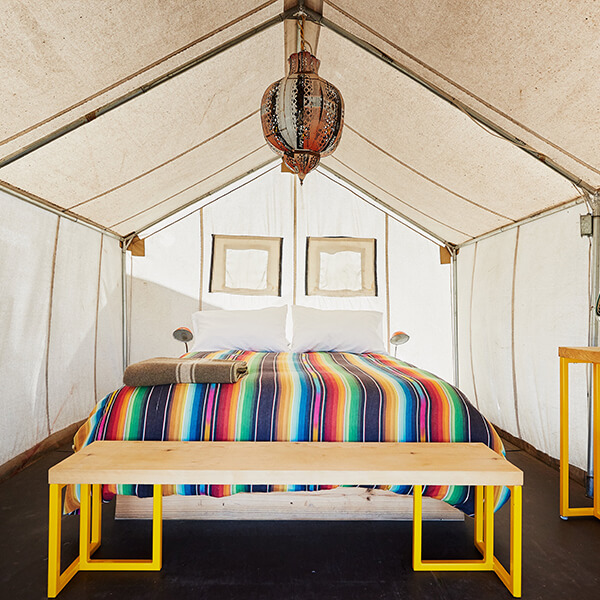 From the sky, the refurbished trailers at El Cosmico resemble a spiral of Pez dispensers, their pastel flecks dotting West Texas' barren desert landscape. The brainchild of hotelier-turned-artistic engagement guru Liz Lambert, the campground is made up of trailers, yurts, Sioux-style teepees and scout tents spread over 21 acres just outside of Marfa. Teaming up with architecture firm Lake/Flato, the group created a series of refurbished mid 20th-century vintage trailers, finished with marine varnished birch interiors, 70's-inspired décor and a more-is-more color palette that somehow remains minimalistic. The grounds also feature a limited-edition micro-home made in collaboration with Kasita, as well as a communal outdoor kitchen, bathhouse, hammock grove and reading room—just to name a few of the site's amenities.
The Brag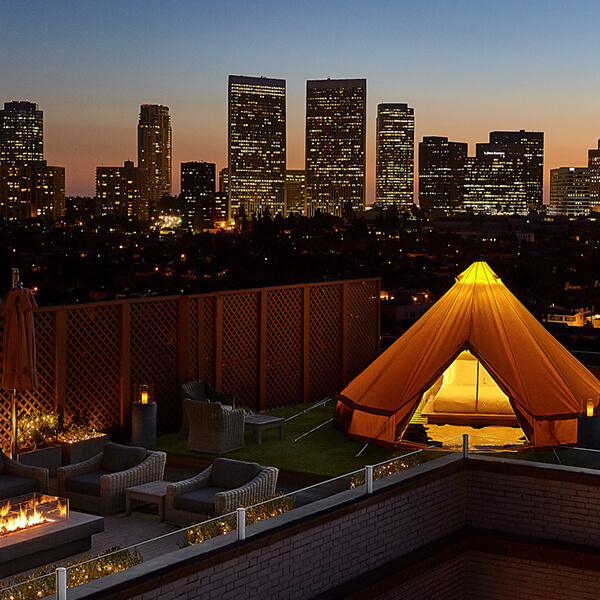 Looking for solitude smack in the middle of Beverly Hills? Perched up on the 10th floor of the Beverly Wilshire Hotel, a newly installed luxury tent offers a bird's eye view of Rodeo Drive. Veranda Suite includes dinner on the terrace, with dishes cooked primarily on charcoal or in a wood-fire oven, and fire pits that are perfect for roasting (Tahitian vanilla bean) marshmallows.
Cheat Sheet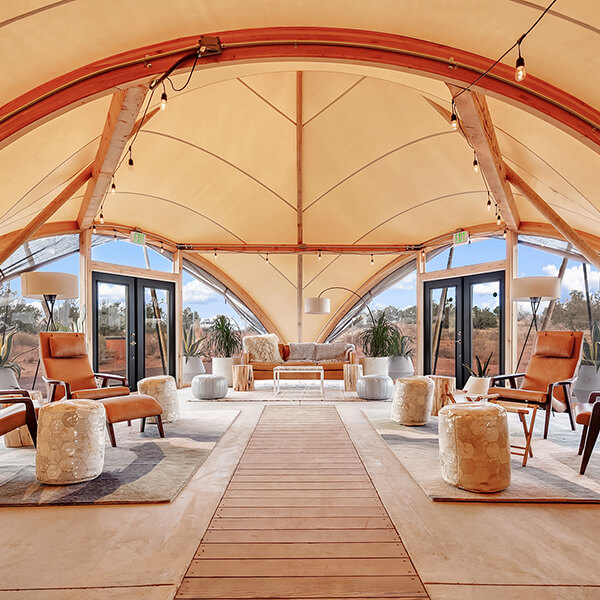 As cofounder and CEO of Under Canvas, Sarah Dusek has made it her mission to create luxurious glamping accommodations just minutes from some of America's most popular national parks. Here are her top awe-inspiring destinations.
Mount Rushmore is spectacular. Located on an original gold mining settlement, with a direct view of the monument from camp, you can spend your days exploring the Black Hills and Badlands National Park, Devils Tower, Crazy Horse and Sylvan Lake. There's really great rock climbing and Custer State Park is a playground for thrill seekers no matter the experience level.
Great Smoky Mountains is set back in a gorgeous valley in the midst of the lush forest — quite literally a rainforest — the setting is beautiful. The convenience to America's most visited national park and the Appalachian Trail is what also makes it so incredible, but I'm also a big fan of venturing out to any of the many waterfall hikes that are so unique to the region.
Grand Canyon is a bucket-list location that you just can't miss. I love the fact that you're surrounded by a piñon and juniper forest, and just 25 minutes away is one of the world's great wonders, the South Rim entrance. I recommend getting up super early and watching the sunrise over the canyon. It is truly a chilling experience.