Five Can't-Miss Restaurants at ARIA Resort & Casino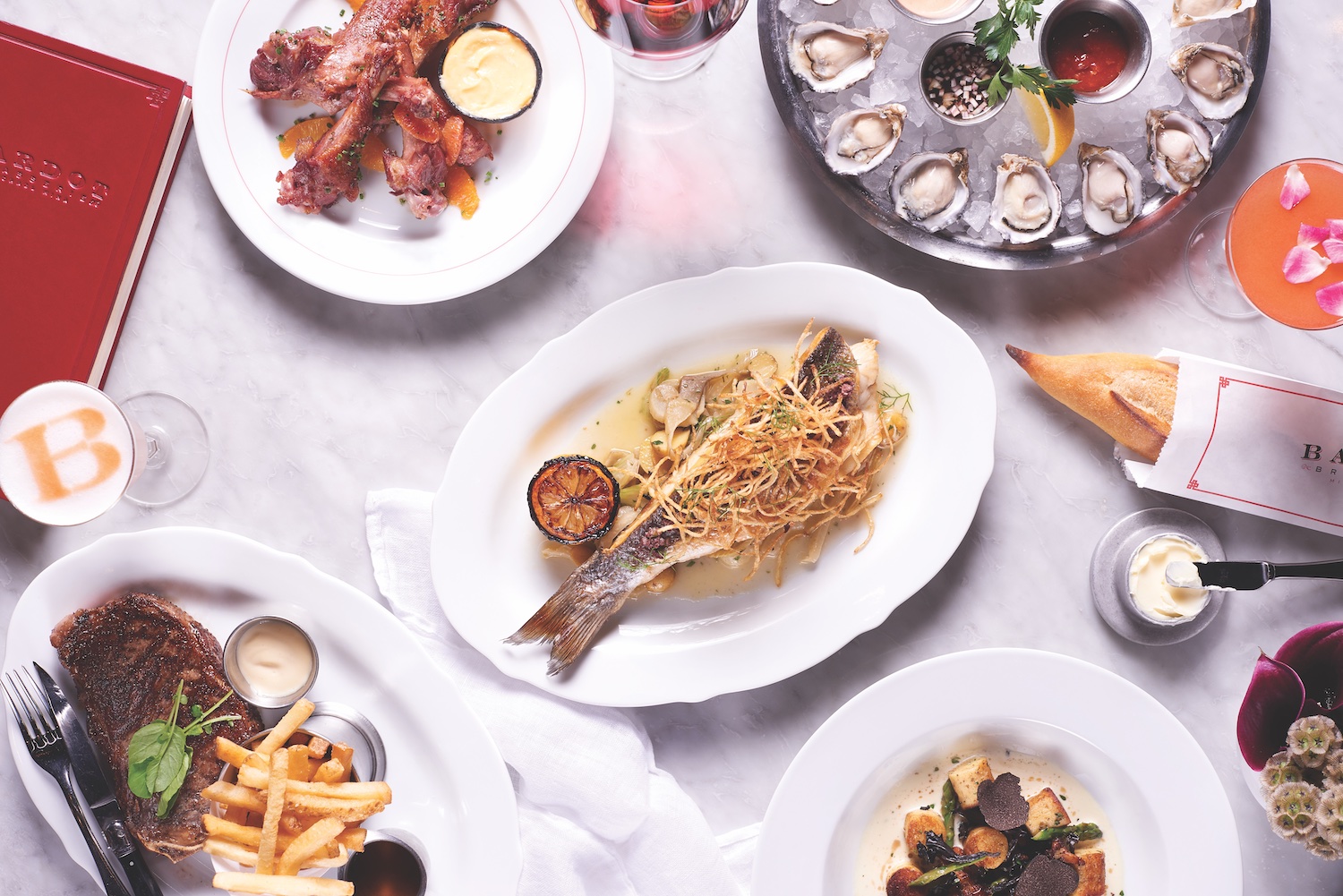 Five Can't-Miss Restaurants at ARIA Resort & Casino
ARIA Resort & Casino is celebrated for exceptional guest service, luxurious Sky Suites rated five-stars by Forbes Travel Guide, ever-changing art collection, world-class entertainment, thrilling nightlife and, of course, a bustling all-night casino. But the Las Vegas-based attraction also excels in the culinary arts. Featuring 16 restaurants in total, the resort offers gastronomic indulgence for every taste. Here, we list five of our favorite restaurants at ARIA.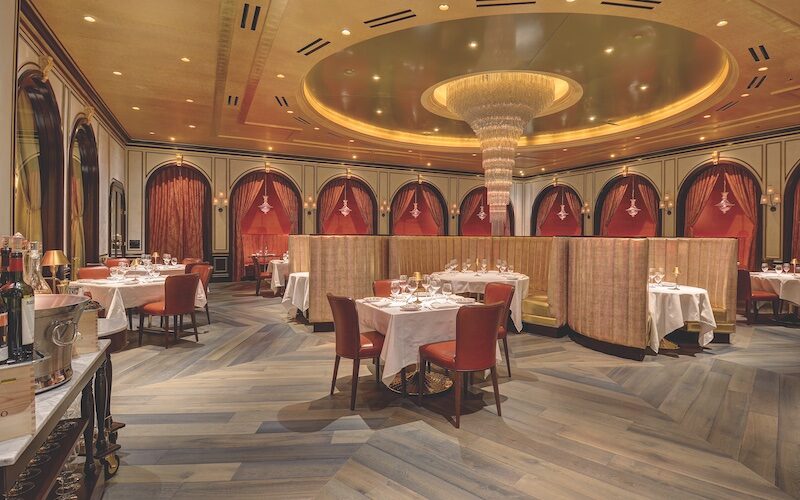 Carbone
Carbone channels the once-ubiquitous classic Italian restaurants in midcentury New York in a glamorous space that recalls the Rat Pack-era. Founders Mario Carbone, winner of the James Beard Award for Best Chef, along with restaurateurs Rich Torrisi and Jeff Zalaznick pride themselves on old school attention to detail, apparent in the restaurant's tableside service where tuxedo-clad Captains showcase elaborate tableside presentations. Carbone's décor buzzes with characteristic Las Vegas pizzazz and nods to the restaurant's inspirations: a moody blue room is lined in New York-style subway tiles and an electric red room takes cues from the Milan Opera, featuring a Murano crystal chandelier that cascades above gold leather banquettes. Chef Carbone's menu is rich in culinary craftsmanship. Expect hearty Italian classics like lobster ravioli and veal marsala alongside a dizzying selection of international rums courtesy of the Rum Cart, a vintage cart that rolls up to each table for a post-dinner tipple.
Signature Dish and Drink: The spicy rigatoni vodka, cooked with creamy tomato paste, fiery Calabrian chilis and, of course, a heavy pour of the popular spirit, is a smooth complement to the smoky bitterness of an Old-Fashioned.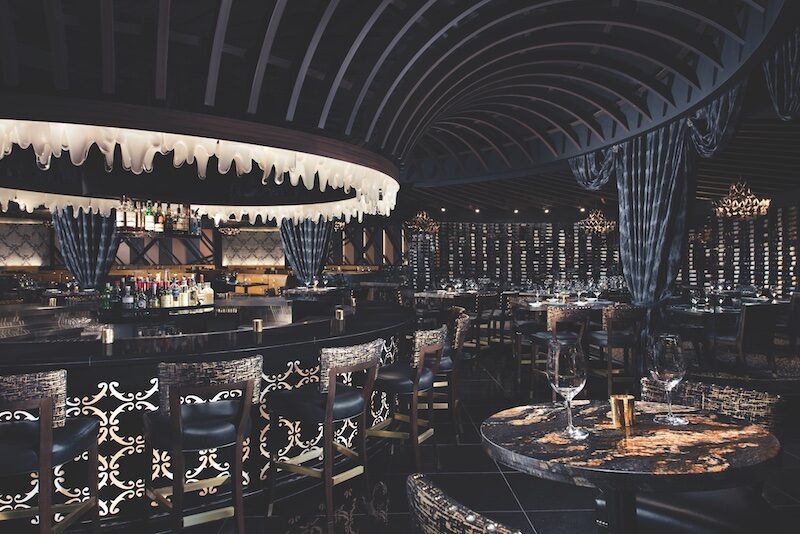 Jean Georges Steakhouse
Dripping in dark romance, this world-class steakhouse celebrates the culinary hedonism of chef Jean-Georges Vongerichten. Against the backdrop of a sensually curved wall displaying hundreds of wines, honey-orange banquettes pop amidst sultry black-and-gold accents. The food is equally as seductive as evidenced by the Chilean Sea Bass that comes glazed in miso yuzu and the cold-water lobster tail that is drenched in melted butter. But let's be frank: you come to a steakhouse for the beef. At Jean Georges Steakhouse, the 16 oz. Wagyu ribeye is known for its marbling and tenderness; the 14 oz. Prime New York Strip is grilled in rendered beef fat over sustainable apricot wood and mesquite; and the 36 oz. Prime porterhouse is carved tableside and capped with fragrant roasted herbs.
Signature Dish and Drink: The melt-in-your-mouth richness of the F1 Wagyu steak, thickly marbled in luscious fat, is sumptuously highlighted by the dark, fruity flavors of the Caymus Napa Valley Cabernet Sauvignon.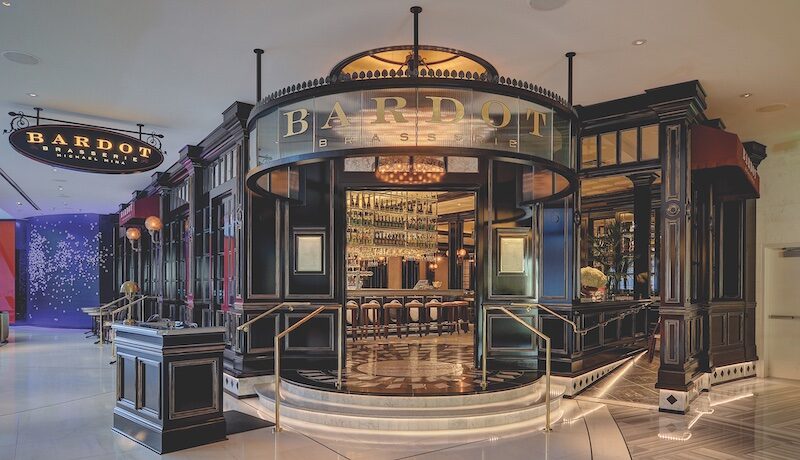 Bardot Brasserie
Inspired by a French bistro, Bardot Brasserie's warm and sophisticated brass-and-chocolate interiors have an enveloping effect. Multi-award-winning chef Michael Mina's has a cheeky take on French classics. Think avocado tartine served atop a buttery croissant; a French omelet with herbs and Gruyère that, in a nod to the restaurant's American location, comes with hash browns; and a stack of French toast topped with vanilla bean mascarpone, Orgeat syrup, almond brittle, which, for those looking for even more indulgence, can be supplemented with seared foie gras. Along with an abundant wine list, a champagne cart lets you browse by-the-flute options before committing to your choice of bubbly.
Signature Dish and Drink: A fun take on the British classic Beef Wellington, Mina's Bardot Wellington is a mouthwatering 12 oz. Prime filet mignon drenched in the madeira-based Sauce Périgourdine and served with Bayonne ham and black truffle mashed potatoes. The full-flavored dish couples beautifully with the notes of smoky agave in the Montelobos Mezcal.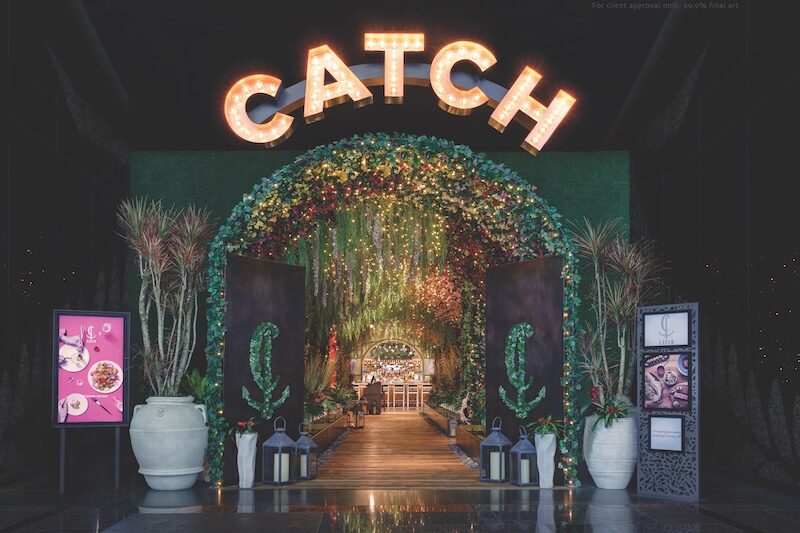 CATCH
A beau monde mainstay in New York, L.A., Aspen and Las Vegas, CATCH is the place to see and be seen, while indulging in delectable Asian-influenced dishes. Dressed as a secret garden, the restaurant is entered through a tunnel of faux flowers that leads to a space with green banquettes, olive trees and multicolored lights that serves as an ethereal background to party in till closing time. Although the menu includes standouts like yuzu soy sauce and garlic oil poured over a Wagyu 38 oz. steak that is cooked tableside on CATCH's signature hot stone, the seafood is the star of the menu. Don't miss the Hellfire roll, with spicy tuna two-ways served with pear and balsamic and the seared yellowfish tuna with a choice of kabayaki butter, kale pesto or jalapeño cucumber emulsion.
Signature Dish and Drink: The delectable earthiness of the Truffle Sashimi is offset by the refreshing fruitiness of the One Too Many cocktail, which blends strawberry-infused Grey Goose vodka with coconut, avocado and lime.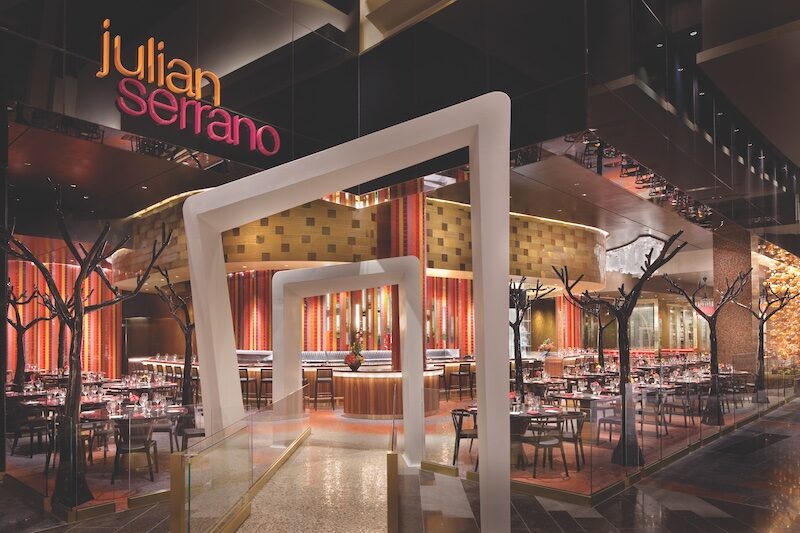 Julian Serrano Tapas
Inspired by the cuisine of his native Spain, chef Julian Serrano reinterprets Spanish classics at this vibrant restaurant. Colors of the Spanish flag—red and yellow—infuse the bright space with verve, while brass accents add that characteristic Vegas oomph. Tapas are to be expected, and they delight in the shape of honey-topped Spanish pork sausage served with potato purée; tuna cones doused in rocoto pepper mayo, guacamole and wasabi aioli; and, of course, brava potatoes drizzled with spicy tomato sauce and aioli. An imaginative addition are the latas—tin cans imported from Spain that contain anchovies or yellowfin tuna or baby clams, all soaked in olive oil and served with artisan bread and fresh tomatoes.
Signature Dish and Drink: The Rossejat is a traditional Catalan paella-style dish with an Italian influence, which means it's cooked with pasta instead of rice. Serrano makes his with seafood, including calamari, shrimp and langoustine tossed with bell peppers and aioli. The sweet notes in the restaurant's signature red sangria, infused with red wine, orange, lemon, apple and cinnamon, dovetail perfectly with the briny goodness of the Rossejat.
As a tasty bonus, this December ARIA will add an elevated food hall called Proper Eats to its mouthwatering roster of restaurants. The 24,000-square-foot space on the second-level promenade will offer an eclectic array of global cuisine and cocktails. The 12 dining concepts will include the breakfast-centric Egghead by Tao Group Hospitality; sushi spot Temaki Bar by Clique Hospitality; a pizza concept from DJ and restaurateur Steve Aoki; and two firsts: the first Wexler's Deli outside L.A. and the first Seoul Bird outside London. Thanks to these additions, as well as its existing abundance of culinary delights, ARIA stands out on the epicurean map as a must-visit destination for food lovers.
This article is sponsored by ARIA Resort & Casino