Calling all Castaways: 10 Private Islands for a Once-in-a-Lifetime Vacation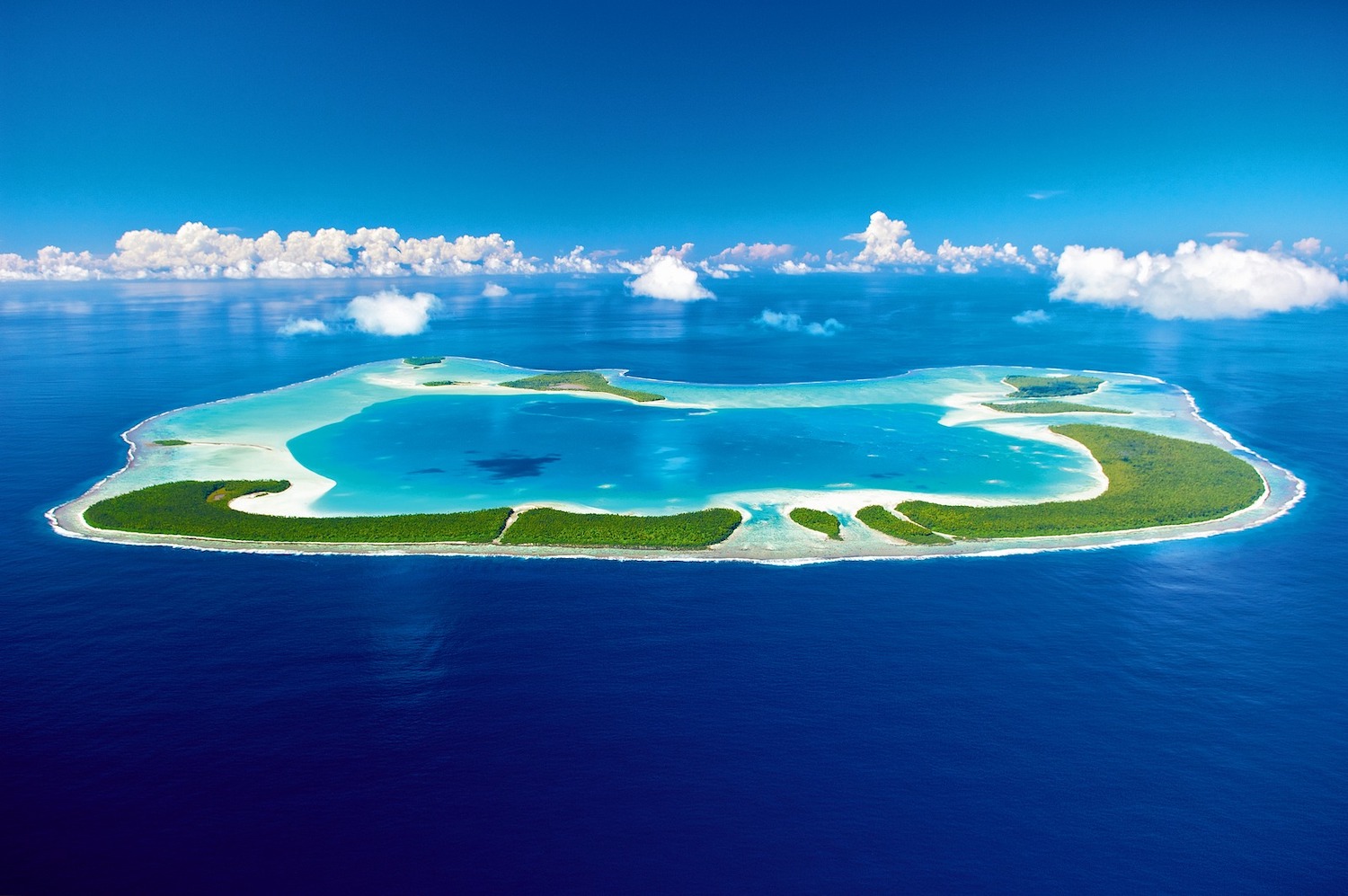 Calling all Castaways: 10 Private Islands for a Once-in-a-Lifetime Vacation
By Esme Benjamin
If you're craving a relaxing vacation – one that truly feels like getting away from it all – a private island retreat is worth the splurge. Leave the buzzy mainland far behind in favor of thriving reefs, lush rainforests and sugar-fine sandy beaches with barely another soul in sight – all coupled with some of the most luxurious accommodations and thoughtful hospitality you've ever experienced. From the Maldives to the British Virgin Islands, and from the Florida Keys to England's River Thames, here are 10 private islands to visit for a once-in-a-lifetime vacation.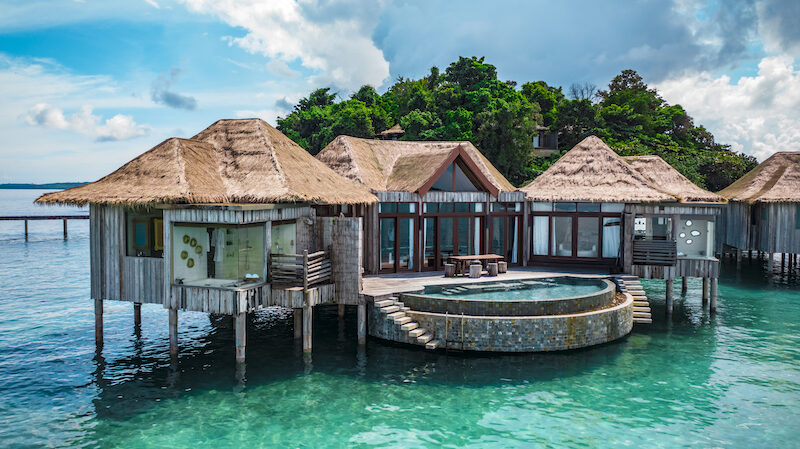 Song Saa Private Island, Cambodia
Though Cambodia's coastline isn't as famous as neighboring Thailand's, it's every bit as beautiful. Case in point: Song Saa, a private island retreat in the Koh Rong Archipelago with a strong emphasis on sustainability and honoring its natural surroundings. Twenty-four private villas (including overwater bungalows), each with their own pool, are made from reclaimed timber and decorated with upcycled items (think: driftwood tables and lamps made from old oil drums). When you're not enjoying Song Saa's immaculate beaches and marine-abundant sea, embrace Cambodian culture by participating in guided mediation, a Buddhist ceremony (traditional blessings perfect for birthdays, anniversaries or honeymoons) or a tour of nearby Prek Svay village with the resort's conservation team.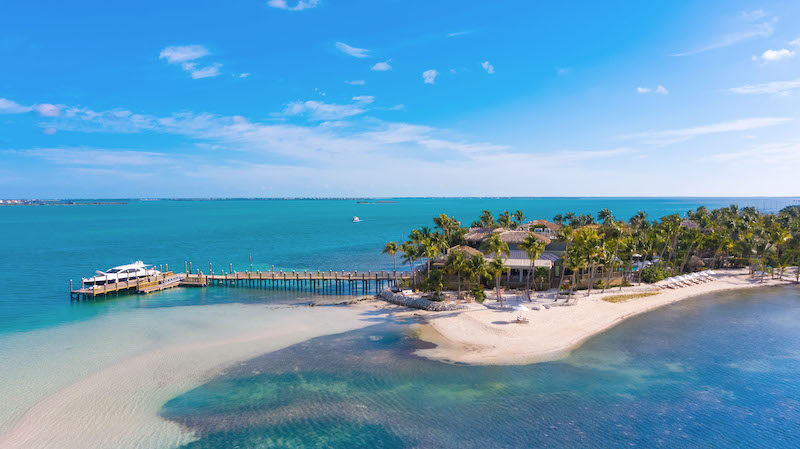 Little Palm Island Resort & Spa, Florida
Down in the Florida Keys, on a pristine four-acre islet accessible only by boat or seaplane, you'll find the United States' only luxury private island resort. Your stay at Little Palm Island Resort & Spa begins with check-in cocktails at the Shore Station, after which you'll settle into your own luxury bungalow. Unplugging is encouraged, so pause your social media scrolling in favor of scuba diving adventures, sailing, kayaking, dolphin spotting and even skydiving. If you're in the mood for more chill time, head to Little Palm's indoor-outdoor spa or seek out an unblemished patch of sand for an afternoon nap in the sunshine – two perennially popular options at this deeply relaxing resort.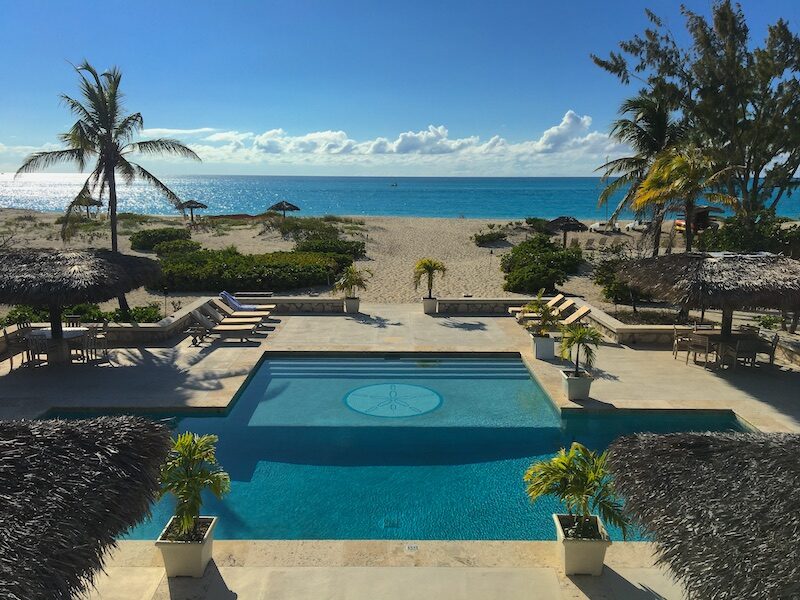 The Meridian Club, Turks & Caicos
The little island of Pine Cay in Turks & Caicos is a total reset for your nervous system: 800 acres of co-op-owned land encircled by a halo of white sand. The island's sole resort, The Meridian Club, has just 12 rooms and suites set 150 ft from the ocean, giving guests access to some of the most beautiful, untouched and empty beaches in the whole of the Caribbean. Borrow a golf cart (the transportation of choice on Pine Cay) and explore sandy roads leading to secluded coves. Keep your eyes peeled for turtles and stingrays; they swim right up to the shore on Pine Cay.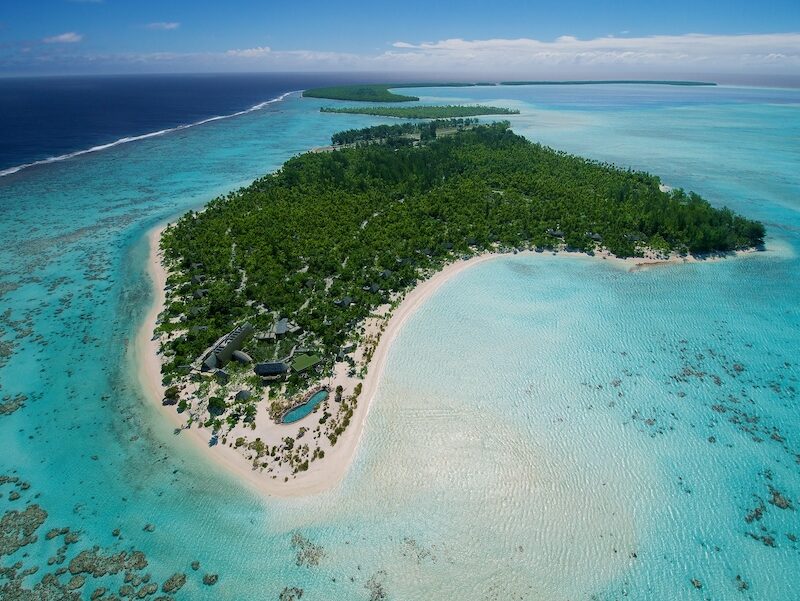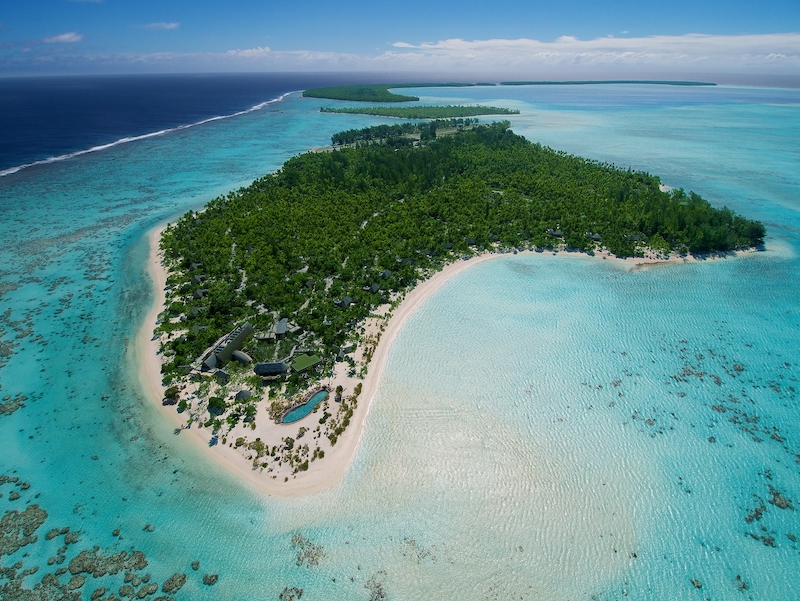 The Brando, French Polynesia
Marlon Brando fell in love with the Tetiaroa atoll – a dozen untouched islets in French Polynesian, surrounded by a turquoise lagoon – while filming Mutiny on the Bounty, and in 1967 he purchased it with the intent of creating the world's first post-carbon resort. The Brando is his legacy; a remote private island resort with a collection of expansive and luxurious villas, which honors Polynesian culture and local biodiversity. Learn about Tetiaroa's marine life (including rays, reef sharks and turtles) from the onsite research scientists, explore the lagoon by kayak, stand-up paddleboard, or Polynesian outrigger canoe (va'a), cycle through the jungle, or take a bird discovery tour with a naturalist guide to take your knowledge and experience deeper.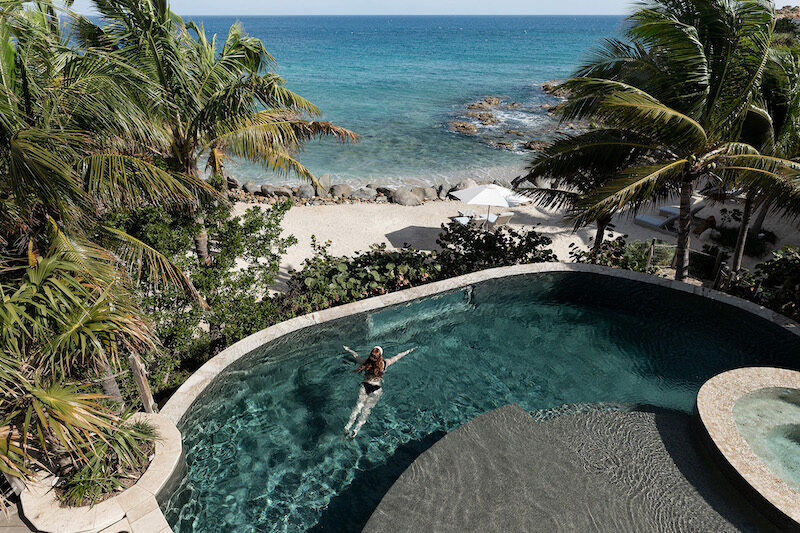 Moskito Island
On Richard Branson's Moskito Island, guests enjoy the unparalleled luxury of their own private estate. There are three to choose from: The Oasis Estate, a hilltop hideaway sleeping up to 18, with a wrap-around infinity pool and swim-up bar; The Branson Estate, three villas sleeping up to 22 people, with its own private cove; and The Point Estate, a clifftop guesthouse accommodating 14 adults and eight children, with a hot tub and access to the island's main beach. While there's plenty to do within the confines of each estate, from alfresco movie nights to beach games, guests can also get out and explore Moskito Island's communal recreation options, including hiking trails, tennis courts, and watersports.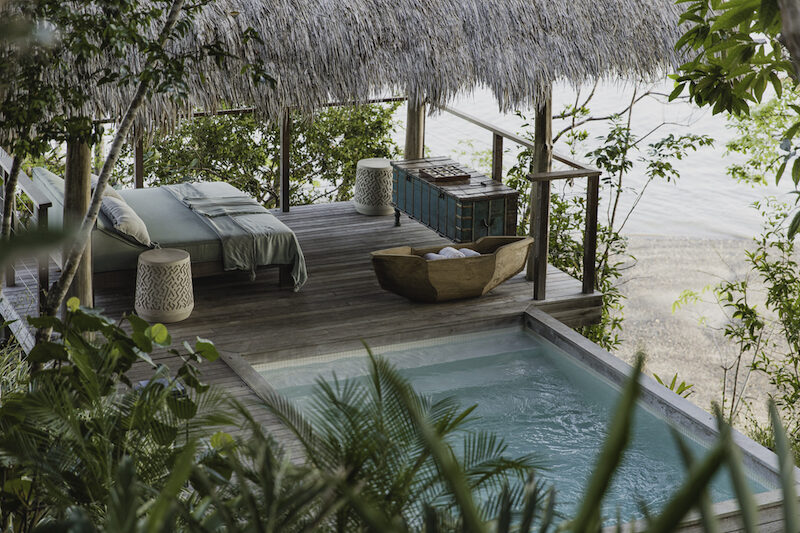 Islas Secas, Panama
There's no better place to get acquainted with Panama's wild Pacific Coast than Islas Secas, a tropical archipelago composed of 14 volcanic islands – 13 of them untouched and brimming with wildlife. Guests stay on the destination's one occupied island, which contains just seven elegant casitas sleeping two to eight guests. This intimate environment facilitates a personal approach to hospitality – one that ensures an upscale experience, complete with spa treatments and gourmet dining, while also introducing guests to Panama's raw nature through curated adventure activities. Don't miss the chance to explore nearby Coiba National Park, UNESCO World Heritage Site and home to the second-largest coral reef in the Eastern Pacific, by land and water.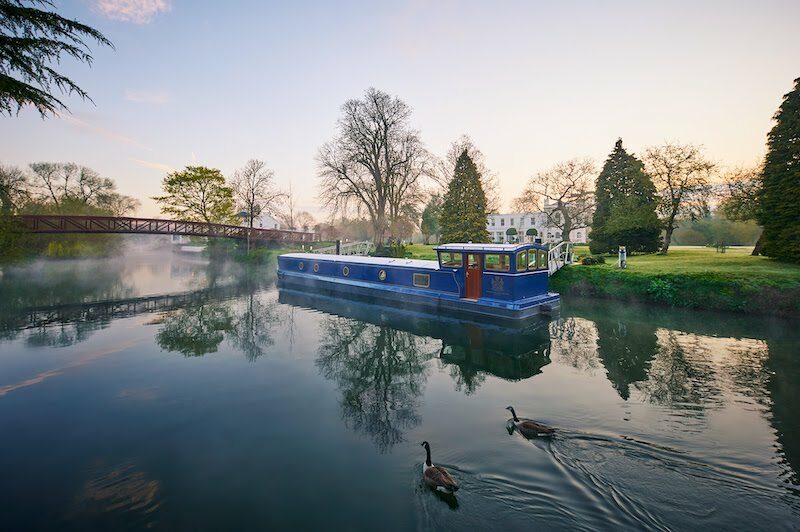 Monkey Island Estate, England
When you picture private island getaways England probably doesn't spring immediately to mind, but that's exactly where you'll find Monkey Island Estate – the historic former retreat of monarchs, aristocrats and artists, situated on the River Thames. Located a short distance from the hubbub of London and close to attractions like Windsor Palace and Ascot Racecourse (home of the annual Royal Ascot event, held each June), Monkey Island Estate offers guests a refined break in the British countryside, complete with elegant guest rooms, traditional Sunday roast dinner, and a floating spa housed inside a canal barge boat.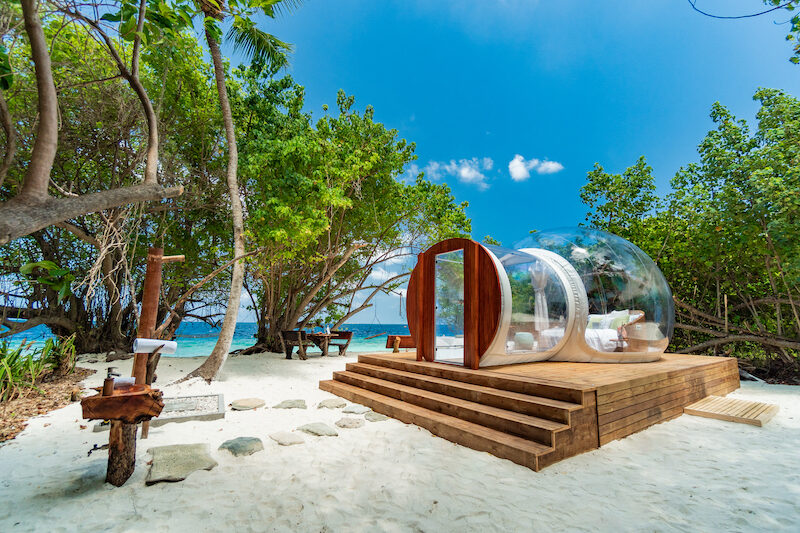 Amilla, Maldives
It's hard to select one standout private island paradise in the Maldives, an archipelagic country brimming with them, but Amilla Maldives Resort and Residences gets our vote. Situated within the Baa Atoll UNESCO Biosphere Reserve, 70% of the island is composed of untouched, lush rainforest and pristine beach, so you never have to go far to find a deserted patch of paradise. But it's not only the natural beauty of the destination that makes it so special – Amilla is dedicated to creating a personalized and surprise-filled experience for each guest, incorporating activities like ocean excursions, romantic sandbank picnics and wellness workshops. The resort's villas (including overwater, poolside, and treetop options) are some of the biggest in the Maldives, but our accommodation choice would be glamping. Relax in a clear inflatable pod set in the jungle with access to a bathroom, showers, plunge pool, steam room and sauna.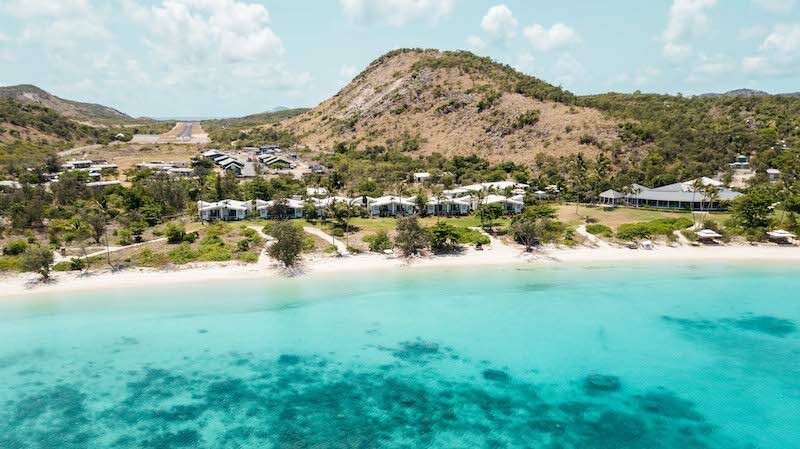 Lizard Island, Australia
If visiting Australia's Great Barrier Reef is on your bucket list, make a plan to visit Lizard Island, the only resort in the country situated within a 2,503-acre National Park. Take advantage of the on-site experts with guided nature walks and visits to the Lizard Island Research Station, along with plenty of water-based activities, including driving, fishing, snorkeling, and chartered boat trips. After a day of adventuring, enjoy a meal with a view at one of the resort's restaurants or an indulgent treatment at the spa, before hunkering down in your luxury villa. And don't forget to put the in-room telescope to good use with some pre-bedtime stargazing.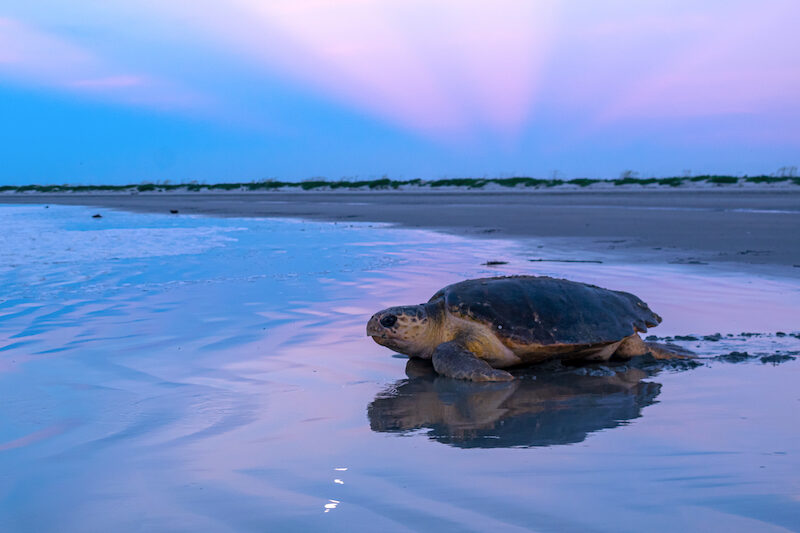 Little St. Simons Island, Georgia
Part of Georgia's Golden Isles, Little St. Simons Island boasts a virtually untouched landscape of diverse wetland ecosystems, maritime forests, and sand dunes. You can tour the island's 11 acres with a naturalist guide, or strike out on your own and go bird watching, fishing, boating, or simply relax on the beach. The island's only hotel is an ecolodge with space for up to 32 guests, composed of six cottages with a rustic feel. Tan leather sofas, wood-panel walls, working fireplaces, and porch swings offer a cozy place to rest and reconnect with loved ones after an adventure-packed day.
Featured image courtesy of The Brando