A Taste of Paris's Pandemic Food Scene

A Taste of Paris Now
A new era for the city's beloved brasseries and bistros
I don't know about you, but I've never cooked so much in my life. Unfortunately, my painstakingly-prepared dishes are rarely delicious enough to merit the post-dinner clean-up operation (turns out, I'm not much of a chef). After 60-odd home-cooked meals, I am desperately missing restaurants. Not just the delicious food and the fact somebody else takes care of the dishes, but the entire experience. Putting on a nice outfit and a slick of pink lipstick, a warm greeting from a server, the satisfaction of getting a good seat, the convivial atmosphere. I even miss the weird tension that builds and builds over the last spoonful of desert, until the server asks, "are we all done here?" and somebody finally shrugs and scoops the morsel into their mouth.
When we travel, we let our stomachs lead the way. My friend Katie once remarked: "If I have one bad meal, I feel like the entire vacation was a failure." We want to know what's good and tasty at our destination. We want to get a feel for the local specialties and their cultural significance. We relish the opportunity to see how the locals approach the simple, universal ritual of sharing a meal with loved ones. How will dining out, an experience very much linked to human connection, survive social distancing? And once we start to travel again, what kind of culinary landscapes can we expect we encounter?
This week I spoke to Lindsey Tramuta, a journalist from Philadelphia who has been living in Paris for the past 14 years. Much of Lindsey's work, including her first book, The New Paris, chronicles the gentle evolution of Parisian mindsets and traditions, especially as they relate to the city's famed culinary scene. I couldn't think of anybody better to talk about how restaurants are evolving to meet the demands of the pandemic, and the way food shapes our relationship with place.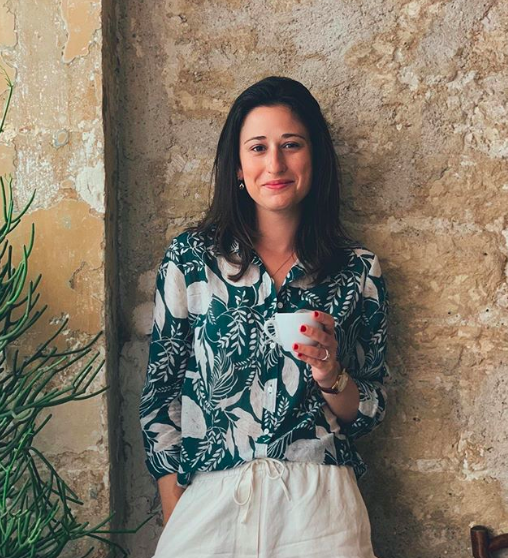 Esme Benjamin: So tell me, how has it been over there?
Lindsey Tramuta: This is officially the second week of what the French are calling "deconfinement." Like in all parts of the world, you're seeing some mixed behavior. The majority of Parisians are treating this as if wartime has ended. There's a false sense of freedom I think, so you see part of the population who are still very concerned about the potential risks, and then the rest who are just like, "what? we did our time." That's jarring to me, as somebody airing on the side of extreme caution.
EB: As one of the most beloved cities in the world, I really want to know how Paris is coping without its adoring tourists?
LT: This is the first destination on people's minds for travel and food - as well as parts of Italy, of course. In the collective imagination, Paris really doesn't have to do much work to create certain associations. Now, it's like all the city needs to know is how and when do we piece back some semblance of a visitor economy, especially since travel within France as a whole represents over 9% of the GDP. In a city like Paris, there are cultural institutions and restaurants that have always been geared towards an international audience. No one could have imagined a scenario where all of it goes away. How will the businesses that are deserving of success and attention, who really survive on a mix of locals and visitors, get through this?
EB: Similarly, New York has felt very strange without its signature buzzy atmosphere and busy restaurants. It's like the city lost its soul. How are Parisians thinking about food and dining right now?
LT: If you see people gathering outside of an establishment, it's one of the food specialty businesses that were allowed to stay open during the confinement: butchers, bakers, and cheese shops etc. But you get the sense that people are really sick of cooking. There's been a whole big movement of click and collect, like curbside pick-up in the US, which is not what Paris normally does. New York does to-go food in a way that Paris never has, so it's very strange to see the city in this way and to wonder how long it will need to do this.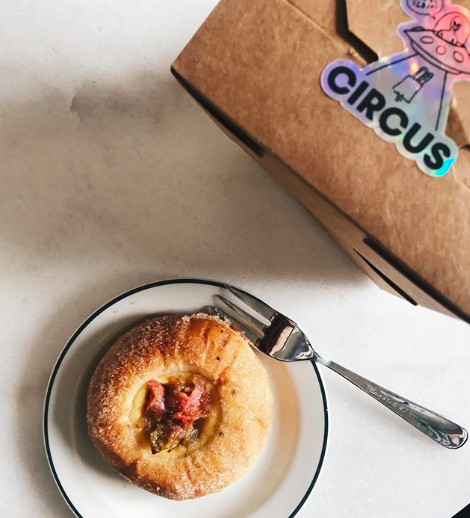 EB: So people tend to get pick-up instead of getting food delivered?
LT: Before confinement, there was Deliveroo or Uber Eats, but they were mainly for your burger and pizza joints, your Asian canteen – that kind of thing. If you wanted anything a bit more involved, you just didn't have that option. Now, you have well-known chefs like Stephane Jego from L'Ami Jean offering click and collect. Or Comice, a Michelin restaurant in the 16th arrondissement, launching a comfort food delivery menu. You place an order like five days in advance, and they deliver by courier. These were places that were never available for delivery before.
EB: Have you noticed any other big evolutions or innovations?
LT: La Maison Plisson, a wonderful specialty grocer, launched an entire e-commerce site in three days, which if you consider that Paris is slow to change, is impressive. They knew that if they were only serving people who lived in the neighborhood they would never survive, so they now offer delivery all over Paris. La Maison Plisson specializes in artisanal and French farm goods, so it's basically representing over 600 small producers and artisans across the country and throughout Europe. When you start putting together the chain, and how one thing affects everybody else, it's very smart.
One of the more successful and creative things I've seen was Circus Bakery launching "Flying Circus" – a bike delivery service for its famous cinnamon buns, cardamom buns, sourdough bread, and non-French pastries like Scandinavian treats and rustic pies. What's really cute is that on their Instagram stories, they share shots of bags of these pastries hanging on beautiful Parisian doors. Flying Circus has honestly been doing such brisk business that I don't think they will have any problems throughout 2020. They diversified at just the right time to make sure they could survive.
EB: It's amazing how much we're appreciating the small treats at the moment. A few weeks back, I wrote about how an oat milk cappuccino made me cry one morning!
LT: Yes. This was something that happened during the 2008 recession, too. It's the small luxuries that are probably going to do really well over the coming years. People won't be able to afford other things, but they can afford that piece of chocolate or that pastry or that coffee. So I think confinement has been a preview of that kind of behavior kicking in.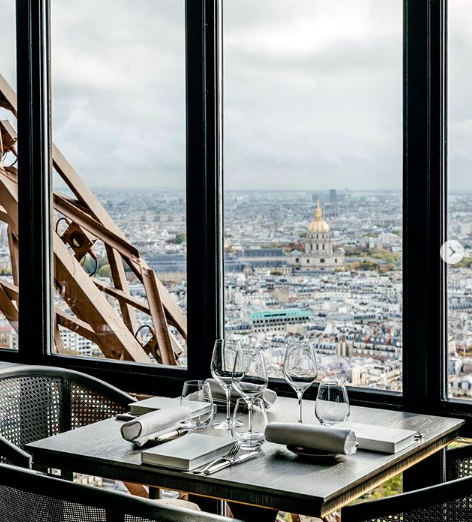 EB: I'd love to know more about your relationship with Paris and what role food has played in that relationship.
LT: Looking back, 14 years ago, I wasn't that culinarily inclined. I went to grad school here, and after I finished, I started working – doing communications and writing. But even after almost four years, I still didn't feel super attached to the city. I think the love developed when I really started getting out there and using my free time to understand how the city operated. One of the ways the people here define their attachment to Paris is in relation to the dining spaces and the ways people gather to eat and drink. For my first book, I was looking at the ways the city had evolved over time, and 80-85 percent of it was around food, because food - whether it's a pastry, or beer, or what's happening in the F&B space overall - that's where I was seeing the most change. The city has gotten more and more comfortable with different flavors and different types of cuisine and pushing beyond what we believe Parisian food to be. So as an observer and social commentator, that's how I now see my relationship with Paris – watching and trying to document as it unfolds.
EB: Well, it's certainly a very interesting time to be observing change in the city! In the beginning everybody kept saying "when this is over" as if we'd be out of the woods in a few short months. The realization is now dawning that this isn't going to be over for a very long time. What's the next stage of deconfinement in Paris?
LT: The government is going to make some decisions at the end of May as to when and under what conditions restaurants, bars and cafes can reopen. What does it look like? Will it even be cost-effective for places to reopen if they can only fill half their normal capacity? And what does it feel like for the diner? I know I won't be super comfortable. Things may start to come back to life, but they really won't be the same, and we're not going to just get over this.
EB: Obviously, as a tourist, there are lots of restaurants that you really associate with Paris. And it's just scary to think those places may not survive. How does that change the city and our memories of it, you know?
LT: We saw a taste of this when Notre Dame burned down. People had never ever considered the possibility that something that old and historic would ever cease to exist, and I think we're facing that same existential realization now with the food scene.
Unlike a city like New York, where sadly things often close because of high rent prices, Paris has always had little mom-and-pop cheese shops and bakeries. At the very least, Parisians still have that, and it keeps us feeling like it's still the city we know. France may also fare better than other places, specifically the US, because the infrastructure and business support is different. Here, everyone has been able to think of their next steps because they have partial unemployment financed by the state, which allows them to put their workers on paid leave. And all of the bills that are accumulating - labor charges and taxes - have been waived temporarily. They can actually sit and think, can we recover from this? If so, how?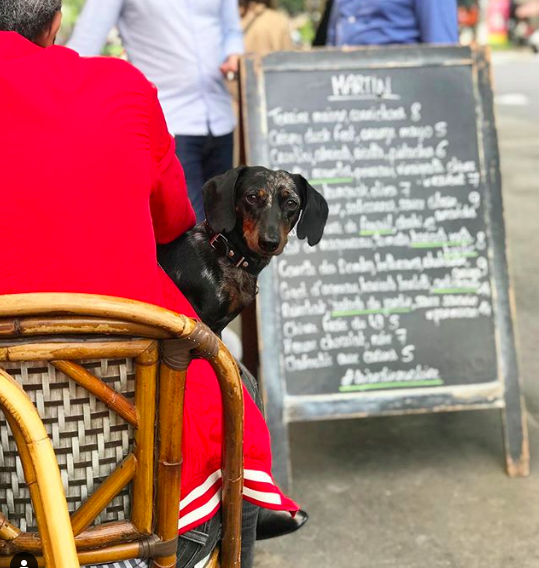 EB: Are there any restaurants that you deeply miss?
LT: There's a bar and small plates place called Martin, where my friends and I go for weekly hangouts. It's like the quintessence of Parisian joie de vivre – the aperitif hour that goes on for five hours, with people spilling into the street. Just such a good time and such a good crowd and good wine and inexpensive small plates. Same thing with Le Mary Celeste, which has a wonderfully relaxing environment with biodynamic and natural wines. That was the last place I spent the evening before the city shut down. Comice, across town, is a place I still hope to experience for the first time. It's one of those pricey places where I kept saying, "I'll get there." And then, of course, anything pizza related. I've tried getting delivery and it's not the same. Sometimes I think pizza is less about the actual eating and more about experiencing what the restaurant smells like and the oven and the ambiance. It's a lot less interesting when you're just opening a cardboard box in your house.
EB: So true! Ok, last question. We have a podcast called The Trip That Changed Me, and the most life-changing city in the world appears to be Paris. Three guests have shared transformative travel stories that took place in the city. What is it about Paris?
LT: I get it, and I see that passion in people because I also give food-related tours inspired by my book. I take them around, and they are just bowled over by everything I have them try. That's such a wonderful testament to the power of Paris, and it's also a good reminder for me as a long-time resident. In a way, confinement has also been a reminder to Parisians of what we have in our own city. Now we just have to figure out when we can share it with travelers again.
Follow Lindsey on Instagram (where I sourced all these gorgeous photos) and read all about her Paris adventures at lostincheeseland.com