A Travel Guide to the Best of Cartagena, Colombia
A travel guide to the best of Cartagena
With its colonial cobbled streets and balconies spilling bougainvillea over jewel-colored doorways, few cities can rival Cartagena in terms of sheer beauty. But the appeal of Colombia's most worshiped tourist town extends beyond pure aesthetics.
"I discover something new each time I set foot in Cartagena," explains Colombia-born travel editor Nikki Vargas, who has visited the city five times. "I find that, much like New York, the distinct personalities of each of Cartagena's neighborhoods offer something special for travelers. Getsemani has its artistic flair and nightlife, Bocagrande can be likened to Miami's South Beach, but my heart rests in the Old City with its history and charm."
Here, we share the activities and establishments that draw Vargas back with each visit.
---
The Must-Do
The pleasure of wandering through Cartagena's Old Town, eating watermelon from palenqueras (the colorfully dressed ladies selling fruit), and people-watching in shaded town squares can't be overestimated. If you're curious about the city's history, make the trip to Castillo San Felipe de Barajas, a fortress and UNESCO World Heritage Site on the Hill of San Lázaro. Plan to go early or late, though. The castle lacks shade and noon visitors can end up "feeling like an egg on a frying pan," as Vargas puts it.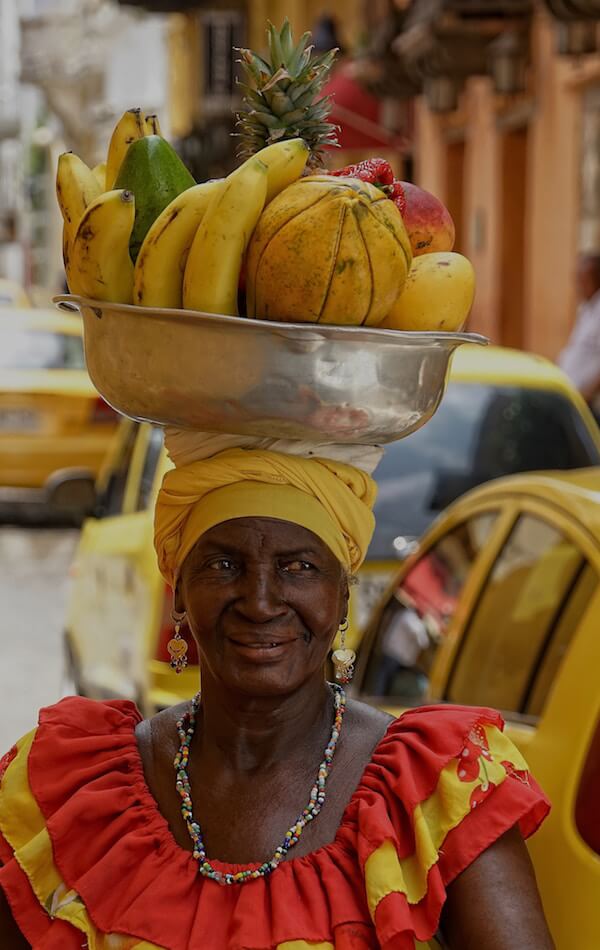 While Cartagena primarily offers a classic city-break, vacationers craving some sand-between-toes time won't be disappointed, either. Take a 45-minute boat from the port over to Isla Barú, a Caribbean island of the most quintessential variety: calm aquamarine ocean and pale sand striped by palm fronds. You can do a day trip, but Vargas recommends staying overnight at Playa Manglares, an elegant eco-lodge with a farm-to-table restaurant and private beach. "Best of all, the hotel is only a short drive from Playa Blanca, Isla Barú's most beautiful and popular beach, so you can beat the day-tripping crowds and banana boats," she adds.
If you're looking for a romantic way to wrap up the day, a Sibarita sunset boat cruise is the move. Sail around the Cartagena harbor as the sky blushes, enjoying a multi-course meal and a bottle of wine.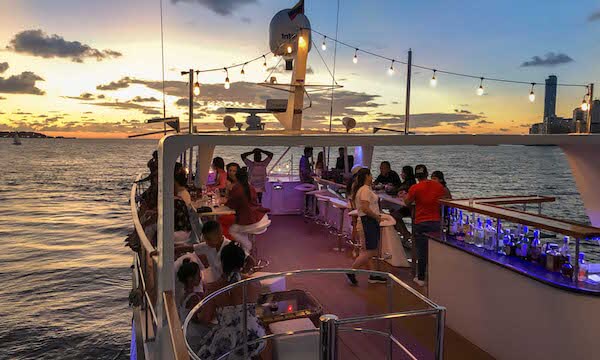 Inn Crowd
Miami-based Colombian fashion designer Silvia Tcherassi owns two hotels in Cartagena – Tcherassi Hotel & Spa and Mansión Tcherassi – which are as stylish as you'd expect. The former is situated in a restored colonial building with thoroughly modern interiors, a neutral color palette, and a rooftop pool. The latter, a smaller and more luxurious hotel, was once an 18th-century mansion and boasts a vertical garden, courtyard plunge pool, library of coffee table books, and metallic accents throughout.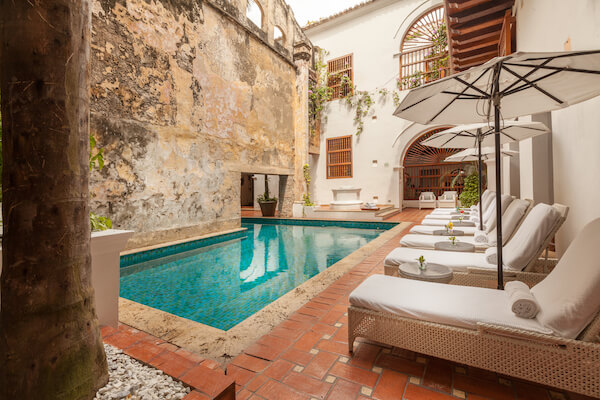 A short distance away is another example of excellently executed restoration: Hotel Casa San Agustín. Across its 20 guest rooms and 11 suites, you'll spot many classic architectural features including original frescoes and centuries-old wood-beamed ceilings. In terms of perks that go the extra mile, the hotel offers an unpacking service, free bicycle rental, and transfers to the hotel's private beach on Isla Barú.
The Table
As the star of Anthony Bourdain's Parts Unknown Cartagena episode, La Cevichería normally has a sizable line for a table. It will be worth that wait though – the restaurant's fresh seafood and fish, saturated with mandarin and lemon juice and tossed with fruit and herbs, is some of the best ceviche in a city abundant with the dish.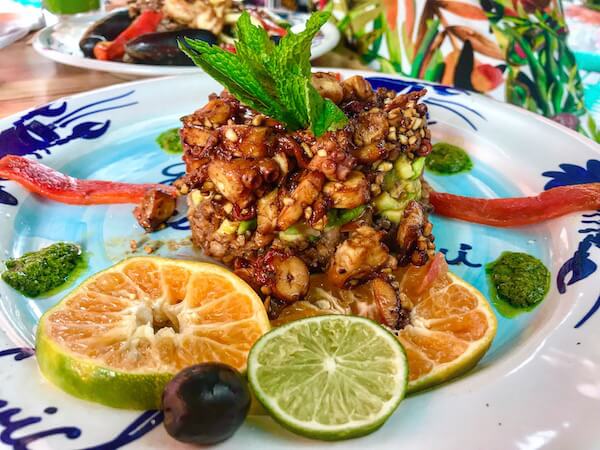 With live music and whirring ceiling fans, La Vitrola channels something of a Havana vibe, right down to its famous tangy-sweet mojitos. The menu skews Caribbean-fusion, think catch-of-the-day sloshed with citrus, drizzled with honey, or fired up with chili and spices, and a wedge of moist coconut cake for dessert. As the night amps up and the cocktails flow, dancing is encouraged.
Demente, an open-roof spot serving tapas and legitimately delicious pizza alongside craft beer and great cocktails, is set amid the buzzy atmosphere of Getsemaní. Whether you go for lunch or dinner, it's an ideal jumping-off point to explore Cartagena's trendiest, street-art adorned neighborhood.
The Last Call
If watching a blazing sunset with an icy sangria in hand sounds like an appealing way to end the day, Vargas recommends Café del Mar. The scene-y (and scenic) bar occupies an elevated spot on the walls of the Old City, washing it in golden rays until the moment the sun vanishes below the horizon. Although sunset is the main event here, expect DJs and dancing until 2am.
It's hard not to be drawn in by the music and laughter radiating from Salsa Donde Fidel, a tiny dancing spot that's always crowded and lively. You can stop by for a drink, but don't expect to be propping up the bar for very long – there are plenty of locals happy to provide an impromptu lesson for the salsa-curious.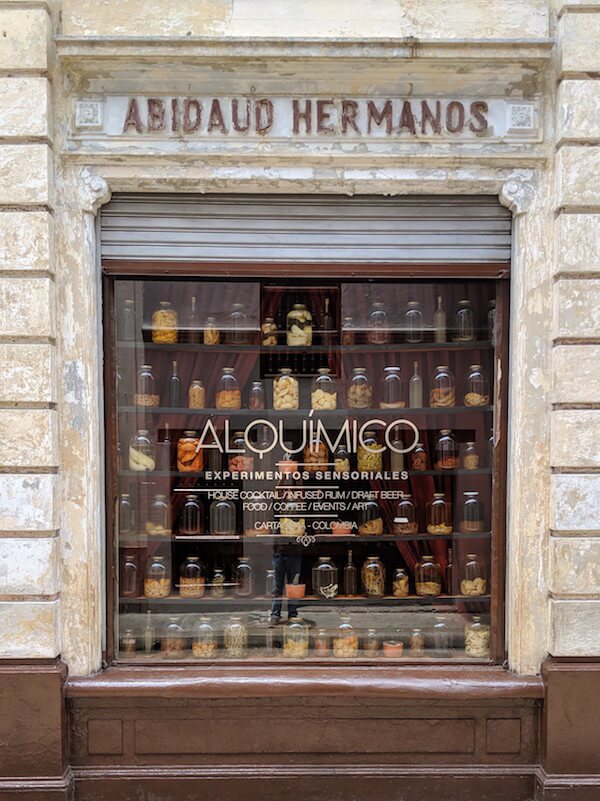 If cocktails are your thing, then Alquímico, which prides itself on its flavor alchemy, should be on your evening hit list. An impressive space with soaring ceilings, walls lined with glass jars of fruit-infused rums, and a huge square bar, Alquímico has an elegant ambiance that chimes with its elevated-but-experimental cocktail list.