A Travel Guide to Antiqua, Guatemala
A travel guide to Antigua, Guatemala
Antigua is the postcard image of Guatemala, a 16th-century Spanish colonial city and UNESCO World Heritage site, crowned by the domed clock tower of the Santa Catalina Arch and flanked by mist-masked volcanoes. The streets are cobbled, and the buildings boast the kind of colorful facades that normally inspire Instagram photoshoots. But, says blogger Sarah Funky, who lived in Antigua for a month with her Guatemalan husband, the city remains a surprisingly under-the-radar destination.
"More people should add Guatemala to their bucket list because it feels untouched compared to many touristic locations around the globe," she explains. "Antigua is movie-set beautiful, with wonderful restaurants, smiling people and a rich culture. It's an undiscovered gem."
Read on for Funky's favorite spots in Antigua city, from a speakeasy cocktail bar hidden through a British phone booth to a hillside restaurant with an attached farm.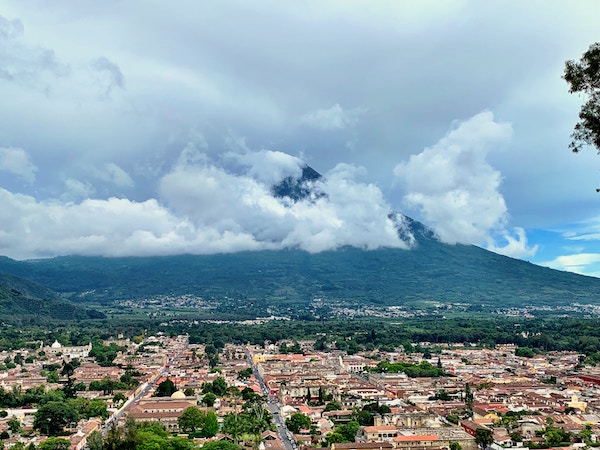 ---
The Must-Do
Get ready to flex your bartering skills as you head to The Mercado Artesanal, Antigua's most popular crafts market. Here you'll find stalls overflowing with textiles featuring brazen splashes of neon, bold jewelry, woven and leather handbags, and decorative, hand-carved wooden masks. This is where you stock up on souvenirs for people back home.
Guatemala might not be the first place that comes to mind when you think of salsa, but Antigua has a thriving salsa scene. Funky's tip is to visit Las Palmas, a restaurant and bar which offers free salsa dancing lessons every evening around 8pm. After you've learned the basic moves, you're invited to stick around and join the bar crowd on the dance floor. A live band keeps the party sashaying until late.
The Mayans have a long history of cacao traditions and rituals, which you'll learn all about if you join a chocolate workshop at the ChocoMuseo. During the two-hour session you'll experience the chocolate-making process from jungle bean to finished bar, and come away with your own handmade, uniquely flavored chocolate to take home.
The Inn Crowd
Travelers are becoming more conscious of their impact on the planet and local communities, and the Good Hotel is helping close the gap between intention and action. A traditional Guatemalan mansion with rooms renovated in blonde wood and marble, The Good Hotel donates all of its profits to a local NGO providing education for kids. It's premium hospitality with plenty of heart. (P.S. Look out for the tiny Guatemalan worry doll – a little woven figure said to remove worries overnight – placed under your pillow.)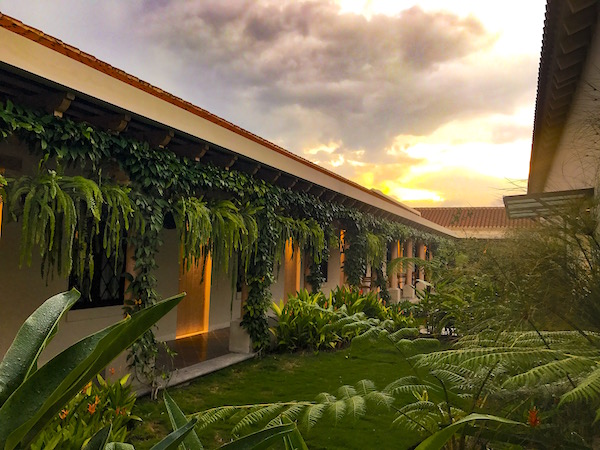 Antigua's original boutique hotel, Meson Panza Verde, was built in 1986 and retains its reputation as one of the best places to stay in the city. Twelve rooms decorated in rich shades of sand and merlot boast volcanic landscape views that are best savored from adjoining balconies. Another plus about staying at Meson Panza Verde is its award-winning restaurant. Dine on international cuisine and sip rare wines in the romantic ambiance of the Main Sala, a grand space with a vaulted ceiling and open fireplace.
The historic Hotel Palacio de Doña Leonor was once home to Doña Leonor, the daughter of the Spanish conqueror, Don Pedro de Alvarado. These days it's an immaculately renovated hotel composed of seven sumptuous rooms with intricately painted ceilings, surrounding a lush, overgrown courtyard. Hidden among the tropical flora you'll find a jacuzzi pool created to soothe tired muscles at the end of a sightseeing session.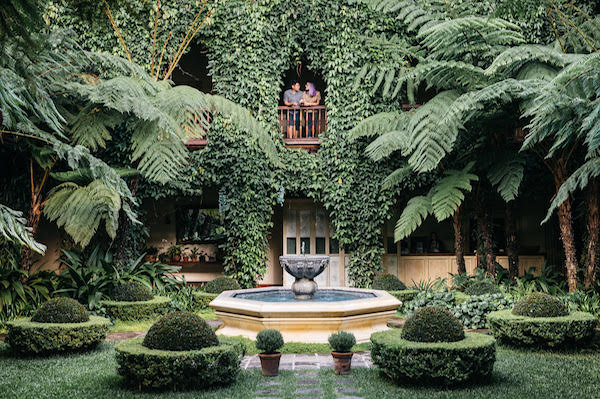 The Table
In the morning, stop by Cafe Condesa for a to-go order of coffee and cheesecake. Walk outside and find a breakfast spot under Parque Central's purple jacarandas while watching lovers hover hopefully near the fertility fountain.
When you're ready for lunch, head to the Santa Domingo Hotel, which offers a free shuttle to a beautiful hilltop restaurant with views of the city, called Cerro San Cristobal. This place is as farm-to-table as it gets. After your meal, stroll through sunflower-filled gardens past veggie patches where your meal was growing a short while ago. Alternatively, grab a table by Ta'cool, a casual, trendy spot with a large array of satisfying taco varieties.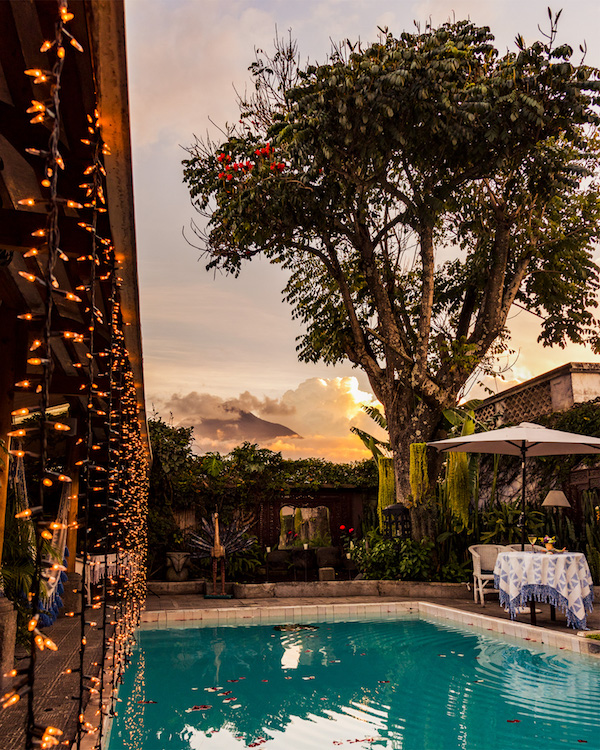 For dinner, Funky recommends Welten Restaurant. Its German proprietor hired 10 Guatemalan female chefs to collaborate on a menu of international dishes and local specialties for her establishment. The resulting food is really great, but the ambiance is where Welten really shines. Funky calls it "the most beautiful dining spot in town," specifically the courtyard, which contains a swimming pool decorated with pink and red rose petals. "At night, it is lit beautifully by hanging lights, but by day you have a lovely view of the volcano in the distance," she notes. Don't be surprised if you see a proposal.
For a meal with a view, locate the blue facade of the popular hostel Hacia El Sur and ascend to its rooftop, where you'll find Cafe Sky. The food here is comprised of solid Central and South American favorites (fried plantains, rice and beans, nachos with all the toppings), but it's the panoramic views of volcanoes and Spanish architecture that really makes this a special place to dine – especially as the sun is going down.
The Last Call
Curious patrons of Antigua Brewery, a popular craft beer spot, will notice a misplaced classic British phone booth in the back. This is actually the entrance to a speakeasy spot called Ulew, which serves custom cocktails from a space that used to be the kitchen of an old stone mansion. "Ulew does not have a menu," says Funky. "Tell the bartender your liquor of choice and preferred flavors, and he will mix something just for you."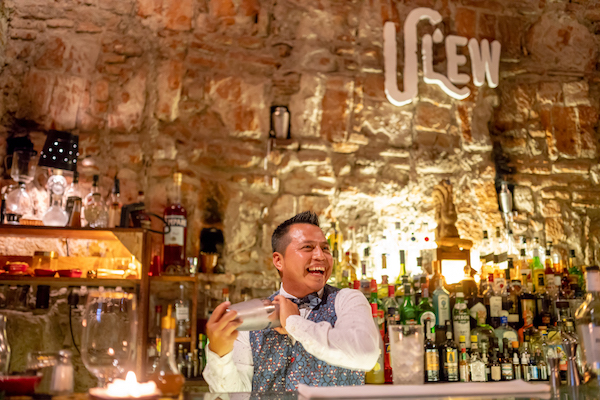 Equally as enticing after dark is Café No Sé, a cave-like bar lit by copious candles. There are actually three bars: the front, where live music is a fixture; the back, where cocktails are the focus; and a secret mezcal bar hidden behind a fridge door. To add to its maze-like layout, the mezcal bar adjoins a book shop via swinging saloon doors. This is the expat hangout of choice in Antigua.