Thailand
Thailand
Travel past tropical hillsides and magical temples.
Journey to a world where classic glamour and modern metropoles meet to create a unique Southeast Asian experience. The Eastern Oriental Express offers guests the chance to experience the wonders of Singapore, Thailand and Malaysia, from urban to rural landscapes, by railroad. With several run dates and routes available year-round, the Eastern Oriental Express is an opulent and adventurous way for travelers to journey through Southeast Asia.
Did You Know?
Centered around the Chao Phraya river, Bangkok, Thailand is often thought of as the gateway to Southeast Asia. But, did you know, it's the only country in Southeast Asia that was never colonized by a European country? While it may be filled to the brim with a diverse range of tourists, this country is uniquely its own, from Buddhist shrines to floating markets. When you visit, be sure to carve out enough time to explore Bangkok's famous sites like the Temple of the Emerald Buddha (Wat Phra Kaew) and Damnoen Saduak Floating Market!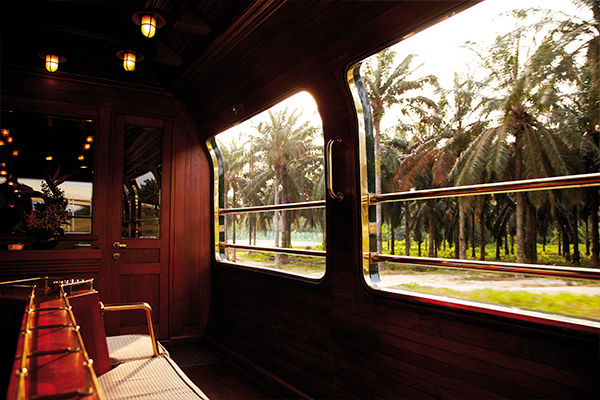 When a train car becomes your hotel room, the train itself becomes the best place to explore. Designed with luxury and comfort, the train has opportunities for unique photo opps and relaxation in every car; the open observation cart at the end of the train provides views of landscapes passed while allowing guests the chance to breathe in the fresh, tropical air.

Dining options on the Eastern Oriental Express include much more than a bar cart menu. Locally inspired dishes complemented by both the attention to detail of the dining car interiors, the passionate professionalism of the staff and the tropics in motion outside, make the dining experience on the Eastern Oriental Expressunparalleled. From the menu, don't miss the medallion of beef with foie gras croquette, Asian vegetables, vindaloo and mustard sauces.

By day, travelers can explore each unique destination with planned local adventures like a tour through lush rice paddies or a visit to the elephant sanctuary. By night, the only stop you'll be making is at the bar cart for signature cocktails and nightly entertainment.
"By night, the only stop you'll be making is at the bar cart for signature cocktails and nightly entertainment."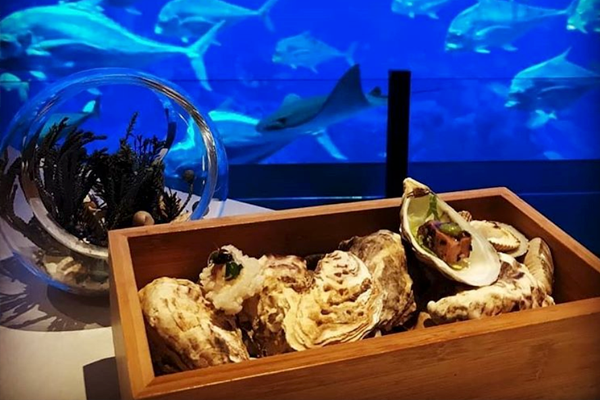 Dining underneath the stars is nice and everything, but have you ever dined immersed in water?
Ocean Restaurant by Cat Cora
is Southeast Asia's only underwater aquarium dining experience. Located within the
S.E.A Aquarium
on Sentosa (an island off of the southern coast of Singapore), the restaurant provides guests with the opportunity to eat the culinary creations of
America's first Iron Chef
while colorful schools of fish, sharks and other sea creatures swim by. Try the Pearl Of Ocean for a mouth watering finale—the dessert is a sugar cloud with passion fruit espuma butterscotch sauce.