Riviera Maya Guide: A Coastal Caribbean Gem That's Home to Mexico's Most Iconic Destinations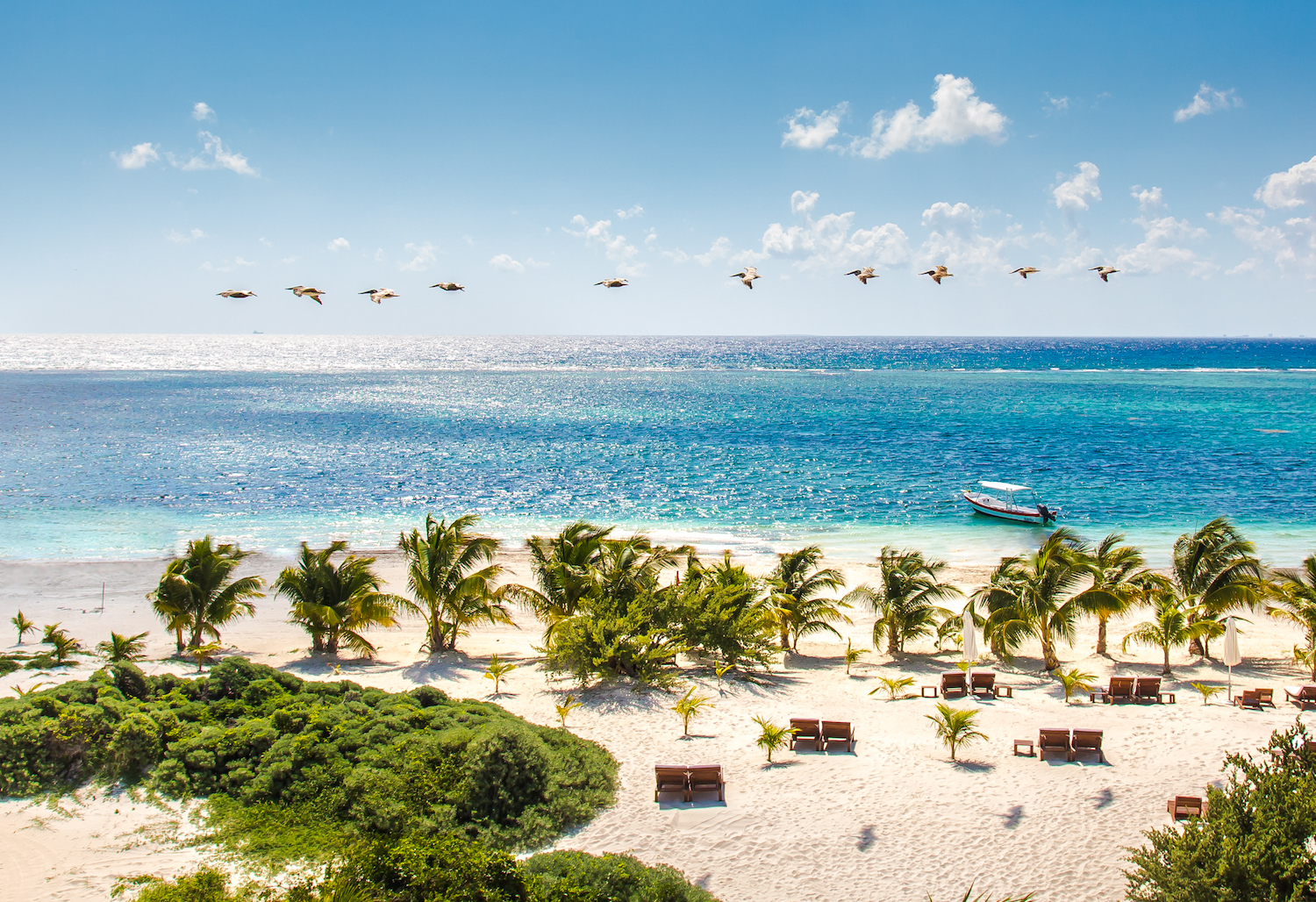 Riviera Maya Guide: A Coastal Caribbean Gem Home to Some of Mexico's Most Iconic Destinations
By Kate Stahl
Imagine the perfect Mexican vacation. Are you picturing swimming in a sparkling blue sea, drinking cold cocktails on pristine white-sand beaches, visiting ancient archeological sites and hidden cenotes before returning to a modern-chic resort, then capping off your nights at beach clubs with a lively atmosphere? We thought so, and the only place to get all of that and more is the incomparable Riviera Maya.
Located along the corridor south of Cancun to Tulum in Quintana Roo, Riviera Maya more than lives up to its persistent hype, offering endless opportunities for exploration — from the world's largest barrier reef along its shores to the Mayan archaeological sites and bohemian hedonism of Tulum to the famous nightclubs of Playa del Carmen — combined with pure relaxation. And did we mention the region is home to miles and miles of beautiful beaches, where the sun shines almost every day of the year?
If you're planning a trip to Riviera Maya (if you're not, you should be), we have you covered with all the must-dos and -sees, the most memorable places to stay, and the tips and tricks that will make your vacation go down as smoothly as that first frozen drink. From eco-adventures to luxury retreats, here's what you need to know before embarking on your journey to this Mexican paradise.
Riviera Maya Facts to Know:
Riviera Maya is sunny year-round, though November through May is the preferred time to visit, when temperatures aren't sweltering.

Playa del Carmen is the largest city in the region and makes a great home base for various day trips like exploring the nearby Mayan archeological sites or visiting any of Riviera Maya's nature or amusement parks.
Tulum has grown in popularity due to its enticing blend of boho-spiritual vibes.
Most visitors fly into the Cancun International Airport (CUN), Mexico's second-largest airport, which offers direct flights from many major U.S. cities. From there, rent a car, take a taxi, or hop on the ADO shuttle bus, which runs to Puerto Morelos, Playa del Carmen and Tulum.
Find Your Favorite Cenote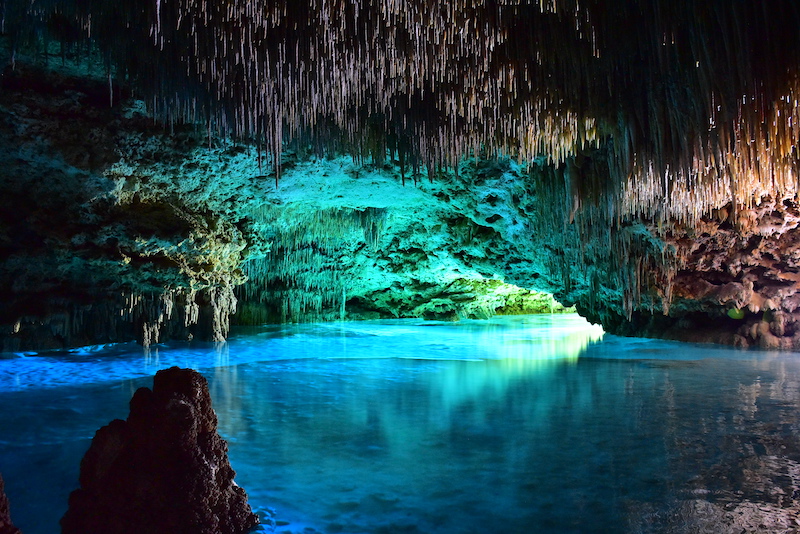 For a spectacular, sand-free swimming experience, visit one of the popular limestone sinkholes, called cenotes, located all along Puerto Morelos, Playa del Carmen and Tulum. Ancient Mayans believed that cenotes were the gateway to the underworld, but in our opinion, they're simply little pockets of heaven on Earth. There are literally 2,500 cenotes of all shapes, sizes, and ilks (some are enclosed and filled with bats; others are open to the sky and allow cliff jumping) spread around the Riviera Maya, highlights include the Ruta de los Cenotes, a paradise that features more than 60 of these enigmatic bodies of water, which are connected to each other through the longest underground river system in the world: the Great Mayan Aquifer. Here you will also find some incredible nature and adventure parks where you can do exciting activities such as mountain biking, driving ATVs through the winding trails of the Mayan jungle, zip-line circuits, rappelling to the cenotes, horseback riding, bird watching, and more.
Explore the Sian Ka'an Biosphere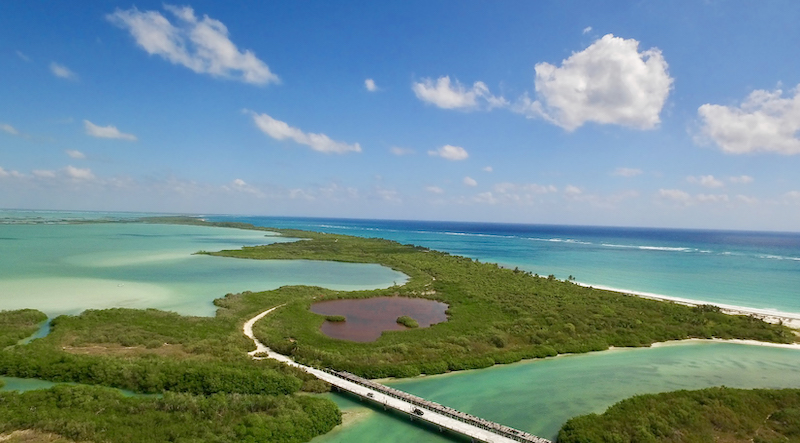 The largest protected natural site in the area is located right next to Tulum, in a region known as Maya Ka'an. Sian Ka'an Biosphere Reserve consists of 1.3 million acres of lagoons, rainforests, wetlands, beaches, and cenotes. This Unesco World Heritage Site is home to vulnerable and endangered species like the Yucatán black howler monkey and the Central American tapir. Choose from activities including boat, snorkeling, bird watching, trekking, and fly fishing tours, these activities are run directly by people from the Mayan communities — or just wander through the reserve to discover thousands of species of land and sea animals and even more varieties of flora and fauna.
Visit an Archeological Site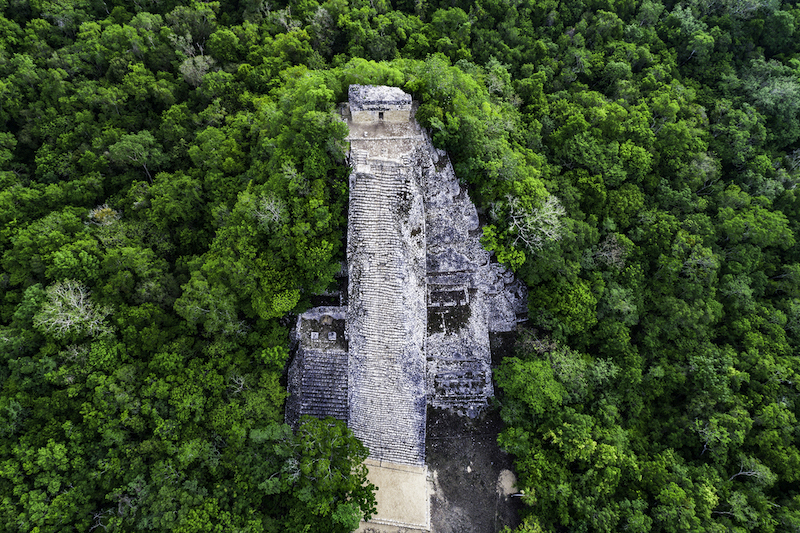 Riviera Maya's ancient architecture is a must-see, especially the Mayan vestiges at Tulum, Cobá,and Muyil makes for a memorable day trip. Cobá houses a 120-step pyramid called Nohoch Mul, the largest network of stone causeways of the ancient Mayan world, and it contains many engraved and sculpted stelae that document ceremonial life and important events of the Late Classic Period (AD 600-900) of Mesoamerican civilization. We recommend renting a bike at the visitor kiosk to explore the large area.
Swim With Sea Turtles in Akumal

Live out your childhood marine-biologist dreams and head to Akumal, a beach town situated between Playa del Carmen and Tulum, to swim with the sea turtles. In Mayan, Akumal means "place of the turtles," and indeed hundreds arrive here every year to lay their eggs in the summer months, then stick around to live in the scenic bay, naturally protected by the surrounding coral reef, making it an ideal habitat for turtles, stingray, and fish of every size and color. While guided tours are available, you can just as easily rent snorkel gear on site and create your own ocean adventure.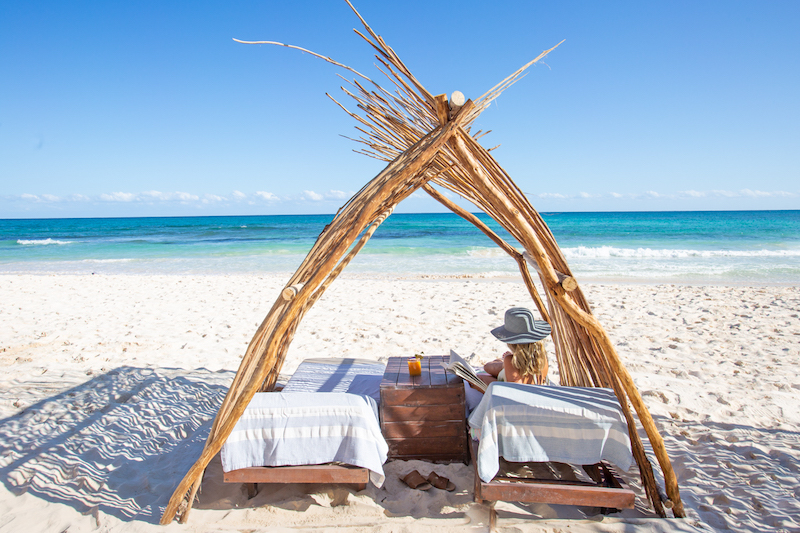 Sure, Tulum is known for offering endless opportunities to connect to your spirit and heal your soul, but sometimes, you just want to do it for the Gram, and content gold abounds in the photogenic city and it's equally enticing surroundings. In fact, Tulum is crawling with hotel photo ops.. Or head to the archaeological site's beach for the ultimate backdrop. The clifftop Mayan archaeological site overlooks the blue Caribbean waters, and who wouldn't "like" that?
Explore Culinary Delights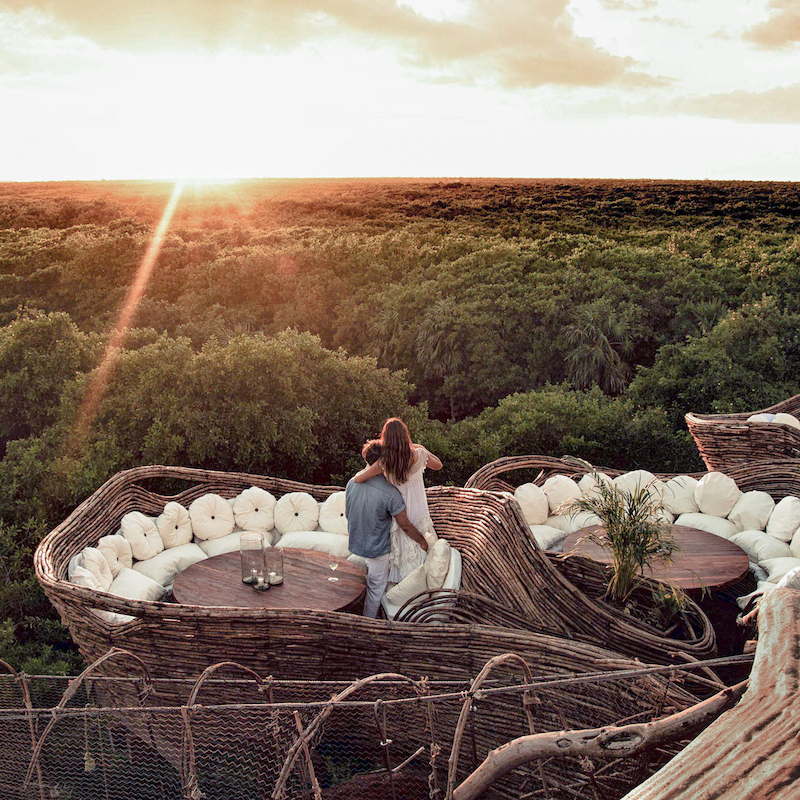 The Riviera Maya is a paradise for travelers looking for new culinary delights. The destination has lots of excellent restaurants, with options ranging from the simplest dining hall to lavish establishments, overlooking the Caribbean Sea, inside a cenote and even in the middle of the imposing Mayan jungle or in the top of the trees. Many of Riviera Maya's restaurants have been recognized by prestigious travel and lifestyle magazines.
The Riviera Maya region has made its mark on the map as a resort locale, and for good reason. Visit mexicancaribbean.travel/riviera-maya/ to learn more.
*Created in Partnership with Quintana Roo Tourism Board