Palm Springs
Palm Springs, California
Mid-Century Madness in the California Desert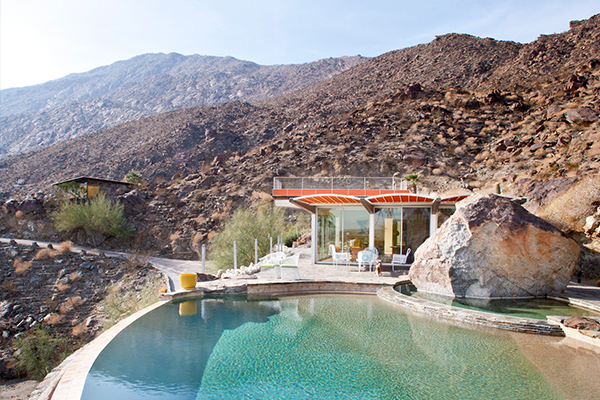 Architecture buffs from around the world descend on Palm Springs during Modernism Week (February 14 – 24), when the Coachella Valley transforms into a Mecca for mid-century design worshippers. Explore post-and-beam homes, sip cocktails from low-slung sofas and go full Rat Pack at a series of retro hotels and restaurants that have been updated for a new era of cool.
Field Notes
Get your mid-century groove on at these homes and 'hoods that offer a peek into Palm Springs' iconic past. Tickets to all events available here.

WALKER GUEST HOUSE REPLICA TOUR
This Florida beach house was designed by Paul Rudolph in 1952, and now a full-scale replica in downtown Palm Springs even includes its original furniture.

THE FORGOTTEN FREY
The Cree House. Be among the first to experience this time capsule, a meticulously preserved hillside home by architectural legend Albert Frey.

OLD LAS PALMAS
Explore the neighborhood where Spanish Colonial-style mid-century compounds once owned by Hollywood heavyweights are now being purchased by a new breed of buyer like Leonardo DiCaprio.

JAMES LOGAN ABERNATHY RESIDENCE TOUR
Catch a rare glimpse inside the original pool-party house, architect William F. Cody's ode to indoor-outdoor 1960s desert design.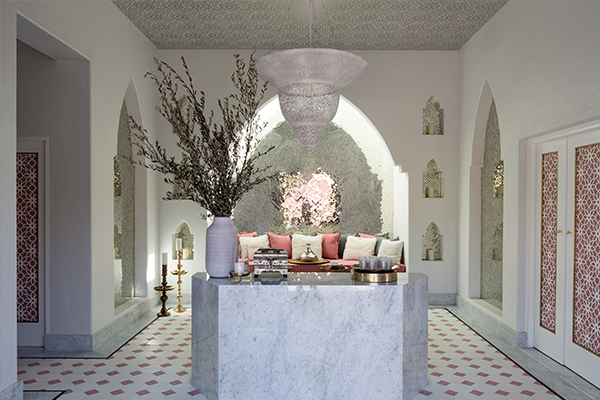 From the ashes of a 1950s apartment building comes a mid-century Moroccan-inspired hideaway. The brainchild of Hollywood decorator Martyn Lawrence Bullard, the 49-room Sands Hotel & Spa channels both bygone and modern-day glamour: Petal pink from the outside, the indoors offer a strategic mashup of eras, one where Rat Pack-era photos and vintage tennis trophies meet contemporary components such as a stunning mirror-tile spa lounge and sleek outdoor soaking tubs. Throughout the property, Lawrence Bullard activates his signature flair for the dramatic: Bold geometric tiles, out-there color combinations and head-turning furniture and art.

Architect Chris Pardo is pioneering a music-fueled design revolution throughout Palm Springs, including the Arrive Hotel, which he designed and co-founded, as well as Smoke Tree BBQ and Draughtsman, a former Shakey's Pizza made over into a streamlined, indoor/outdoor pub. Here are some of Pardo's favorite desert hangs:

"I make it a point to eat lunch at the Barn Kitchen at Sparrows Lodge. It's a perfect, relaxing atmosphere with amazing food in a private, secluded courtyard. I always suggest doing the short museum hike entering just to the north of the Palm Springs Art Museum. Before you know it you have an airline view over the whole Coachella Valley, a very unique perspective. And a trip to Modernism Week just isn't complete without grabbing a tiki drink at Bootlegger Tiki in the former Don the Beachcomber building."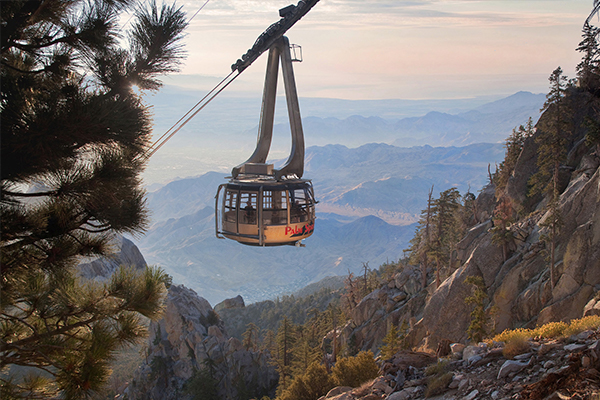 Take the ride of a lifetime on the Palm Springs Aerial Tramway, which climbs 8,516 feet in less than 13 minutes. The largest aerial tramway in the world starts on the floor of the Coachella Valley before zooming through five biomes to reach an entirely different world: The Mount San Jacinto State Park. The forest-like perch offers sweeping desert views, hikes amid pine trees and a refreshing break from the desert heat with temperatures that can plunge to 40 degrees cooler than down below.