New Zealand
South Island, New Zealand
Inside New Zealand's Stunning, Secret Island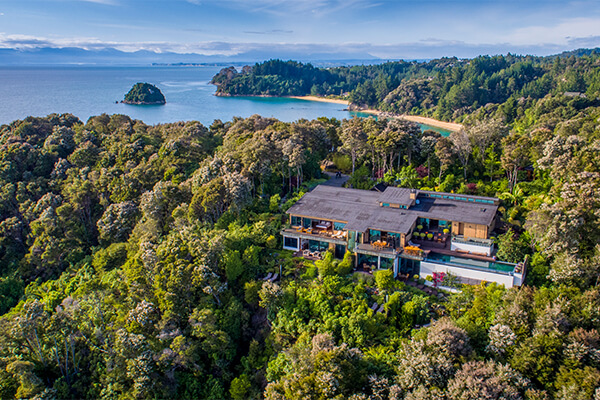 While New Zealand's North Island becomes increasingly developed, the South Island remains a more elusive draw for adrenaline and relaxation seekers alike. From beach hopping to bird watching and extreme surfing along its coasts, this lesser-known island offers a truly immersive getaway.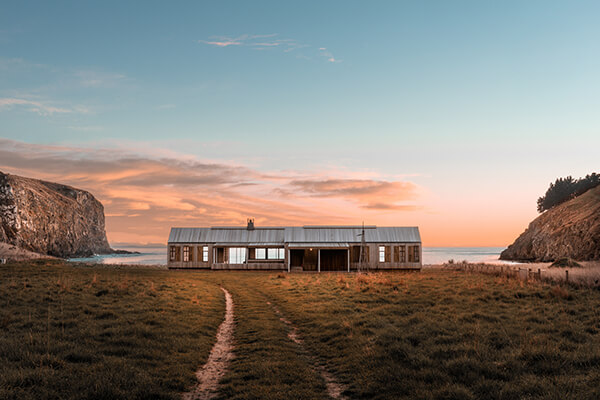 Nestled in a private cove on the South Island's Banks Peninsula, a craggy stretch of coast to the east of Christchurch, Scrubby Bay occupies a world all its own. Set back on a pebbled beach, the ultra-remote hotel is accessible by helicopter or a 40-minute drive across an outcropping of cliffs. Crafted by acclaimed Kiwi architect Andrew Patterson, who also designed Scrubby Bay's sister Annandale properties, the cedar-swathed beach house features three oceanfront bedroom suites, as well as a bunk room, chef's kitchen and an airy open-floor plan that gazes over the Pacific Ocean. Minimalism reigns throughout the interior, with geometric lighting, earth-toned furniture and rugs made from Annandale sheep. Take a dip in the 25-meter pool or bask on the deck, while taking in views of grazing cattle and goats, flocking Canadian geese and the lapping ocean waves just a few steps away.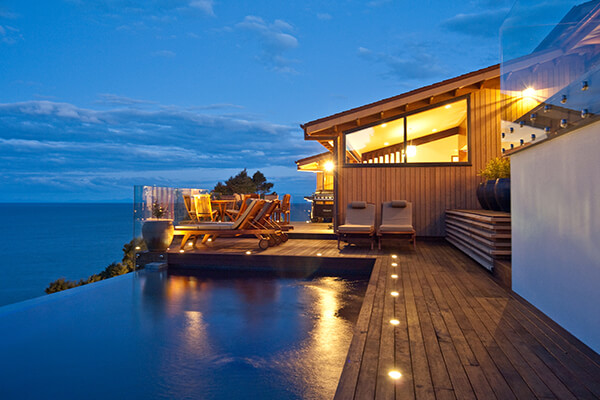 Split Apple Retreat takes its namesake from the iconic Split Apple Rock, a geological marvel that juts out at nearby Kaiteriteri Beach. Nestled on the edge of the Abel Tasman National Park, the site of one of the Great Walks and some of the most breathtaking views on the South Island, Split Apple Retreat offers panoramic views of the park and three Japanese-style suites. Wellness is the main event, as co-owners Anne Pen Lee and Lee Nelson offer their expertise in elevated healthy cuisine and holistic medicine. Dive into a cooking lesson with Chef Pen, experiment with one of the facility's high-tech meditation methods or participate in a traditional Japanese tea ceremony. Alternatively, take a helicopter ride to a remote picnic spot, spend the day kayaking around Tonga Island's seal colony or simply hang with the blue penguins that congregate on the hotel's balcony.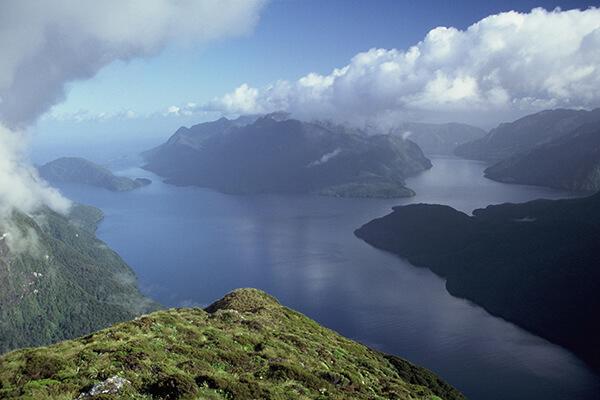 Nicknamed "The Sound of Silence," Doubtful Sound is both the deepest fiord and one of the most serene inlets in Fiordland National Park. Waterfalls are found throughout the forested cliffs, while Fiordland crested penguins, New Zealand fur seals and bottle-nose dolphins lounge in the surrounding waters. Opt for an overnight cruise, which allows travelers to luxuriate in the scenery while exploring nooks and crannies that stretch over 40 kilometers. Kayak through the vistas by day, then return to the boat to fish for your dinner (blue cod and lobsters) while sipping Champagne. During New Zealand's winter months, the cruises extend into two-day ventures, allowing more time to take in the snow-dusted peaks while avoiding the crowds.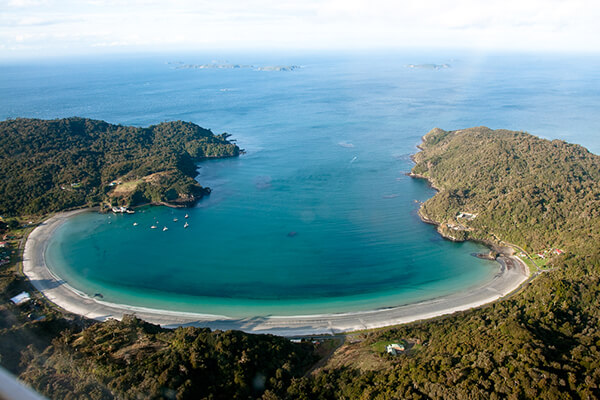 Steve Morris, founder and owner of Morris Surfboards, which has crafted custom boards for competitive and recreational surfers for over 20 years, reveals South Island's top surf spots:

"Kaikoura is the first major surf destination after crossing over from the North Island by ferry, and as you follow the road and railway south, the first break is Mangamaunu, a quality right-hand point break that's set against the snow-covered peaks of the Southern Alps. It has three distinct sections with fatter linkups in between. Meatworks is a rocky beach break with a powerful wave that's great in most conditions. Just be warned: boulders make it tricky getting in and out. A few minutes south of Kaikoura is a right-hander known as Kahutara. The continental shelf is only a few hundred meters off the coast here, so this wave packs a punch. As you come out of deep water and hit the gravel-boulder reef bottom, it offers up fast-barreling waves."
"Christchurch has some great setups, which are conveniently close to the South Island's largest city. The beach breaks of Sumner and New Brighton, which are mostly longboard suitable, both have good waves, but they need a good east ground swell to really kick into gear. Likewise, Taylors Mistake offers punchy beach break peaks on the right swell, and the best swell direction for Christchurch is NE. There are plenty of great spots around Banks Peninsula. Simply search and you shall find."
"Dunedin offers the best variety of surfing on the South Island, with multiple beach breaks, point breaks and river mouths in and around the Dunedin Peninsula. There are great beach breaks in town at St Kilda and St Clair, which tend to be the most popular and consistent. South of Dunedin is another quality beach break called Blackhead, and if you head further south into the Catlins, you reach Papatowai, New Zealand's premier big wave spot. Close by is Porpoise Bay, another multi-peak beach break, which is both powerful and isolated. This area offers plenty of quality waves with no one around — so bring a friend or two."
"Colac Bay is the last recognized surf break until Antarctica, offering both left- and right-hand beach breaks and once again very uncrowded."