La Paz, Mexico
La Paz, Mexico
The Best Beach Town You've Never Heard Of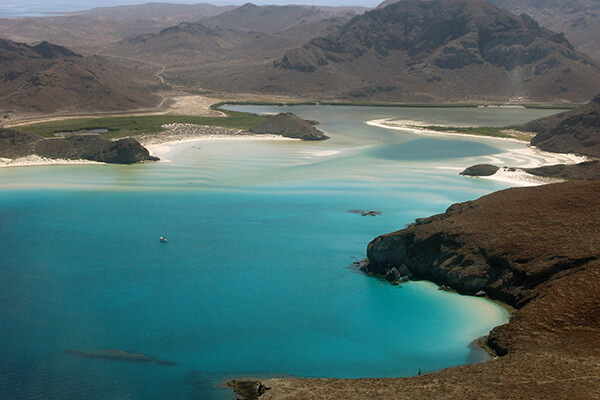 Cabo may get all of the attention, but La Paz is quietly emerging as the under-the-radar resort town for untouched beaches, scene-free dining and truly awe-inspiring underwater adventures. Located on the Sea of Cortez, the little-known beach town has already been discovered by the mega-yacht crowd, drawn to its beyond-blue waters and laid-back vibe. The downside? It's a two-hour plus drive from Los Cabos International Airport, although direct flights from the US to La Paz may be announced later this year. Tip: For residents of Southern California, consider the Cross Border Express to Tijuana Airport, where direct flights to La Paz are scheduled daily.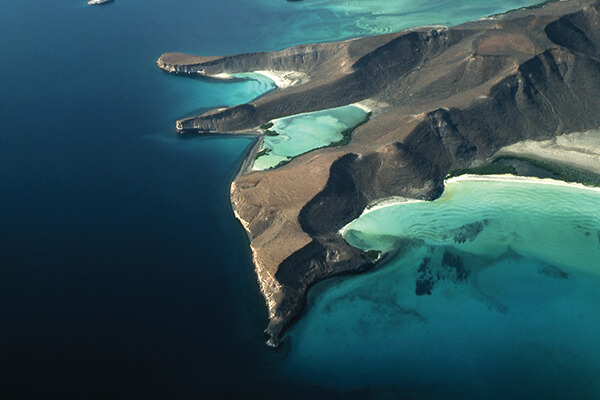 With more scientists per capita than any other city in Mexico, La Paz's Sea of Cortez has been referred to as the "aquarium of the world" by none other than Jacques Cousteau. Ready to see marine life up close and extremely personal? Here's where the locals go for the ultimate maritime adventures.
"Balandra Bay is often voted as the most beautiful beach in Mexico due to its spectacular views of the Sea of Cortez. Not only is this home to the famous mushroom rock on Balandra beach, but you can also enjoy white sands, massive dunes, crystal clear water and lots of marine life. It's a place that truly captivates...Crystal-clear waters are typically 86 degrees — that's the glory. You become hypnotized with tones of blue that seem endless. It's like a pool because there are no waves, but with fish around you, so snorkeling here is super!" - Pablo Guerrero Bernal, Área de Protección de Flora y Fauna Balandra
"Isla Espíritu Santo is one of the best kept secrets of the area. It has incredible, dramatic views, clear water and lots of inquisitive sea lions. It also offers an amazingly unique opportunity to swim with whale sharks, one of the largest species of fish on earth. For someone who is not a diver, seeing a whale shark could be terrifying, but in our company it's one of the most inspiring activities... a truly breath-taking experience." - Jorge Herrera, Professional Diver for Baja Adventures Company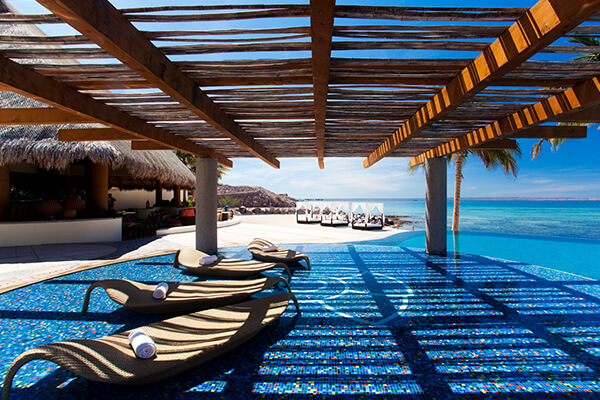 Tucked down into a marina all its own, Puerta Cortes offers a village-like experience amid endless acres of rolling land, a combination of golf course (the only Gary Player Signature Golf Course in Mexico), native land and a marina village with restaurants, shops and yacht slips frequented by Steven Spielberg, Larry Ellison and Mark Zuckerberg. Hotel suitesinclude golf carts for easy access around the property, including its Beach Club, Golf Cluband restaurants. The resort is also the perfect gateway for water adventures, including fishing, snorkeling and diving with multiple outings daily.
Ceviche lovers, get ready to enter the next dimension. Restaurants in La Paz offer endless varieties of raw fish cured in citrus juice. Oliva Al Mare is one of La Paz's newest restaurants, a second-story, glass-walled perch with 180-degree ocean views and an amazing, daily changing menu of fresh-caught fish. There are always at least four takes on ceviche at Puerta Cortes' Azul Marino Restaurante, while Nim, a brightly colored, laid-back culinary hot spot owned by fisherwoman Cristina Kiewek, also offers fresh takes on the dish every day. Not a fish lover? Head to Sorstis Restaurante, where all-local ingredients get the Mediterranean treatment — grilled meats, cured ham, great pastas — served in a romantic courtyard.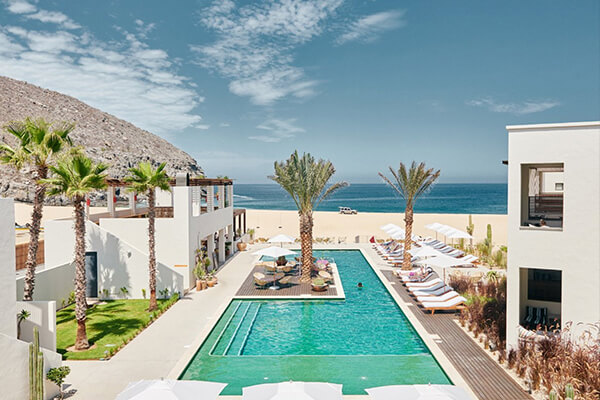 Located an hour's drive from La Paz, the small town of Todos Santos offers an odyssey of cobblestone streets, small artisan shops and enchanting courtyard restaurants. Many come to Hotel California to see the inspiration for the Eagles song (spoiler alert: the association is entirely imagined), but the town itself is magical, recognized as one of Mexico's Pueblos Magicos (an honor reserved for just 111 small towns known for natural beauty, cultural riches and/or historical importance). Want to stay a bit longer? Head for Hotel San Cristobal for more enchantment: There, at the end of a dirt road, you'll find a beachfront paradise where hypnotic ocean views and mezcal margaritas are guaranteed to take you far, far away.