Explore the Coolest Neighborhoods in Los Angeles, California
A guide to the coolest neighborhoods in Los Angeles, California
Angelinos share their go-tos in Silver Lake, Venice, and West Hollywood

Thanks to the sheer scale of the place, you can think of Los Angeles as a city composed of lots of little villages, each with its own loyal community that revolves around weekend markets, sun-drenched brunch spots, and date night-appropriate bars. In other words, pick your vacation base intentionally, because you're probably going to spend a lot of time there (unless you really love long car rides punctuated by loud traffic jams). For this guide, we selected three of our favorite LA neighborhoods – Venice, Silver Lake, and West Hollywood – and asked our resident Angelino friends for their local haunts and hangouts.
---
West Hollywood
From wild Sunset Strip to design-centric Hollywood Boulevard, and shopping nexus Melrose Avenue – West Hollywood is the quintessential image of Los Angeles. As such, it's often high on the tourist must-visit list (hello, Hollywood Walk of Fame), but WeHo's community of entertainment industry and LGBTQ folk ensure the neighborhood retains its stylistic edge and nostalgic charm.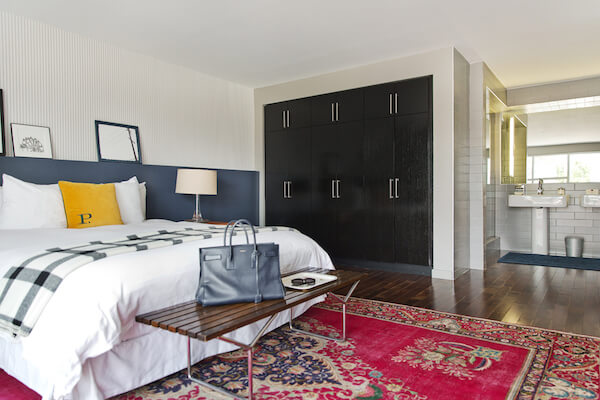 It doesn't get more classic-Hollywood that Chateau Marmont. The hotel, which is modeled on the Gothic chateaus of the Loire Valley, has been hosting creative residents and movie sets since the 1930s. Alternatively, for a more modern spin on Hollywood hospitality, try Palihouse West Hollywood – a pied-à-terre hotel with suites and residences designed to make guests feel at home.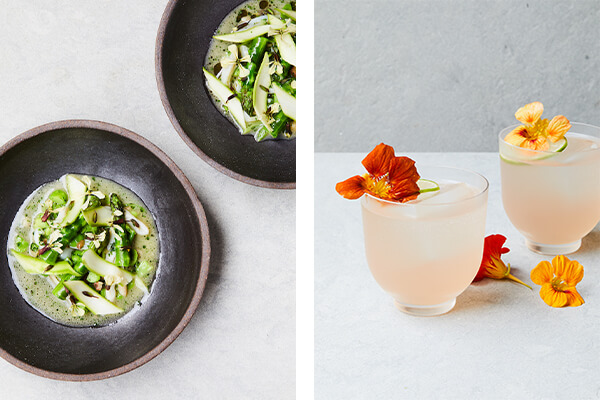 When you're ready to grab a bite head to Rosaline, a Peruvian-meets-Cali restaurant with citrus-doused ceviche, or Gracias Madre, which serves up tangy, spicy Mexican faves with a vegan twist, and has one of the loveliest patios in WeHo. If the occasion calls for something a little more special, secure a table at Auburn, where you'll pick a sequence of four, six, or nine courses from a list of 12, creating a choose-your-own-dining-adventure experience. Instead of a nightcap, round off your evening watching famously funny people at the Comedy Store, or with a raucous game of drag bingo at Hamburger Mary's.
The following morning, If you're in need of some TLC, we recommend retail therapy at Sunday vintage treasure trove Melrose Trading Post, followed by a facial treatment at Face Place, where you can get reflexology on your feet while refreshing your pores.
Silver Lake
If Hollywood is where the actors live, then Silver Lake is the domain of the screenwriters and set designers. Creative types, as a tribe, tend to gravitate here, giving the neighborhood hipster vibes in the best possible way. Silver Lake is also one of the more walkable Los Angeles enclaves. There's plenty to explore on foot, including the farmers market (vintage clothing and food every Tuesday and Saturday), the "hidden stairways" of Silver Lake (street art spattered staircases including the Instagram-friendly Micheltorena Street stairs), and the serene reservoir for which the neighborhood was named.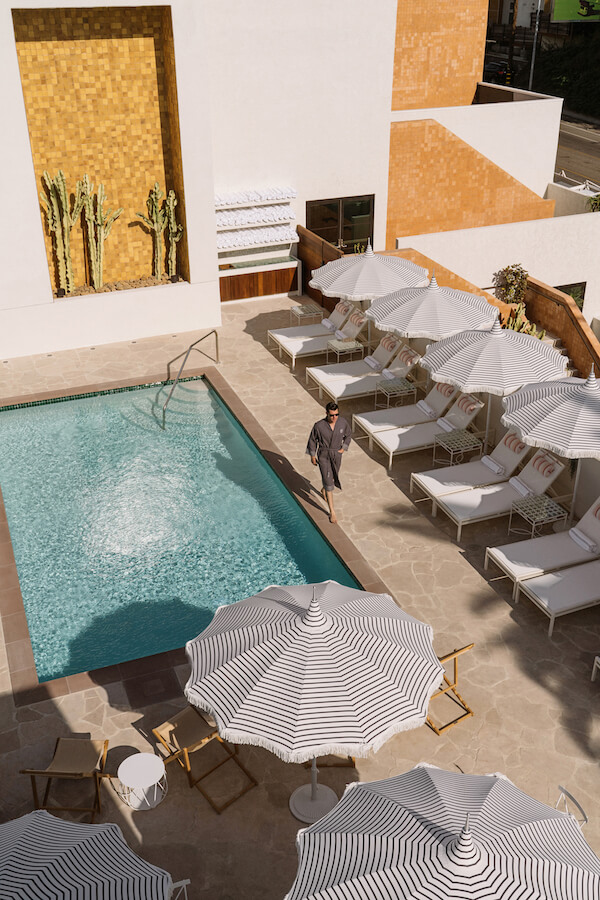 We can't tell if it's the color palette of warm leather and 70s yellow or the California sunshine streaming through the windows, but the Silver Lake Pool and Inn feels like it's wearing a vintage photo filter. Sip negronis from the hotel's Italian bar, Marco Polo, on the pool deck, then take a 10-minute stroll to The NOW Massage Boutique on Sunset Boulevard. This affordable pamper parlor offers "enhancements" including gua sha (a Chinese massage tool made from rose quartz) and crystal healing, because wellness is this city's modus operandi.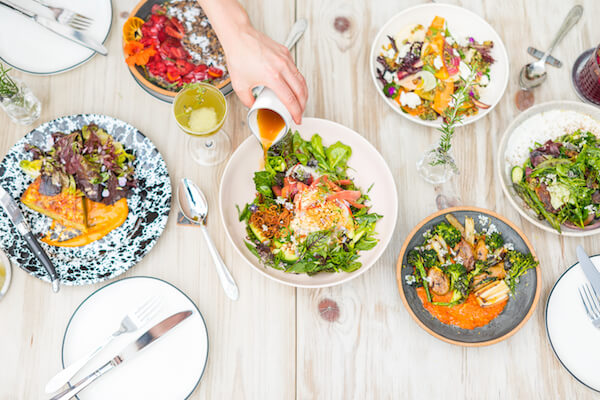 For a solid meal head to Botanica, which Silver Lake-based screenwriter Camilla Blackett describes as "local veggie-focused foods, owned by two beautiful women," or Sawyer for huge helpings of Southern seafood consumed family-style at its communal blonde-wood table. Post-dinner sample funky natural wines at Tabula Rasa (stop by 5pm on Thursdays for wine-tasting lessons, or Sunday nights for live jazz) and Bar Bandini, a seductive late-night cocktail spot that's technically in nearby Echo Park but worth venturing out the 'hood for.
Venice
The coastal neighborhood known as Venice was conceived by a developer named Abbot Kinney in 1905. An intriguing mishmash of Venetian canalways and British seaside kitsch, it's evolved into one of Los Angeles' most beloved destinations, a locale that attracts an irreverent crowd of skaters, artists, bodybuilders, surfers, and aging bohemians. Did we mention the people-watching here is world-class?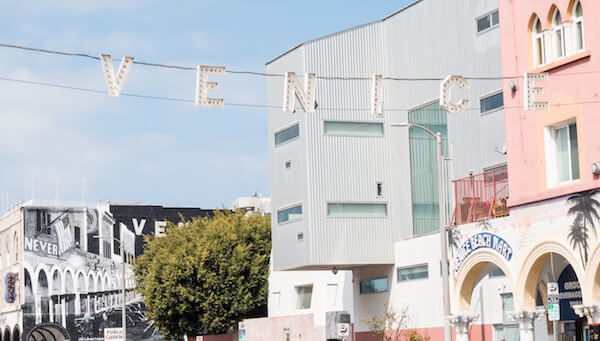 Start your day at The Rose Hotel with Stumptown Coffee, freshly-baked croissants, and a stack of magazines. Situated half a block from the beach, this laidback spot has apartment-like suites that emulate local living, and beach cruiser bikes so you can zip up and down the boardwalk. From the hotel, it's about ten minutes on foot to the western end of Abbot Kinney Boulevard. Pop into Grow Venice for home decor and gifty goods, Aust for the coolest Aussie fashion brands, and Huset boutique for Scandinavian lifestyle wares – all while eating a bizarrely delicious ice cream variety from Salt & Straw (think pear and blue cheese or coffee and bourbon).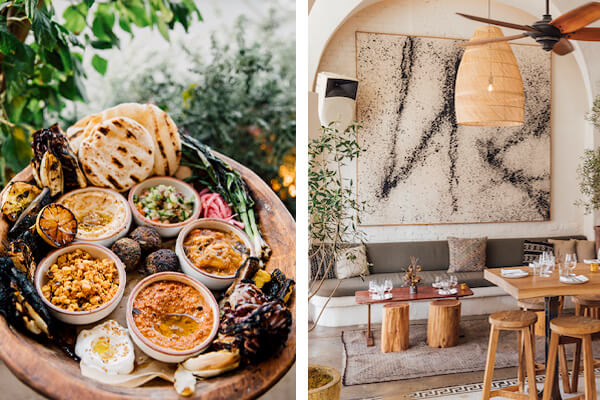 At dinnertime, find yourself a spot next to a potted plant at Gran Blanco, an ode to Cali coastal living that even encompasses the ceramicware (made by a local designer) and dish names (think "gnarly mushrooms" and the "Tremendous Burger"). If you can get yourself an outdoor table at Gjelina, you'll be doing very well indeed. This Italian restaurant has been going strong for over a decade, attracting crowds with farmers market veggies served Mediterranean-style and pizzas good enough to rival the East-coast. After sunset, seek alfresco drinks in the beer garden at The Rose Cafe, or head to Roosterfish, a stylish gay bar with outstanding cocktails including the 1979 (tequila, Aperol, grapefruit, lime, pomegranate, rosemary, soda), Red Rooster (rum, chamomile, cherry tomato, mint lime, agave), and the Blackeye (bourbon, brown butter wash, applewood smoke, turbinado, angostura bitters).