Guadalupe
Guadalupe Valley
Mexico's Grape Growing Haven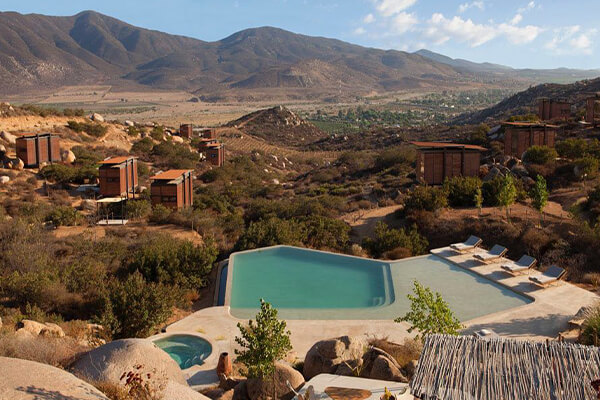 Less than a two-hour drive from San Diego, Valle de Guadalupe produces 70% of Mexico's wine, thanks to a Mediterranean microclimate ideal for red wine grapes. But grapes aren't the only thing growing: There are now more than 100 wineries in the valley, along with a burgeoning hotel and culinary scene. Put it all together and you are set for an amazing, low-key weekend that's far more affordable, but no less impressive, than Napa. Next month, its annual Valle Food & Wine Fest attracts some of the world's biggest chefs for a day of supreme south-of-the-border drinking, dining and relaxing.
---
Inn Crowd

Grab your very own micro suite at Encuentro Guadalupe, a hotel winery located on an ecological reserve in the heart of Valle de Guadalupe. Minimalist eco-lofts dot the rocky hillside where guests can roam from a stunning infinity pool overlooking the entire valley to its onsite restaurant, Origin, where chef Omar Valenzuela takes the bounty from two onsite organic farms to create new tasting menus each day.
Day Tripping

Located less than 20 minutes from Valle de Guadalupe on the Pacific Coast, Cabañas CuatroCuatros is a unique settlement where nature is integrated into almost every aspect of the property. A series of 19 raised tents (with AC, minibar, fireplace and outdoor showers) are interspersed within the grape vines, while activities include whale watching, mountain biking, hiking and horseback riding throughout the sprawling property. An intimate bar offers panoramic ocean views, while a wine tasting room and full-service restaurant are also available.
Eat, Drink, Repeat

Dubbed an "experiential" boutique hotel, Agua de Vid is one of the newest properties to debut in Guadalupe Valley while offering an all-encompassing experience: Establish base camp from either the 24-room hotel, where stern looking steel and glass pod-like structures are softened with colorful tiles and textiles or at Zingaro, a collection of carefully appointed canvas tents. La Tintorera, a rooftop wine bar, features some of the region's top wine houses, while onsite restaurant Pancracia pushes traditional Baja California cuisine into new terrain. Agua de Vid also includes an art gallery promoting Mexican artists and a workshop where wine lovers are guided through the winemaking process, from grape mixing to bottle packing, taught by Agua de Vid's expert winemakers.