Get a Taste of Travel at NYC's Best Outdoor Dining Restaurants
Get a Taste of Travel at NYC's Best Outdoor Dining Spots
By Dora Grossman-Weir
If you are a world traveller, chances are COVID-19 has put a massive pause on your plans of exploration. That said, you don't have to go much further than down the block or around the corner to experience and appreciate a new culture through cuisine. Many local restaurants are serving food from around the world for takeout or outdoor dining near you. Between the popular hashtag #eatglobaldinelocal, and the movement to give business to local restaurants during this challenging time, there is no better way to support the neighborhood close to your heart while getting a taste of cities far away than to enjoy a meal outdoors at one of these New York establishments.
---
If you've always wanted to experience the natural beauty (and fresh margaritas) of Oaxaca, try:
Claro
(Gowanus)
The Gowanus canal isn't necessarily scenic, but it is surrounded by restaurants serving beautiful food in charming settings. Claro's ivy-covered backyard and innovative takes on classic Oaxacan dishes and drinks makes eating outside bright, fresh, and exciting. In addition to dishes like Mole Rojo and friend oyster tostadas, their Mezcal list is extensive. Enjoy a Mezcal flight with a taco or tostada, and you'll leave happy.
If you're looking to explore a new island, but can't get to Sri Lanka:
Lakruwana
(Stapleton Heights)
If you are really desperate for travel, get on the top level of the Staten Island Ferry and head to Lakruwana, a lengardarily decorated restaurant serving authentic and delicious Sri Lankan food. Although you won't get to experience the wild decor inside of the restaurant (it must be the highest density of Buddhas, ornately decorated bowls, and gold statues in New York City, let alone America), the outside walls are covered in murals which you can admire from your umbrellaed picnic table. If you haven't explored Staten Island yet, let Lakruwana's Deviled Chicken and Pineapple Curry (not to mention Mango Mousse for dessert) be your gateway drug.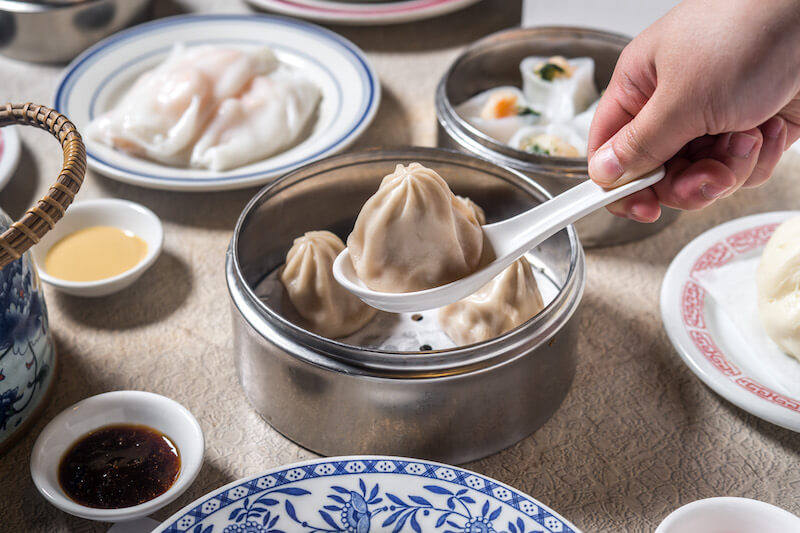 If you miss exploring the bustling streets of Hong Kong, try:
Nom Wah Tea Parlor
(Chinatown)
All of historic Doyers street is closed to cars to make room for outdoor dining, and if you know what is good for you, you will run-not-walk to dim sum at Nom Wah Tea Parlor, the oldest dim sum parlor in New York's Chinatown. Although it is a shame to miss the antique interior (which doesn't look like it has changed since its opening in 1920), savoring your snow pea leaf dumplings and brothy, savory Xiao Long Bao on the bustling streets of Chinatown only adds to the experience.
If you have never been to Quito (and haven't spent enough time in Queens), try:
Super Pollo
(Ridgewood)
The residential neighborhood of Ridgewood is home to Super Pollo, with one of the best decorated front patios in all of New York, and a perfect spot to bring your family to if you have a couple of kids. Complete with string lights, flower boxes, and the Ecuadorian scarecrows that are traditionally burned on New Year's hanging all around, the atmosphere is festive and inviting, whatever the season or weather. The restaurant is known for its rotisserie chicken, but even the pickiest of eaters will enjoy the fresh empanadas and flan.
If you just want to get on a damn boat, try:
Grand Banks
(TriBeCa)
New York City waterfront views are highly sought after. and as you can imagine, the best view of all is one you would get from a boat sitting on the river itself. Inspired by oyster barges, chef Kerry Hefferman serves sustainably harvested oysters and a small menu of seasonal plates on a historic restored fishing boat docked on the Hudson. The cuisine at Grand Banks may not be international, but it is fresh, sustainable, delicious, and you can sit on a boat while you eat it (if you make a reservation). That is enough of an escape for me.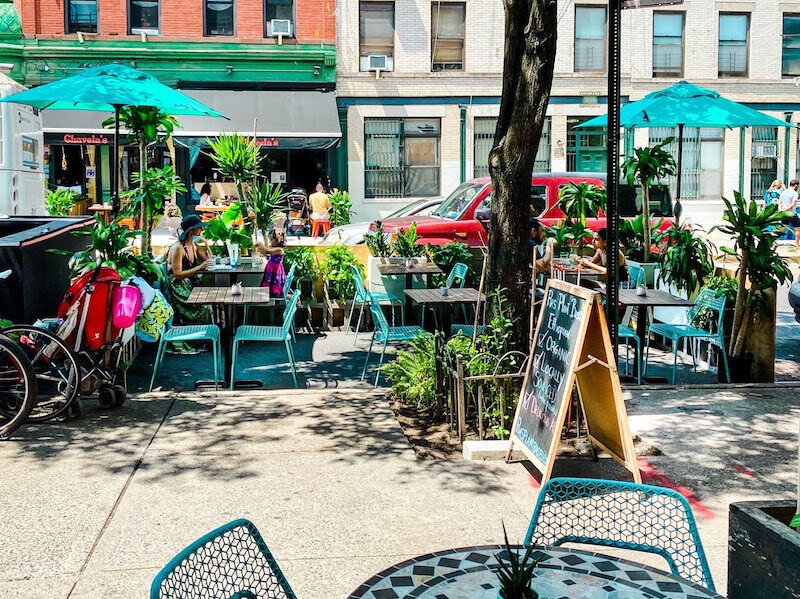 If you were dreaming of venturing to the warm, familial Addis Abada, try:
Ras Plant Based
(Crown Heights)
Vegan eating doesn't mean plain soy products and non-dairy-milks, and the newly opened Ethiopian restaurant Ras Plant Based in Crown Heights knows that well. With shareable platters full of lentils and vegetables served over fresh made injera, Ethiopian sour flatbread that serves as your plate and utensils during the meal, and crispy fried Sambuca (similar to a samosa, but originating in Somalia and Ethiopia), Ras is bringing plant-based family recipes to the Crown Heights community. It opened mere weeks before the city shut down due to COVID-19, but has adapted each step of the way, and now offers reservation-based outdoor dining. Be prepared to use Purell though– Ethiopian food is traditionally shared, and eaten with your hands.
If it is hard to find your favorite Kansas City barbecue up North, try:
John Brown Smokehouse
(Long Island City)
Even before the pandemic necessitated outdoor dining, John Brown had one of the coolest backyards in the city, complete with some of the graffiti from artists once displayed at Five Points (not to mention legendary ribs and burnt ends!). The casual, picnic table atmosphere only adds to the experience: a funky, comfortable setting serving up high-class barbecue, and inventive specials including Pecan Smoked Wings and bread pudding.
If you never got the chance to explore the steaming streets of Old Delhi, try:
Amma
(Turtle Bay)
Turtle Bay is known for its Indian food, and Amma is known in Turtle Bay. Amma's outdoor dining tent has been described as a 'block party' since they took over the parking lane in front of their small Turtle Bay establishment. But don't worry about the distance – 'Amma' herself often pops outside and to ensure everyone can drink their rosewater lassis and eat their madras curries in peace (and with 6 feet of space).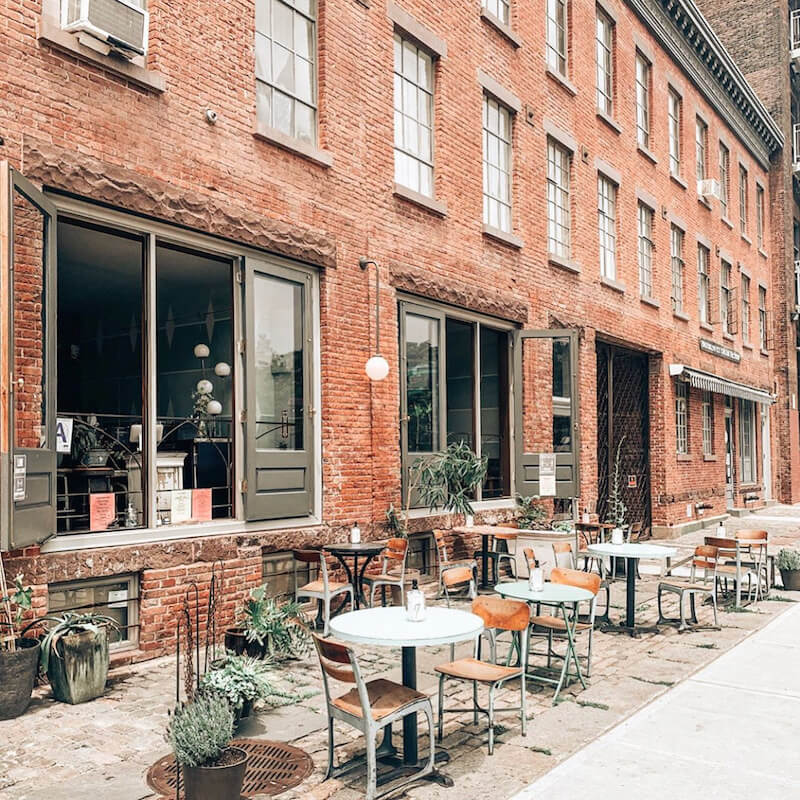 If you have always wanted to wander the cobblestones streets of Istanbul, try:
Glasserie
(Greenpoint)
In once-industrial Greenpoint sits Glasserie, a somewhat upscale Mediterranean restaurant situated in a converted glass factory. The menu is full of fresh vegetables, the bold spices bring you straight to the markets of Turkey, and the big windows swing open over the cobblestone patio, where the seating is spacious, Labne is delicious, and the griddle breads are oversized (and no one is complaining). The Smoked Eggplant and Spicy Roast Quail are incredibly original dishes, but still somehow harken back to Middle Eastern roots, and are available right around your Greenpoint corner.
If you crave the bright, fresh vegetables of the mountains of Chiang Mai, try:
Look
(Prospect Heights)
If you want high quality Thai food with the comfort of a home-cooked meal, check out Look on Washington Avenue. Proudly started in the owners' backyard in Queens in 2013, Look serves savory and tangy dishes food from the heart in a laid-back atmosphere. Its garden seating area is cozy and full of string lights, and its dishes are authentic but creative: a popular special Hor Mok Pla features banana leaves filled with ground fish custard, and topped with chile and coconut. New York Magazine called it the best cheap eat of 2016.
If you wish you were relaxing in the beachy atmosphere of Montego Bay, try:
Miss Lily's 7A Cafe
(East Village)
If you are craving spice, music and great drinks, know that New York institution Miss Lily's 7A Cafe now has outdoor dining. Situated caddy-corner to Tompkins Square park, Miss Lily's brings Caribbean flavors to a new light in the East Village, with menu items like Jerk Grilled Salmon, West Indian Curry Vegetable Roti, and frozen fruity cocktails on tap. The real fun starts at the Rum Bar though: more varieties of rum than you can imagine in one place. There's something for everyone.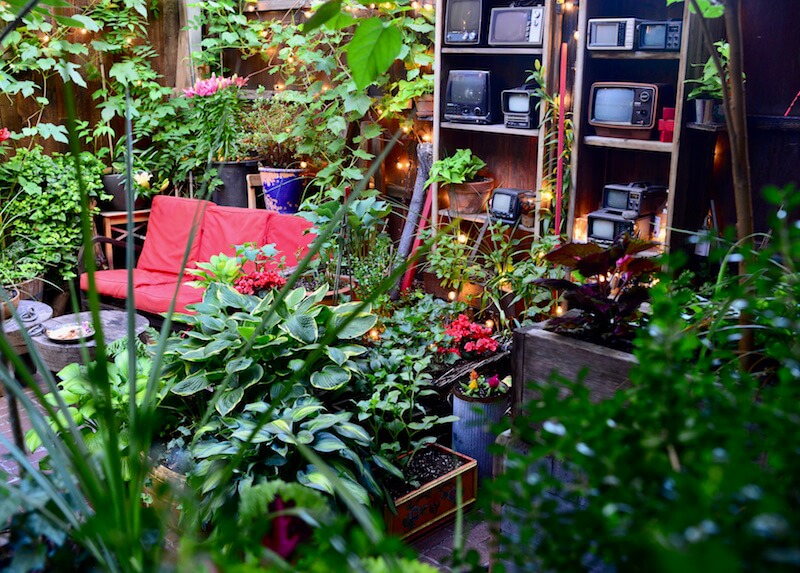 If you have been meaning to see historical Ho Chi Minh City, try:
Bricolage
(Park Slope)
An offshoot of the successful San Francisco restaurant Slanted Door, Bricolage not only has dishes like Fresh Summer Rolls and a warm and spicy Shrimp Claypot, it also boasts one of the most beautiful backyard patios in Brooklyn (and a damn good Bahn Mi). The food served in this funky, green respite-from-the-bustle-of-Brooklyn space is inventive, exciting, and consistently well-reviewed. Bricolage is beloved in its home neighborhood of Park Slope, and as a family run establishment, the flavors come from the heart. Make a reservation to dine out back as soon as you can, and don't miss the Unshaking Beef.
If you love Vienna sausage and wish every month was Oktoberfest, try:
Werkstatt
(Ditmas Park)
Ditmas Park is known for its residential feel and historic Victorian homes, but the restaurant scene around Cortelyou Road should not be underrated. Just a few blocks up on Coney Island Ave, you'll find Werkstatt. The Austrian comfort food and great beer served just outside of the open glass doors of this cozy neighborhood spot make for a biergarten experience without the masses of fellow drinkers you might find at a Manhattan restaurant with this many beers on draft. Come for the Bratwurst and Stiegl, stay for the "Best Pretzel in NYC."
If you are fantasizing about beach-side dining on the coast of Capri, try:
Evelina
(Fort Greene)
Italian food is often stereotyped as heavy, saucy and indulgent, and while that is available at Evelina if that's what you're craving, this Fort Greene restaurant also celebrates the fresh vegetables, clean flavors, and seasonal produce of Italian cuisine with a seasonally shifting daily menu. The restaurant recently took over the sidewalk around its corner spot, and with lovely plants and clear dividers between tables, you can safely enjoy dishes like fresh-made Burrata Ravioli, Peach and Arugula Salad and Grilled Octopus.
If you have always wanted to try your high school French out in the Medina of Dakar, try:
Ponty Bistro
(Harlem)
Ponty Bistro's plant-laden patio is the only place I've heard of in New York where you can get both a Croque Madame and a side order of sweet plantains. Ponty Bistro takes traditional but casual French cuisine, and steeps it in the flavors of Senegal. Harlem is a haven of food and culture in New York City, and Ponty Bistro is a perfect brunch stop on a walking tour. Don't skip the Moules Africana, a West African take on a classic French mussels preparation.