Curaçao Guide: Fall in Love With This Under-the-Radar Caribbean Island
Curaçao Guide:
Prepare to Fall in Love With This Under-the-Radar Caribbean Island
By

Esme Benjamin
With international travel back on the agenda many of us are deep in trip-planning mode, deciding where we want to go next and when. A word of advice: While you're busy revising your bucket list, be sure to add the Dutch Caribbean island of Curaçao. With its most notable sister island of Aruba close by, this gem is making a name for itself as a destination that transcends your typical getaway experience. This, in large part, is due to the uniqueness of the island.
With a landscape forged by volcanic activity and a culture shaped by a diverse confluence of settlers, Curaçao offers so much more than the typical Carribean assets of sunshine and immaculate beaches (though it has those too. More than 35 of them, in fact). Here, you can gawp at candy-colored Dutch colonial architecture in the capital city of Willemstad (a UNESCO World Heritage Site), scuba dive among thriving coral reefs and atmospheric shipwrecks, spot a flamboyance of flamingos on the white Salt Flats, explore the limestone formations of Hato Caves and try Curaçaoan beef stew before sipping emerald-green rum with the locals. The diversity of people, cuisines, and views will not only steal your heart, but introduce you to an energy that, without question, is better experienced than explained. You simply have to feel it for yourself.
The island has managed the pandemic effectively and is ready to welcome visitors back whenever they are ready. In the effort to 'let you know, before you go,' you can find the latest updates, travel guidelines and on island governmental preventive measures here.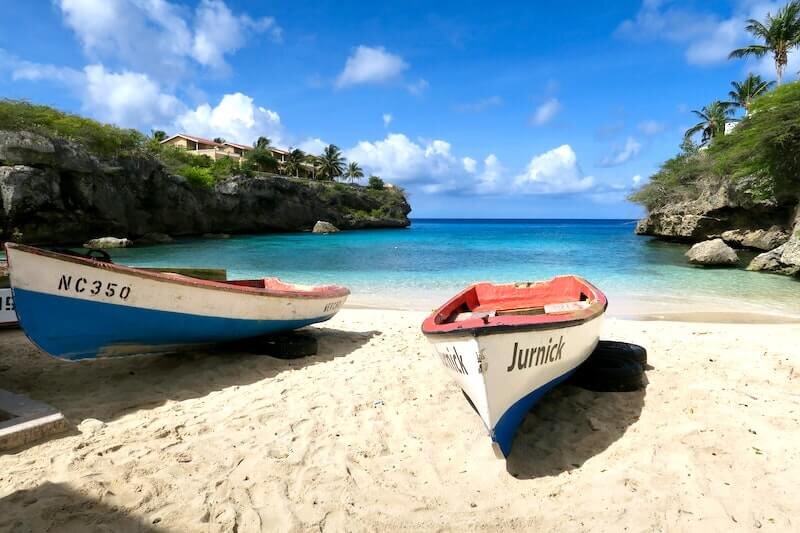 Curaçao boasts the largest number of hotels and attractions with IGLTA (International Gay & Lesbian Travel Association) membership of any Caribbean destination.

Four Languages are widely spoken on the island: Papiamentu, English, Dutch and Spanish.

In 2010, Curaçao became an autonomous part of the Netherlands kingdom.

Curaçao is located outside of the Hurricane Belt and boasts warm, sunny weather all year round,

providing the ideal setting for any and all activities.
Explore Curaçao's Mesmerizing Underwater World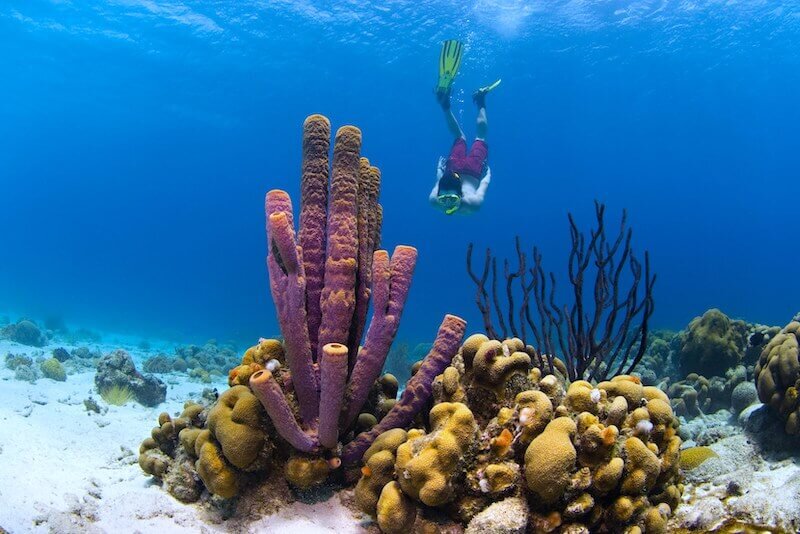 With its calm and clear seas full of healthy coral reefs and barnacle-embellished shipwrecks, Curaçao offers some of the best scuba diving and snorkeling in the whole of the Caribbean. Whether you prefer to explore just off the shore or want a more adventurous dive, you'll find plenty of options encircling the island. Look out for pilot whales, dolphins, rays, sea turtles, lobsters and kaleidoscopic schools of fish congregating at some of Curaçao's most popular sites including Mushroom Forest (a name inspired by the huge mushroom-like coral heads found there), Elvin's Plane Wreck (an Antillean Airlines plane purposefully placed on the seabed as a dive attraction), Tugboat (a sunken vessel) and Watamula (loved for its impressive corals and frequent turtle sightings).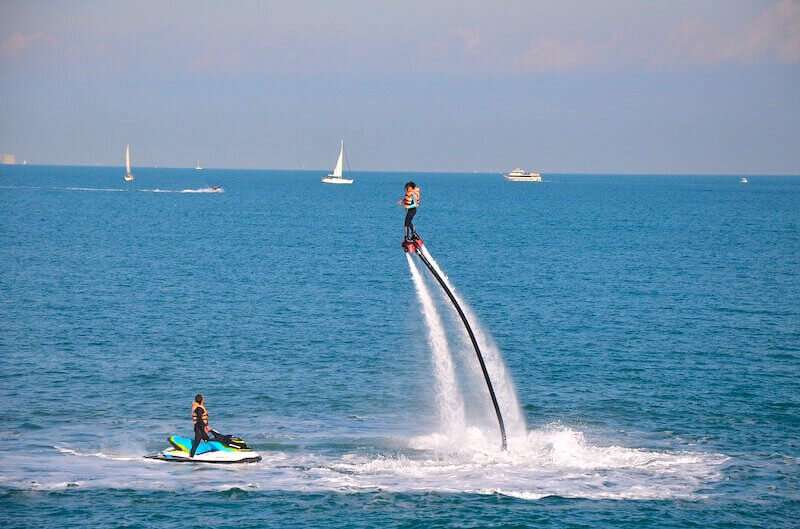 If being on the water appeals more than being underneath it, you're in luck. Curaçao's tranquil sea and gentle trade winds create ideal conditions for watersports of all kinds: wakeboarding, waterskiing, sailing, kayaking, canoeing, jet skiing, windsurfing and kitesurfing. The options are endless, but for a one-of-a-kind experience you'll never forget, it's got to be flyboarding. Strap your feet in and find your balance on this futuristic-looking hoverboard. As a hose pumps water directly to the attached jetpack, you'll be propelled 15 meters into the air – an experience fans say is the closest thing to flying.
Become a Cove Connoisseur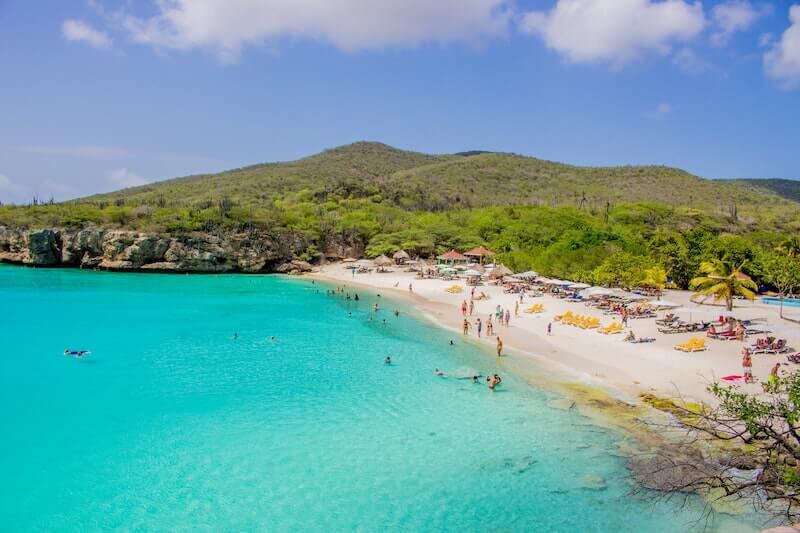 Even by Caribbean standards the beaches on Curaçao are exceptionally beautiful, and with over 35 options to choose from you could visit a different one each day of your vacation if you felt inclined. Rather than the long sweeping beaches you find elsewhere in the Caribbean, Curaçao is full of idyllic little coves and bays with transparent turquoise ocean that's perfect for swimming and snorkeling. Find your own coastal hideaway (Playa Kenepa Grandi/Chiki is our hot tip), claim a sun lounger and kick back for a day of respite and vitamin D.
Experience Curaçao's Rugged Landscapes at a National Park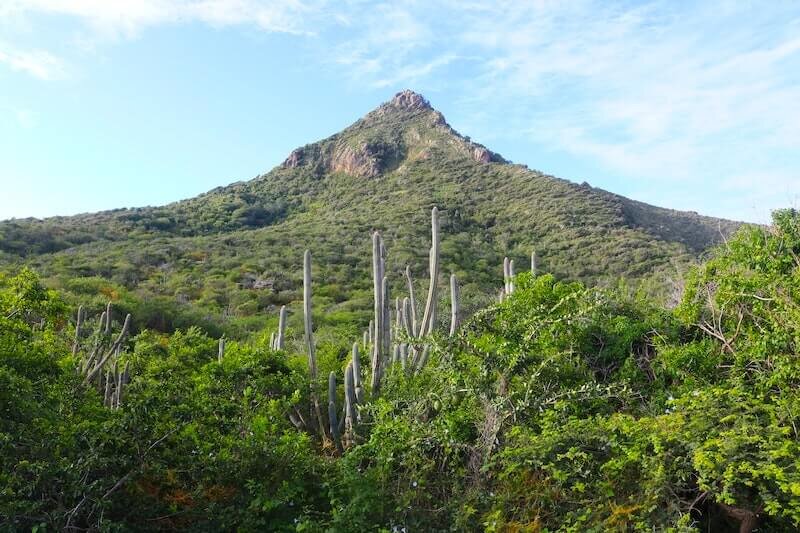 The island is threaded with hiking and biking trails, giving visitors the opportunity to balance all that beach lounging with some action. Wake up early, pack sunscreen and water and ascend past spiky cacti and lazing lizards to the summit of Christoffelberg in Christoffel Park. It's a 90-minute round hike to Curaçao's highest point, and you're rewarded with a refreshing breeze and views of jagged green mountains all the way to the cobalt ocean. Close by you'll find another national park with heaps of rugged beauty: Shete Boka, which translates as "seven mouths." Hike around these rocky inlets, which were carved into the rockface by the thrashing sea, keeping your eyes peeled for iguanas. Don't miss the 'Pistolero' ravine, where the waves shoot through a hole in the rock and echo like gunshots.
Sample the local Ròm Bèrdè, or "Green Rum"
Curaçao has a thing for vivid liqueurs. You're probably familiar with its blue namesake tipple, but no visit to the island is complete without a green rum, or ròm bèrdè, from local watering hole Netto Bar. Made from a top secret recipe by the bar's founder, this slightly sweet emerald-hued rum is perfect with a glug of chilled coconut water.
Soak up Willemstad's Burgeoning Art Scene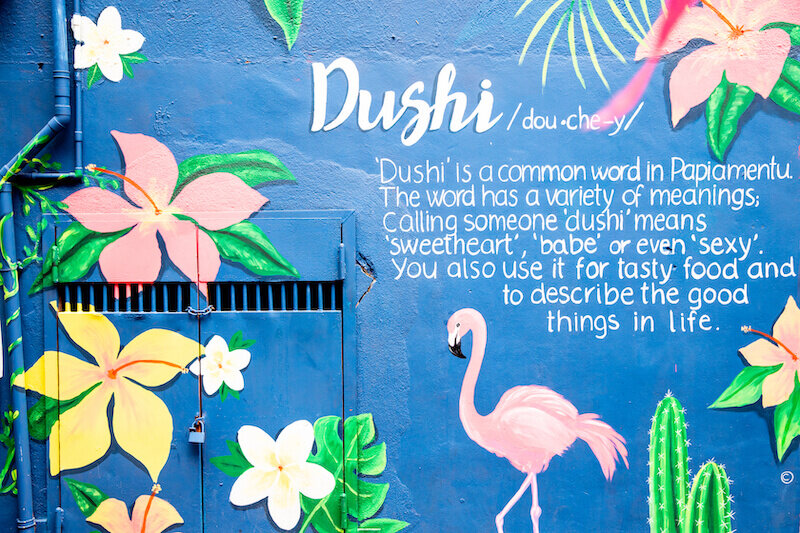 You'll spot galleries dotted around Curaçao, but the most exciting way to get a feel for the island's art scene is with a visit to the Scharloo district. Local collective Street Art Skálo has turned this neighborhood into the Wynwood Walls of Willemstad – a hipster enclave known for its large-scale murals painted by local artists. Wander down Bitterstraat and Parke Leyba for the most Instagrammable spots.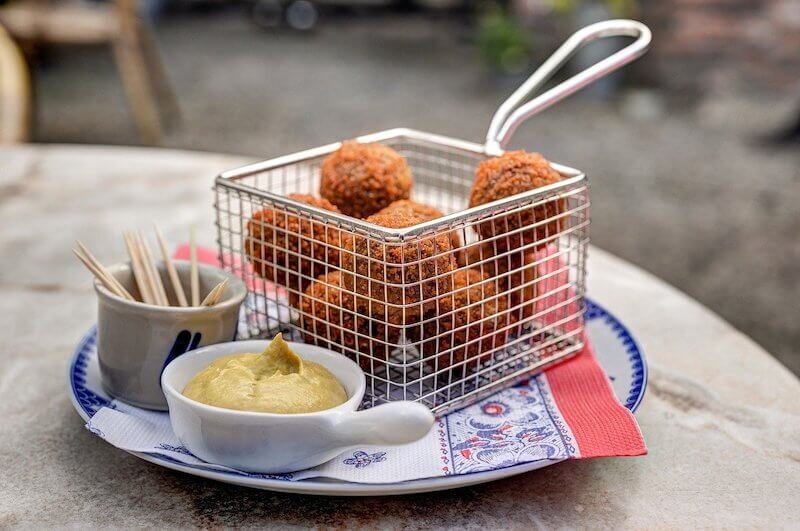 More than 50 nationalities call Curaçao home, and each has contributed its own set of cultural culinary traditions to the island's food scene. Whatever you're craving, you'll find it here. Perhaps you'll even discover some new specialities, too, like bitterballen (a popular Dutch snack of meatballs, rolled in breadcrumbs and fried to crispy perfection), karni stobá (a rich beef stew) and keshi yena (a quintessential local dish of cheese stuffed with spiced meat, then steamed or baked). As you explore the island be sure to keep an eye out for Curaçao's snack bars and food trucks. Both serve delicious, affordable fare and are a huge part of local life here.
Visit the Herb Lady of Curaçao
Every place has its beloved local characters, and herbalist Dinah Veeris is one of Curaçao's. Dinah's botanical garden, Den Paradera, which is home to 300 species of plants – some exotic, others very familiar. Enjoy the gardens, learn all about the medicinal uses of plants and pick up some natural remedies from the adjoining store.
This article was sponsored by Curaçao Tourism