Bermuda
Bermuda
An island bathed in pastels.
A two-hour plane ride from many East Coast cities, Bermuda makes for an easy island escape. This British overseas territory charms visitors with its colorful houses, gorgeous pink sand beaches and unique island culture—a mix of North American, British and West Indian traditions. Though the island is only 21 square miles, each of its nine parishes offers distinct activities and attractions. Pembroke Parish is home to the island's largest city, Hamilton—a hub for shopping and dining. Southampton Parish has some of Bermuda's best beaches, including the famed Horseshoe Bay Beach. And St. George's Parish is a designated UNESCO world heritage site best known for the quaint town of the same name. Across the island, whether on the beach, in town or at the harbor, travelers can expect to be greeted with famed Bermudian hospitality.
Did You Know?
The
Dark'n'Stormy
, a popular rum and ginger beer cocktail, was invented in Bermuda by the Gosling brothers sometime after World War I. The Dark'n'Stormy gets its name from Bermuda's rich maritime history—the color of the cocktail supposedly resembles the ominous storm clouds that deter local fishermen from sailing. Gosling's Rum trademarked the Dark'n'Stormy name in 1991, so even though variations appear on bar menus everywhere, to be legally considered a Dark'n'Stormy, the drink must be made with Gosling's Black Seal rum. Bermudians prefer theirs with locally made Barritt's ginger beer and a lime wedge.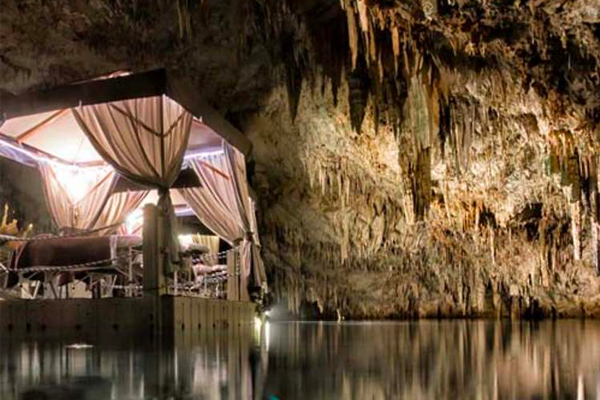 Bermuda is home to dozens of stalactite and stalagmite caves, but there's only one that offers spa treatments. Natura Cave Spa, located at the Grotto Bay Beach Resort, is one of the most unique places on the island. Spa goers descend into the cave via long, narrow corridor. Once inside, the spa's only treatment room can be found on a floating pontoon in the middle of the cave's crystal-clear waters. Treatments like massages, facials and body wraps are enhanced by the natural sounds of the cave, where pure silence is only interrupted by the echoing ripples of dripping water. Travelers who are feeling a bit more adventurous can check out the adjacent Cathedral Cave, where guests can swim in chilly cave pools that reach 30 feet deep.
"This British overseas territory charms visitors with its colorful houses, gorgeous pink sand beaches and unique island culture"

St. George's Town, located in St. George's Parish, is Bermuda's former capital, and in 2000, it was declared a
UNESCO world heritage site
. The quaint town has a different look and feel than the rest of the island, and many Bermudians claim that you can identify someone from St. George's by their accent. The town's narrow brick streets and colonial architecture harken back to a bygone era, when horse drawn carriages filled Kings Square and British ships docked in the harbor. Today, St. George's is an artsy enclave, home to local galleries and textile shops. Check out Bermuda Memories for Jill Amos Raine's signature island landscapes or
La Garza
for Tara Cassidy's eco-friendly jewelry and graphic prints. History buffs will want to drop by the Tucker House Museum, while photography enthusiasts should head to the
Unfinished Church
.
No trip to Bermuda is complete without taking a stroll through picturesque downtown Hamilton. Bermuda's capital, largest city, and commercial hub is filled with great local shops. Visit TABS for Bermudian Rebecca Hanson's contemporary take on iconic island fashion, Urban Cottage for eclectic homewares, and Rebecca Little Jewellery for handmade necklaces, bracelets and earrings. When Hamilton's shops are closed on Sundays, check out its burgeoning street art scene. The city's best murals include Michael Cacy's "Vivid Bermuda" at the Church Street taxi stand, Robyn Hooper's "Nourish Your Soul" on Dundonald Street, and Alshante Foggo's "Flourish Your Mind" in Victoria Park.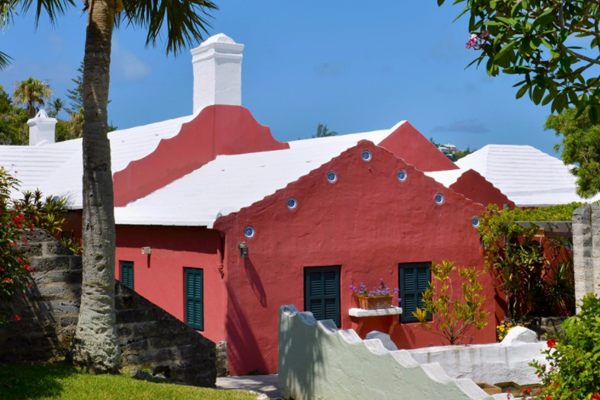 The historic building that houses the Waterlot Inn dates back to 1670, when it was built as a private home for the Darrel family, descendants of Bermuda's first post master, James Perot. In 1920, the building was converted into a full-service restaurant, and today it operates as a AAA Four Diamond steakhouse. Widely considered Bermuda's premier dining venue, the Waterlot Inn is a reservations-required experience that's not to be missed. The restaurant's cozy interiors still feel like a private home, with small rooms, wood burning fireplaces and upholstered wing-back chairs. Menu offerings are classic steakhouse fare—USDA prime cuts, table-side Caesar, decadent sides—and the wine list is exemplary. For a more relaxed atmosphere, check out The Dock, The Waterlot's seasonal waterfront deck that serves signature cocktails and light bites.

Located at the Hamilton Princess hotel, Marcus' is celebrity chef Marcus Samuelsson's spin on Caribbean cuisine. Fans of Samuelsson's Red Rooster and Streetbird Rotisserie will be happy to see menu staples like chicken and waffles and cornbread, but Bermudian specialties like the fish chowder bites and the whole roasted daily catch are worth seeking out. Marcus' atmosphere is upscale yet comfortable. The sleek dining room is outfitted with mid-century furniture, tufted leather banquettes and a focal bar that overlooks the harbor. Outdoor seating is also available.

The quintessential all-day cafe with excellent coffee, sandwiches and salads, Devil's Isle is the perfect people-watching spot in downtown Hamilton. This cozy
farm-to-table eatery
is always buzzing with activity, as tourists and locals stop in from morning 'til night. Devil's Isle coffee is some of the best in Bermuda (100% Arabica beans
roasted on-island
in small batches), and its Kale Caesar salad is legendary. The restaurant's
signature cocktails
and
extensive wine list
attract a steady nighttime crowd that tends to stick around for entrees like rockfish tacos and almond apple pork ribs. Devil's Isle is also an excellent pick for those with dietary restrictions. The restaurant has an
extensive menu
of dairy-free, gluten-free, vegetarian, and paleo options.
HERO:
@YellowFish Design
EXPLORE:
@Grotto Bay Beach Resort
, @iStock
STAY:
@Rosewood Bermuda
,
@Fairmont Southampton
,
@Rosedon
INDULGE:
@Waterlott Inn
,
@Marcus
,
@Devil's Isle