The Future of Travel Souvenirs: Livestream Shopping With Local Purse

The Future of Souvenirs: Livestream Shopping With Local Purse
In the early days of the pandemic, the travel industry was scrambling to offer virtual experiences. From meditations led by Buddhist monks to pasta making with Italian chefs, there were all manner of classes, workshops and talks designed to fill the void created by widespread travel bans. While most seem to be a temporary band-aid – a fun distraction which will inevitably become obsolete when travel resumes – a few rare gems have real sticking power.
My interviewees this week, Lola Akinmade Åkerström and Sara Mansouri, are the creators of one such idea. Their business, Local Purse, is a video shopping platform that allows users to explore a foreign destination with a knowledgeable guide, meet and learn from local artisans, and purchase souvenirs in real time. Local Purse launched late last year with two shopping experiences, both located in the souks of Marrakech. I caught up with Lola and Sara to discuss how Local Purse not only fits the present moment but also aligns with our post-pandemic sustainability conscious mindset.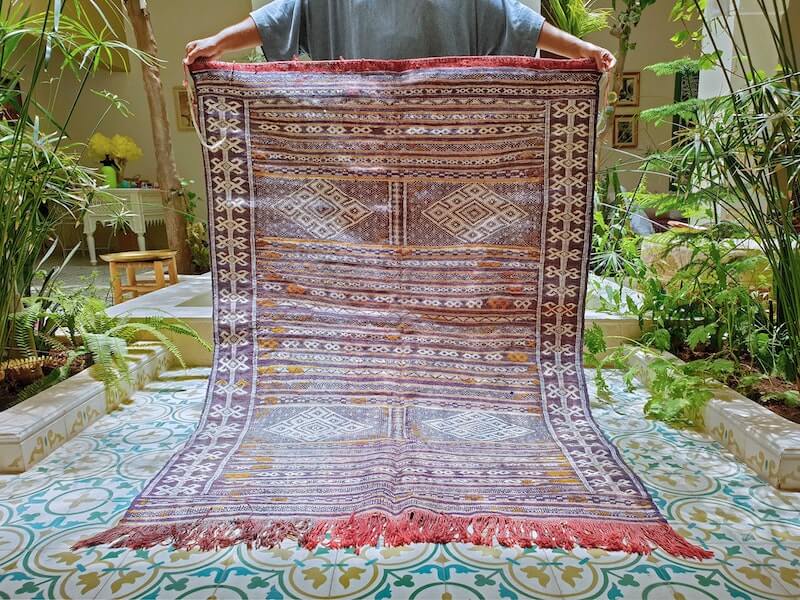 Esme Benjamin: What were you doing when the pandemic started?
Lola Akinmade Åkerström: I was working in the travel industry as a writer and photographer. It felt like the rug had been pulled from under my feet when the pandemic hit. After months of trying to figure out the best way to pivot I applied to a program with a venture capital company where they were bringing founders together to see if they could create start-ups to solve problems. That's how I met Sara, and the two of us developed Local Purse.
Sara Mansouri: I work as a business and IT coach helping people bring innovation to their customer service. Before the pandemic I was researching how I can be part of an initiative to bridge gaps between cultures and promote connection, which became harder when the pandemic happened. People were suddenly isolated and unemployed, including artisans and guides I know in many different countries. When I met Lola we clicked and became partners in this journey.
EB: What was the initial inspiration behind Local Purse?
LAA: We knew this trend for live video shopping, which is huge in Asia and especially China, could possibly help the travel industry recover. People are four times more likely to buy something through a live video shopping experience because they get to see it — they get to ask questions, they feel a bit more connected than if it was just a straight online shopping experience. We also did a lot of research to see what people do when they travel, and over 50% do in-country shopping on their trips. So, we connected the dots and that's what solidified the idea that these kinds of live shopping experiences could be brought into the travel space and become a way of fostering that connection that we lost when the pandemic hit.
EB: For anybody who isn't familiar, how does Local Purse work?
LAA: You go to our site and you pick your experience. Right now, we have two in Morocco – traditional berber rugs or spices and traditional wellness products – plus more in the works. On the day of the experience you click the link in your confirmation email and it opens up the Local Purse web platform where you will see your guide on interactive video. The guide gives you a cultural tour and if you see things you want to purchase from the vetted artisan, the guide takes a picture and shares it to the platform along with the price. When you refresh you will see that item on your end and you can add it to your cart. We also offer events at a specific date and time – more of a group shopping experience with pre-loaded products to buy.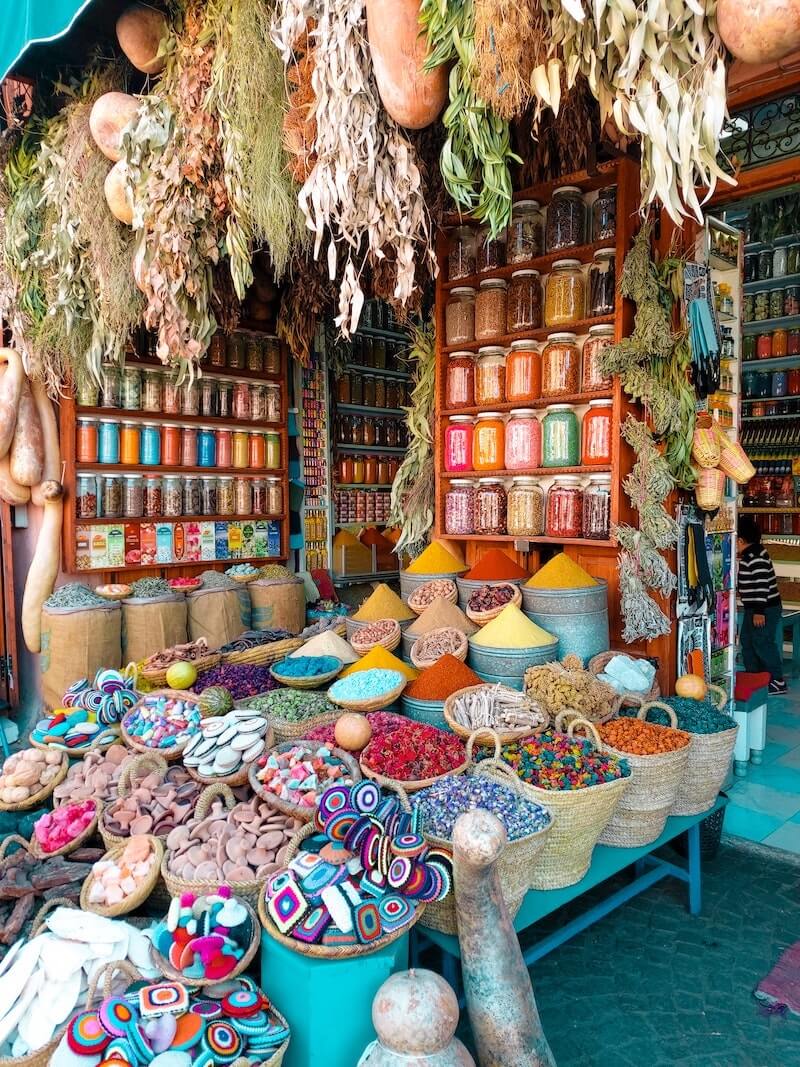 EB: Morocco has a strong haggling culture. Do you haggle with the vendors as you would in Marrakech or are the prices set?
LAA: With the one-to-one experiences the guide can help bargain with the artisan because that price is going to include shipping and local taxes. When we run group events those prices are set.
SM: It's worth noting that the artisans we work with have a good reputation and have been vetted, so while haggling might be part of the cultural experience, you can trust that the product isn't priced wildly out of range of what it should be.
EB: Local Purse sounds like it's more than a shopping experience. It's also a tour and you're getting to see the destination through the eyes of a local. How do you find the guides and the vendors you work with?
SM: We find people in collaboration with our partner, Intrepid Travel. They already have a collective of artisans they work with and trust, and the video shopping simply provides access to more customers and people around the world.
EB: When we buy a souvenir abroad we are investing in a memory. How do you think Local Purse creates a more meaningful purchase than other retailers like, say, The Citizenry, which sells artisanal items from around the world?
LAA: You're looking into the eyes of the person you're buying from and you know your money is going directly to them. It's personal and human and it feels like you are connecting with somebody who loves their job and their craft. You are the one who is being invited in and getting the privilege of seeing their work. That's what makes us different from a traditional virtual experience. When the pandemic hit many tours started pivoting to virtual travel experiences, but when we bring something back from our travels it connects us to the place. This scarf I bought in Istanbul and the sarong I bought in Indonesia and the beads I got in Kenya – these things tie us back to the place and create a deeper connection.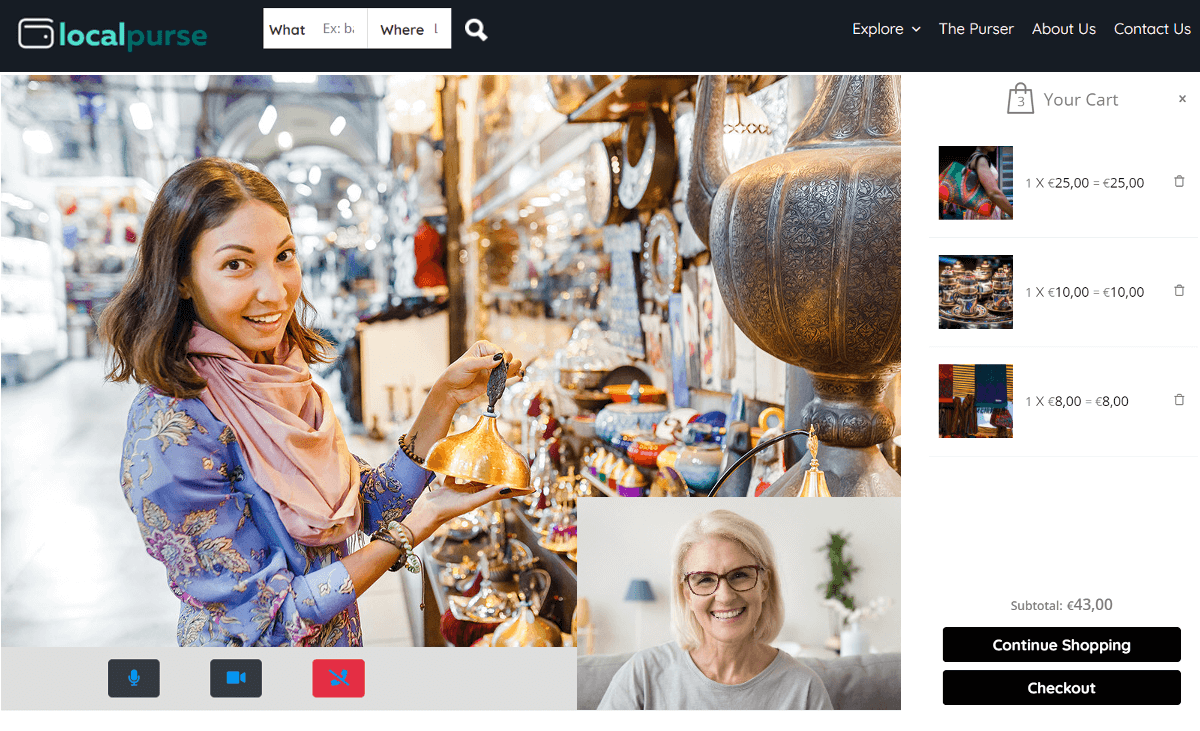 EB: The pandemic has really hurt those who make their living through the travel and tourism industry. Can you talk a bit about how Local Purse is helping those people?
SM: That's the primary thing we are hoping to solve. The guides and artisans in these places have lost their income, but with this live video shopping experience people pay the guides for their time, they learn about the artisan's process and craft, and they buy directly from the artisan. It's a way of navigating the fact that people are staying home right now. One artisan sold more rugs in one hour that he had sold since the pandemic started.
EB: Now the vaccines are being rolled out it looks like we will all be traveling more in the near future. How do you see the company evolving over time?
SM: This pandemic has taught us a lot. We are more aware of our carbon footprint and the need to support the environment, and the way those things conflict with how we were traveling before. Local Purse provides accessibility and possibility for everybody to travel, shop, and learn about new cultures no matter where they are in the world and regardless of how often they intend to fly.
Visit localpurse.com