Boosting Mental Health Through Travel: We Out Here

Bolstering Mental Health Through the Restorative Power of Travel
Vacations are a form of self-care we need now more than ever...
It wasn't until the pandemic hit, and looking after our physical and mental health became more important than ever, that I realized what a major role travel plays in wellbeing. First, there's the excitement of having a trip on the horizon, and the way anticipation lifts our spirits. Then, of course, there's the travel experience itself – the joy of living in the moment and immersing in new things. Finally, there's the vacation after-glow – that sense of relaxation and restoration which lingers even after we return to our everyday routines.
Since the virus arrived, it's been hard for many of us to accept that the best thing for our physical health – isolating ourselves at home – is the same thing that will cause our mental health to deteriorate. As humans, we require community and conversation, fresh air and nature. And we need to find a way to meet those requirements as responsibly as possible, given that our actions have consequences, for ourselves and for others.
My interviewees this week are Ronald Griswell and Linea Johnson, a couple from Elizabeth City, North Carolina, who recently launched their own travel company addressing this very issue. Like most of us, Ronald and Linea struggled with the events of this year: the social isolation, the financial uncertainty, the murder of George Floyd and the race reckoning which followed. By the time summer arrived, they were feeling burnt out and depleted. On a call with a handful of close friends, they hatched a plan to host a group trip – a mental health-focused, COVID-conscious break that would give their quarantine pod time to rest and restore.
After studying the latest science and advice from the CDC and the WHO, they arranged an itinerary of surprise, outdoor activities, working closely with Black vendors (the population of their town is over 50% Black, and Ronald and Linea wanted to support those who have been deeply affected by the challenges and traumas of 2020). Each attendee quarantined themselves for two weeks prior, and took all possible precautions en route to the destination. The weekend – which included guided kayaking expeditions, meeting wild ponies on the beach, outdoor movies, and boat trips – was "joyous and healing," inspiring Ronald and Linea to begin offering the same experience to strangers.
With their company We Out Here, the couple aims to create a bubble of safety around travelers by taking the stress out of pandemic trip planning. The result is a much-needed mental health boost.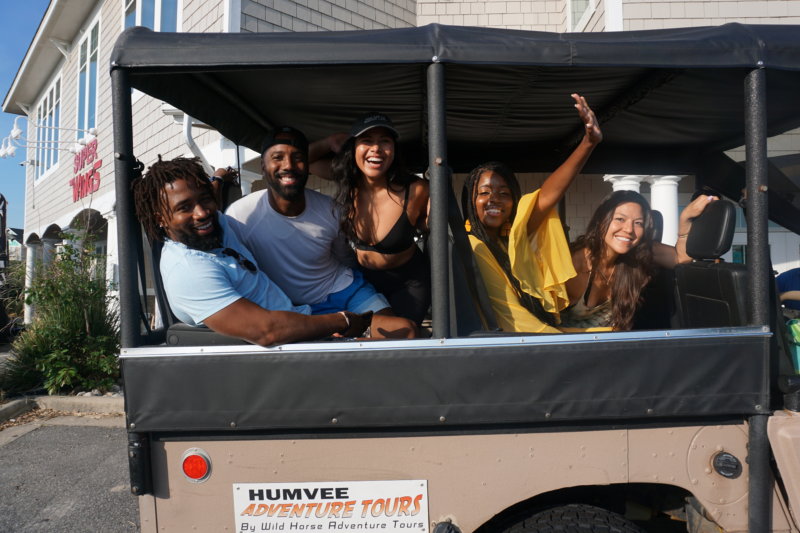 Esme Benjamin: I'm sure some people thought you were crazy launching a travel business right now, but it feels very necessary. Do you think of travel as self-care?
Linea Johnson: For sure. On our initial trip, just being around other people and being outside for the majority of the time created so much healing and joy. We left feeling so much better than when we arrived. Now we want to do that as frequently as possible while also doing it responsibly.
Ronald Griswell: We can't ignore the fact that there is a ton going on in the country. We can't ignore the fact that COVID predominantly strikes marginalized communities. So, it's like, how do we keep all of these things in mind while still offering something that people really do need? We wanted to provide something that suits those who are like, "I don't want to think about this at all, I just want to show up somewhere and have everything planned out."
EB: It says on your site that all the activities are CDC and WHO compliant. How did you build the itinerary?
RG: We took all our research into everything travel-related with regards to COVID, and we chose specific activities that are mainly outdoors, and have very little or zero contact with outside parties other than Linea and I. For example, if we were to do kayaking or rowing on the local river, we are working with one vendor, and she is standing a good distance from the group while still being able to give direction. You're in an outdoor environment the whole time. No indoor confined spaces or handing or touching of anything. We just really wanted to make sure our activities follow the latest guidance being implemented, taught, and advertised.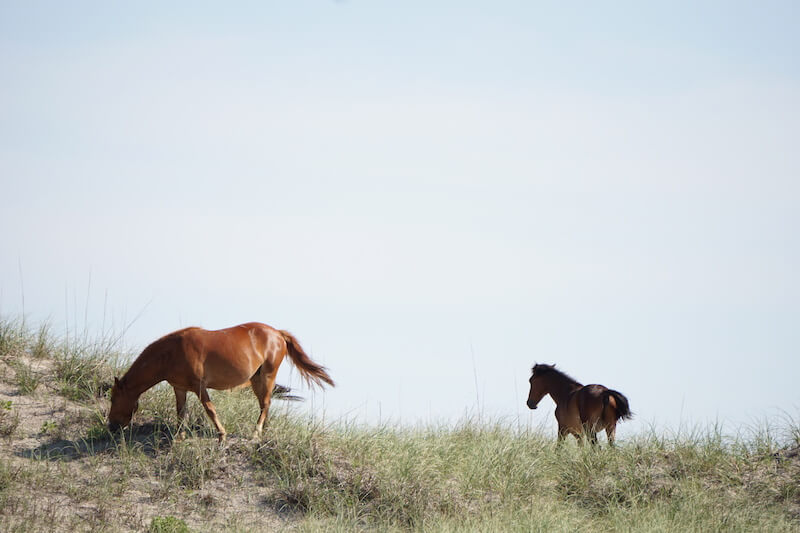 EB: It can be hard to plan these things on our own and stay on top of the latest advice from experts. What we really need is a guide – somebody to create a bubble of safety around us so we can relax. Is that what you guys aim to provide?
RG: I love the way you put that – a bubble of safety. That's absolutely right. When you think about it, what we are offering isn't so different from the experience you get on a wellness retreat, only there are far less people. We are truly trying to focus on those activities where less is more. Fewer people but going deep with the conversation, going deep with the time spent with these individuals. This allows for a deeper journey inwards rather than outwards.
EB: How much have your own struggles with mental health this year influenced the company and its offerings?
LJ: The hospitality industry was majorly affected by the pandemic. Being made unemployed and having to stay inside all the time and not being motivated to do anything, and then you have everything that's going on right now with current events and it's easy to become bogged down. Our friends got on a call right before we decided to plan the trip and we all were suffering. And it was like, what can we do to heal and restore each other?
RG: I like to avoid news, but it's hard to escape these things when you get a constant reminder every time you get on social media. And not only that, you don't necessarily want to escape it all because who am I to bury my head in the sand right now? I have to be the change, I have to support my community, I need to voice my opinions and concerns, and that eats away at the soul and your energy. We needed something to recharge us and bring life back into us when we were putting out so much.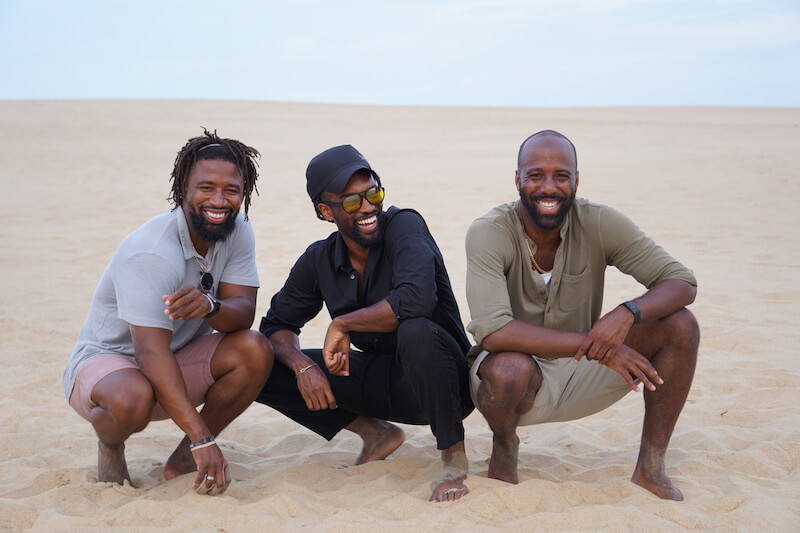 EB: On the website you share facts about how both the coronavirus and mental health issues disproportionately impact people of color. I think this moment has really taken the biggest toll on those who have stepped up as educators and taken action in a big way. How have you felt tackling these huge issues?
RG: Personally, it was important to talk about mental health in the Black community. It's such a heavily stigmatized thing, so unpacking that and talking about it in such a vulnerable way is something that a lot of people in the Black community aren't necessarily used to. As a Black man, we're told to man-up or get over it, so being able to talk with the two other Black guys we hosted about depression and anxiety in such a healthy, unbiased and non-judgemental way, was extremely freeing for us.
EB: How have people responded to the idea of a mental health-focused pandemic travel offering?
LJ: I would say the reaction was mixed. We received a lot of positive feedback thanking us for focusing on mental health and restoration, and then there were those who were like, "You guys are being irresponsible for traveling during a pandemic." I think there's a way to do both – to focus on your mental health and restoration and also do it responsibly. Right now, there's no signs of the virus slowing or us getting a vaccine, so my belief is that we need to adjust to the times, and do it as responsibly as possible, and that's what we're hoping to do with We Out Here.
RG: Not only that, but so many of the haters are people who are personally doing trips and meeting up with friends behind the scenes, but not talking about it or putting it on social media. I respect people who have been quarantining at home alone. I don't think it's good for your mental health, but I respect that choice. But to socialize behind the scenes is so disingenuous. Life is going to continue, and it's all about how you pivot in these times of adversity. This is our new reality and people have to adapt and step into it fully, because there is no returning to pre-COVID life.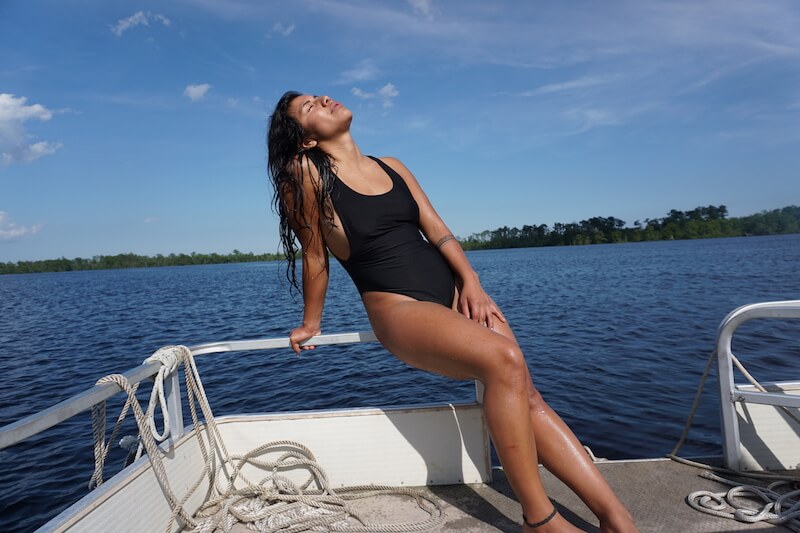 EB: I couldn't agree more. As Linea was saying, this is life now. We have to find ways to make it bearable, and perhaps that means traveling as responsibly as possible. Plus, when we are grappling with financial insecurity, health insecurity, trauma, and a race reckoning – we have to find ways to take care of ourselves. Or else how will we continue to fight the good fight, maintain our sanity, and look after the people we love?
RG: Absolutely. What you said is so key because that rest is part of the fight, whether the fight is for racial injustice or coping with COVID. So often as a society rest is the first thing we sacrifice, yet it's one of the most important things.
EB: While nothing is risk-free, for me it's worth the relatively small risk of getting together with a quarantine bubble and experiencing some outdoor adventures. After your initial trip, did you feel completely rejuvenated?
LJ: It brought us so much joy to see our friends as happy as they were. They were like, "We were just expecting to relax and hang out with each other," but we had a whole itinerary planned. It was a joyous experience for us, for our friends, and it also connected us to the culture and history of our city.
RG: For me, it was such an amazing recharge, and it was extremely empowering. It helped me to find more words and language to continue to talk about these issues and gave me the energy and joy that was gone for so long after all the depressing news headlines. And it was that blip of joy, if only for a couple of days, that's continuing to push me now. It makes me wonder what state we would be in if we'd never done this trip. We came out with much better mental health than we went in with.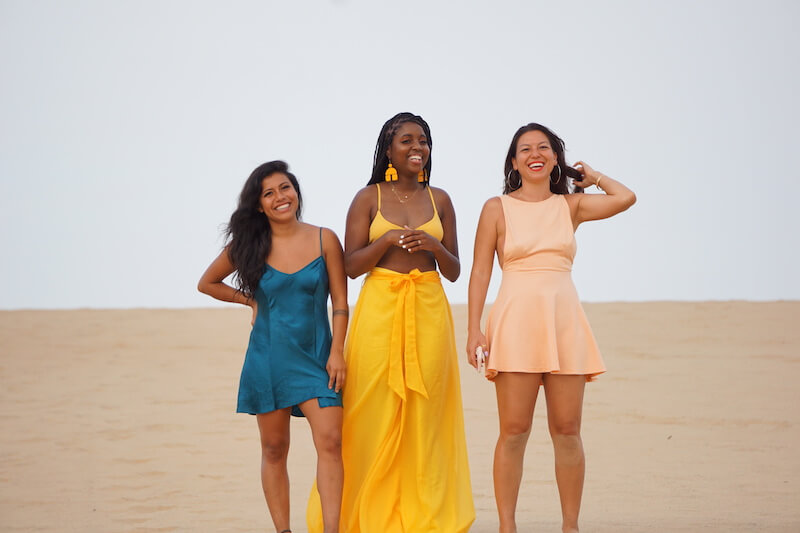 EB: On We Out Here trips, do you encourage people to put their phones away and be more present?
RG: Phones are how we engage and communicate and I want to meet people where they are, so if having your phone attached to you makes you feel good, I'm all for it. But I always like to bring up conversations about being mindful about it. Like when we're eating let's put our phones down, or when we're out doing an experience let's really think about the moment we're in. We're never going to have this moment again, so let's all truly be present.
EB: After that first trip you decided to begin hosting trips for strangers. Do you feel safe? Does it feel like a public service in some sense?
LJ: We feel safe to an extent, though with any travel comes a risk. We utilize the COVID-19 guidelines from Recreate Responsibly – a coalition of nonprofits, outdoor businesses, and land managers who developed best practices to protect nature and each other – and that puts us much more at ease. It definitely is a public service, we want to bring as much wellness to others as we can, and We Out Here grants us the opportunity to do that.
Visit weouthere.co