Best Cabin Rentals in the USA For an Autumn Escape
Tranquil Cabin Retreats For an Autumn Escape
Luxe or rustic, you'll find peace in these rental cabins...
Fall is arguably the most idyllic time of year to book a cabin in the woods. The days are still warm enough for outdoor excursions and evenings are crisp enough for fuzzy sweaters and log fires. Not to mention the autumnal leaf show. Read on for the best places to satiate your cabin craving this fall.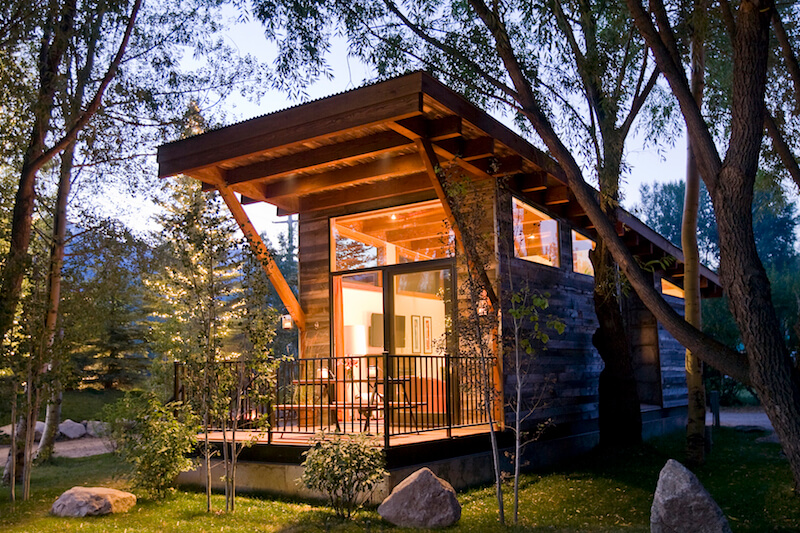 Fireside Resort (Jackson Hole, Wyoming)
If the country's most boast-worthy national parks have been calling your name this year, then Fireside Resort in Jackson Hole, Wyoming, is the vacation spot for you. After a day of adventures in Grand Teton, Yellowstone, or the National Elk Refuge, return to your ski lodge-style cabin, pull on your coziest hoodie, and light up your private fire pit for s'mores. Fireside has four cabin types, but our favorite is the wedge. Thanks to its sleek interior, high ceilings, and cloud-like bedding, it has the feel of a boutique hotel while still retaining that campground ambiance.
Dunton Hot Springs (Telluride, Colorado)
Dunton Hot Springs resort was built in the shell of a ghost town in the Colorado Rockies. It's previous inhabitants, an 1800s mining community, directed natural hot springs from the mountains down to communal pools – a highlight of the resort to this day. You'll recognize remnants of the original buildings – rustic log cabins and an authentic saloon bar – but inside it's plush, comfy decor all the way.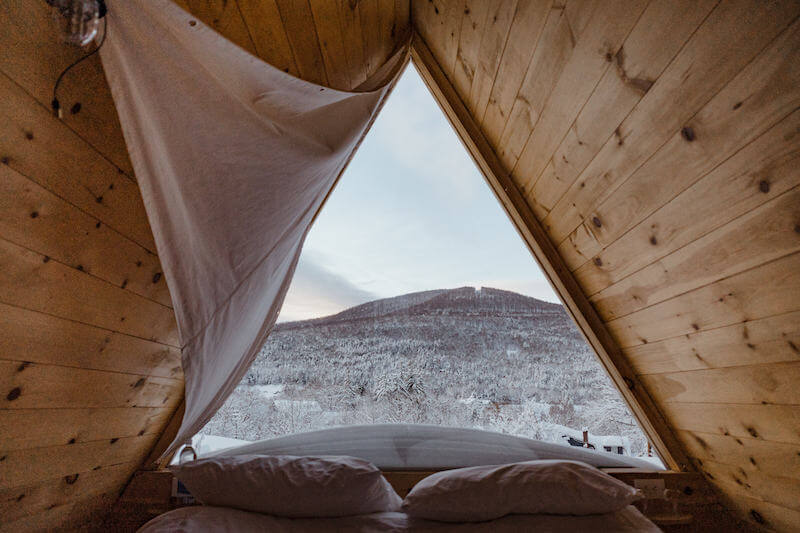 Eastwind (the Catskills, New York)
Founded by a group of friends with great taste and a love of New York's Catskills mountains, Eastwind is a Scandinavia-inspired "bed and bar" located 2.5 hours from the city. After a day exploring the best of upstate NY's most scenic countryside, warm your bones in the on-site sauna or make new friends at the Eastwind bar. Cabins are simple and stylish (the Lusha mini A-frame) or cozy and minimalist (the standalone Lusha Suite with sleeping loft and outdoor shower), and always come with thoughtful details like sumptuous bath robes, Faribault wool blankets, and personal BBQ kits.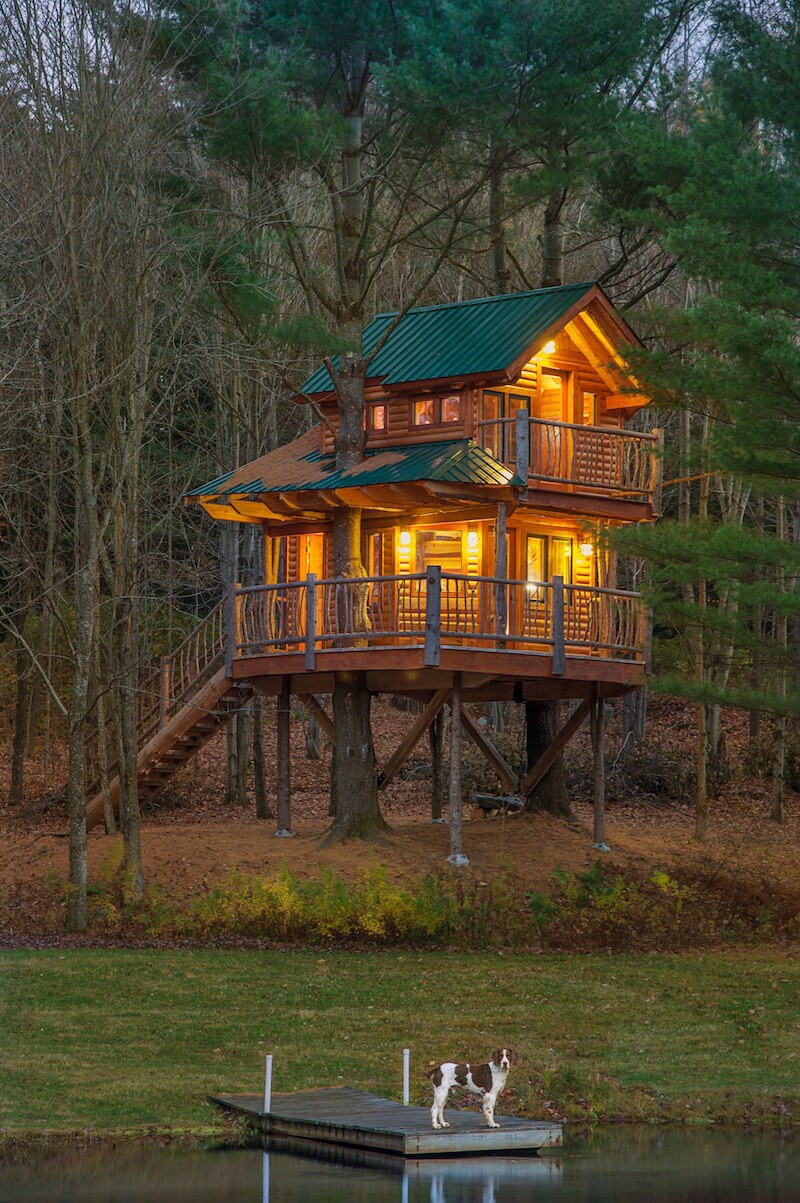 Moose Meadow Lodge & Treehouse (Waterbury, Vermont)
It's hard to imagine a more idyllic venue for a socially distanced vacation than a treehouse. That's what's on offer at Moose Meadow Lodge, a peaceful refuge situated in the woods of Vermont. This elevated two-level abode is supported by, and integrated with, the maple and pine trees that surround it, giving it an outdoors-indoors aesthetic and fairytale-like quality. The treehouse is also a fully licensed B&B, so you can wake up to a Vermont breakfast on the wrap-around deck while morning birdsong emanates from the canopy.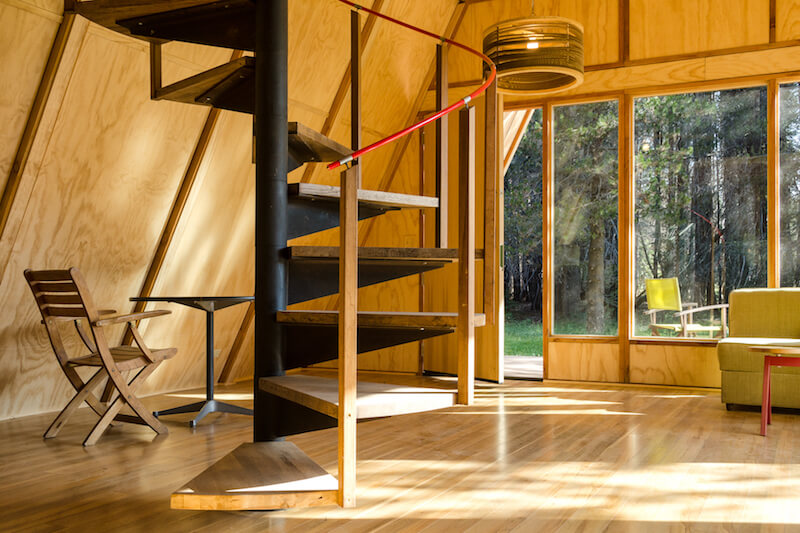 Far Meadow (Bass Lake, California)
There's no better place to rest your weary body after exploring Yosemite National Park than Far Meadow, a collection of exquisitely designed accommodations in the remote and tranquil High Sierra. There are four options at Far Meadow: two sunlight-drenched A-frame cabins with beautiful staircases and mid-century modern furniture; a classic American log cabin; and a sweet vintage trailer. It takes about an hour to drive from Far Meadow to Yosemite, and if that feels like too much of a schlep, there are secret swimming holes and quiet hiking trails right on your doorstep.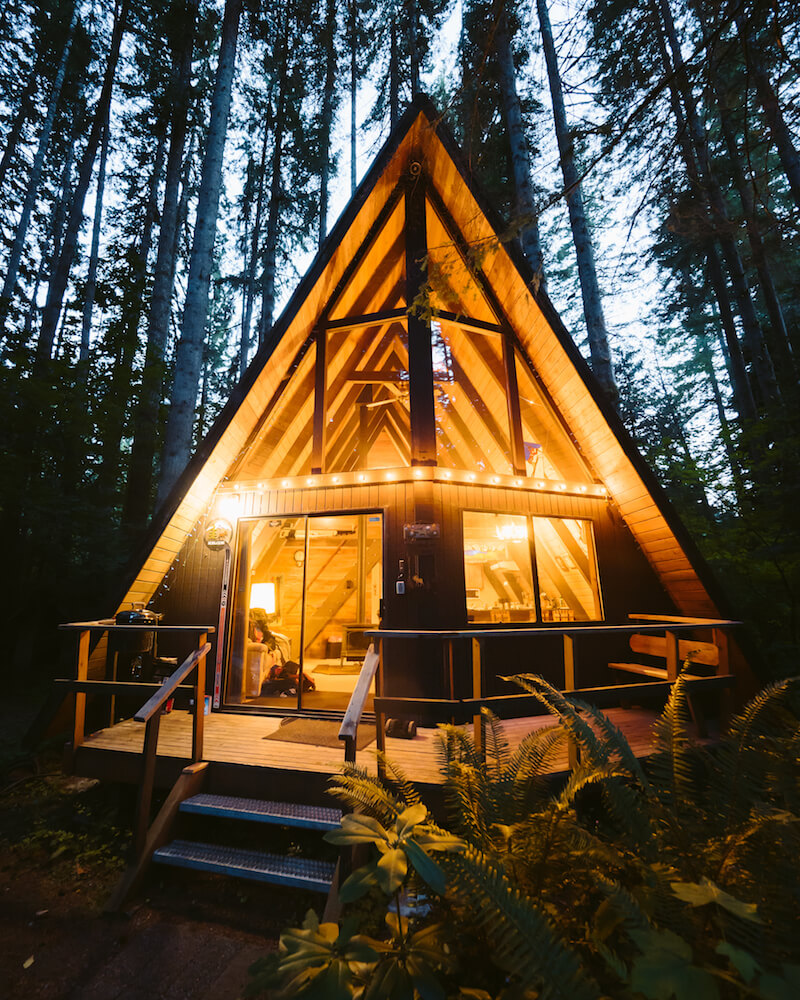 Tye River Cabin Co. (Settle, Washington)
If you follow the hashtag #cabinporn on Instagram, you've probably come across Tye River Cabin Co.'s highly photogenic A-frames. Settled amid dreamy snowscapes and misty mountains in Washington's ski country, the three "hauses" have perfectly snug interiors, complete with remote control-operated gas fireplaces, blanket-draped sofas, and smart TVs poised for movie night. While you're in the area, make sure you visit Scenic Hot Springs – a secret spot with three steaming soaking tubs surrounded by dense, dewy forest (note: the springs are on private property and require a reservation. You'll also have to hike for an hour to reach them, but it will be worth it!)
Rolling Huts (Methow Valley, Washington)
Rolling Huts' cabins were designed by a renowned Seattle-based architect to offer a modern and more comfortable alternative to camping. Clean, ultra-minimal interiors and abundant glass facilitate a greater appreciation for the landscape around you – mountain vistas, meadows, and wild flora as far as the eye can see. Hike unspoiled national forests, try river rafting, or tackle the world's longest cross-country skiing trails (120 miles of them) before returning to Rolling Huts as the stars begin to peep out.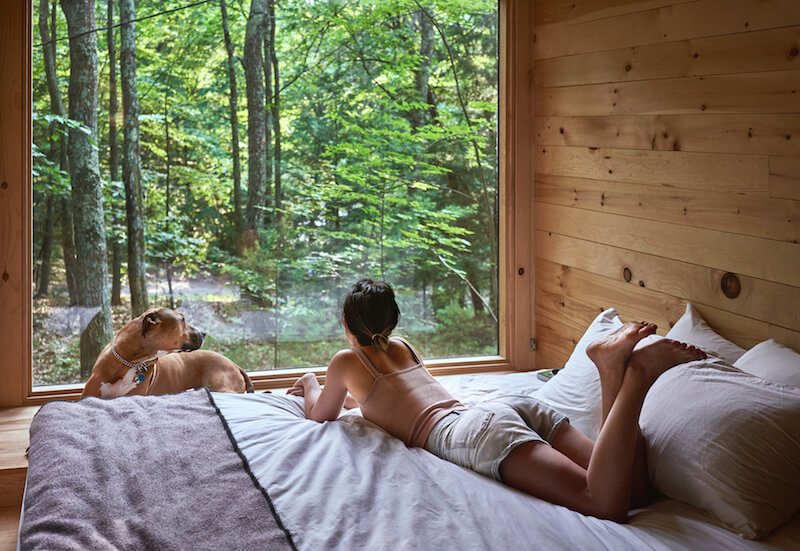 Getaway (various locations)
The premise of Getaway is to provide simple, nature-focused escapes that are easily accessible from major U.S. cities. Upon arrival at a Getaway outpost, use a keycode to access your sweet little cabin, which comes complete with an en-suite bathroom, kitchenette, firepit and grill, a mini library, and a cell phone lockbox to help you properly disconnect and downshift. But our favorite thing about these cabins is the view from bed: gently swaying trees and glimpses of clear blue sky through giant adjacent windows.