Adventuring Around America With The Vanlife App
Adventuring Around America with The Vanlife App
Last year, Instagram pictures of people hitting the road in their RVs captured every sequestered traveler's imagination. If 2020 was defined by confinement, the antithesis of that was #VanLife – traversing national parks and wilderness areas, spending the bulk of every day outdoors in the sunshine. At a time when wariness over hotels and planes was peaking, it also seemed to offer a self-contained, secure way to travel. Sales of RVs soared, especially among first-time buyers.
Though international travel is slowly becoming more of a possibility as the months go by, our appreciation for domestic road trips, camping and national parks is here to stay. Plus, with more of us sticking to remote work for the foreseeable future, van life is more accessible than ever before.
This week I spoke to Breanne Acio, founder of The Vanlife app. Breanne and her wife were both teachers when they started spending their summers traveling to America's most scenic locations in their van. Bolstered by a strong social media following (find them at @theladiesvan) they soon left teaching to start a campervan manufacturing company, and, in 2019, launched The Vanlife app. In recent months, their user base swelled to 32,000 people, all of whom rely on the app to find destinations, facilities and community. I spoke to Breanne about the growing popularity of RV-ing, the challenges of finding cell service in the wilderness, and her biggest tips for first timers.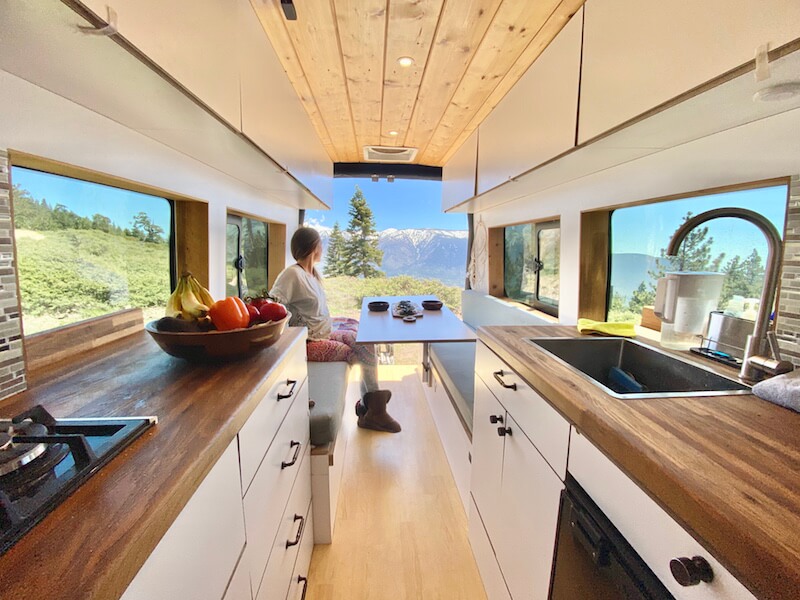 What inspired The Vanlife app?
People kept telling my wife and I, "you're living our dream." That was flattering but it was also sad because we want more people to be living their own dreams. We wanted to make this more accessible to more people. The app helps them figure out where they can park at night or where they can set up for a week that has cell service so they can get work done while on the road. There are so many challenges that come with camping or "van life" that you don't realize until you're doing it. Our first trip, we imagined ourselves out on this picturesque Oregon coast like you see on Instagram, but we wound up in Walmart parking lots or crappy roadside pullouts. I didn't know that five miles down the road was the land I'd seen on Instagram, but you have to know the tricks to find it.
I've only become aware of "van life" as a thing in the past year because it started trending during the pandemic. How long has it been popular for?
Van life as a thing has been around for a really long time. It got popular in the 60s and 70s with the whole VW bus movement but then it went away. It's only in the past five years that van life started becoming more mainstream again in the United States. People refer to my wife and I as the OGs, but we're not really. We just got in at the beginning of the uptick.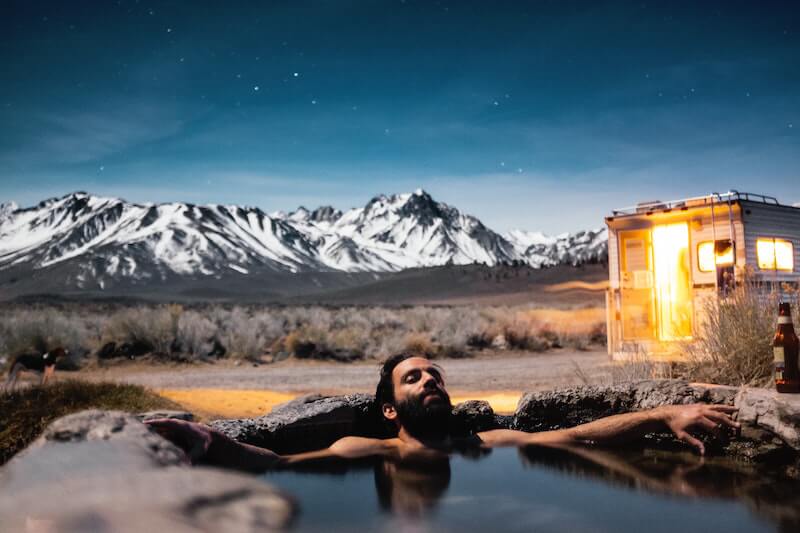 Did you see an increase in new users of the Vanlife app during the pandemic?
Yes, the industry has just blown up since the pandemic started because it is the only form of safe travel for many people. Camping provides that opportunity to get out with your family and do it safely. Prior to the pandemic we were really focused on creating a centralized database for boondocking, which is staying on public land. There's no toilets or amenities in these areas, but you can camp for up to two weeks for free on Bureau of Land Management land and National Forest Service land. When the pandemic started a ton of people were reaching out to us saying, "public lands are closed, state parks are closed. I have nowhere to go, they're kicking us out of everywhere." So, we came up with this new concept for the app called "campshare," where people could list their properties a bit like Airbnb – either for free, for a fee or as part of an exchange. That quickly started gaining momentum and we pivoted to open up more private land to campers.
A potential roadblock to traveling like this before the pandemic is that many people needed to physically be in an office for work. Now that we have a lot more flexibility with remote work, perhaps van life is more accessible to people?
We partner with a lot of RV manufacturers and dealers, and there's never been a sales cycle like there is right now. They are sold out for months in advance. You have all these people who are finally able to work remotely and go places they wouldn't have otherwise been able to go because they have time and flexibility. The primary problem, though, is where do you find cell service? Unfortunately, we don't have Elon Musk's Starlink yet, so for people who want to work while they're doing this there's the hurdle of finding connectivity, which is something we built into the app.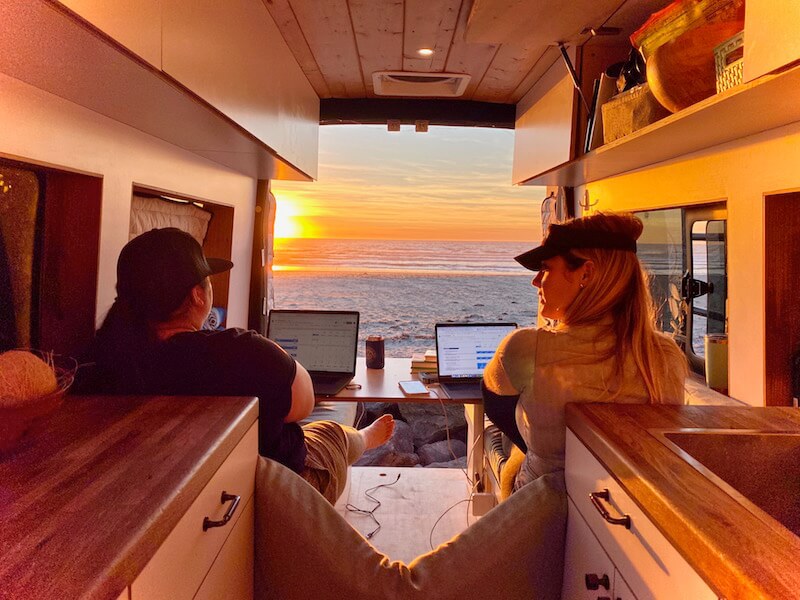 I noticed people can host and attend gatherings in the app too, which is a lovely feature. It sounds like there's a real community in this world?
Not everyone travels for extended periods, but I'll go out with my wife for several months at a time and in those situations it gets pretty lonely because you're never in the same spot. You leave all your friends and family and you just don't know the people around you. So the app helps you to find like-minded people on the road. We've also been hosting meet-ups for the past four years. People will drive across the country to meet others in the community for a day or two.
What are some of your favorite places to travel to?
I have a new favorite summer spot which is in Big Bear, California. Normally, I only go to Big Bear in the winter for skiing but I realized last summer that it's amazing for mountain biking and there's a bunch of national forest up there. You can camp for free, enjoy amazing views, amazing weather and go mountain biking all day long. The Pacific Northwest is also an absolute must for a summer trip. Glacier National Park and the Montanan area are drop dead gorgeous and very RV-friendly. And finally, Idaho. I'm a queer woman of color so there are a lot of places in America I was a little hesitant to go to, Idaho and Montana included, and although I experienced a little bit of discomfort with my identity there, the vast majority of my experience was defined by amazing people and beauty that was beyond what I could have ever imagined.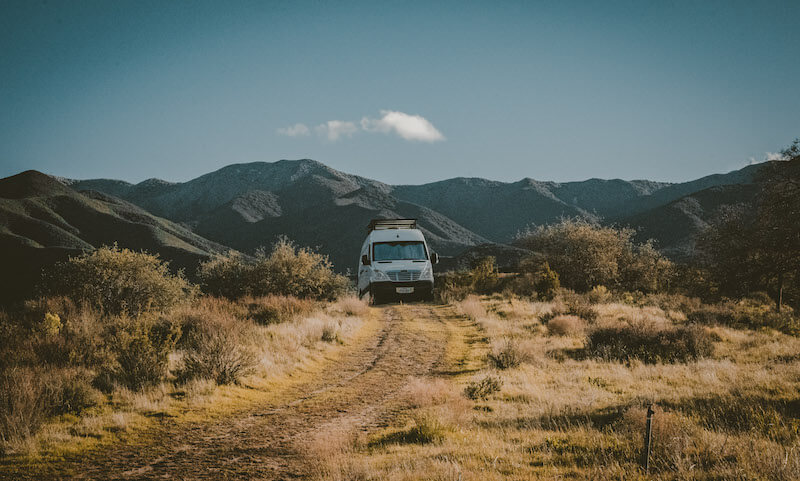 For somebody who's interested in living this lifestyle for a while, what would your top tips be?
Rent a van and try it out before you buy. A lot of people get really excited and research for two years on YouTube, then they go and buy a van without ever trying it. So my number one piece of advice is to try it first.
Tip two is to go connect with people who are doing it, especially if you're interested in doing it more long-term. I spend about half my year in the van, the other half at home. Part of the reason it's easy for me is because I learned tips and tricks from people who are doing it. If you're curious, download the Vanlife app, connect with people and find events.
Number three is just do it. There's a lot of paralysis by analysis and people who research and research and research and are waiting to be able to afford their perfect home on wheels. Don't wait, just do it.
Download thevanlifeapp.com
Follow @thevanlifeapp and @theladiesvan