A Spontaneous Trip to Savannah With Surprise Travel Agency, Pack Up + Go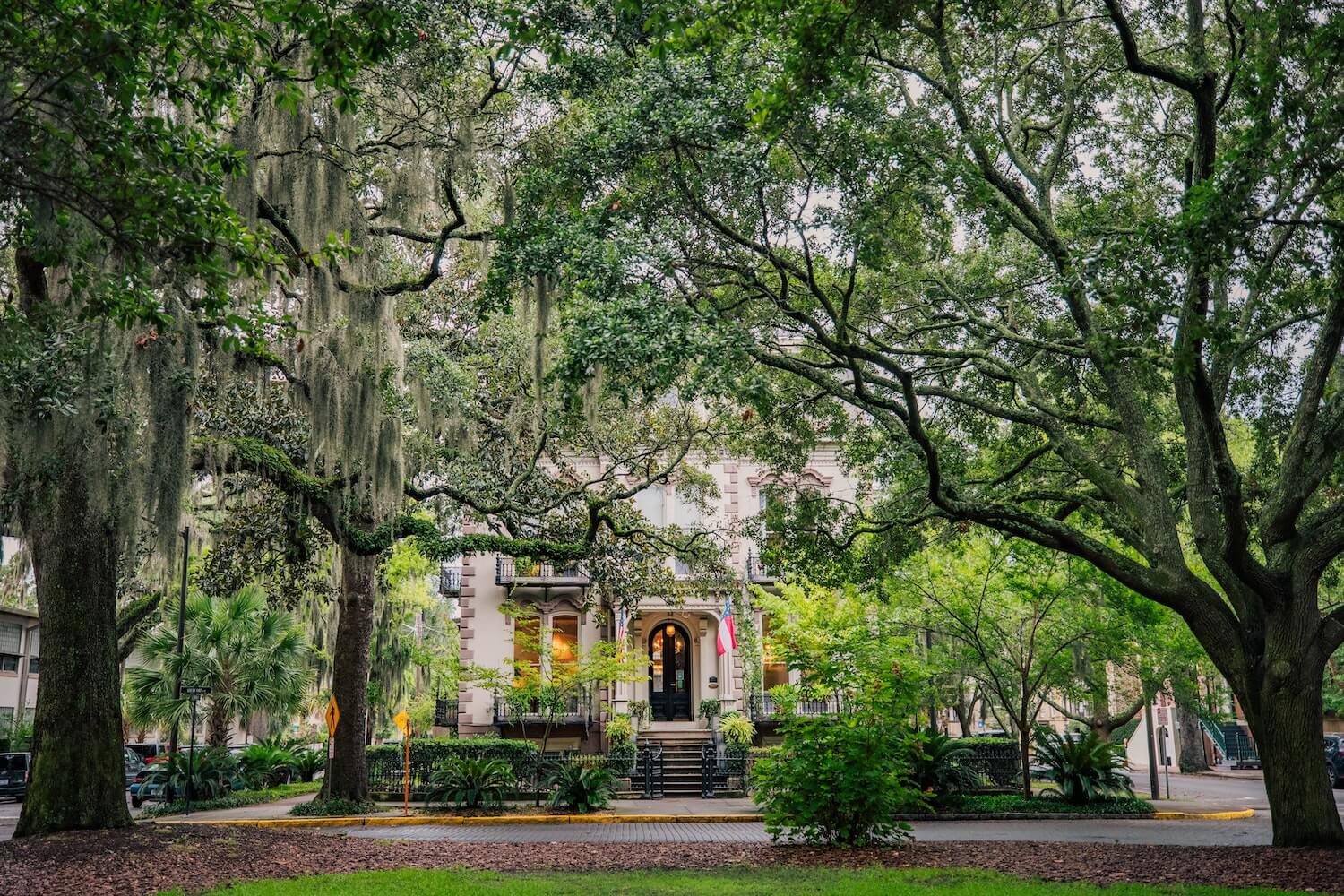 A Spontaneous Trip to Savannah With Surprise Travel Agency, Pack Up + Go
Pack Up + Go will plan your dream trip. The only catch is, the destination is a mystery...
When it comes to planning vacations as a couple or group, there's usually one traveler in particular who assumes the bulk of responsibilities. They book flights, pull accommodation options, read endless travel guides, poll friends and family for recommendations, make reservations and decorate their Google Maps with little green "want to go" flags. In my world, that person is often me, and as much as I do mostly enjoy the process of planning a trip, it's time-consuming and sometimes stressful. Especially when you factor in the paradox of choice; given the slew of reviews and lists online, it can be hard to guarantee you're picking the very best hotel/restaurant/activity for your vacation. The idea of somebody knowledgeable swooping in and doing the legwork—removing my analysis paralysis and streamlining the entire travel experience—sounds downright luxurious, which is why I jumped at the chance to take a weekend getaway with Pack Up + Go, a travel agency that specializes in surprise trips.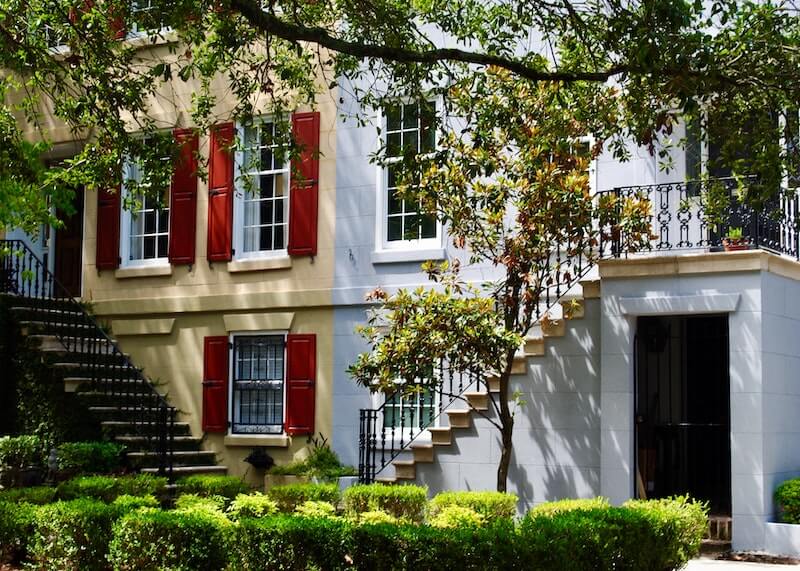 The process works like this: You fill out a pre-trip questionnaire which details your budget, your preferred form of transport, your interests (e.g. culinary, outdoor adventures, wellness, etc.), and your priorities (do you want the bulk of your budget to go towards a fancy hotel or would you rather go 3-star and spend more on activities?) Then you note down places you've been recently and places you're going to in the near future so there's no chance of a destination overlap. With all this information, the travel experts at Pack Up + Go organize a surprise getaway.
One week before your departure, you'll receive an email with the weather forecast, your flight times and some hints about your destination that will help you pack appropriately—all while keeping the location of your trip a secret. Then, a few days before go-time, a thick envelope arrives. It's labeled "no peeking!" and intended to be opened the day you set off.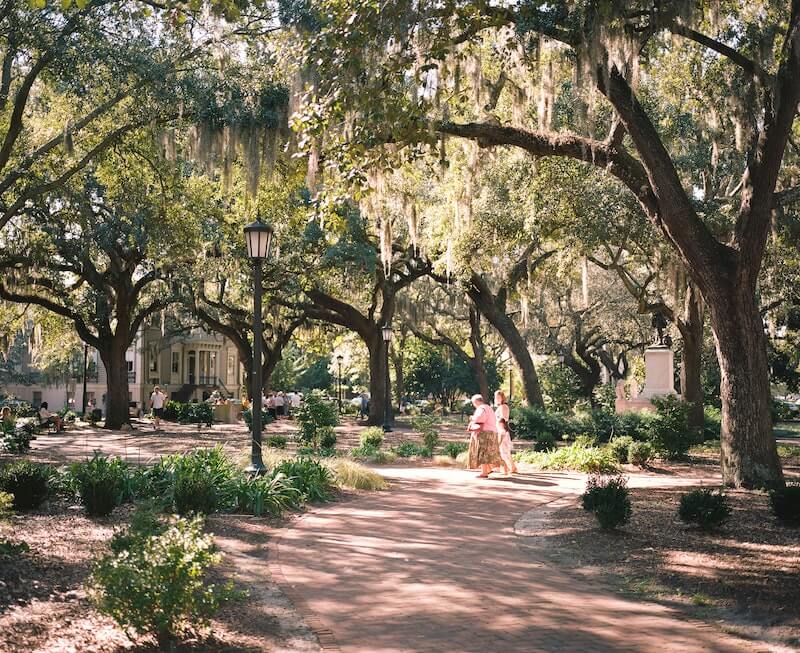 I ripped open our envelope two hours before we left for the airport, feeling like a kid on Christmas morning. A crisp white sheet of A4 paper read, "You're going to Savannah!" in big teal lettering. I shrieked with glee; Savannah is somewhere I've always wanted to go. Underneath it was a folder containing a fact sheet, a suggested itinerary stuffed with tips and recommendations, a city guide compiled by a local and our reservation details. Effervescent with excitement, my husband and I grabbed our bags and went to catch our flight.
It was fairly late by the time we arrived at the Perry Lane Hotel, our base for the weekend, but we were warmly welcomed with a free bottle of cava and vouchers for a complimentary continental breakfast the following morning. Pack Up + Go couldn't have picked a better hotel for us. Situated right in the heart of Savannah's historic district, it's a walkable distance from most of the city's top attractions and points of interest, with a huge, comfortable room conducive to an amazing night's sleep.
Saturday
Saturday morning we dragged ourselves out of bed and downstairs for coffee and still-warm, freshly baked croissants, then hopped in an Uber bound for Tybee Island. Tybee is the main beach in Savannah, a sleepy island with rolling sand dunes, located a 20 to 30 minute drive from town. It was also the site of our surprise activity: a kayak tour with Savannah Canoe & Kayak. It was only once we arrived at the meeting point that it became apparent we got the day wrong; the kayak tour was actually booked for Sunday morning.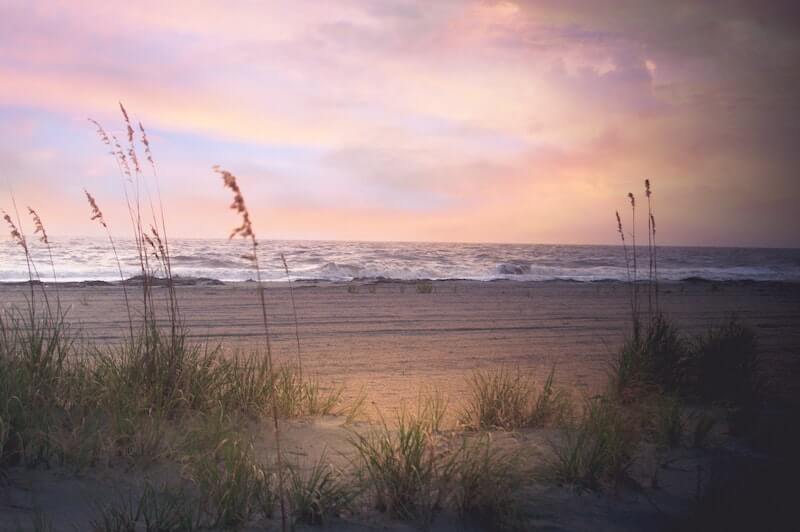 Feeling slightly embarrassed, we decided to make the most of our time on the island anyway, starting with eggs at The Breakfast Club. Founded in 1976, the restaurant is a Tybee institution, as evidenced by the long lines. Be prepared to wait outside for a table (if you're there in the summer bring an umbrella for essential shade), but rest assured, it's worth the wait. The Breakfast Club does the basics incredibly well; I had a sautéed spinach omelette and home fries and it was possibly the best diner-style breakfast I've ever eaten. After paying up, we strolled to the beach and put our feet in the ocean before heading back into town to regroup and make plans for the afternoon—by the hotel pool with a frozen margarita in hand, of course.
Tybee Tip: If you're not driving, make sure you arrange a taxi for the way back. There aren't any Ubers available on the island and Tybee taxis only take big groups, so plan accordingly. We were able to organize a taxi through our hotel.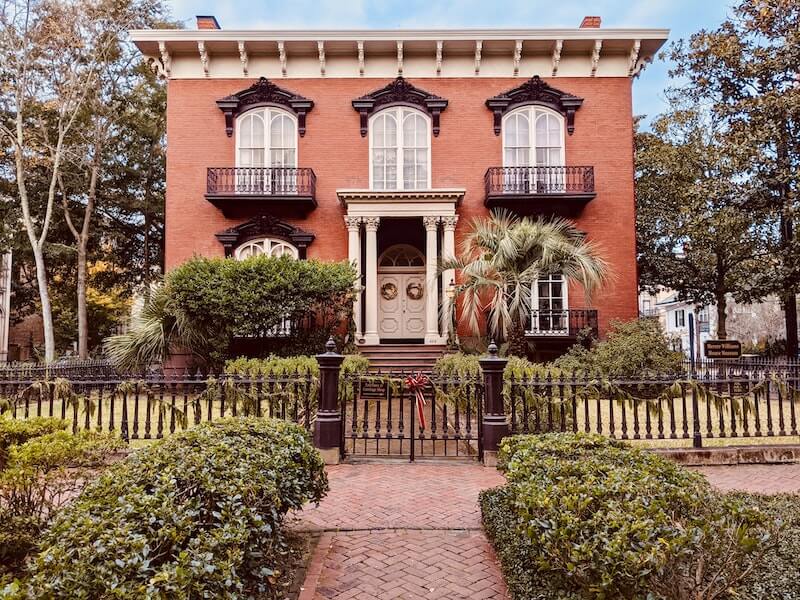 Savannah is America's first planned city—a grid of streets lined with historic buildings and Spanish moss-draped live oaks, interspersed with 24 uncommonly beautiful public squares. One of the most delightful things you can do in Savannah is meander aimlessly, stopping to check out landmarks like The Cathedral of St. John the Baptist, Mercer-Williams House Museum from the best-selling book Midnight in the Garden of Good and Evil or the SCAD (the Savannah College of Art & Design) Museum of Art & Design. Make sure you reserve a big chunk of time to enjoy Forsyth Park—the biggest of Savannah's parks, and an epicenter of local recreation. There's so much happening here, from outdoor yoga classes and a Saturday morning farmers market (get the fresh watermelon juice) to arts and crafts stalls and live music. Plus, lots of good restaurants when you're ready to grab lunch—Collins Quarter at Forsyth and Local 11ten Food | Wine, to name two.
We kicked off Saturday night with pre-dinner drinks at Artillery Bar, a Pack Up + Go-recommended spot known for its craft cocktails. Press the little service bell on the wall behind your seat and order the Bit of a Pickle, a refreshing mix of gin, lemon, white balsamic, cucumber, dill and cracked pepper. Next, we strolled to dinner at Belford's – a popular steak and seafood restaurant. When the travel agency made the reservation, they let the restaurant know it was our anniversary, and we were greeted with free prosecco—a lovely touch. Our evening culminated in a scoop of Ben & Jerry's for the stroll home (local ice creamery Leopold's had a line around the block and my sweet tooth couldn't wait).
Sunday
Our kayak tour take-two was much more successful. Led by local experts, we paddled over to Little Tybee and pulled the kayaks ashore on a stretch of beach strewn with oyster and barnacle-encrusted tree skeletons. Our guides were experts in marine biology and local ecology, and helped us spot dolphins, baby sharks, blue crabs and surfing sea snails along the way. It was great to see some Savannah nature, and paddling into the wind was a surprisingly good workout; my arms were aching on the return leg.
Back in Savannah proper, we just about had time to shower, check out of the Perry Lane Hotel and stash our bags before heading for lunch at Sorry Charlie's Oyster Bar. The hotel concierge sold it to us with the line "what sommeliers are to wine, these guys are to oysters," but we were also enticed by its menu of indulgent southern fare: po'boy sandwiches, mac 'n' cheese and skillet cornbread topped with pimento.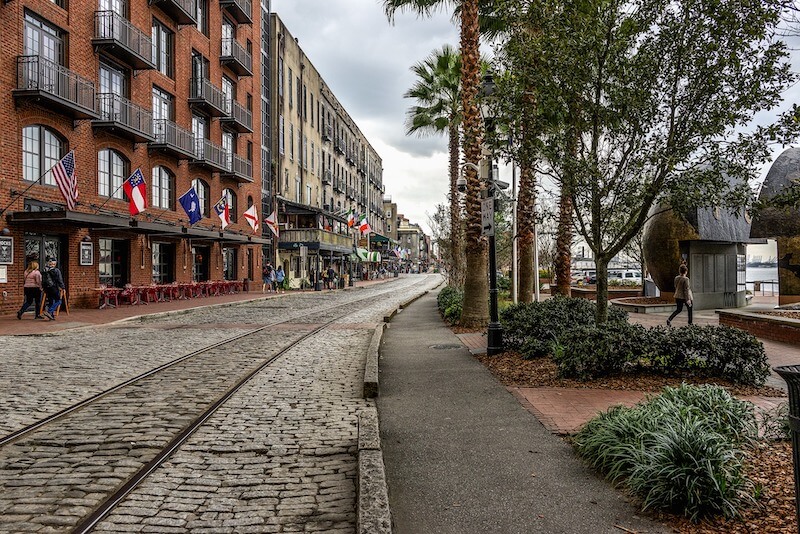 Nursing stuffed-full bellies, we took a stroll along the cobbles of historic River Street before jumping on a hop-on/hop-off trolley tour just as the heavy dark sky opened up. There are several trolley tours operating throughout the city, but Old Savannah Tours stood out for its silly theatrical cameos from historical figures. The stormy weather made hopping off along the route unappealing, but we couldn't resist a last beverage at The Pirate's House, a favorite watering hole for seafarers and pirates since 1753. The stormy weather made it even more atmospheric.
The Conclusion
Pack Up + Go did a great job picking a destination to suit us: a couple with a deep appreciation for good aesthetics and good food (and active outdoor adventures to offset all the good food). Everything they booked—two nights at Perry Lane Hotel, a special occasion dinner at Belford's and kayaking on Tybee Island—was on-point, and the element of surprise made it feel really special (not to mention, having somebody else take the planning off my hands was a real treat). They really looked after us, and even gifted us with an Uber voucher to help cover the cost of our mistaken trip to Tybee, which was much appreciated.
My one con is that some of the things we wanted to do, like take a ghost tour (rumor has it Savannah is one of America's most haunted places) or eat at lauded restaurant The Grey, weren't possible at such late notice. If you do the trip the way it's supposed to be done, and wait until the day of departure to open the envelope, you have to be ok with taking a more relaxed and spontaneous approach to travel. Luckily, Pack Up & Go's recommended itineraries contain tons of things you can do on the fly, so you'll never be stuck for options. To sum up, I'd do it again in a heartbeat.
If you want to hear more about Pack Up + Go and how it got started (hint: it involves a trip through Eastern Europe), you can listen to an interview with the company's founder Lillian Rafson on our podcast: The Trip That Changed Me.
This trip was gifted by Pack Up & Go.