10 Sustainable Hotels That Embody Eco-Luxury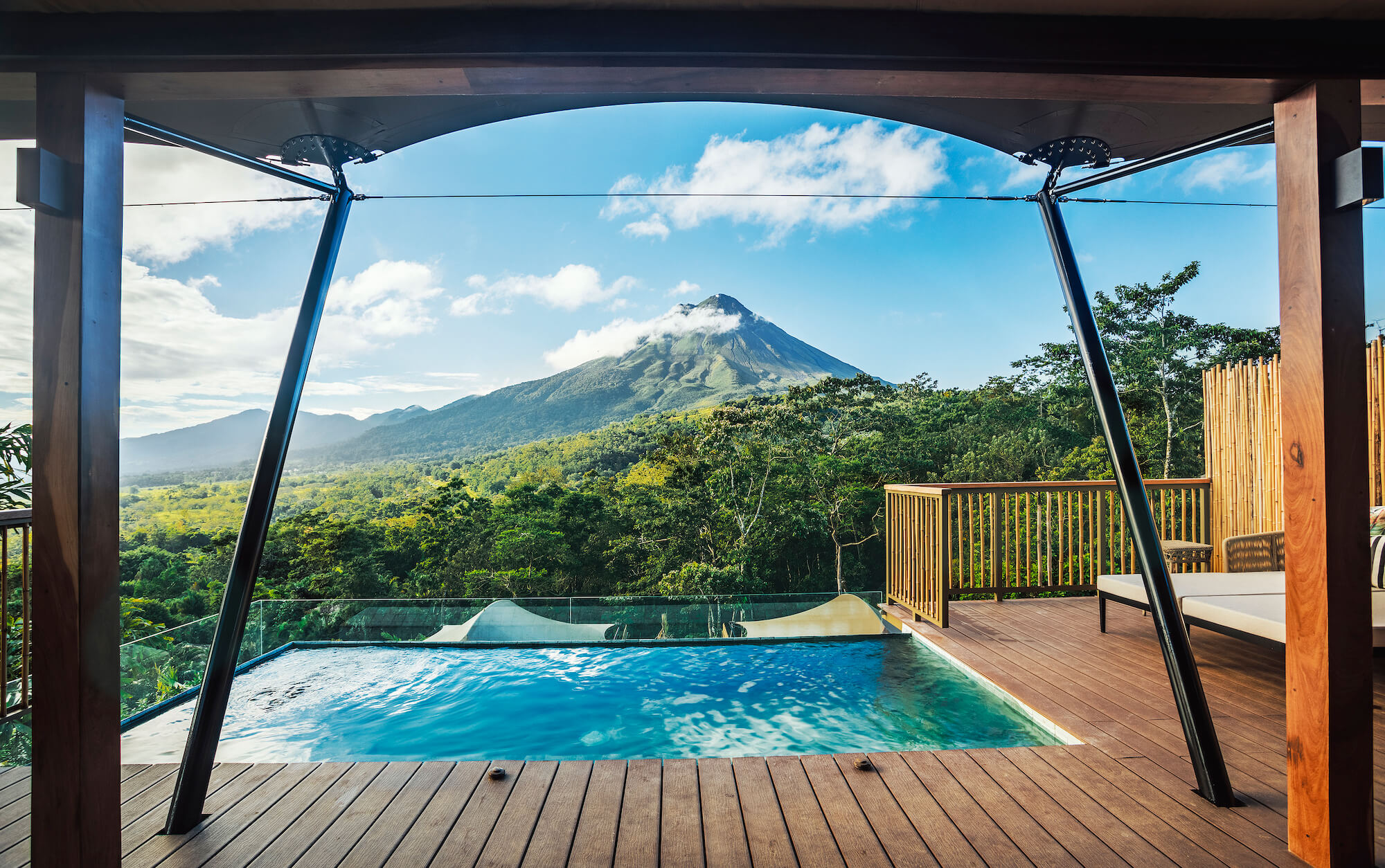 10 Sustainable Hotels That Embody Eco-Luxury
If last year's record breaking drop in carbon emissions got you thinking about how travel contributes to the climate crisis, you are not alone. While the bulk of environmental work needs to be done by the travel industry, many everyday travelers are wondering how they can do their part.
It starts with supporting hotels and tour operators with a commitment to ecotourism, which is why we've created this round up of sustainability focused hotels. Read on for a list of places where your most precious experiences will also support the planet.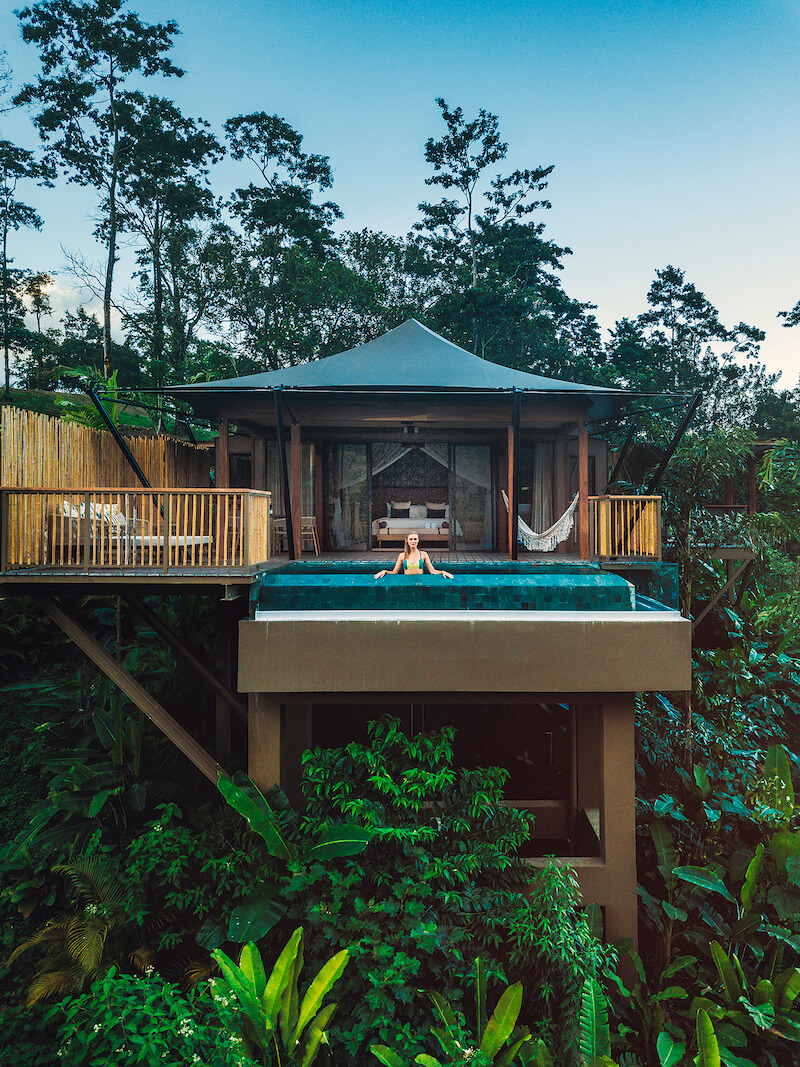 Nayara Tented Camp (Costa Rica)
The vibe: Snuggled in the rainforest, with views that stretch all the way to the Arenal volcano, Nayara Tented Camp is everything you want from a Costa Rican hotel. Safari-style canvas tents boast multiple rooms, outdoor showers and canopy-level private terraces. Hot spring-fed pools are surrounded by lush terrain, and if you're lucky you might even spot one of the sloths who call this idyllic spot home. The surrounding rainforest is full of nature trails and if you're feeling extra adventurous you can even hike the volcano.
Sustainability efforts: Even in Costa Rica, a country renowned for its green sensibility, Nayara Tented Camp stands out. Built on what was once a cattle pasture, the hotel is dedicated to the reforestation of their little patch of paradise. Tents are set on stilts so native plants and trees have more space to grow and wildlife has more habitat to call home. Nayara is also socially conscious, hiring its entire team from the local village and providing free transport, medical care, sustainable tourism education and early-years schooling for their children.
Visit nayaratentedcamp.com
Hotel Terra Jackson Hole
The vibe: Hotel Terra is a boutique ski hotel with year-round appeal, offering world class skiing at Jackson Hole Resort in the winter and hiking in the Grand Tetons National Park in the summer. When you get back from a day of adventures you'll be greeted with roaring fireplaces and plush sofas indoors, or a heated infinity pool and bubbling rooftop hot tub outdoors.
Sustainability efforts: Hotel Terra, the first LEED certified hotel in Wyoming, continues to use thoughtful practices in its quest to be eco-friendly, including implementing water-saving systems that reduce its annual water use by 34%, and using recycled materials wherever possible.
Visit hotelterrajacksonhole.com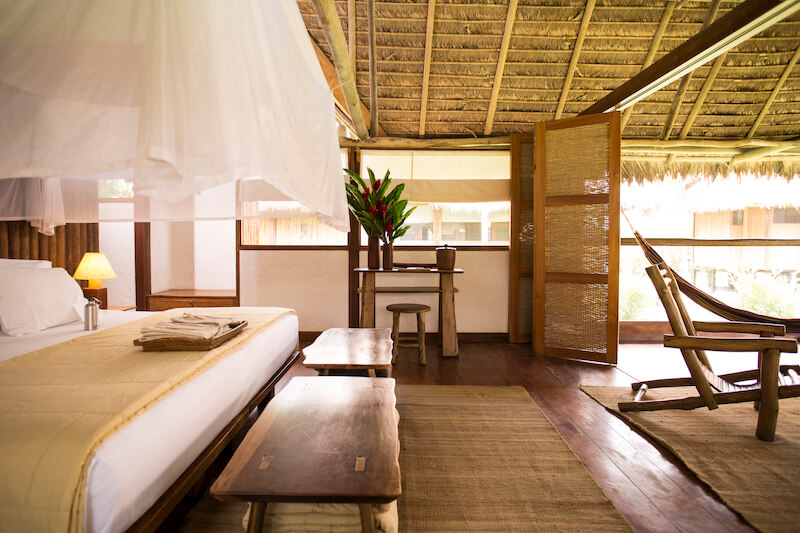 Inkaterra Reserva Amazonica (Peru)
The vibe: If you've always wanted to visit the world's biggest rainforest, but the thought of roughing it puts you off, then the Inkaterra Reserva Amazonica is the place for you. Set in the Peruvian Amazon, adjacent from the Tambopata National Reserve, the hotel's thatched-roof cabañas feature siesta-friendly hammocks, eco toiletries and plush bathrobes. Plus, jungle essentials like mosquito nets, flashlights and umbrellas. All your Amazonian adventures are included here, from nighttime rainforest hikes to bird spotting from the Inkaterra Canopy Walkway – an elevated bridge system among the treetops.
Sustainability efforts: Inkaterra Reserva Amazonica takes a holistic approach to ecotourism, from removing all single-use plastic from the hotel to helping develop and employ local communities, and offsetting greenhouse gas emissions to remain carbon neutral. Your stay will also help fund ecological research and conservation in this incredibly biodiverse area of Peru.
Visit Inkaterra.com
1 Hotel South Beach
The Vibe: A stone's throw from the Bass Museum and occupying an entire block of Collins Avenue, the 1 Hotel South Beach is a zen retreat in the heart of Miami's buzziest neighborhood. The aesthetic is best described as beachy, with decor made from salvaged wood and coral stone in pale shades of grey and blue which complement sweeping views of the ocean. The 1 Hotel South Beach also has possibly the most gorgeous poolscape in the entire city – an elevated plaza with meticulously arranged furniture, which puts the deep blue horizon at eye-level.
Sustainability efforts: The 1 Hotel group is known for being eco-conscious, and the South Beach property is no different. Everything is carefully considered here, from energy-efficient heating and cooling systems and electric house cars all the way down to putting cups and carafes made from recycled wine bottles in all the rooms.
Visit 1hotels.com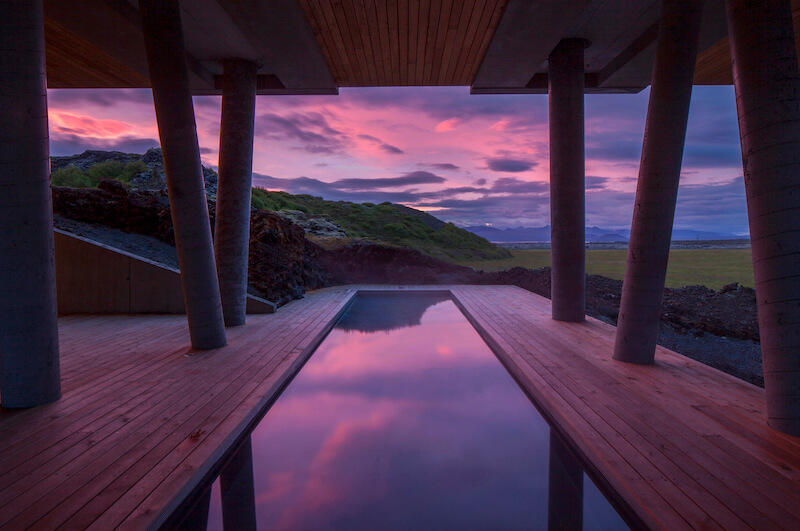 Ion Adventure Hotel (Iceland)
The vibe: Less than an hour from the bustle of Reykjavík, set against the otherworldly backdrop of lava fields, the Ion Adventure Hotel is aptly positioned for access to Iceland's most famous natural sights. It's also aptly designed to give you as much exposure to Iceland's inimitable landscape as possible, with floor-to-ceiling windows to view the northern lights. Head out to explore the nearby Golden Circle route – a triad of stunning locations – then come back and relax in Ion's Lava Spa.
Sustainability efforts: Once awarded the accolade "Europe's best sustainable boutique hotel," Ion Adventure strives to maintain a low carbon footprint, and kits out its rooms with water-saving showers and furniture constructed from sustainable materials.
Visit Ioniceland.is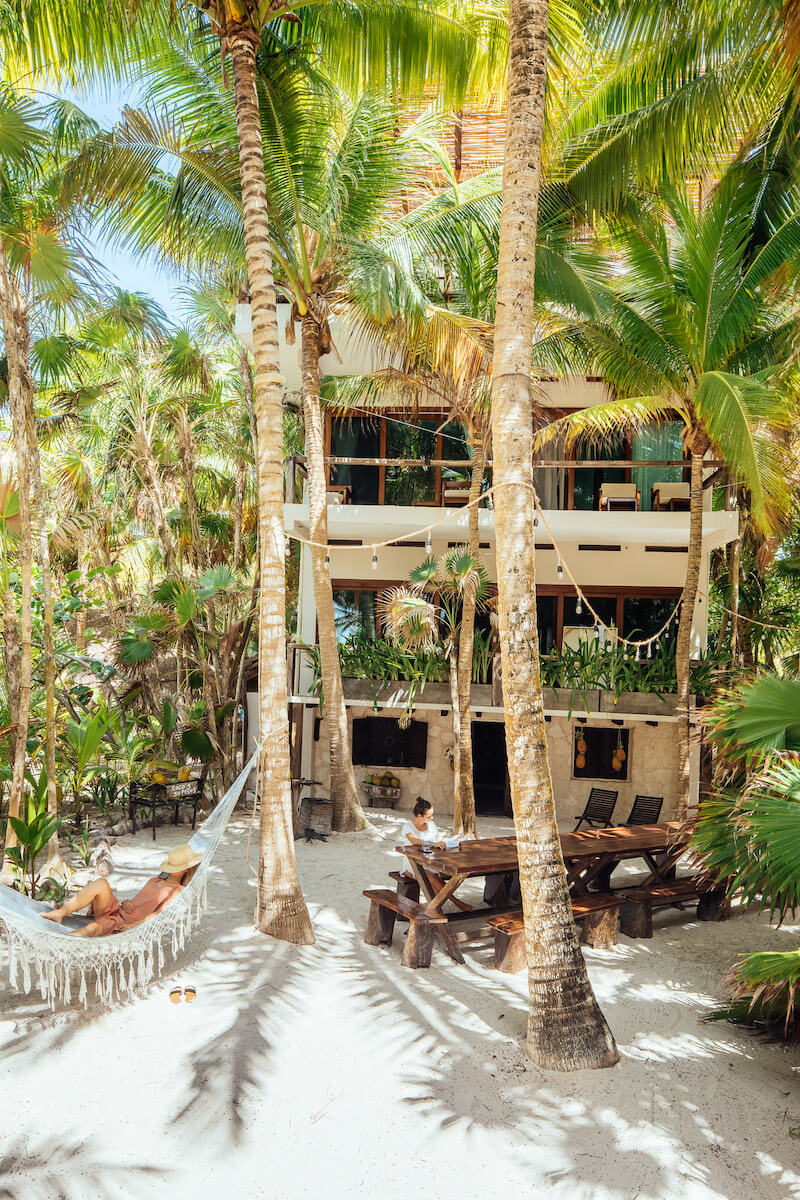 Olas Tulum (Mexico)
The vibe: Housed inside the oldest building on Tulum beach – the former residence of Austrian engineer Carlos Schober – Olas Tulum was designed to work harmoniously with its natural surroundings from the very beginning. The interiors are in-keeping with the Tulum aesthetic – neutral-hued linens and wood furniture with heaps of natural light – and right on the doorstep you'll access the mesmerizingly perfect beach. Tucked away at the end of the beach road, next to the biosphere reserve, Olas is the go-to hotel for travelers who value placidity over parties.
Sustainability efforts: It's not unusual in a bohemian town like Tulum for hotels to have an eco angle, but few are as dedicated to the environment as Olas Tulum. The hotel is powered by solar energy, uses ecological wastewater systems, and even eliminates the need for AC thanks to curved walls which harness that cool sea breeze.
Visit olastulum.com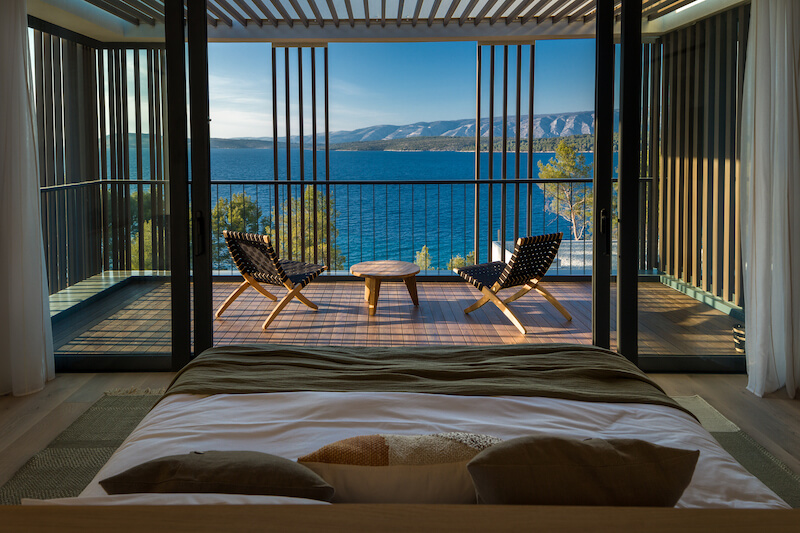 Maslina Resort (Croatia)
The vibe: Wellness takes center stage at boutique Maslina Resort – both for the guests and the local environment. Dip into fitness and yoga classes during your stay or opt for an immersive wellness program to aid stress management or a "vitality education" to help you learn and retain better health habits. Hvar island itself is known for its bustling party atmosphere, but Maslina is tucked away in a quiet enclave so you can set the tone of your vacation according to your mood – sundowners with the yacht crowd or a peaceful evening yoga session overlooking the bay of Maslinica.
Sustainability efforts: As part of an extensive push for sustainability and responsibility to the local community, Maslina Resort sources ingredients for its dining and spa menus from its onsite organic garden, uses biodegradable materials in place of plastic and maintains a low carbon footprint. "Mindful luxury" is its tagline.
Visit maslinaresort.com
Native Eco Villas (Greece)
The vibe: If you're leaning towards vacation rentals at the moment, consider booking Native Eco Villas. Comprised of three villas, each designed in typical Santorini fashion with domed roofs, arched doorways and whitewashed walls, Native Eco Villas feels like a quintessential Greek island getaway. The interiors are elegant, minimal and often encompass local materials like sea grass, linen and teak – the kind of place where there are plenty of comfy nooks to nap or curl up with a book and a glass of wine – but it's the rooftop views that really stun, especially at sunset while soaking in a jacuzzi.
Sustainability efforts: These traditional cave-like Santorini dwellings are underpinned by modern innovations that work to preserve the environment. The aforementioned jacuzzis, for example, are heated using solar power. High-tech insulation and double-glazed windows keep temperatures stable without the need for heating or cooling and a rain collection system makes use of rare Greek rainstorms.
Visit native.gr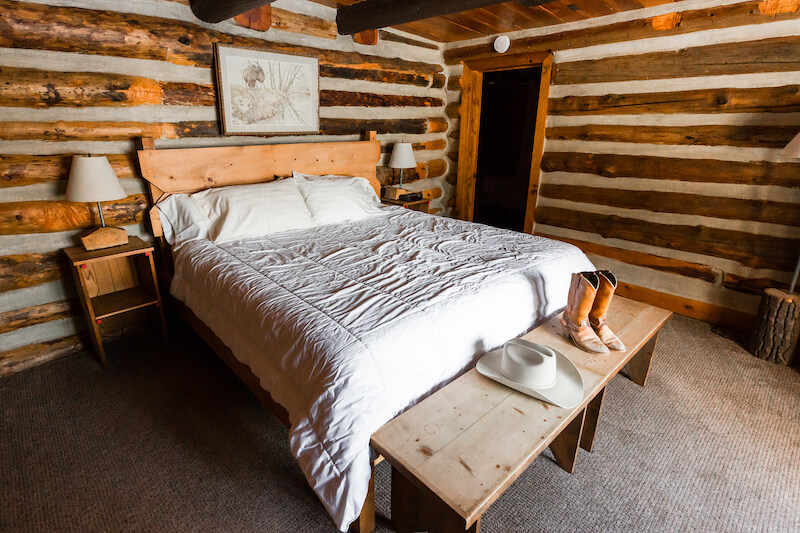 Zapata Ranch (Colorado)
The Vibe: Pack your cowboy boots for a trip to Zapata Ranch. Situated in a particularly pristine area of southern Colorado, on the border of Great Sand Dunes National Park, this conservation-conscious ranch offers guests horseback riding and nature programs with their stay. Ride alongside a herd of bison, spend the day shadowing wranglers and ranch staff or hike the Sangre de Cristo Mountains before returning to a locally-sourced meal (sometimes featuring Zapata's own bison meat) and your cozy room at the ranch's historic 17-bedroom lodge.
Sustainability efforts: Zapata Ranch is managed by Ranchlands and owned by The Nature Conservancy in a hybrid model that emphasizes conservation practices. Zapata Ranch works hard to take care of its various ecosystems, using cattle grazing patterns as a tool by "recycling nutrients and improving the water cycle, mimicking the symbiotic relationship between the North American High Plains grasslands and the great bison herds of the past."
Visit ranchlands.com
GoldenEye (Jamaica)
The vibe: To say GoldenEye has a storied history is an understatement. Created in the 1940s by James Bond author Ian Fleming, this Jamaican coastal retreat has attracted prime ministers, actors, musicians and writers over the years. The hotel is now owned by Island Records founder, Chris Blackwell, who built on Fleming's original villa with an ensemble of cottages and huts, all centered around a beautiful lagoon. Each lodging is slightly different, but all have special touches like outdoor showers, Blackwell Rum and hand-dyed batik robes.
Sustainability efforts: GoldenEye is heavily involved in protecting its local environment and communities, from keeping sea turtle nests safe from poachers and selling reef-safe sunscreen to supporting Oracabessa Fish Sanctuary – a foundation dedicated to protecting the local marine system.
Visit goldeneye.com