Tulum Guide: A Bohemian, Wellness-Forward Destination In the Mexican Caribbean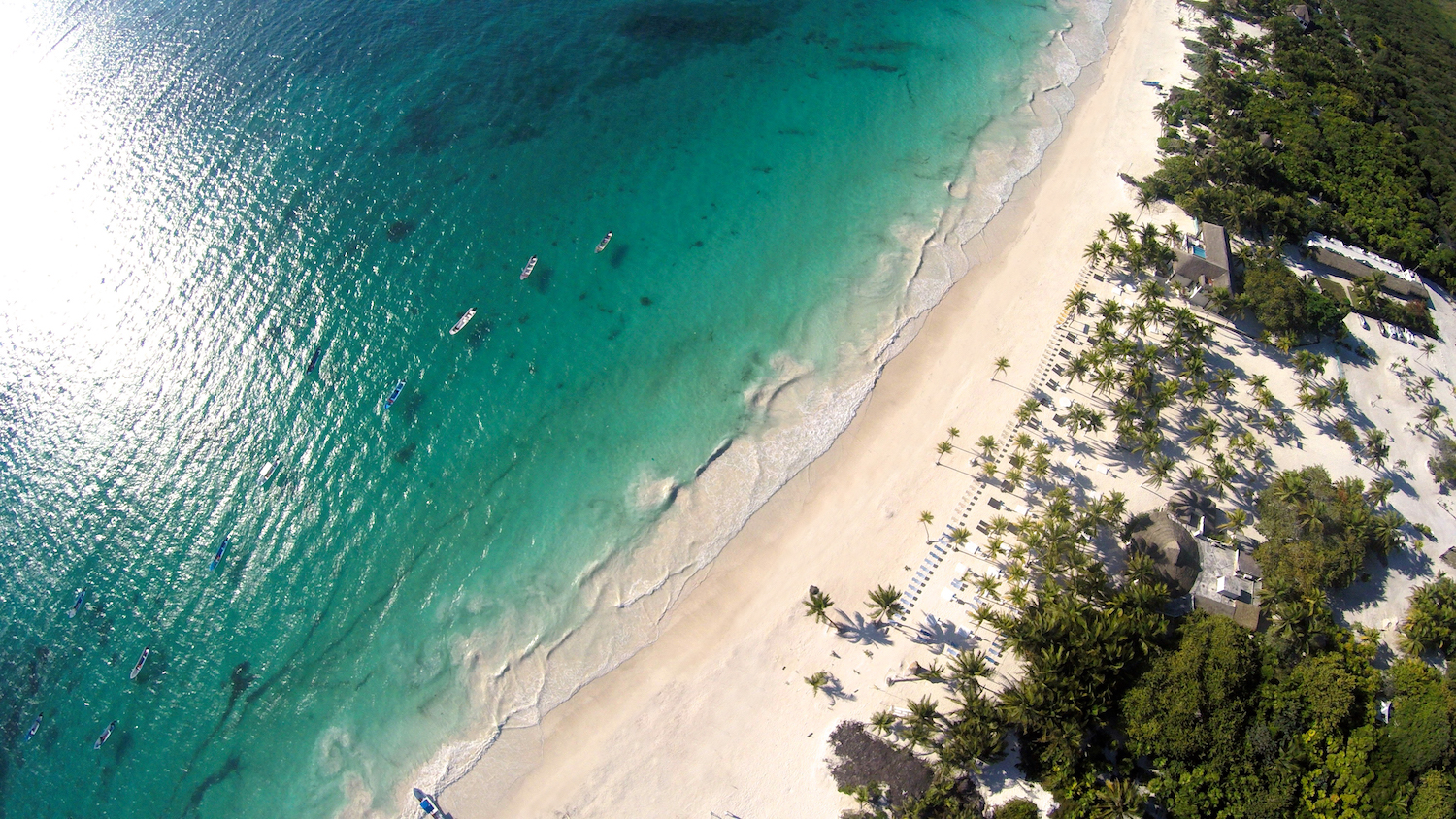 Tulum Guide: A Bohemian, Wellness-Forward Destination In the Mexican Caribbean
By Elise Hofer Shaw
Luxury, relaxation, culture… Tulum is a slice of paradise in the Mexican Caribbean. Dotted with impressive archeological sites, breathtaking cenotes, and a wide variety of boutique hotels, restaurants, shopping and beach clubs to suit every taste and aesthetic, this beautiful stretch of coastline in the Mexican Caribbean has plenty of things to do.
A playground for the Tuluminati and a respite for wellness-seekers, Tulum is world famous for its first-class spas and health centers, too, many of which have been touted in top lifestyle and travel publications like Vogue, Architectural Digest, and Travel + Leisure. Mixing Mayan healing techniques and indigenous ingredients with healing practices sourced from around the globe, most of Tulum's wellness centers either face the ocean or are located in the peaceful surrounds of the Mayan jungle — and all have offerings that will leave you feeling refreshed, rejuvenated and centered.
Tulum Facts to Know:
Located in Quintana Roo, Mexico, Tulum lies on the Caribbean coastline, and is divided into

three

general areas: the hotel zone (

where the luxurious boutique hotels

are located), Tulum Pueblo (

downtown Tulum where most of

the commerce is concentrated)

, and the archaeological site.

The hotel zone

stretches

south

from the Mayan archeological site in Tulum National Park

and borders the

Sian Ka'an

Biosphere Reserve

,

including

some of Tulum's best beaches and beach clubs.

The best way to reach Tulum is to fly into Cancun

International

Airport, and then get a rental car, private transportation or a bus to complete your journey.

The 90-min drive from Cancun to Tulum is an easy leg that passes through

Puerto Morelos and

Playa del Carmen.

Tulum has a tropical climate with both dry and rainy seasons. November to April is when the weather is dryer and cooler, with the summer months of May to October facing muggy weather and hurricane season towards late fall.

Tulum

is

one of the few Mayan cities that was still inhabited when the Spaniards arrived.

A major gateway for connecting the Mayan Peninsula with people from Honduras and the Gulf of México, Tulum was once an important trading hub that generated enormous wealth exporting jade and obsidian.
Find the Perfect Hotel In Tulum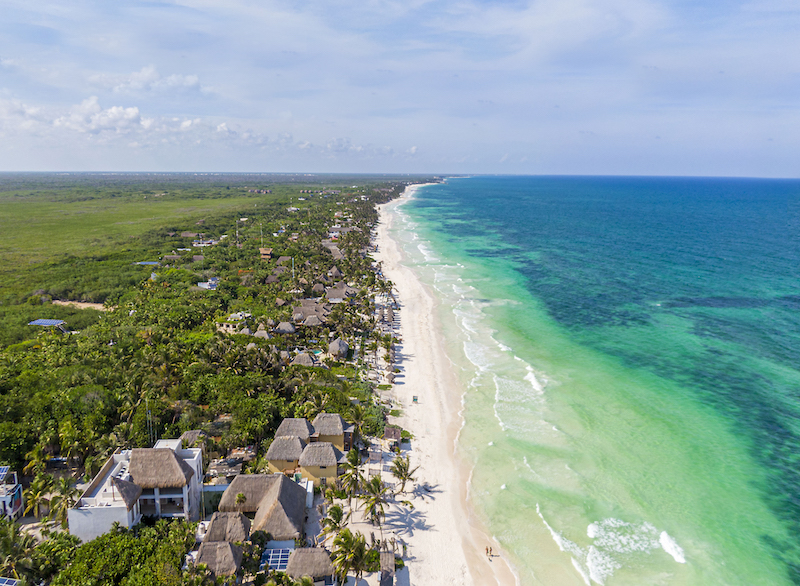 Deciding where to bed down can be a daunting task with so many hotels and boutique properties to choose from. The best approach is to decide what kind of Tulum vacation you want. If architecture and design are important to you, then you'll want to do some research on the eco-resorts that have worked with renowned architects to blend into the natural landscape and meet the destination's green standards for building. If you're looking to spend every waking hour lazing about on the beach — no explanation necessary; you deserve it — then a property with a chic beach club is your best bet. Just keep in mind that none of the hotels in Tulum have ginormous pools like the ones your mind might conjure when you think of typical resorts in Mexico — and if they do, they are mostly of the plunge pool variety. In Tulum, it's all about the beach.
Lean Into the Beach Club Scene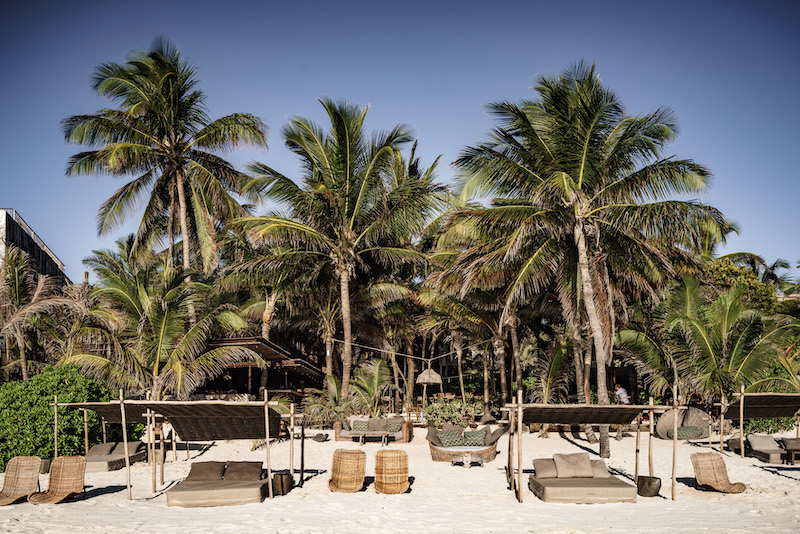 Whether you want to lounge around on the sand or sip cocktails and party like a Tuluminati, Tulum has a beach club just for you. To help you navigate the scene, you first need to understand the lay of the land: Tulum North Beach is only 4 km long and is more authentic with less development and more public beaches with free access. You can find some beach clubs here, but the majority are on the South Beach of Tulum, which is busier and lined with hotels that boast their own beach clubs. Some of them offer a quiet and tranquil ambiance, while others are more suitable for partying — and all embrace Tulum's bohemian aesthetic with organic elements like thatched roofs made from driftwood, hand-woven hammocks made from natural fibers, and plenty of palm trees for photo ops. The beach clubs are also a great way to explore Tulum's local flavors. From fresh ceviches to cochinita pibil (a traditional Mayan slow-roasted pork dish where the pork is marinated in sour orange juice, achiote, and other spices and then slow-roasted for hours while wrapped in banana leaves), everything tastes better with your toes in the sand — and a mezcal-and-hibiscus cocktail to wash it down.
Embrace Wellness at Tulum's Top Spas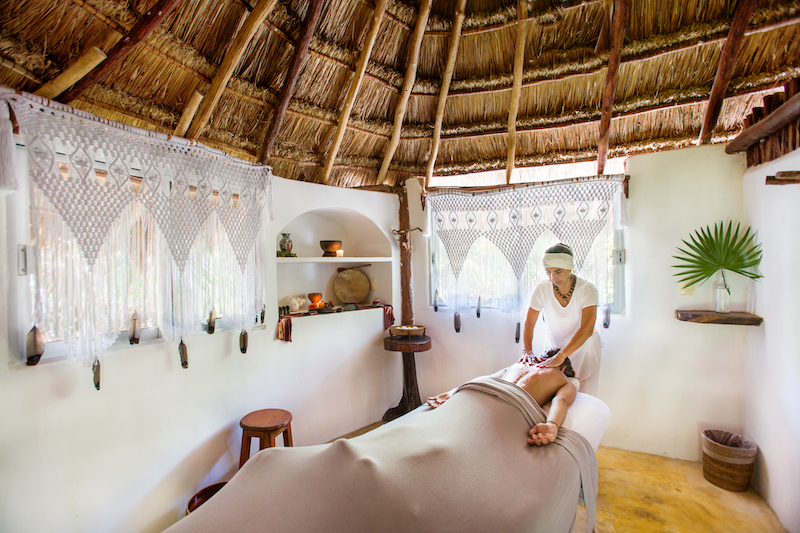 Mayan clay baths, holistic treatments, a luxe dip in a hydrotherapy pool… There are endless treatments to try at Tulum's world-class spas. Make no mistake, wellness is a priority in this boho beach town. You can stick to the standards — hot stone massage or a vitamin C facial — or try something new that incorporates organic products and authentic therapies, like energy purification, sound healing or a traditional temazcal (a sweat lodge ceremony conducted by a Mayan healer). The amazing spas here are also a big reason why Tulum is a hotspot for honeymooners. Newlyweds can connect during couples massages, or do side-by-side sun salutations at any number of yoga studios, most of which host their classes right out on the beach by the water. And while romance is an obvious reason to plan a trip to Tulum, you may be surprised to hear that a lot of visitors travel solo here. In fact, some of the hotels now offer wellness packages that are tailored to individual travelers who want guided journeys for healing, vitality and peace — and the all-inclusive ease of daily spa and wellness treatments, accommodations, luxury transportation to and from the airport, and more.
Explore Tulum's Nature Park
s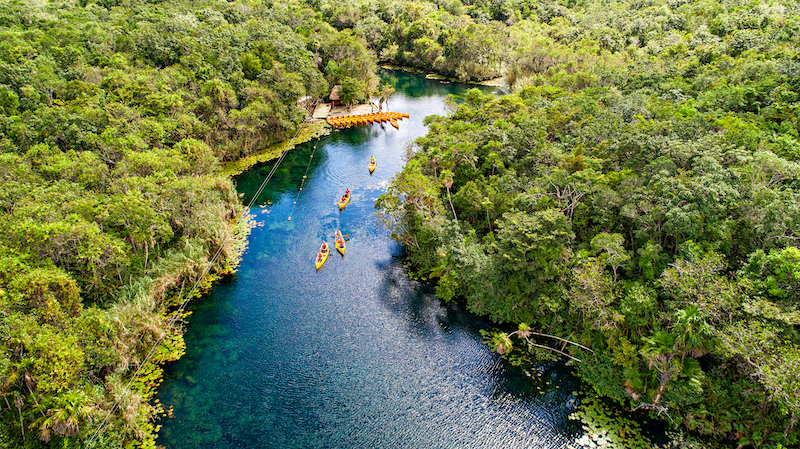 With impressive Mayan archeological sites, Tulum's parks are top attractions in the region. Aktun-Chen is a beautiful nature park that's only 20 minutes from Tulum. This tropical rainforest is lovingly preserved, full of wildlife like howler monkeys, coati, and spiny-tailed iguanas, and offers tons of fun for the entire family, including trekking tours, caving, snorkeling and zip-lining through the canopy. Want more outdoor adventures? Tulum's cenotes are world-famous and in abundance, so there are plenty of places to enjoy snorkeling in the region, too, including Gran Cenote, Dos Ojos, Cenote Calavera, Tajma Ha, among others.
Visit Tulum's Majestic Archeological Sites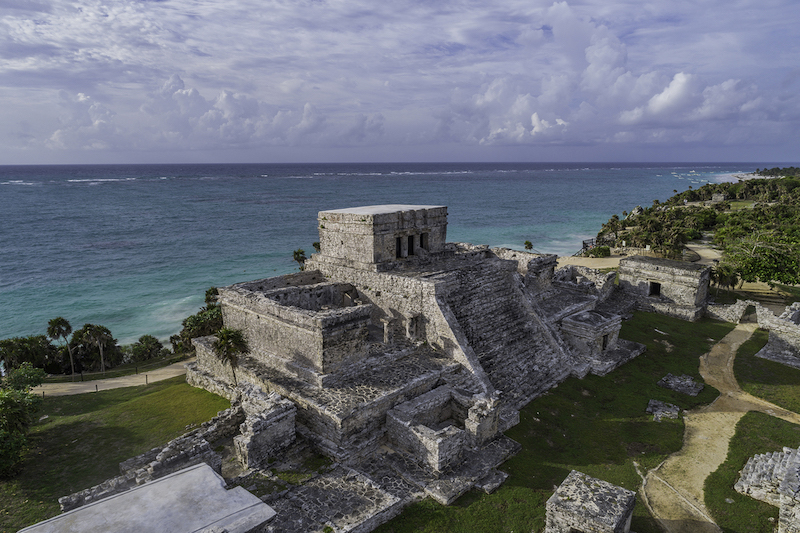 Tulum is the third most visited Archeological Site in Mexico after Teotihuacan and Chichen Itzá, with more than two million visits per year. If you're a Mayan history buff or interested in learning more about the area's ancient temples and glyphs, Coba Archeological Site has awesome tours. Its original Maya name, Ko'ba a, translates to "waters stirred by the wind", as this settlement is surrounded by two large lagoons. There are four main structural groups here that comprise the core area, including one that has the highest pyramid in the northern Yucatán. Expert tip: There will be plenty of people trying to sell you tickets and tours in the parking lot, but this is not where you want to buy your tickets. Keep going down the road to the official entrance to the archaeological site itself and buy your tickets there.
No matter what you are looking to do, Tulum has something for everyone. Visit mexicancaribbean.travel/tulum/ to learn more.
*Created in Partnership with Quintana Roo Tourism Board