The Ultimate Guide to Greece for First-Time Visitors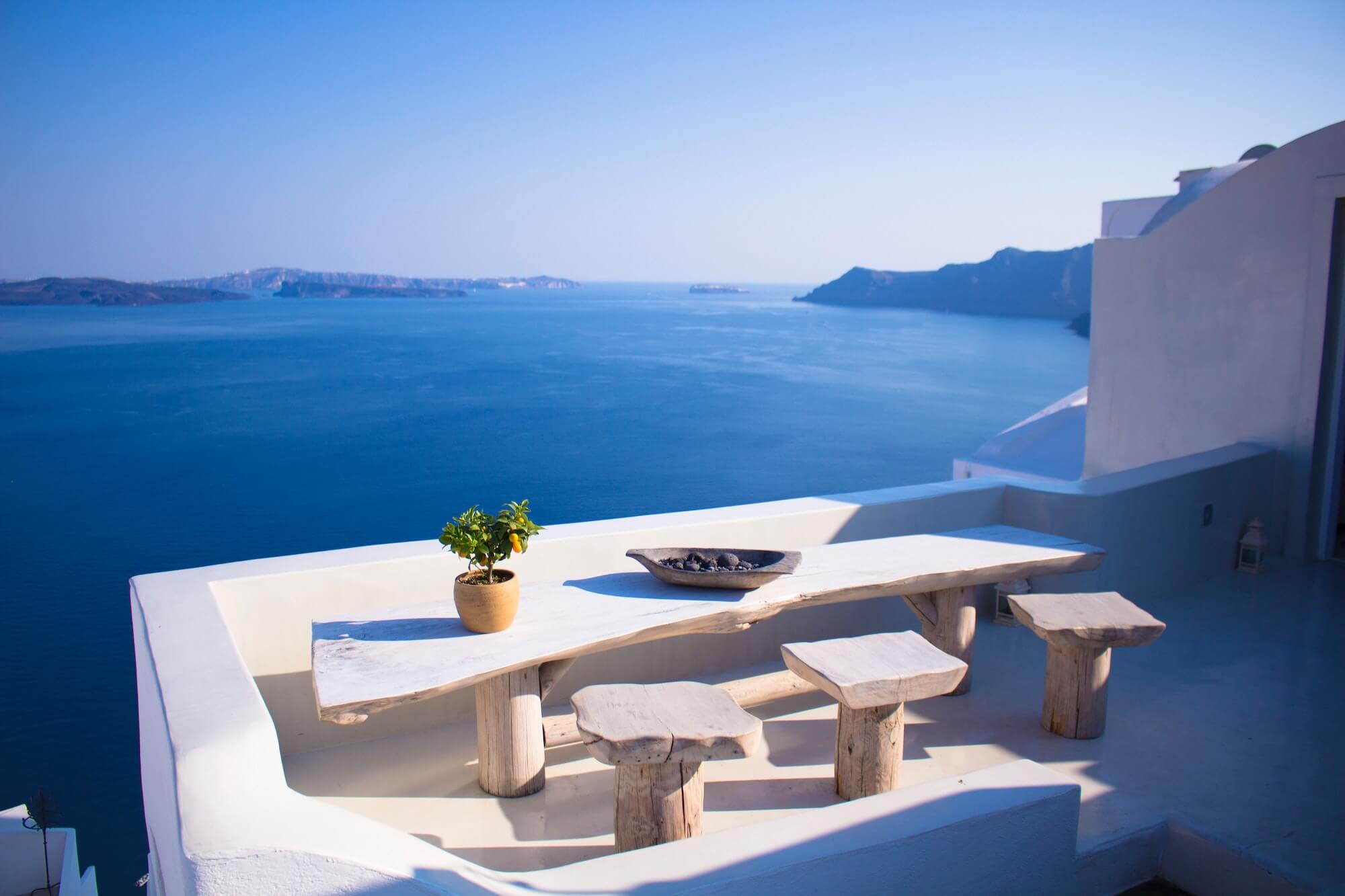 The Ultimate Guide to Greece for First-Time Visitors
By

Esme Benjamin
Dreaming of an international vacation? If you want your next trip abroad to blend a little of everything you've been missing, from pristine beaches to bustling cities and from tasty food to historic sites, Greece ought to be a top contender.
We spoke to Villy Manolia, a Travel Designer for Unforgettable Greece and a Greek citizen, to find out what makes her home country so special. "That's my favorite question," she exclaimed, before listing off the highlights: the weather, the history, the beaches, the food, the authentic hospitality. "Also," she adds, "it's a very small country with amazing diversity of nature and geography, from volcanic islands like Santorini to the green Sporades archipelago. And in the north you'll find some amazing mountainous villages and even ski resorts."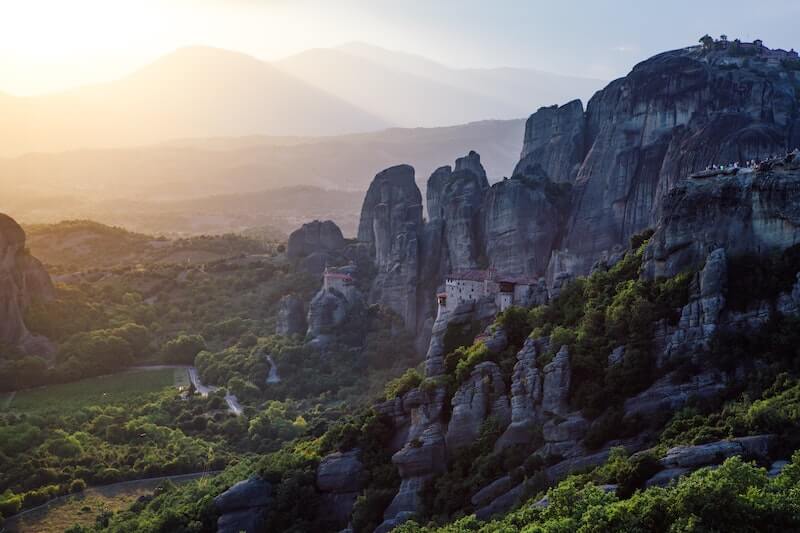 For the average 10-day trip to Greece, Manolia recommends an itinerary that includes Athens followed by two to three islands. The best way to travel between destinations is often by plane rather than boat because a map of Greece doesn't accurately portray the distance from one island to the next. "If you take the ferry from Athens to Crete, it takes about 12 hours," explains Manolia. "So, before coming to Greece, travelers should look into distances and how to go from place to place to ensure it's possible in the time they have."
Of course, having planning assistance — or at the very least some helpful tips — from a local expert makes for a smoother and more fulfilling experience. Read on for Villy Manolia's top recommendations and insights every first-time visitor to Greece should know.
The best Greek Destinations for couples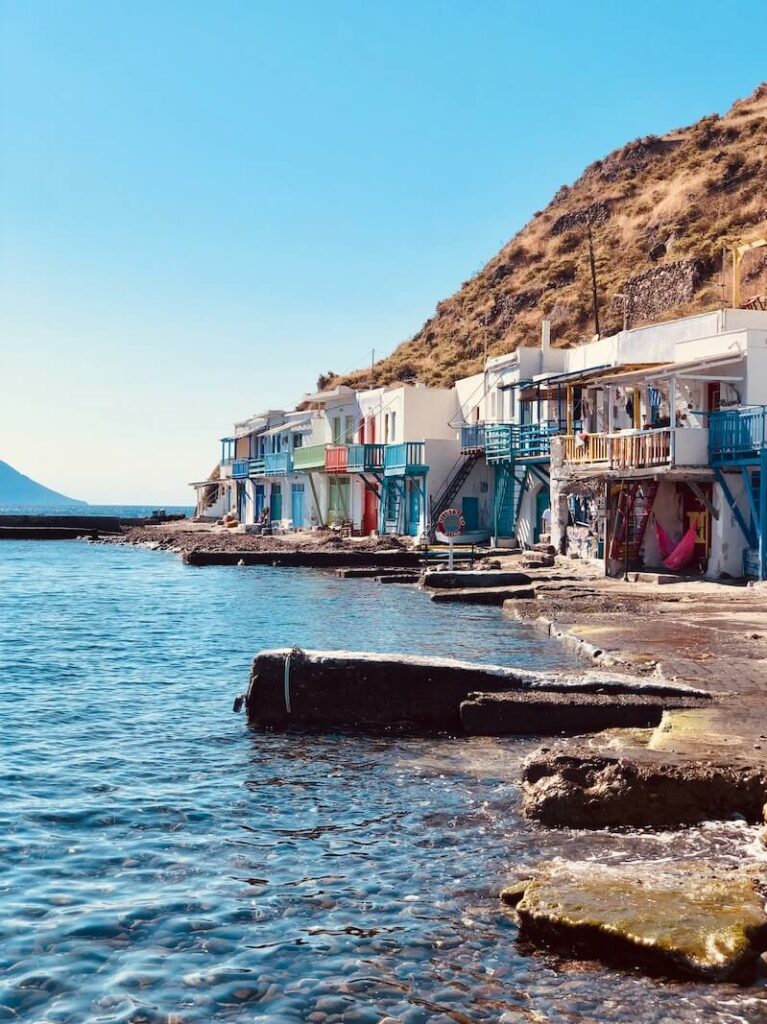 White-washed walls, blooming bougainvillea and the matchy-matchy blue hues of sea and sky make Santorini a supremely picturesque setting for a romantic trip. "They say even if you go to Santorini with somebody you're not in love with, you will fall in love with them," says Manolia, who recommends booking a food and wine experience while on the island. "A glass of local wine at sunset is every bit as beautiful as what you see in the pictures. In fact, it's 100 times more gorgeous."
Milos, another volcano-forged island, is the best spot for couples who love beachy downtime. Spend a lazy afternoon on Sarakiniko, a beach with curvaceous white rock formations that resemble the moon, before devouring a seafood dinner in front of the colorful facades of the old fishing village.
If you want a less crowded but no less beautiful alternative to Santorini, consider Folegandros. This quiet island is beloved by locals while remaining under the radar among international visitors. Come here for beautiful beaches (including a nudist beach, if that's your cup of tea), boutique hotels and strolls through the quaint old town.
The best Greek destinations for families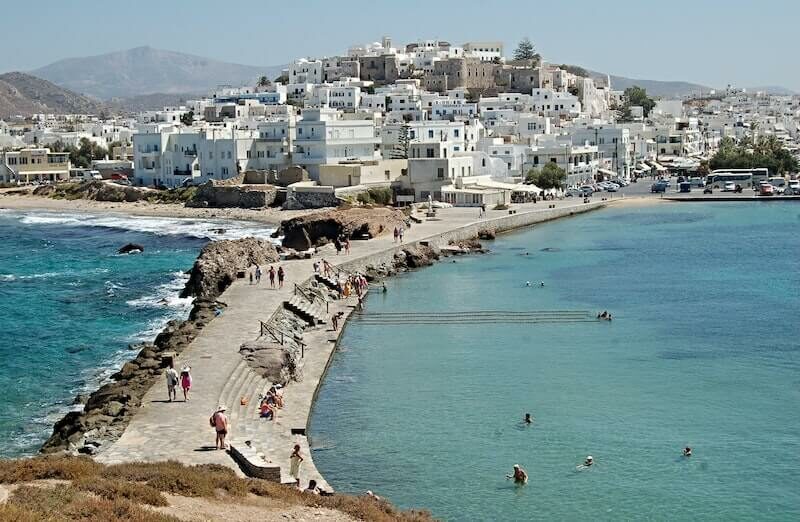 It must be said that Greece is an extremely family-friendly destination: the calm mediterranean sea is great for swimming, locals are welcoming and many activities can be customized for young travelers. However, there are a handful of destinations in particular that Manolia recommends.
Crete is a solid option for families thanks to its top hotels with kid-friendly facilities, safe beaches and tours of ancient sites like Knossos, the island's largest Bronze Age archaeological site, dating back to the Neolithic period.
Of course, Athens is a must for all first-time visitors, including little ones. Check out the Acropolis and museums, then book a workshop the kids will enjoy (e.g. creating your own archeological artifacts).
Naxos, the largest of the Cyclades archipelago, is one of few Greek islands with a strong agricultural tradition. Take the kids to a farm and meet the animals, try local cheese and bread, or take a family cooking class. Plus, Naxos is everything you want from Greece, aesthetically speaking: white buildings with blue frames, and long sandy beaches lapped by calm, glistening seas (with lots of watersports on offer).
The best greek destinations for groups/friends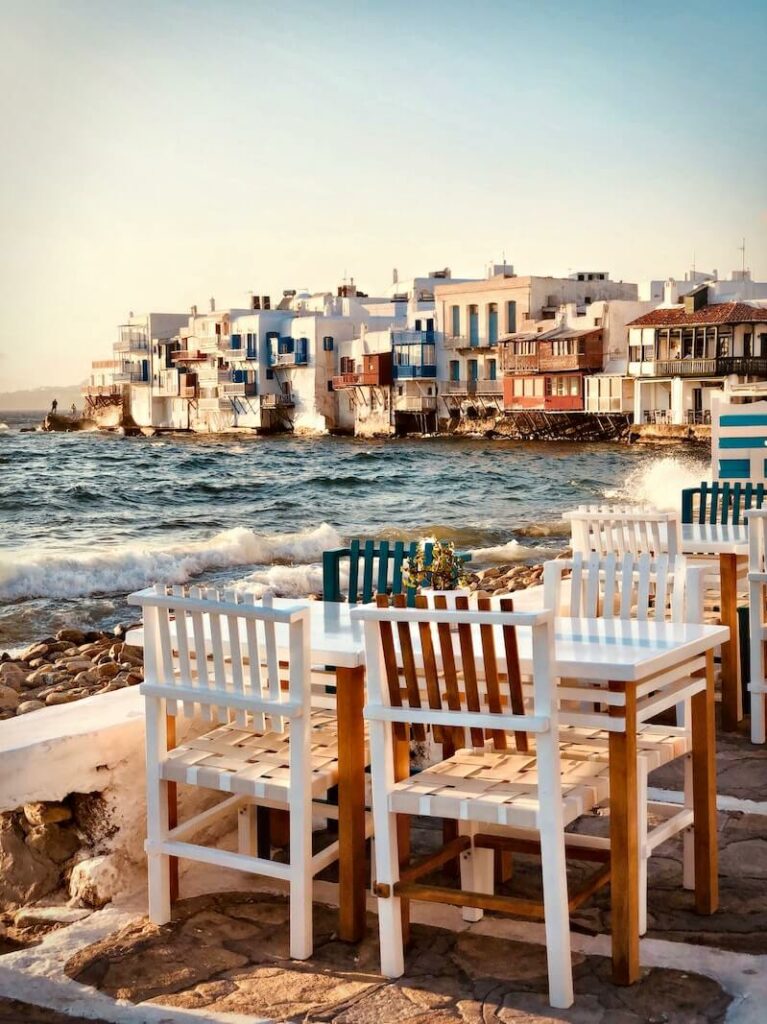 When recommending a destination to a group of friends Manolia takes into account their age and interests. For younger groups, Mykonos is the top choice thanks to its famous nightlife and dining scene. "If you like to party you can do that 24/7," says Manolia, "but you can also do a local beer tasting, take a cooking class or charter a boat and sail around the island."
Island hopping by boat is actually one of the most blissful ways to see the country. Manolia often books groups on sailing trips that explore the Ionian archipelago — mountainous islands on the west side of Greece, known for their calm waters, pastel-colored houses and slight Italian vibe (they were part of the Venetian empire for 400 years).
For older groups, Manolia recommends destinations that center around archeology, historical old towns and food experiences. Crete, Rhodes, Naxos and Delphi are all winners.
What to see and do in Athens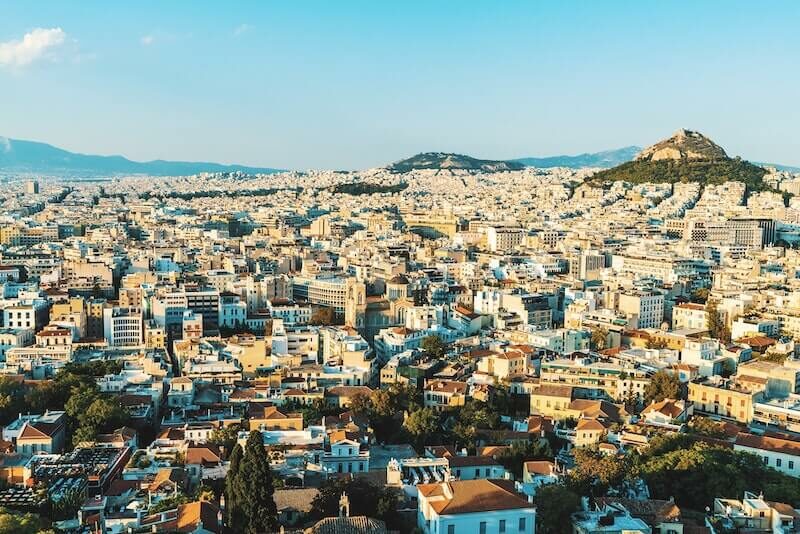 Most visitors begin their Greek vacation in the ancient city of Athens, and it would be a crime not to spend a couple of days exploring one of the world's most historically significant cities before heading for the islands. Don't miss these sights and activities curated by Manolia:
The Acropolis of Athens. Besides being one of the country's most iconic places, this ancient citadel perched on a rocky hill provides incredible views of the city all the way to the sea.
Dinner in Plaka. Situated right at the foot of the Acropolis, this historical neighborhood is full of narrow streets lined with neoclassical buildings housing bistros and cafes. "It's like you're on an island but you're in the center of Athens," explains Manolia.
Visit the Athens Riviera. Located about 10 minutes from the center of the city, this pretty stretch of coastline is full of hip beach clubs and elegant hotels.
Explore the food and wine scene. There are innumerable tours you can book, but if you'd rather go it alone start by browsing mouth-watering produce beside the locals at the old market ("it's like a trip back in time," says Manolia), then meander through the area stopping at wine bars and restaurants until you can't eat another bite.
See the Temple of Poseidon. Drive the Athens coast all the way to Cape Sounion (about 43 miles) and arrive at this gorgeous columned temple in time for sunset. Views from its elevated position overlooking the sea are Instagram gold.
What to pack for a trip to Greece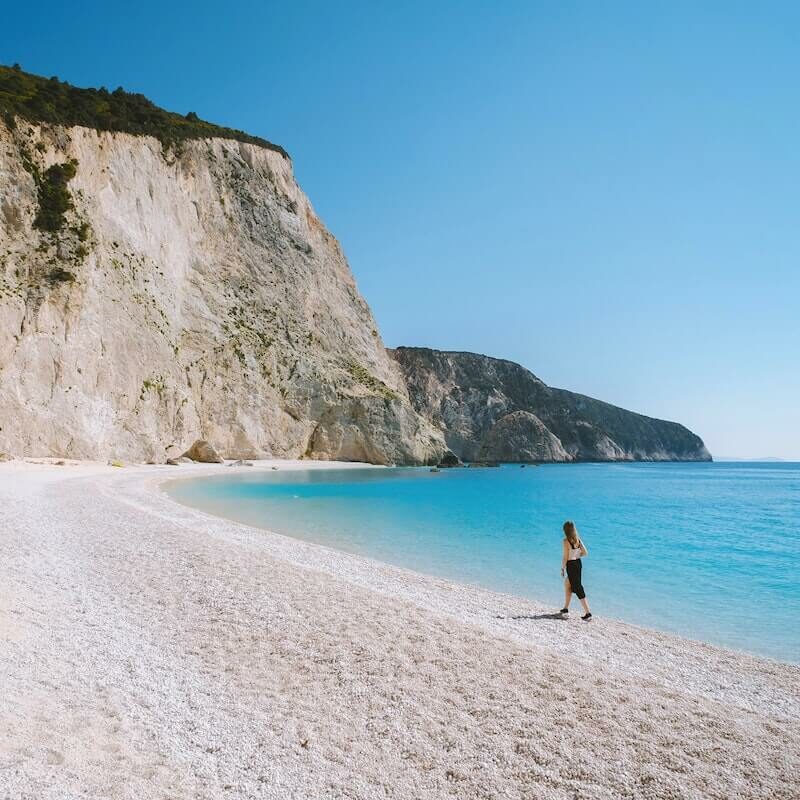 Greece is famous for its summer season from April until October, when that deep blue mediterranean sea is at its most inviting. Needless to say, you should pack plenty of sunscreen, some light, breathable outfits and swimsuits galore. Sturdy walking shoes are another must — this is a country full of lovely, higgledy-piggledy cobbled streets that are not compatible with fancy footwear.