Take a Virtual Visit to Nanjing, China's Bucket-list Destination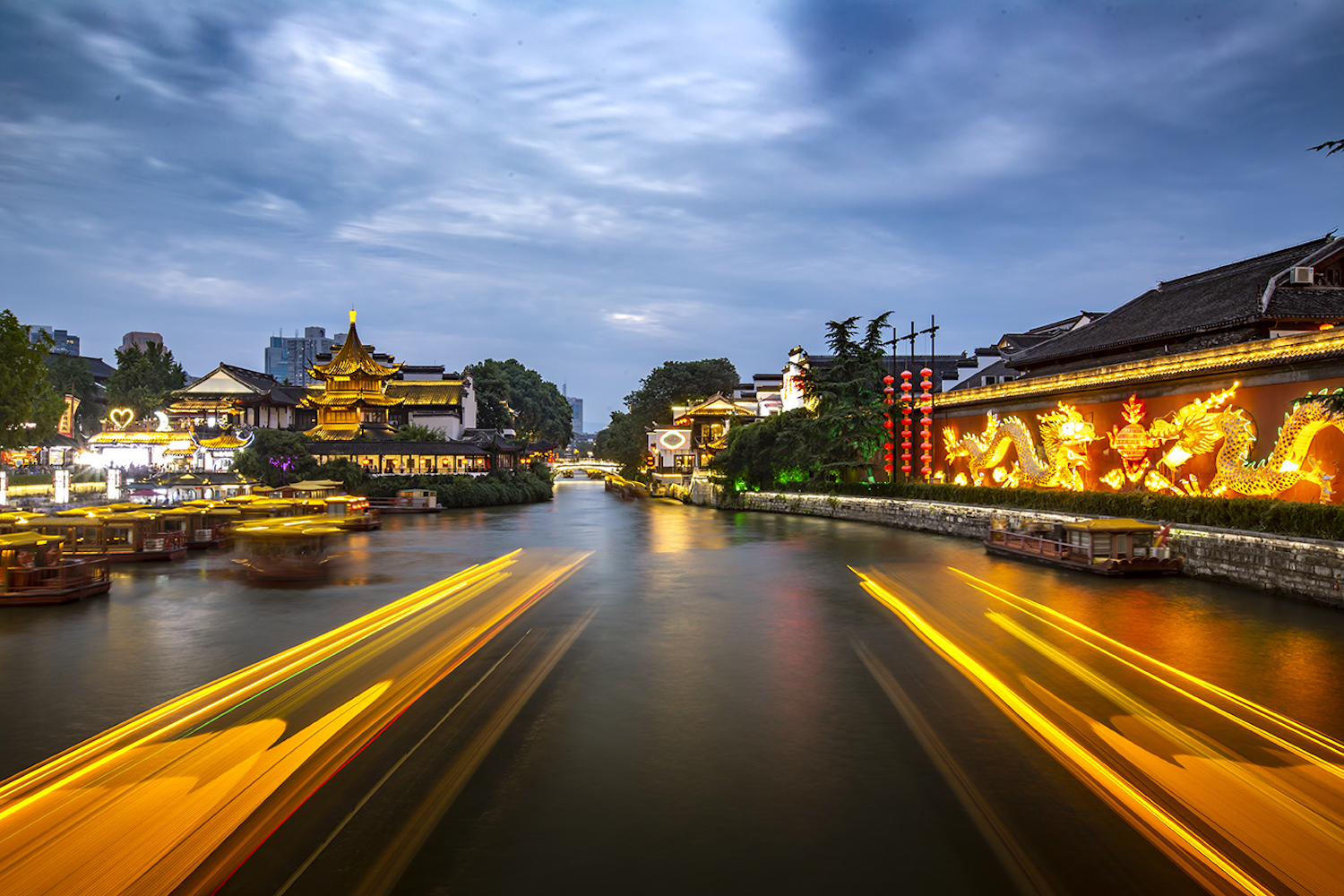 Take a Virtual Visit to Nanjing, China's Bucket-List Destination
By

Esme Benjamin
If you're daydreaming about international travel lately, we've got an addition for your post-pandemic bucket list: Nanjing, one of four great ancient capitals of China and birthplace of the Ming dynasty. Blending ancient Chinese tradition with modern culture, Nanjing is the kind of city where you can visit a teahouse hidden inside the city wall, wander the tranquil botanical gardens of Xuanwu Lake Park Park, then step back in time at one of many historical sites.
This old-meets-new, peaceful-meets-bustling melting pot of experiences makes Nanjing one of China's most appealing tourism destinations.
While international travel restrictions remain in place, a new six-part YouTube series about Nanjing dubbed the "Study Abroad Program" will help you visit virtually. Read on for an overview of what you'll learn and whet your appetite for a real trip to Nanjing in the not-so-distant future.
Grand Bao'en Temple Heritage Park
You might recognize the Grand Bao'en Temple as the image printed on Chinese takeout containers all over the world. After being destroyed in the 19th century, the iconic structure was restored to its former glory, and now contains a museum exploring the landmark's historical and cultural significance. The site is one of the best examples of the melodious mix of Nanjing's ancient and modern architecture and a must-add for your itinerary.
Qinhuai River Scenic Area
Known as the "mother river" of Nanjing, the Qinhuai River winds its way past many of the city's top cultural attractions, from historic buildings to clusters of the best restaurants serving up regional specialities like Nanjing salted duck and crab soup dumplings. Take a river cruise and soak up the sights over tea and local snacks as a musician plays the guqin – a seven-string traditional instrument.
Nanjing's Confucius Temple
One unmissable highlight of the Qinhuai River Scenic Area is the Confucius Temple. Constructed in 1034 in reverence to the great philosopher, the temple was destroyed during WWII before being reconstructed during the '80s. Inside you'll find China's largest painting of Confucius flanked by opulent panels depicting his life, made from gold, silver and jade.
Nanjing's Purple Mountain (named for the lilac clouds that envelope its peaks at dusk and dawn) is one of the city's most majestic nature attractions. Besides offering peaceful respite from the buzzy city, Purple Mountain is also home to many historic sites, including the mausoleum of the Ming Dynasty's founding emperor, Zhu Yuanzhang - a UNESCO World Heritage Site nestled amid the most beautiful foliage (visit during fall for the most striking views) and "guarded" by oversized stone animals and warriors.
Between 1368 and 1421, Nanjing was the capital of the Ming dynasty. To protect the city, Emperor Zhu Yuanzhang ordered the construction of a 22-mile wall, 15.5 miles of which is still preserved today. No visit to Nanjing would be complete without viewing the city from the top of the wall, then making your way to Lao Cui – a traditional-style teahouse lined with books, built into the City Wall.
Niushou Mountain Cultural Tourism Zone
Nested into majestic Niushou Mountain you'll find a dazzling Buddhist site, consisting of a palace with nine floors total (six of them hidden beneath the ground), a Tang-style pagoda and a temple where monks worship, dine and sleep. It's also home to relics of parietal bones (parts of the skull) belonging to Buddha himself. If you want to experience a fascinating insight into Chinese Buddhism with an awe-inducing natural backdrop, put the Niushou Mountain Cultural Tourism Zone on your itinerary.
Know Before You Go
Nanjing is the capital of Jiangsu Province, located just 90 minutes from Shanghai via fast speed train
Many attractions in Nanjing require reservations before visiting, and many attractions are closed on Mondays
Enlist the help of a knowledgeable tour guide to gain true understanding of the culture and get the most out of your visit
Follow @GoToNanjing on Instagram, Facebook, and Twitter to see highlights of the best activities for every time of year.