Seville
Seville
Tapas and Flamenco in Andalusia's Capital
Often overlooked for tourist hubs Madrid and Barcelona, Seville feels like a best-kept secret. But the city's budding popularity won't stay quiet for long. Seville's exquisite Mudéjar architecture sets it apart from its northern neighbors, and the city's combined passions for bullfighting and flamenco give it an irresistible sultriness that travelers can't help but fall in love with. Long summers and mild winters make Seville a year-round destination, but the city comes alive in the spring time, with annual Semana Santa celebrations that are worth traveling for. Hungry? Pull up a chair at the local bar — Seville is often considered the birthplace of tapas, and its small-plates driven culinary scene is legendary.
Did You Know?
Christopher Columbus is buried in Seville. Travelers can visit his ornate grave site at the Seville Cathedral.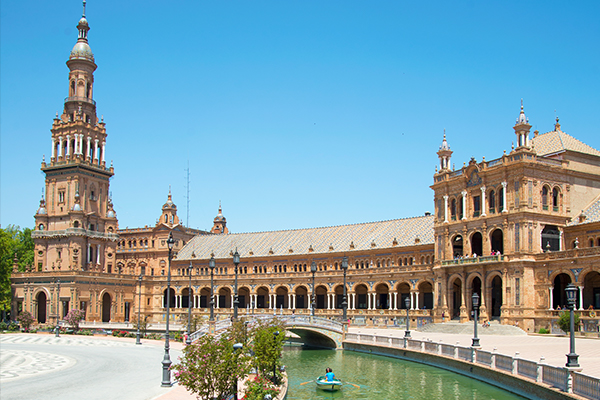 2018 is a big year for Seville. Throughout the year, the city is celebrating the 400th anniversary of Baroque painter, Bartolomé Esteban Murillo, with one of a kind exhibitions, guided art tours, and even specialized restaurant menus to celebrate the homegrown artist. In December, Seville will host the 31st annual European Film Awards, a nod to the city's long established devotion to the arts. Along with a rich cinematic tradition — Seville has hosted the annual Seville European Film Festival since 2005 — Seville has served as a backdrop for dozens of international movies and TVs shows throughout the years. The Plaza de España and Parque de María Luisa appear in Star Wars: Episode II — Attack of the Clonesand Lawrence of Arabia. In 2017, the seventh season of HBO's Game of Thrones was filmed throughout the city.
"Seville is often considered the birthplace of tapas, and its small-plates driven culinary scene is legendary."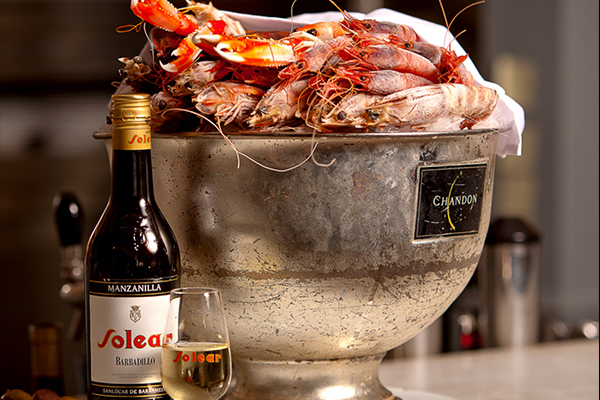 Tapas Bar
The best Sevillian dishes are eaten "ir de tapeo," or "around the bar." Small plates are the hallmark of Seville's culinary culture, and no trip to the Andalusian capital is complete without sampling jamón Iberico (cured ham), montaditos (small sandwiches), cola de toro (stewed oxtail), pavías de pescado (marinated fried fish) or espinacas con garbanzos (seasoned spinach with chickpeas). No matter the dish, Seville's tapas are best enjoyed with cañas (small glasses of local beer) or Manzanilla (a local sherry). Some of the city's best spots for small plates include the hip and off the beaten track Plato Plató, the more traditional Café Bar Las Teresas, and Yebra a tapas meets fine dining concept.

One of Seville's top restaurants, Restaurante Oriza elevates Andalusian cuisine and finesses it with modern techniques and ingredients. Guests can expect diverse offerings, from monkfish ceviche, to crispy suckling pig, and warm scallop salad. Equally impressive is the restaurant's grand dining room, which features colorful, eclectic decor highlighted by a wall of stained glass windows.

The dining room's gilded mirrors and eccentric murals are dizzying — perhaps, even a bit tacky — but Az-Zait's stylized interiors are only a prelude to its creative cuisine. Along with an
à la carte menu
, Az-Zait offers multi-course tasting menus of exotic options like crayfish salmorejo with olive ice cream, sliced chorizo served on a clothesline, and dessert puddings made to look like potted plants.
HERO:
@brianthio
EXPLORE:
@brianthio
STAY:
@Hotel Alfonso XIII
, @
Gran Meliá Colon
,
@Hotel Palacio de Villapaneés
INDULGE:
@Yebra
,
@Coco Bistro
,
@Az-Zait Restaurante