San Miguel de Allende Travel Guide
San Miguel de Allende Travel Guide: Where to Eat, Stay & Play
By

Esme Benjamin
Though Mexico's idyllic coastlines are getting a lot of attention right now, it's San Miguel de Allende that tops our travel wish list this year. This colonial city nestled in the country's central highlands captures visitor's hearts in a major way thanks to its perfectly preserved historic architecture, bohemian vibe, and ample selection of impressive dining establishments and hotels.
Perhaps the clearest example of San Miguel's beguiling charms is the ever expanding community of expats – artists and entrepreneurs who came for a short vacation and ended up establishing a permanent home here. Plan a trip and prepare to fall hard.
Stay in a Colonial Mansion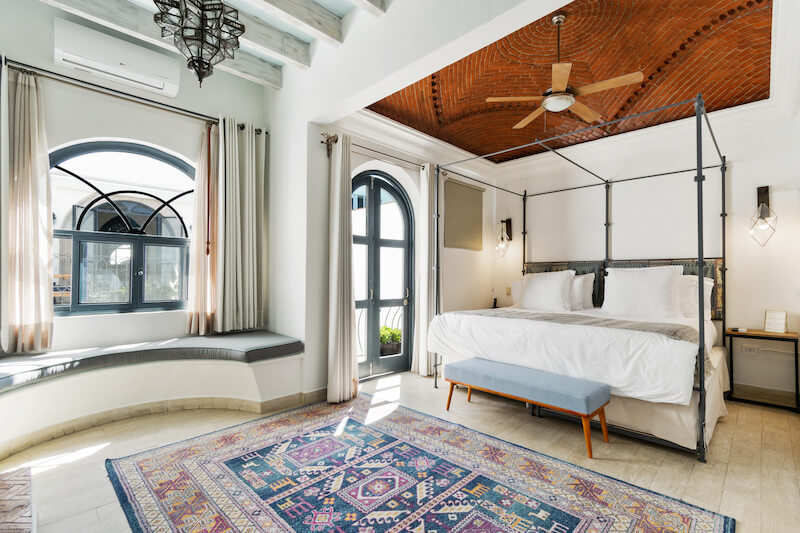 As one of the best preserved colonial cities in Mexico, San Miguel de Allende is composed of distinctive, colorful buildings dating back to Spanish rule. Many of these old buildings have been meticulously restored and turned into elegant hotels and B&Bs blending modern Mexican decor with historic architectural bones.
Casa Delphine is owned by American jewelry designer Amanda Keidan, who bought and revamped an old 5-room hotel and updated the interior using her professional eye for design. The result is a zen-like environment with a distinctly social atmosphere, thanks to the giant dining table which plays host to curated community dinners and events.
San Miguel de Allende's first luxury hotel, Belmond's Casa de Sierra Nevada, is composed of an ensemble of noteworthy 17th Century buildings decorated with antiques and traditional tiling. Situated right in the center of town, the hotel is well positioned for meandering the cobblestone streets, but step through the ancient front door and a leafy courtyard offers immediate tranquility.
A little further out of town, the Rosewood San Miguel de Allende turned a 16th Century Spanish colonial mansion into a hacienda-style hotel with a slew of impressive travel awards. Wood-beamed ceilings, stone arches, and a rich color palette give the property a classic Mexican feel and rooms come with their own outdoor space – be it balcony, terrace or rooftop.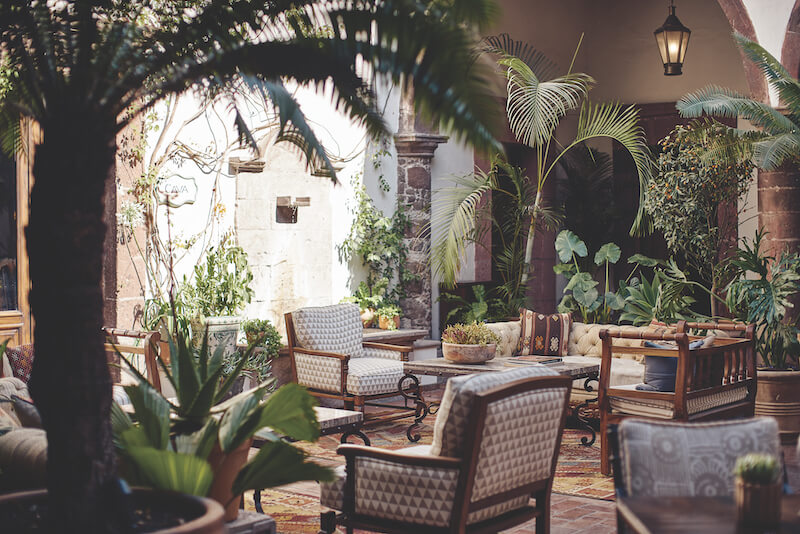 Come for fall festival season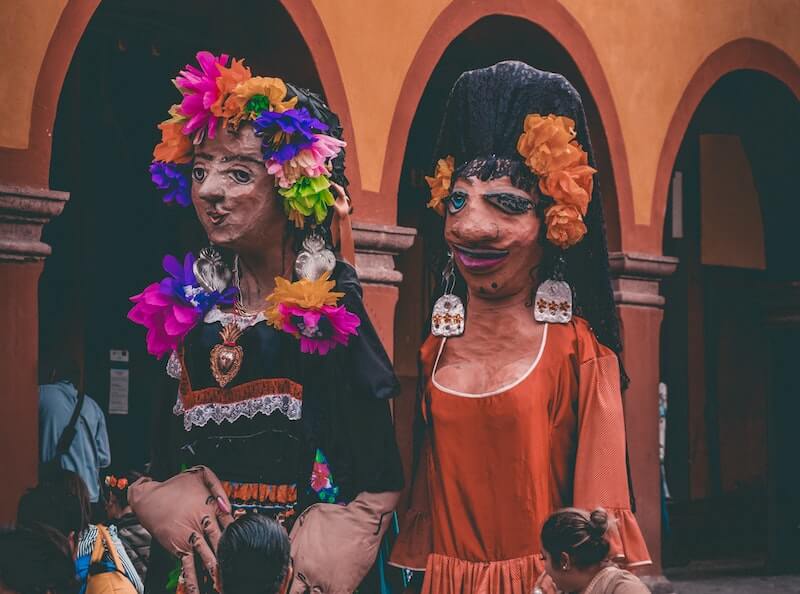 There's no bad time of year to visit San Miguel de Allende. By far the best time to visit is in the autumn, when rainfall is low and the events calendar is packed. Starting on Sept. 6 with Mexican Independence Day, a string of fiestas make the months leading up to Christmas feel like one long party. Don't miss the festivities for the city's patron saint, San Michael the Archangel, which begin on Sept. 29 with the parade of mojigangas — a procession of giant whimsical puppets – or the Day of the Dead celebrations in early November. As a city filled with artists, San Miguel really excels at theatrical costumes.
Take a guided walk through Centro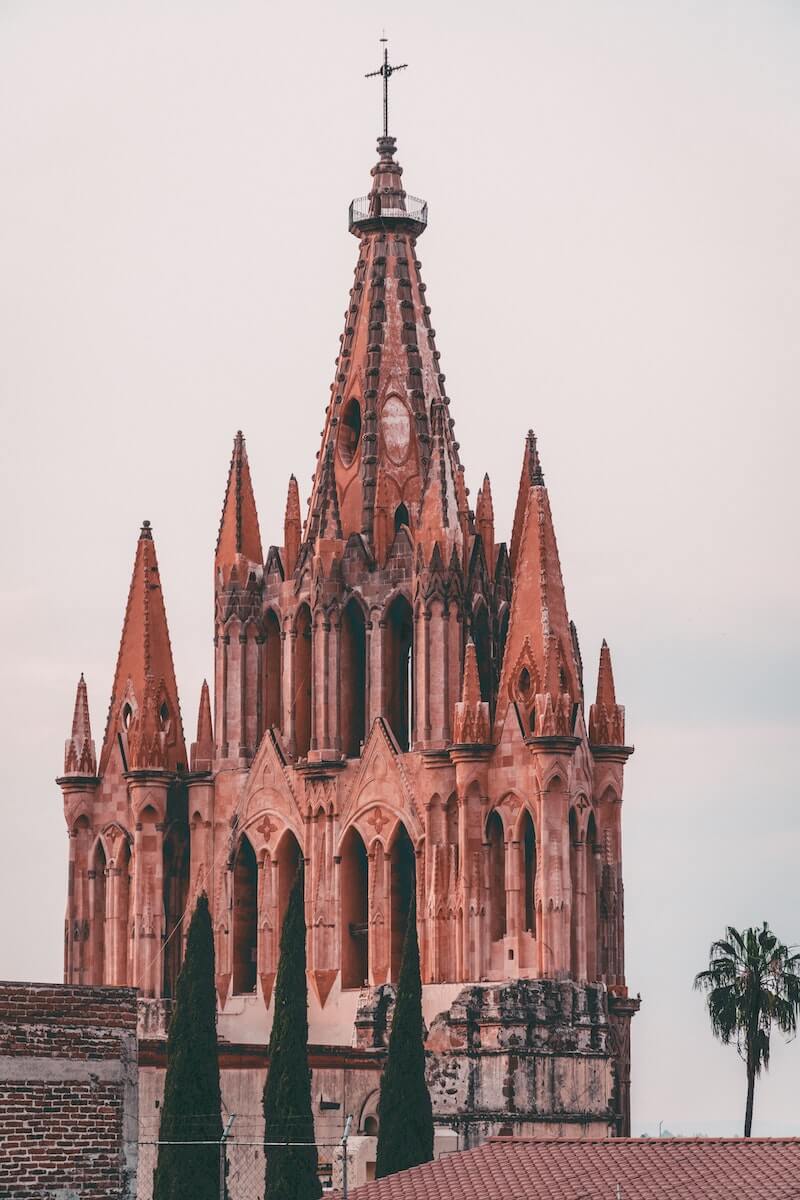 San Miguel de Allende is a design lover's dream city. Designated a UNESCO World Heritage Site in 2008, the city's landmark buildings exemplify Baroque and neo-Gothic architectural styles distinct from the rest of Mexico. Perhaps its most famous is La Parroquia de San Miguel Arcángel – a gorgeous, pale pink gothic church.
As you can imagine, this design diversity is underpinned by a lot of fascinating history and the best way to learn all about it is with a guided walking tour. Book a private appointment and tailor the experience to your interests, getting the lay of the land and insider info on what to see and do directly from a local.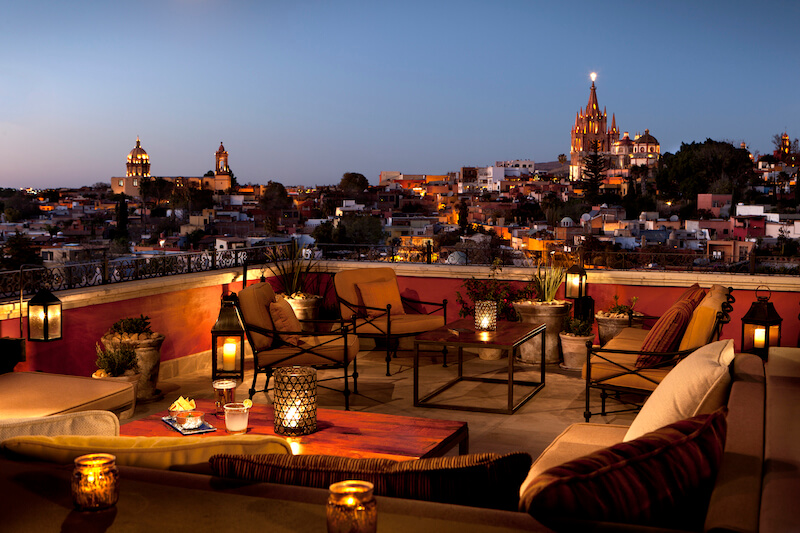 Beautiful weather and inimitable architectural aesthetics make rooftop dining an inevitably in this town. You're pretty much guaranteed beautiful views from the top of any building in San Miguel de Allende, but a few reservation-worthy spots include Quince Rooftop, an award-winning restaurant serving up sushi and mouth-watering cocktails while a resident DJ plays, Fatima 7, a veggie-friendly Mediterranean restaurant with a view of Templo de San Francisco, ARTRIO, which serves Mexican-Asian fusion cuisine right next to La Parroquia, and Luna, an ambient tapas bar at the Rosewood hotel. The fourth floor terrace of Trazo 1810 at Hotel Casa 1810, which is accessed through an art gallery, also feels like a quintessential San Miguel dining experience.
Explore the city's arty side
San Miguel de Allende's thriving art scene dates back to the 1930s, when an American named Stirling Dickinson settled in the town and co-founded the Escuela Universitaria de Bellas Artes, an art institute housed inside a former convent. The city has been synonymous with creativity ever since, and boasts dozens of galleries, artist's studios, and artisanal markets, the most prominent of which is La Fábrica Aurora. Shop art and furniture at this former textile mill, or try a class yourself. Locals recommend stopping by on Thursdays for La Fábrica Aurora's open studio day, when you can watch the artists at work. If you're hankering for more artisanal goods check out Mercado de Artesanias, where you'll find Mexican handicrafts from all over the country.
Get a bird's eye view of the city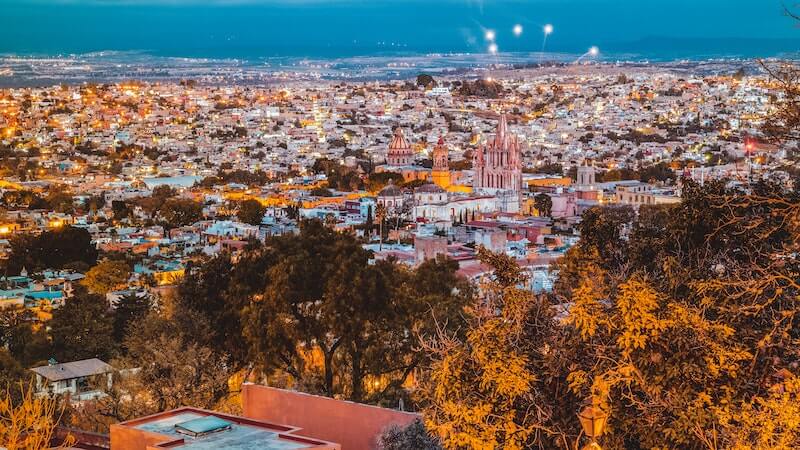 After a few days familiarizing yourself with San Miguel's windy streets, try seeing them from a different angle altogether. Take a sunrise hot air balloon ride and watch day break over the city's colonial-era landmarks and hilly countryside, followed by breakfast at Rosewood hotel to discuss the experience and refuel.
Treat yourself to a spa day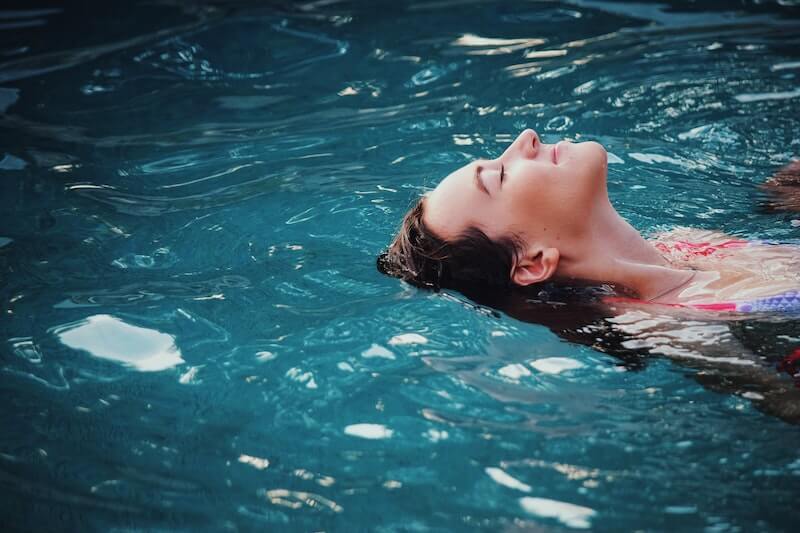 It may not have a beach, but that doesn't mean there isn't serious relaxation to be found in San Miguel. At La Gruta ("the grotto") a hot springs spa about 20 minutes outside of town, several pools, and man-made caves draw throngs of locals and in-the-know tourists. Looking for some high-end pampering? The Live Aqua Spa at the Live Aqua Urban Resort offers a full menu of treatments, plus a large pool with swaying hammocks to chill in afterwards.
Do a fancy tequila tasting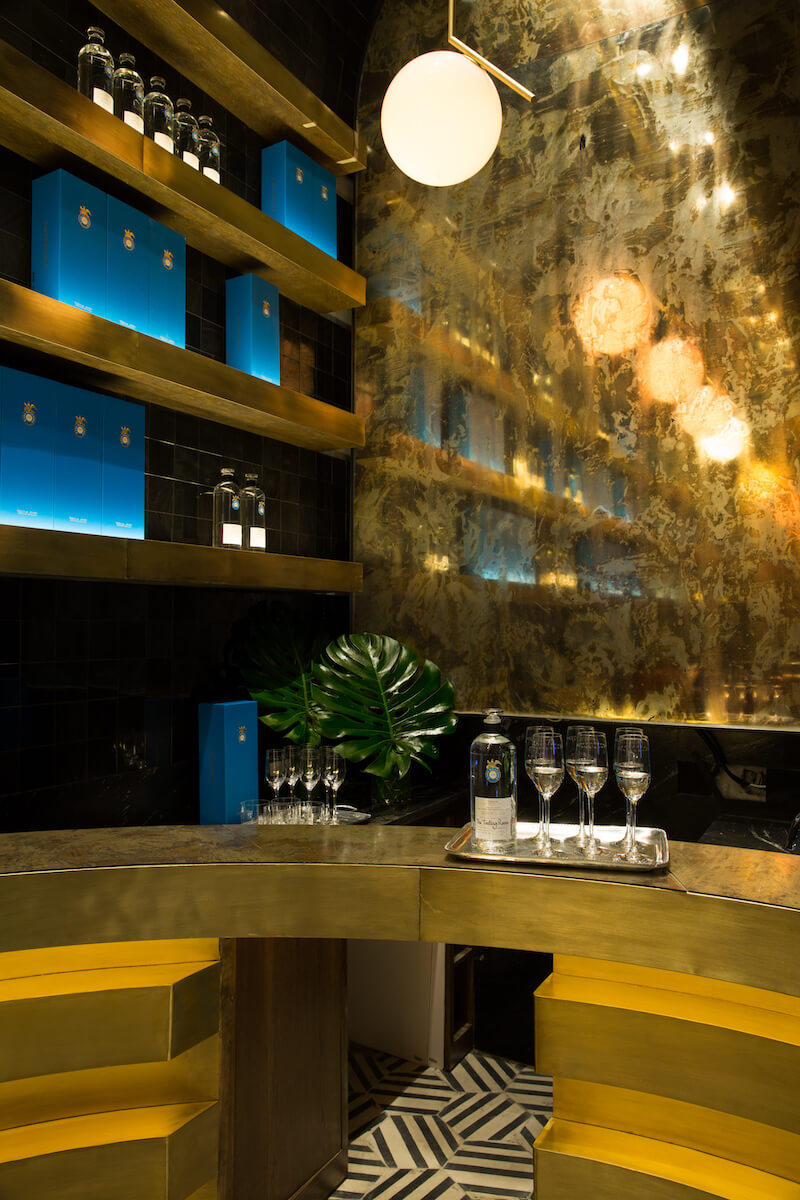 For a high-end tequila drinking experience (read: no cheap shots laced with salt and lime) book a tasting session at Casa Dragones. Founded by former MTV CEO, Bob Pittman, and the Mexican tequila entrepreneur Bertha González Nieves, Casa Dragones is billed as high-end sipping tequila, perfect for pairing with food or drinking neat. The San Miguel tasting room seats six people in a beautifully decorated space, and provides an education that will alter the way you drink tequila for the foreseeable.