Palm Springs & Joshua Tree
Palm Springs & Joshua Tree
Long stretches of sun and sky.
Palm Springs and Joshua Tree couldn't be more different if they tried–one stands out with its mid-century modern kitsch and color, the other with its unapologetically hippie, Wild West vibe. But with all their differences, the two are linked by their laid-back energy, long stretches of sun and sky, and just an hour-long drive. Visiting one is not the same without experiencing both, and we suggest you do just that.
Did You Know?
From the 1920s onward, Hollywood enforced a "two-hour rule," dictating that actors couldn't be more than two hours away from their studio while shooting a film. Shortly thereafter, movie stars began flocking to Palm Springs, attracted to its sunny and relaxed disposition and its close proximity to L.A., about 100 miles away.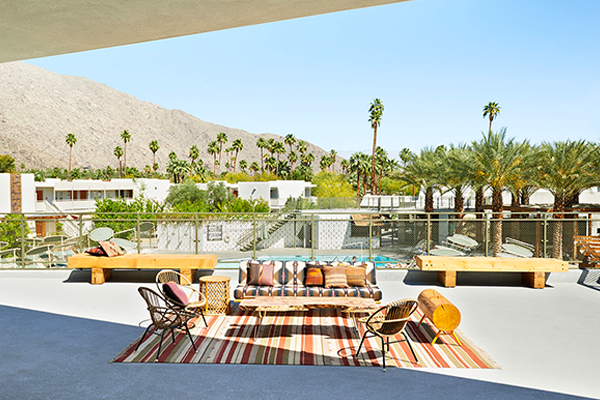 Mid-Century California Modernism 101
If you're truly interested in architecture, interior design, and the history of Palm Springs, then you won't regret taking a guided tour of the town's most historic residences. Modern Tour Palm Springs is your best choice, capping tour groups at six people, and taking you through landmarked homes and properties including ones belonging to celebrities like Frank Sinatra, Elizabeth Taylor, and Elvis Presley. Tours start up again August 1, and advanced reservations are recommended.

Those who would rather appreciate the area's design history in a less structured way should head over to the Ace Hotel Palm Springs, a renovated 1960s Westward Ho motel which practically screams "retro" with its spruced up flea market finds and bohemian flair. Here you'll find a trendy pool club scene–guest DJs and all–and crave-worthy California fare at the hotel's restaurant, a former Denny's now named King's Highway. If you want to bring home a piece of the area as a souvenir, a shopping trip to the antique and vintage boutiques of the Uptown Design District is essential.
"Palm Springs and Joshua Tree couldn't be more different if they tried–one stands out with its mid-century modern kitsch and color, the other with its unapologetically hippie, Wild West vibe."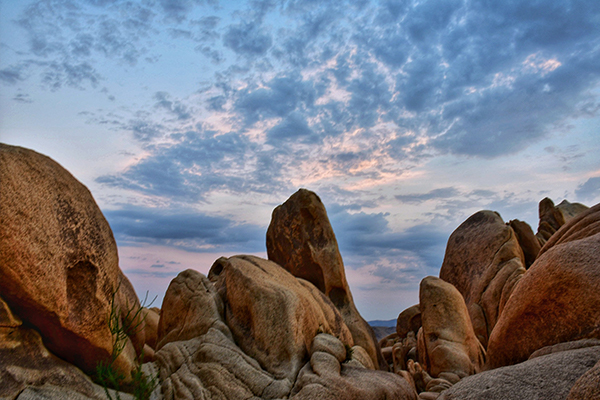 Just 49 miles away from Palm Springs, the landscape of J-Tree is so unique that visiting can sometimes make you feel like you're on another planet–or a few, considering the park is set across two ecologically different
desert systems
. To the west, the higher Mojave Desert is synonymous with tall and twisting Joshua tree plants and looming boulders. Eastward, the Colorado desert is comprised of arid, low-lying land and short, stumpy vegetation like the
cholla cactus
. There are trails for
hiking
, rocks for
climbing
, or if you prefer to take a car, you can follow the Park Boulevard from the
Visitor Center
for a scenic drive that lasts one to two hours. Either way, the park association offers
free guided walks
to help visitors appreciate their surroundings, as well as fun, at-a-cost seminars like a campfire cooking class, and even a night sky photography workshop. From Palm Springs, we suggest taking Highway 10 West to Highway 62 and entering the park's main entrance where you can stop at the
Visitor Center
before beginning your trek or drive.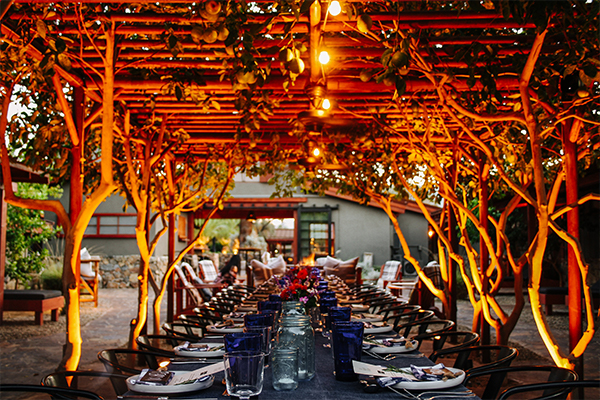 For an amazing meal in an intimate, low-key garden setting, join the family-style dinner at The Barn Kitchen at
Sparrows Lodge
, the renovated, rustic-chic inn that was originally established in 1952 as Castle's Red Barn resort by MGM actor Don Castle and his wife. The
three-course dinner
is served twice each week at the communal table tucked in the back of the lodge's courtyard–a hidden oasis surrounded by citrus trees and covered by a vine-laced trellis. Chicken is always the main event on
Wednesday
nights, while
Saturday
is steak night. Other courses and sides change meal-to-meal and are determined by what the chef wants to pluck from the hotel's gardens that day. Be prepared to meet new friends, eat great food, and have a refreshingly homey Palm Springs experience.