My Hometown: Welcome to Las Vegas, With Artist Ryan Brunty
My Hometown: Welcome to Las Vegas, With Ryan Brunty
In FTT's series My Hometown, notable travelers divulge local places they couldn't live without.
By Esme Benjamin
Ryan Brunty is the artist behind Depressed Monsters, a lifestyle brand and mental health advocacy group that donates a portion of its proceeds to mental health agencies across the U.S. He's also a rare "Vegas unicorn," born and raised in a city where most residents are transient and never get to experience the deeper layers of what Vegas has to offer.
"People often say Vegas has no culture, but you have to seek it to find it," explains Ryan. "You have to walk through the city streets and find artists painting murals or discover venues housing Vegas-based bands."
Ryan is currently working on his first capsule to commemorate 10 years of Depressed Monsters, which will be debuting at the Life is Beautiful Music & Art Festival (September 17–19 2021), at his studio on Fremont Street.
In his My Hometown guide, Ryan provides a peek "behind the glitter and glitz and neon and fritz" of Las Vegas, from the coolest dive bars to hidden date night spots. Bookmark it for your next Nevada trip.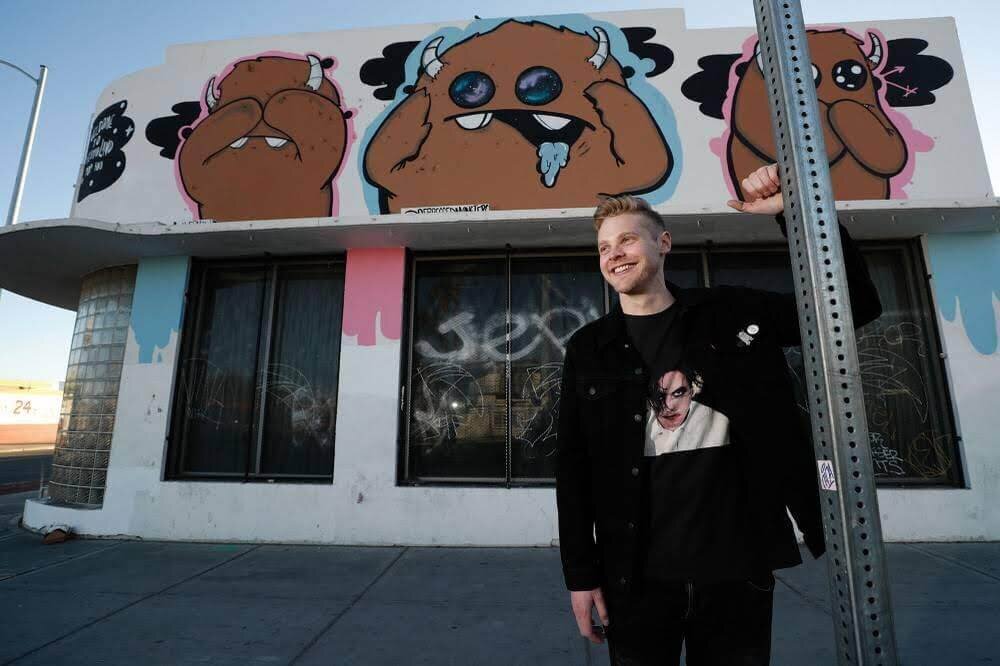 My hometown is special because it makes you curious. Vegas makes you an explorer, always seeking the "why" in every situation because for all intents and purposes, a little city built by the mob that relies on others coming here to spend money probably shouldn't exist, but here we are.
The best place(s) to stay / coolest neighborhood in my hometown has historically been Fremont East, but lately it's transitioned to The Arts District, where you can get your fill of Edison bulb-adorned restaurants serving $15 pasta plates or bars with artists doing their best Keith Haring, Basquiat or Banksy impersonations. Personally, I dig Water Street, which is nestled in Henderson (affectionately called Hendertucky, which was derived from a Nashville borough.) You can find breweries, Gold Mine Tavern and up and coming restaurants. It's on the cusp of a renaissance now, with a sports arena that was just finished.
When you're in my hometown, you absolutely need to get the $10 beer & shot special at Berlin in the Arts District then head to Double Down Saloon to catch a punk band.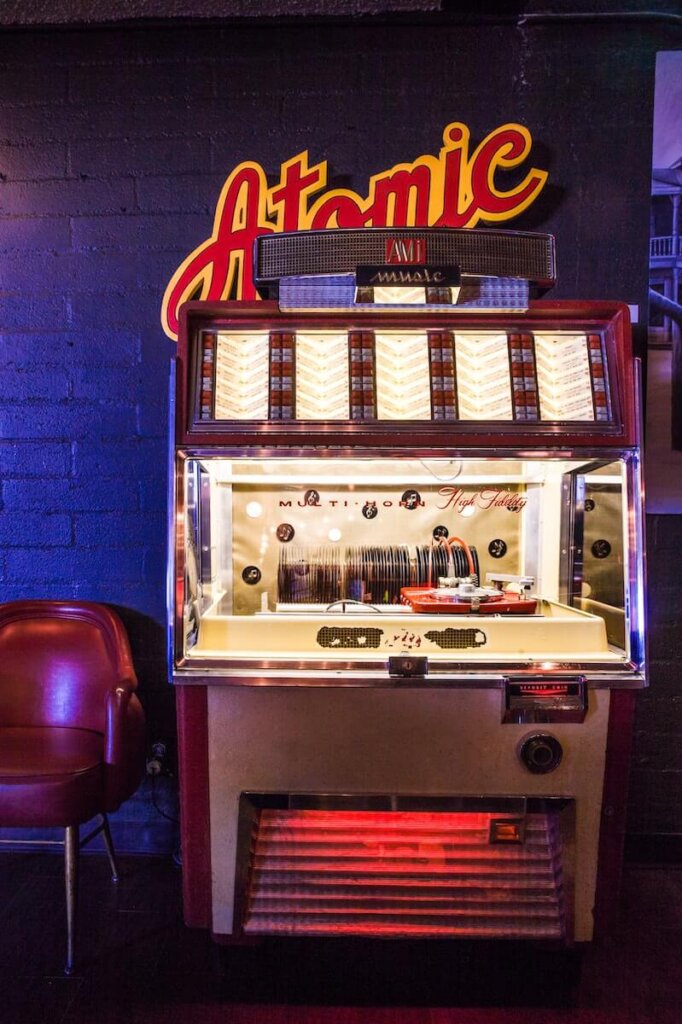 When friends visit my hometown, I always take them to Peppermill Tavern. It's a mix of kitsch, classic Vegas and over-the-top neon that's perfect for a late jaunt after a night out or breakfast in the morning. You really can't go wrong here.
If you are looking for something a bit more adventurous, check out the SkyJump – a 829 foot, 40 mph leap from the top of The Strat Hotel.
Without question, the most romantic date night spot in my hometown is probably hidden in a strip mall (all the locals know that's where the best Vegas restaurants are). I personally love sushi, so Sakana is the go-to. I'm not divulging my hole in the wall spot, you'll have to hit me up on instagram for that one.
I spend far too much money at Berlin, my bar tab is getting out of hand. (HEY BERLIN, ARE TWO CALLOUTS ENOUGH FOR A FREE TAB?!) I'm a regular at most downtown jaunts as my art studio is based there, so after work I'll try and catch up with friends at Atomic Liquors or Artifice.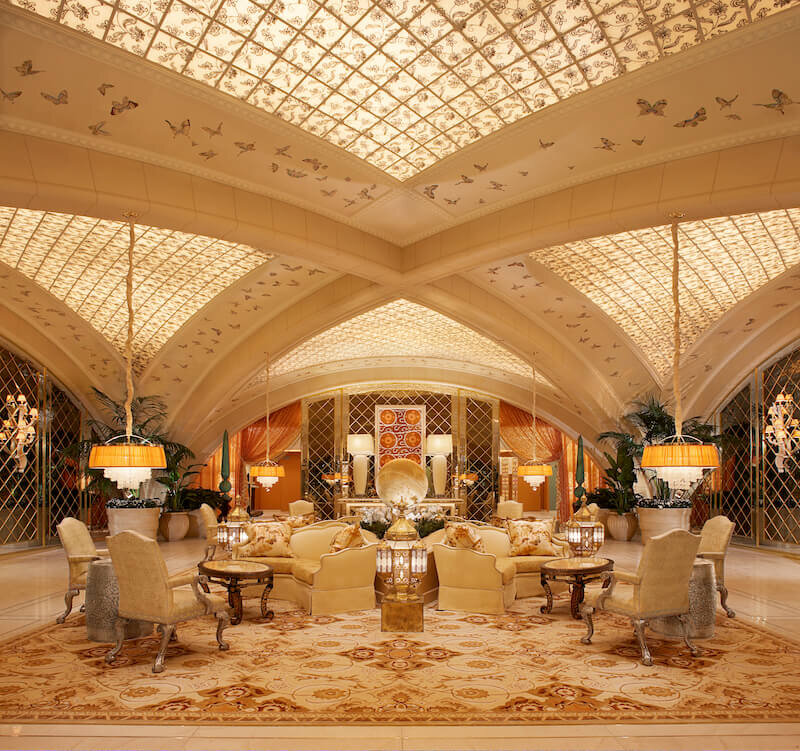 When you're in the mood for some "me time" head straight to Encore Spa. In my previous life as an ad exec, companies like Pandora or Google would take me to fancy spas on The Strip, and Encore was always my favorite. I'm a sucker for a pedicure and massage so if anyone wants to take me, I'm free!
My secret obsession is Luv-It Frozen Custard! Start your night doing karaoke at Dino's and end it with some custard.
Something only locals know about my hometown is never to take the I-15 downtown because it's a nightmare to get on the 95 off-ramp. Also, use Frank Sinatra Drive to get around The Strip.
Don't end a trip to my hometown without coming downtown to Fremont to take a picture with my murals and see my studio! It's next to Ferguson's Downtown in The Gather House and features a ton of other cool businesses and artists.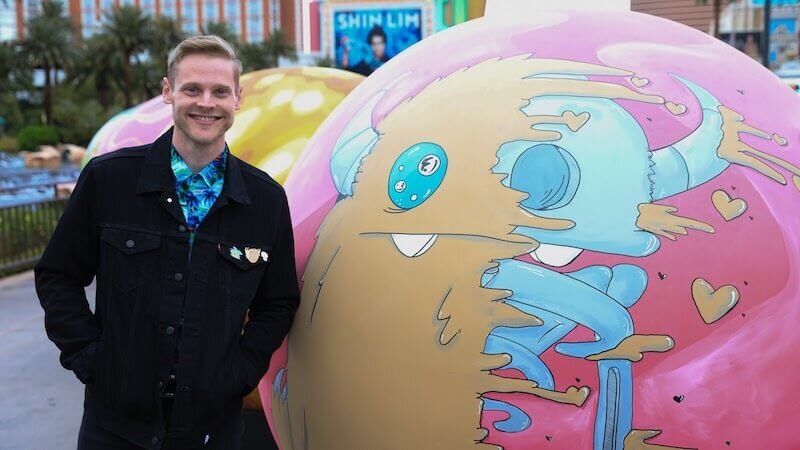 FTT's Las Vegas Recommendations
STAY at The Venetian, an opulent all-suite hotel with an award-winning Canyon Ranch spa onsite.
EAT at Best Friend at the MGM Grand, Chef Roy Choi's Korean BBQ restaurant accessed through a casual bodega.
DRINK at Gatsby's Cocktail Lounge where you can order the Champagne Bubble Bath – gin, Aperol, strawberry-rose syrup, blood orange and Champagne, served in a mini clawfoot bath tub.