Flims, Switzerland
Flims, Switzerland
A fresh take on R&R.
Save the Moncler shopping and heated sidewalks for another ski trip. Flims is a scene-free Swiss resort yet to register on the radar of most tour operators. Here, the true stars are fairytale forests, black-diamond spas and some of the longest ski runs in all of Europe. Located above what's known as the Swiss Grand Canyon, the Alpine town is a purist's paradise: By day, miles of groomed pistes and by night, apres-ski activities offer a Swiss-inflected take on R&R.
Field Notes
Uruguay is classified as a drink-now vacation, considering only three percent of the country's wine ever makes it beyond the country's borders. Its pride-and-joy varietal, Tannat, was brought here by the Basque population in the 19th century. Today, there's Cab, Merlot and even Albariño, which come in handy for those four-hour lunches. Don't miss
Bodega Garzón
, a 5,400-acre, $85-million property raising the design bar as the first winery outside North America seeking LEED certification. Tour by foot, electric bicycle, hot air balloon or arrive in style from Punte del Este via helicopter. Safety first.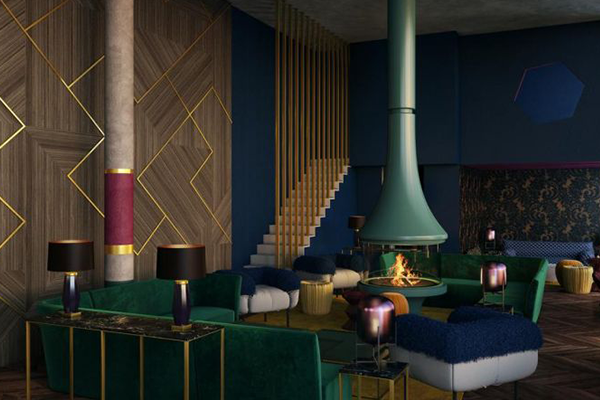 Opening December 15, the
Hide Hotel
takes the Swiss chalet concept into high-design terrain. Conceived by Norwegian artist/designer Erik Nissen Johansen, the 47-room retreat casts a new sense of high-altitude style: think moody
jewel-toned rooms
accessorized with geometric patterns and
brass embellishments
. But it's not just looks: The Hide also offers a
prime location
with ski-in/ski-out access, an on-site boutique cinema, lounge, library, as well as its own ski and snowboard school. Kids not quite ready to hit the slopes? Kindercity offers chocolate-making classes, dinosaur workshops, a robotics lab and more.
"Here, the true stars are fairytale forests, black-diamond spas and some of the longest ski runs in all of Europe."

Cocooned by skyscraper pine trees, the Waldhaus Hotel doles out what is arguably Flims' heaviest dose of Alpine enchantment: a three-story, 30,000-square-foot
spa
set among five acres of parkland. Having recently emerged from a massive makeover, the spa includes saunas, steam rooms, hammams and a striking glass-and-stone enclosed pool. Fed by hot springs and linked to an outdoor swimming area with 180-degree storybook Alpine views, the area is perched above a freshwater lagoon with koi swimming past. The hotel, which originally opened as a spa in the mid-1800s, now includes three architecturally distinct buildings — the original
Grand Hotel Waldhaus
,
Chalet Belmont
and
Villa Silvana
, all linked via underground tunnels — offering updated rooms as well as restaurants and bars, including the subterranean fondue restaurant, Il Tschaler.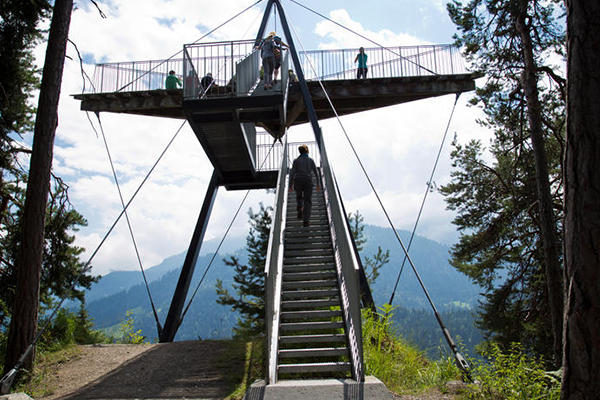 Il Spir, the 180-degree perch designed by Swiss architect Corinna Menn, is Flims' ultimate vantage point of the Upper Rhine Gorge, known as Switzerland's Grand Canyon. Step out onto the triangular, winged platform and set up your perfect shot as the Vorderrhein river runs past some 1,200 feet below. From the nearby Restaurant Conn, sleigh rides are available to Lake Cresta and Lake Cauma.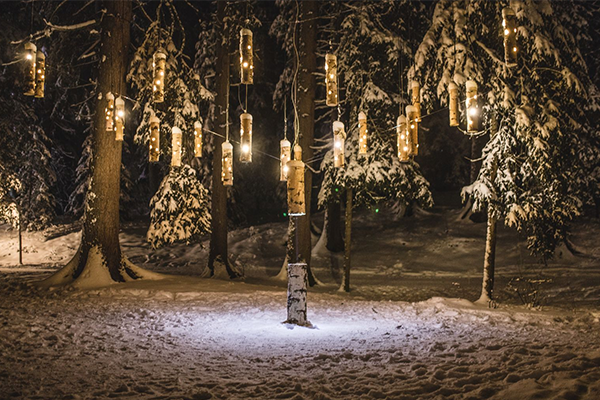 Magic Forest Lenzerheide
A 45-minute drive from Flims takes you into an enchanted outdoor experience unlike any other. Once the sun goes down, the Magic Forest Lenzerheide comes to life with a forest festival that combines light art installations, live music, culinary adventure and a Christmas market. Open from December 14 – 30.

Kick back on the
Glacier Express
, the world's slowest express train. At an average of 24 miles an hour, it's the perfect pace to take in the towering canyons, river valleys and forested hills in its path between St. Moritz and the Matterhorn. Take the entire eight-hour journey, which includes hundreds of bridges and tunnels, or opt for part of it. From Flims, visitors can board the express at the nearby Chur train station (a 20-minute drive) to get a view of the Rhine Gorge like none other. Tip: Book your meal prepared in the onboard kitchen
here
.
INN CROWD:
@Hide Hotel
DOWN TIME:
@Waldhaus Hotel
FOCUS GROUP:
@Il Spir
AFTER HOURS: @Magic Forest Lenzerheide
DAY TRIPPING:
@Glacier Express