Cusco, Peru Travel Guide: Where to Eat, Stay & Play
Cusco, Peru Travel Guide: Where to Eat, Stay & Play
By Jessica Vincent
Once the epicenter of the Inca Empire, Cusco boasts a cultural heritage unmatched by any other South American city. While many visitors simply pass through Cusco to visit Machu Picchu, FTT believes the city's stunning colonial architecture, ancient archeological sites, and thriving Andean culture warrant a longer stay.
With the steady increase in international visitors, Cusco now offers an impressive selection of accommodation options, including some of the continent's most luxurious boutique stays. The food, too, is excellent: an influx of celebrity chefs experimenting with Andean ingredients has finally brought world-class dining to Cusco. This, along with boutique shopping and vibrant nightlife, makes Cusco the perfect city getaway.
From sampling Michelin-worthy guinea pig ragout to staying the night in a 16th-century convent, here's how to spend an indulgent few days in Peru's southern gem.
Learn the Art of Andean Cooking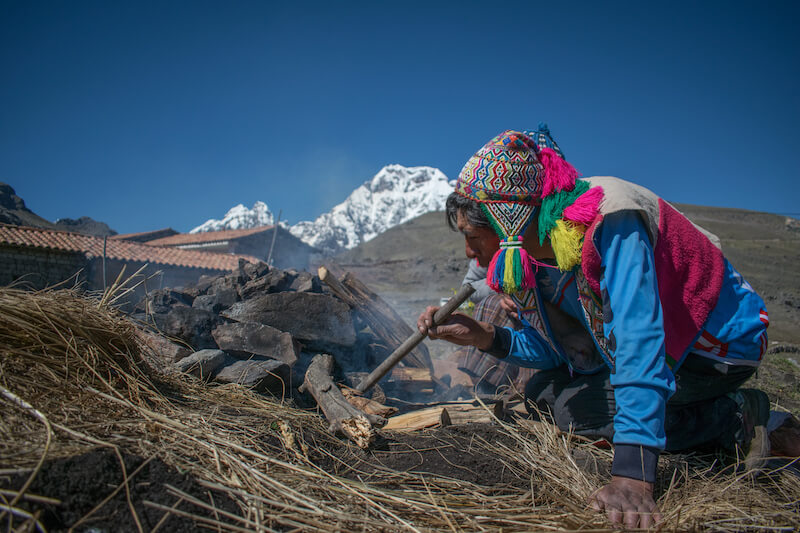 Home to some of the world's most sought-after ingredients, Andean cuisine is finally having its moment on the culinary stage. Thanks to a growing number of culinary schools and foodie experiences in Cusco, there's no better way to get a taste for Southern Peru's diverse cuisine than by putting on an apron.
TASTE Peruvian cooking studio offers a hands-on three-course cooking class led by Le Cordon Bleu-trained chef, Christian Manrique. After buying the ingredients from San Pedro market, guests cook Andean-inspired dishes such as sashimi-style tiradito, quinoa-crusted alpaca steak, and exotic fruits parfait inside a restored 200-year-old colonial home. A complimentary pisco-shaking class is also included.
For a more DIY cooking experience, learn to make the Pachamanca – an ancient Andean dish cooked under hot stones – in the nearby mountains with Peruvian Cooking, or prepare an Andean trout ceviche on a Cusco rooftop with The Ceviche Experience. For those with a sweet tooth, a bean-to-bar chocolate-making workshop with ChocoMuseo is well worth checking out, too.
Explore San Blas: Cusco's Most bohemian neighborhood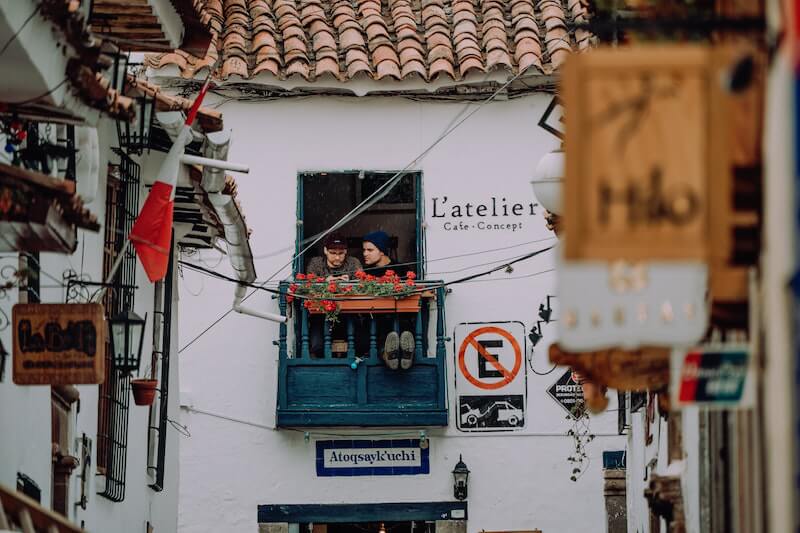 Perched on a steep hillside above Cusco's historic center, San Blas is a neighborhood of artists, musicians, and poncho-clad hippies. Its car-free, narrow cobbled streets are scattered with boutique concept stores, cozy cafes, and live music venues, making it the perfect place to explore both by day and by night.
A good way to start your San Blas adventure is with a local's breakfast at the San Blas market. It's smaller, cleaner and less chaotic Mercado San Pedro in downtown Cusco, and serves up some of the best Peruvian sandwiches (the avocado, tomato, grilled cheese, and spicy yellow pepper sauce combo is a must) and fresh fruit juices in town (the classic orange and carrot is delicious, or you can try the more adventurous purple corn, custard apple or soursop flavors).
After, stroll the winding San Blas streets, making time for a visit to Galeria Arte Olave and Artesanias Mendivil, two family-run workshops on Plaza San Blas selling the long-necked religious figurines that the neighborhood has become famous for, as well as hand-crafted Inca ceramics, sculptures, and oil paintings. For more local crafts, don't miss Cuesta San Blas and Plazoleta de San Blas, where many of the neighborhood's artisan shops and street stands are located.
End the day by watching the sunset over the city from the San Blas Observatory, followed by a craft beer or glass of wine to the beat of live reggae, jazz or Peruvian folk at KM0.
Savor Peru's national cocktail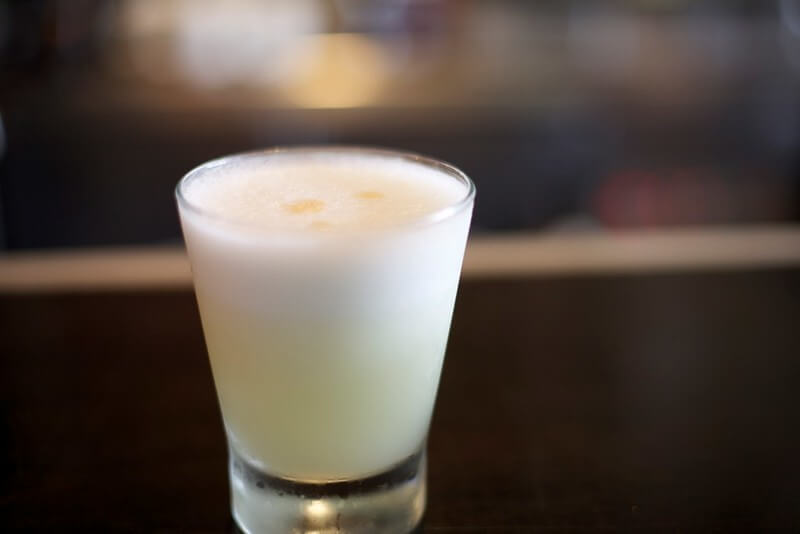 The pisco sour – a bitter-sweet cocktail made from mixing pisco, lime juice, egg white, and Angostura bitters – is Peru's national drink, and a must-try while in Cusco.
Museo del Pisco is the best place to get acquainted with the drink. Here, knowledgeable mixologists will guide you through their 40+ variations, from the classic lime juice and bitters to more creative concoctions made from exotic jungle fruits, spearmint, or sour apple. Don't miss their live music every night from 9 pm to 11 pm, or their alpaca miniburgers on sesame buns when the hunger pains kick in. The barmen at Republica del Pisco, Rumi Bar (inside Palacio del Inka), and LIMO also know their stuff when it comes to shaking the perfect pisco cocktail.
Indulge in 16th-century luxury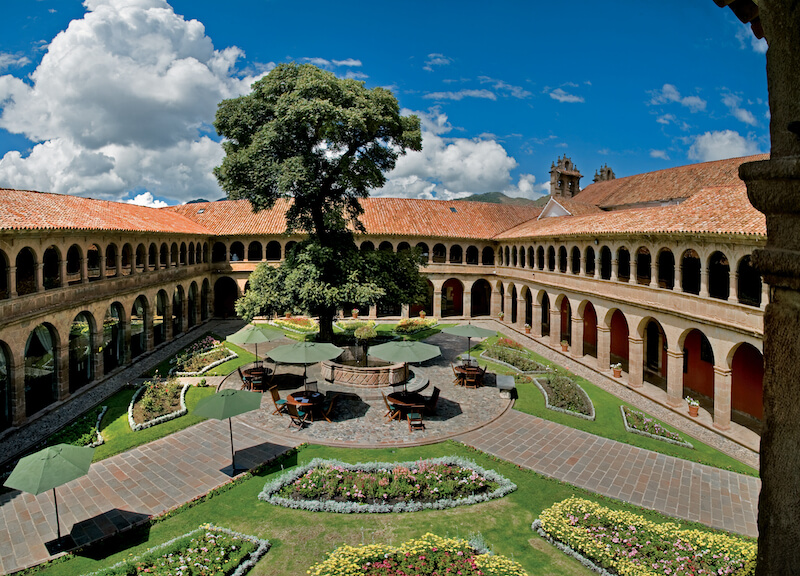 Cusco's colonial past has left the city skyline peppered with elaborately carved mansions, monasteries, churches, and cathedrals. Today, many of these decadent 16th-century buildings have been converted into five-star hotels.
The decadent Belmond Hotel Monasterio, located just a stone's throw away from Cusco's cathedral and Plaza de Armas, is housed inside a restored monastery. Its 122 oxygen-enriched rooms (Cusco suffers from a lack of oxygen due to the altitude) are set around an arcaded stone courtyard built in 1592, which in the evening hosts romantic candle-lit dinners and opera concerts.
Adjacent to the Hotel Monasterio is the Belmond Palacio Nazarenas. Art-draped walls, Inca stone archways, and intricate wood furnishings give this former 17th-century convent a palatial feel. Highlights include 24-hour butler service, a fully oxygenated spa, and Cusco's only outdoor heated pool.
Opposite Cusco's Temple of the Sun (one of Southern Peru's most sacred sites) and Santo Domingo church sits Palacio del Inka, a five-centuries-old mansion turned luxury five-star hotel. Deep red velvet carpets, stone balconies, and gold detailing hint at the mansion's colonial history (it was once owned by the brother of famous Spanish conquistador, Francisco Pizarro). But the Palacio del Inka isn't stuck in the past: state-of-the-art facilities, such as hydrotherapy pools, gym, and a fully-equipped business center, offer all the 21st-century luxuries you'd expect of a high-end hotel.
Inkaterra La Casona – a 16th-century mansion in Cusco's bohemian San Blas neighborhood – once served as a luxury hideaway and party pad for high-ranking conquistadors. Today, La Casona remains just as exclusive: with only 11 rooms (each of which boasts a king-sized bed, marble bathroom, and an open fire), a stay at La Casona is an intimate, boutique-style affair most suited to couples on a romantic getaway.
Get a taste for Cusco's growing gourmet scene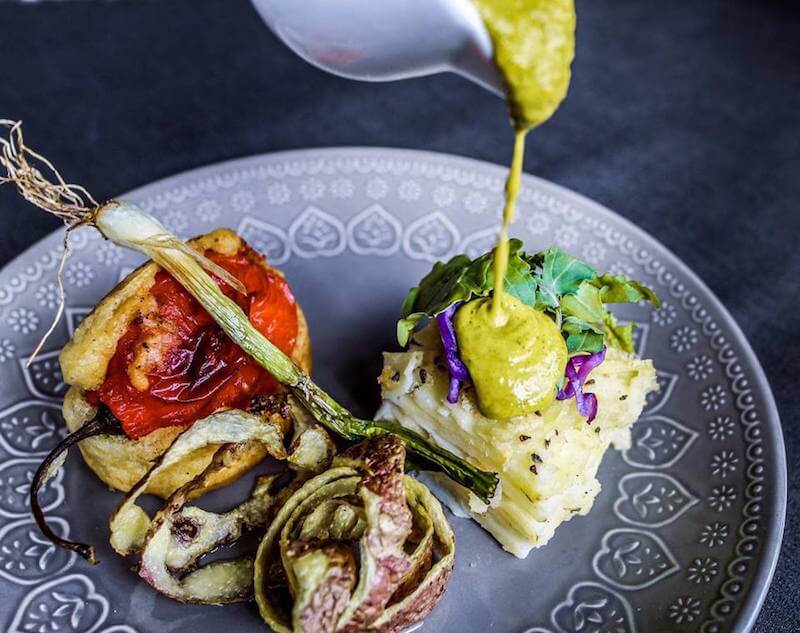 Lima may get all the attention when it comes to international gourmet success, but Cusco is fast becoming Peru's second culinary hub. From alpaca carpaccio to quinoa leaf puree, Cusco chefs are fusing age-old Andean ingredients with contemporary cooking techniques to bring high cuisine to Peru's south.
For Andean classics with a gourmet touch, opt for Gaston Arturio's (from World's Top 50 Best restaurant Astrid & Gastón in Lima) Chicha, where dishes like lomo saltado (an onion, pepper, and sirloin steak stir-fry) and aji de gallina (chicken cooked in yellow chili peppers, walnuts, and turmeric) take pride of place.
MAP Cafe – a candle-lit restaurant located in the cobbled courtyard of the Museum of Pre-Columbian Art – also focuses on local ingredients. Here, choose from exquisite handmade tortellini filled with slow-cooked cuy (guinea pig) or a fresh lake trout tartare served with Andean seaweed, tomato gel, and pickled basil seeds.
For a taste of Peruvian-Chinese cuisine (known locally as chifa), opt for KION, a stylish restaurant that explores Peru's 200-year-old Chinese culture through dishes such as pan-seared trout dumplings and chia-breaded crispy shrimp. Italian-Peruvian restaurant Incanto also prides itself on its inventive fusion dishes, such as trout pizza and guinea pig ragout.
Lastly, Green Point, a vegan restaurant located in Cusco's hip San Blas neighborhood, offers some of the city's most inventive meat and dairy-free dishes. Choose from smoked aubergine and seaweed sushi rolls and refried bean patties served with a beer sauce and Andean herb vapor, or simply sip on a superfood fruit smoothie on their terrace.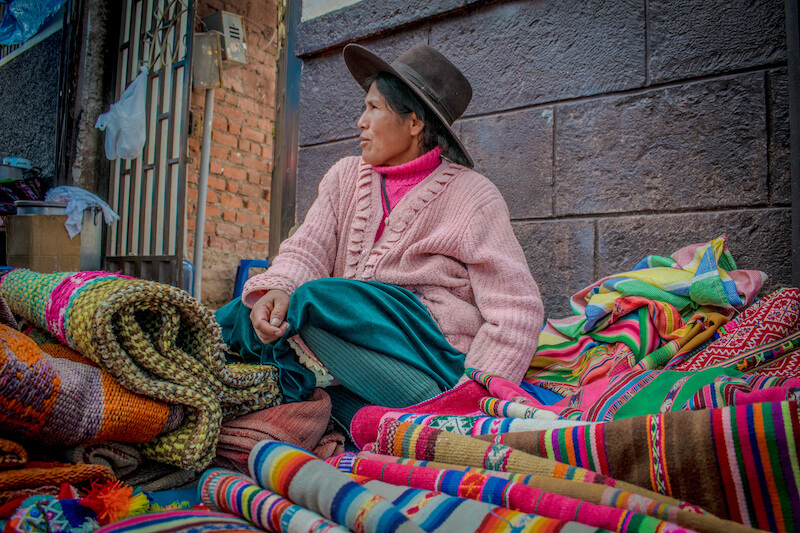 Peru is known for producing some of the highest quality alpaca and vicuña wool textiles in the world – and there's no better place to go shopping for them than in the country's textile hub, Cusco. But not all textiles here are made equally, and quality can vary significantly depending on where you shop.
If you want to buy traditional, ethically-made textiles directly from producers, as well as have the opportunity to see local artisans at work, Centro de Textiles Tradicionales del Cusco and the Quechua Museum are both good options. For more contemporary designs, check out Hilo and Kuna, two ultra stylish boutiques in the San Blas neighborhood selling only the highest quality textiles, including much sought-after alpaca and vicuña wool scarves and sweaters. L'atelier Cafe Concept, Arte Antropologia and Altiplano Collective also offer a great selection of fair-trade textiles and hand-crafted souvenirs to take home.