Copenhagen Travel Guide: Where to Eat, Stay & Play
Copenhagen Travel Guide: Where to Eat, Stay & Play
Copenhagen is beautiful and wholesome in equal measure. It's fashionable without ever being showy, and incredibly cool yet refreshingly nonchalant about its trendsetting status. This is a city where you can casually zip from your exquisitely stylish hotel to one of the world's finest restaurants on a humble bicycle, and finish your night drinking craft cocktails on a barroom sofa, enveloped in woolen blankets.
Here's a run-down of what makes the Danish capital one of our favorite European destinations.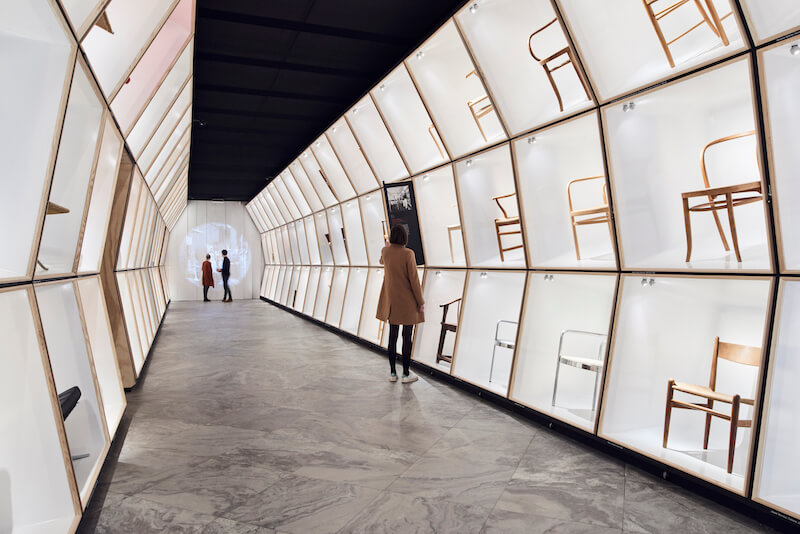 It is a universally acknowledged truth that the Danes have a talent for aesthetics, and nowhere is that fact more evident than in Copenhagen. Sleek shapes, functional designs, and minimalist interiors are evident all over the city, making it feel like one huge magazine spread.
For a deep dive into the history of Scandi style, add the Designmuseum Danmark to your itinerary. Situated inside the same building that once housed the country's first public hospital, the museum includes work by beloved Danish designers Arne Jacobsen, Jacob Jensen, and Kaare Klint. On the more modern side of things, the annual 3daysofdesign festival, held in May, brings together the country's best and brightest creatives working in furniture, design, lifestyle, lighting, and interiors.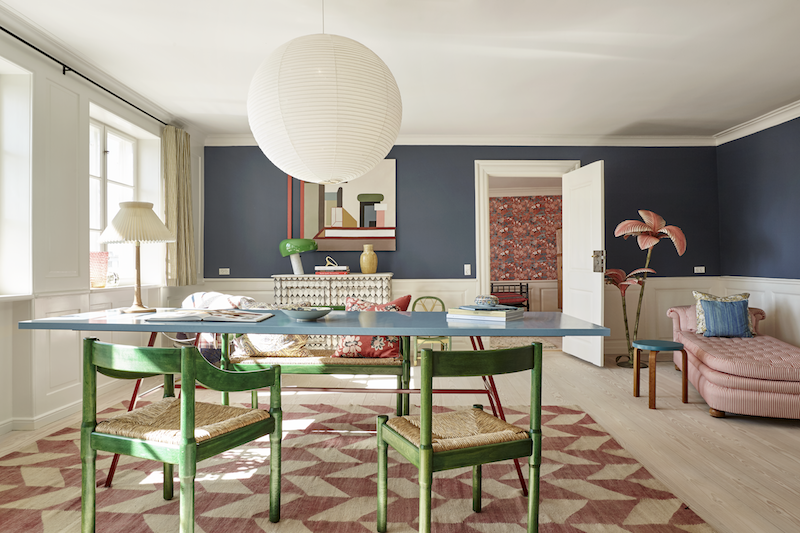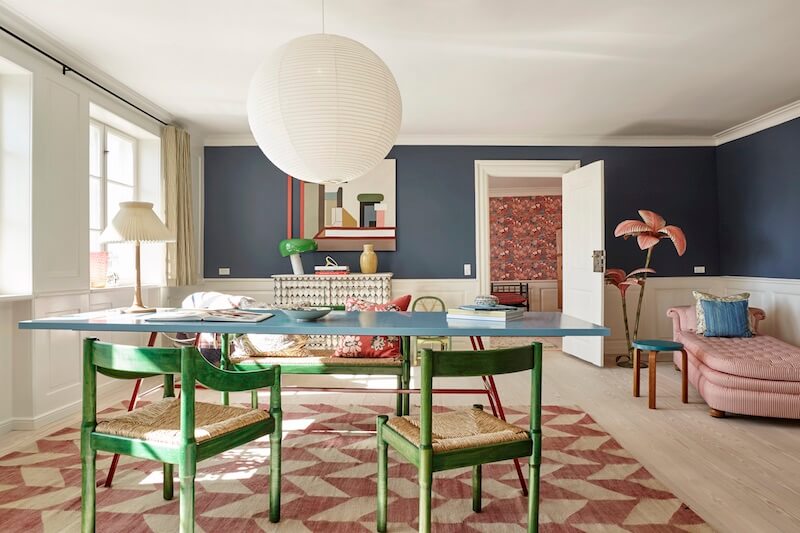 If you plan on scouring design stores for envy-inducing pieces to bring home, there are three we recommend: The Apartment, a design gallery styled like a private home, where everything from the throw pillows to the artwork is for sale (pssst...you can also stay overnight at the Apartment Residence); a studio-showroom-boutique hybrid owned by creative consultant Oliver Gustav, which looks like a museum of elegant grey artifacts (his made-to-order collection of sofas and armchairs covered in dyed hemp and linen is particularly gorgeous); and Designer Zoo, a design store with workshops attached, which is full of suitcase-friendly handicraft pieces.
Hunker down in Copenhagen's hygge bars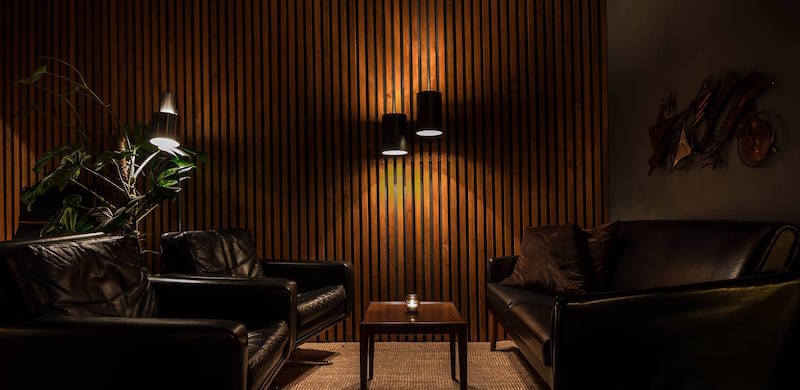 The tricky-to-translate Danish concept of hygge describes a quality of coziness and comfortable ease. It's about the simple pleasures of low-lighting, snuggly surroundings, and good company, and Copenhagen has all of the above in spades.
The best hygge ("hue-guh", FYI) spots for after-dark socializing are The Living Room, which has an open fireplace in the corner, and lots of squishy sofas for lounging; Duck & Cover, a low-key but award-winning cocktail bar with interiors styled after the owner's grandmother's home (it's way more stylish than you're imagining); the Whisky Bar at Lidkoeb, a cozy hideaway in a wooden attic; and sensational cocktail spot Ruby, which is housed inside an old townhouse adorned with leather armchairs, reading lamps, and candles (note: the food here is great, too).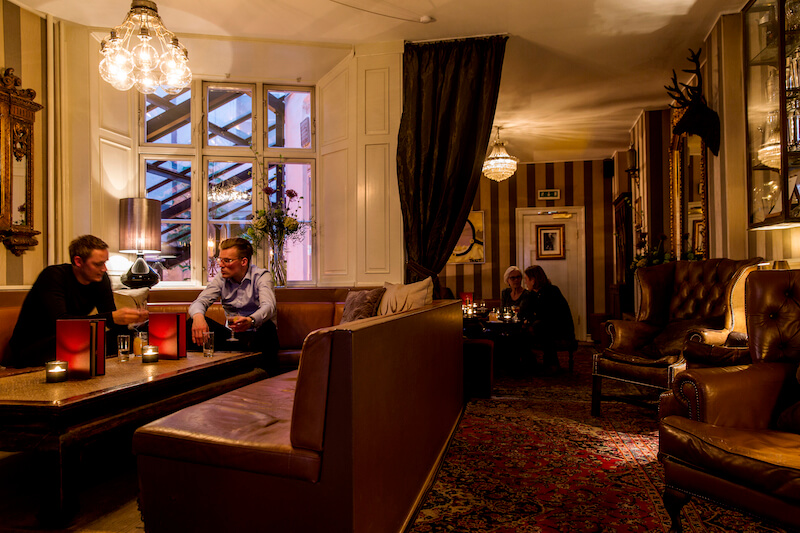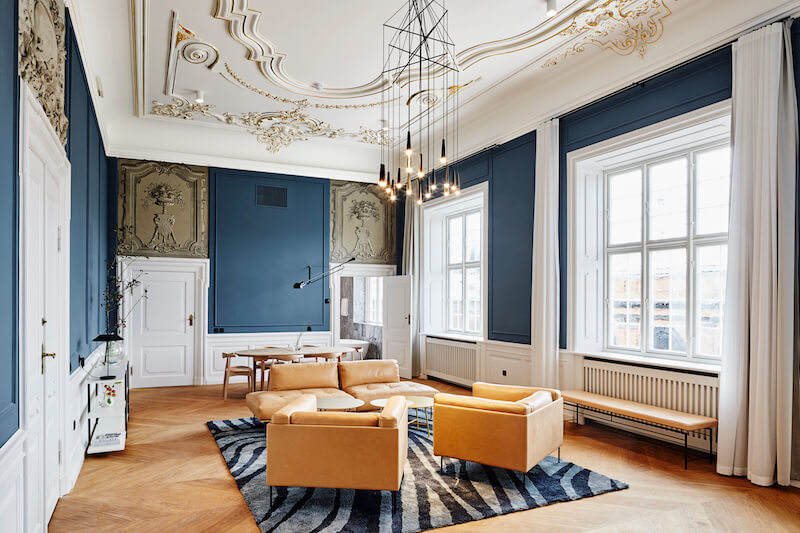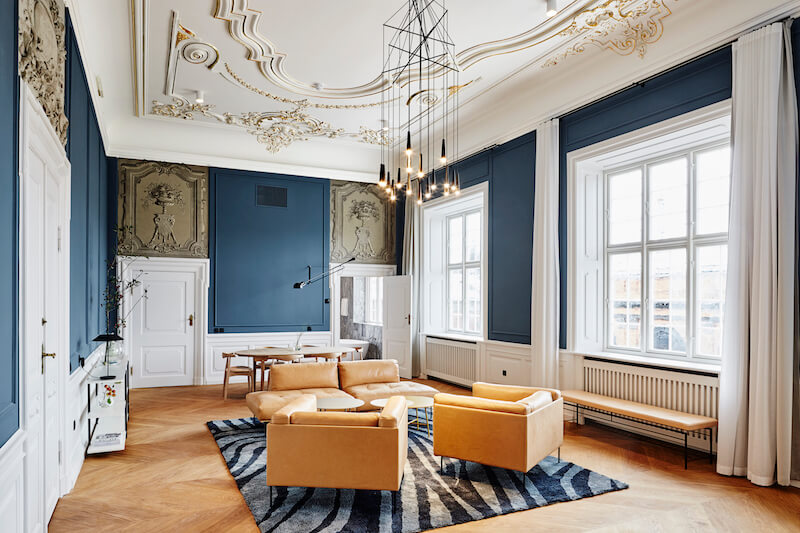 If, like us, you live for a truly beautiful hotel, you'll be spoiled for choice in Copenhagen. The list of impeccably styled accommodations is long, but we have a handful of favorites: Hotel Sanders, owned by royal ballet dancer Alexander Kølpin, which is smack-bang in the city's cultural district, and boasts beautiful interiors in shades of olive and cream; 71 Nyhavn, a renovated warehouse with wood-beamed ceilings and calming nautical views of Copenhagen's waterfront; The Nobis Hotel, which contains custom-designed furniture and fancy Swedish-made beds with modern four-poster frames (the Nobis Suite, in particular, is stunning); and the Vipp Loft, a sprawling, stylish vacation apartment from the Danish design company, decked out with Vipp products and furniture, and defined by its spiral staircase and dramatic pitched roof.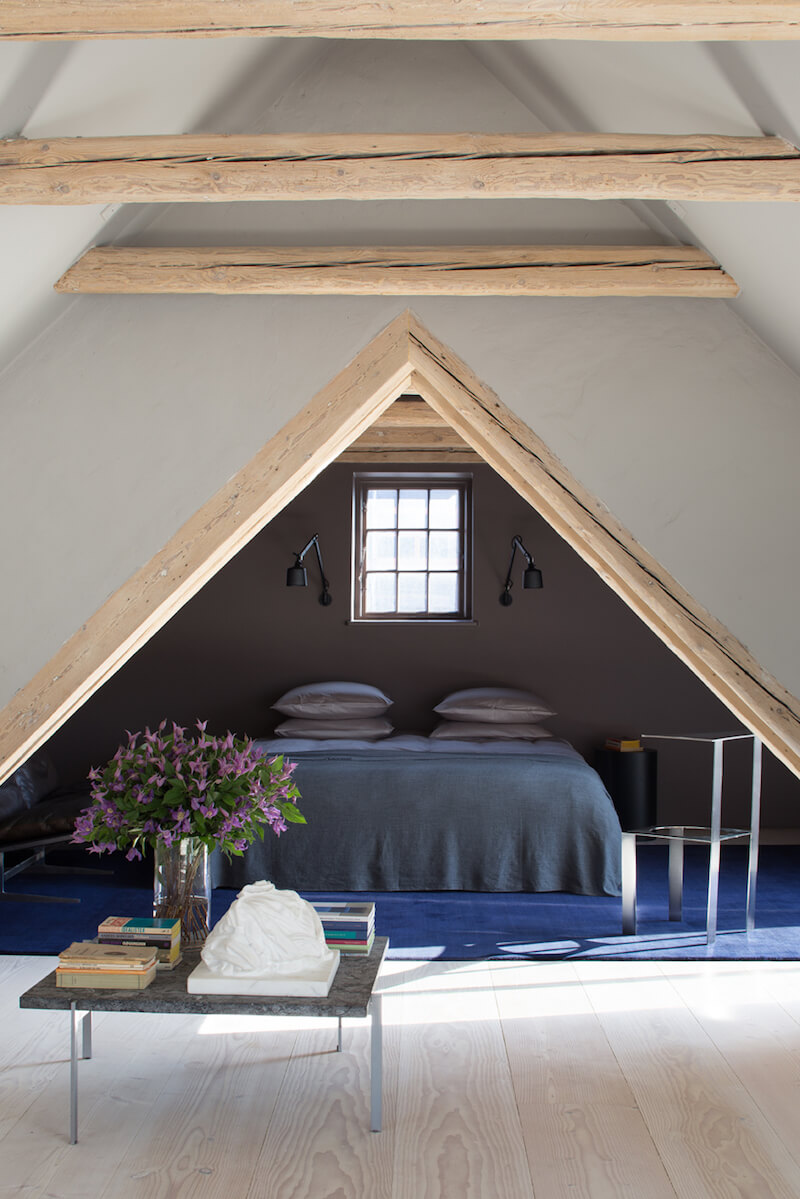 Sail around the harbor on a floating spa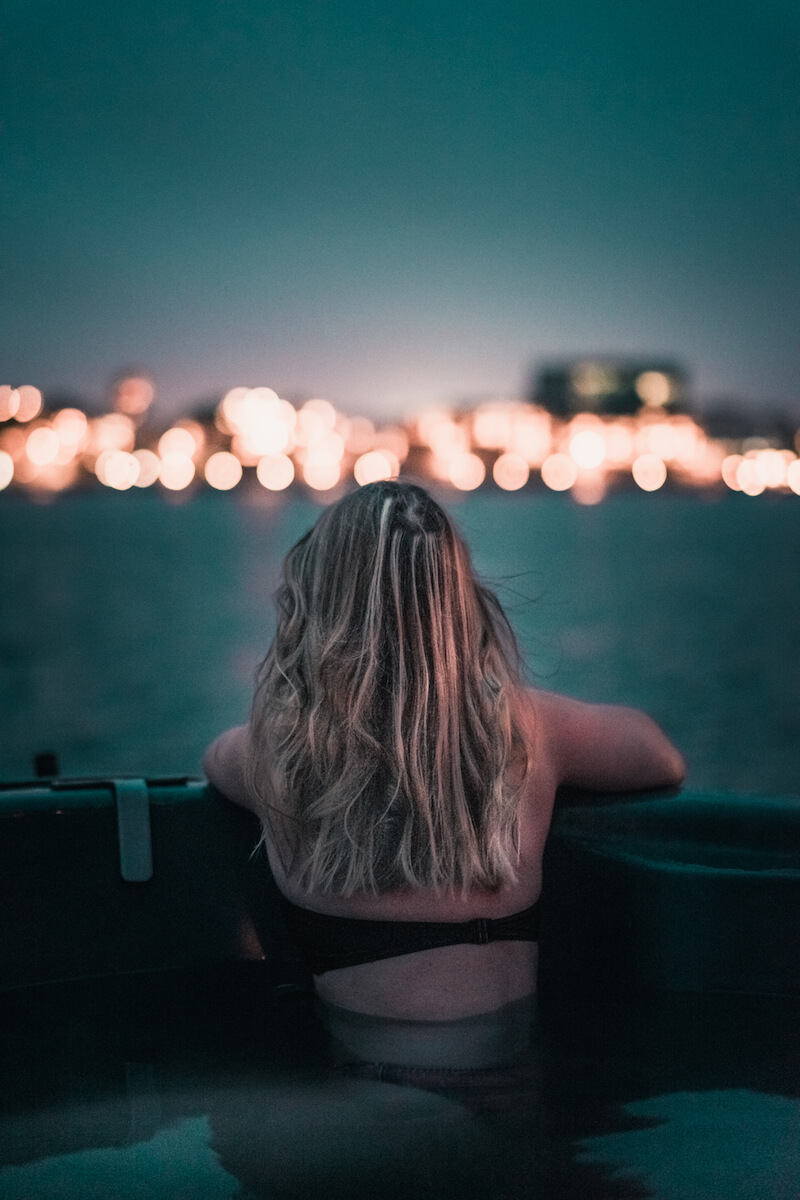 Like many countries this far north, Denmark has a spa and sauna tradition ingrained in its culture. CopenHot aims to update the tradition by bringing it to the urban setting of Copenhagen's harbor. There are many ways to experience the company's "new Nordic wellness" concept, from five-person sailing hot tubs steered by their own captain, to a fire-heated panoramic sauna with views of the Little Mermaid statue – all of which blend self-care and socializing in a way that feels quintessentially, delightfully Danish.
See the city on two wheels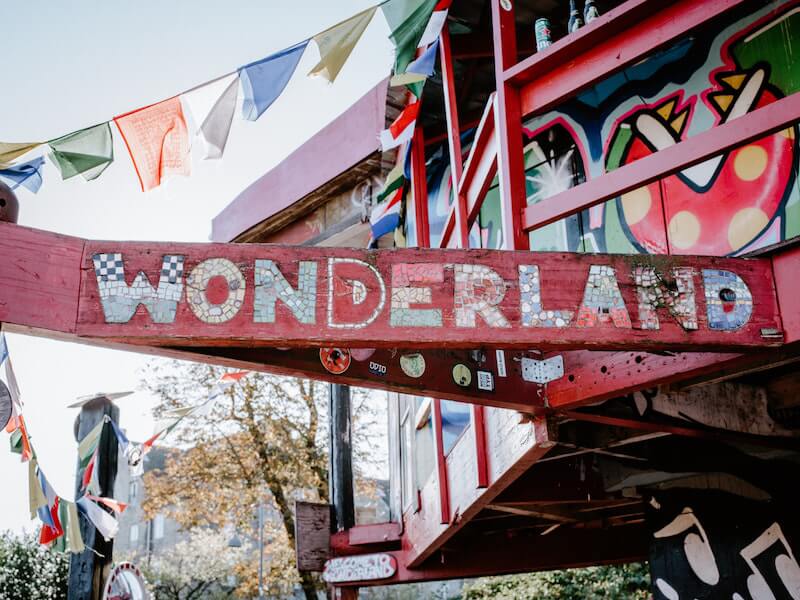 Copenhagen is famously bike-friendly and full of interesting spots that will entice you to hop off and explore as the whim strikes. Start at Nyhavn, the 17th-century waterfront famous for its colorful facades, and cross the bridge to visit Reffen, a street food and crafts market. Next, make your way to Christiania, a self-styled "freetown" founded in 1971 by hippies and anarchists. These days it's known for its psychedelic street art and relaxed approach to weed, centered around the aptly named Pusher Street (note: despite Christiania's separatist sentiment, and minimal police interference, cannabis is still illegal in Denmark) and there are some cool cafes, bakeries, and bars to refuel at before heading back.
Embrace high-low Nordic dining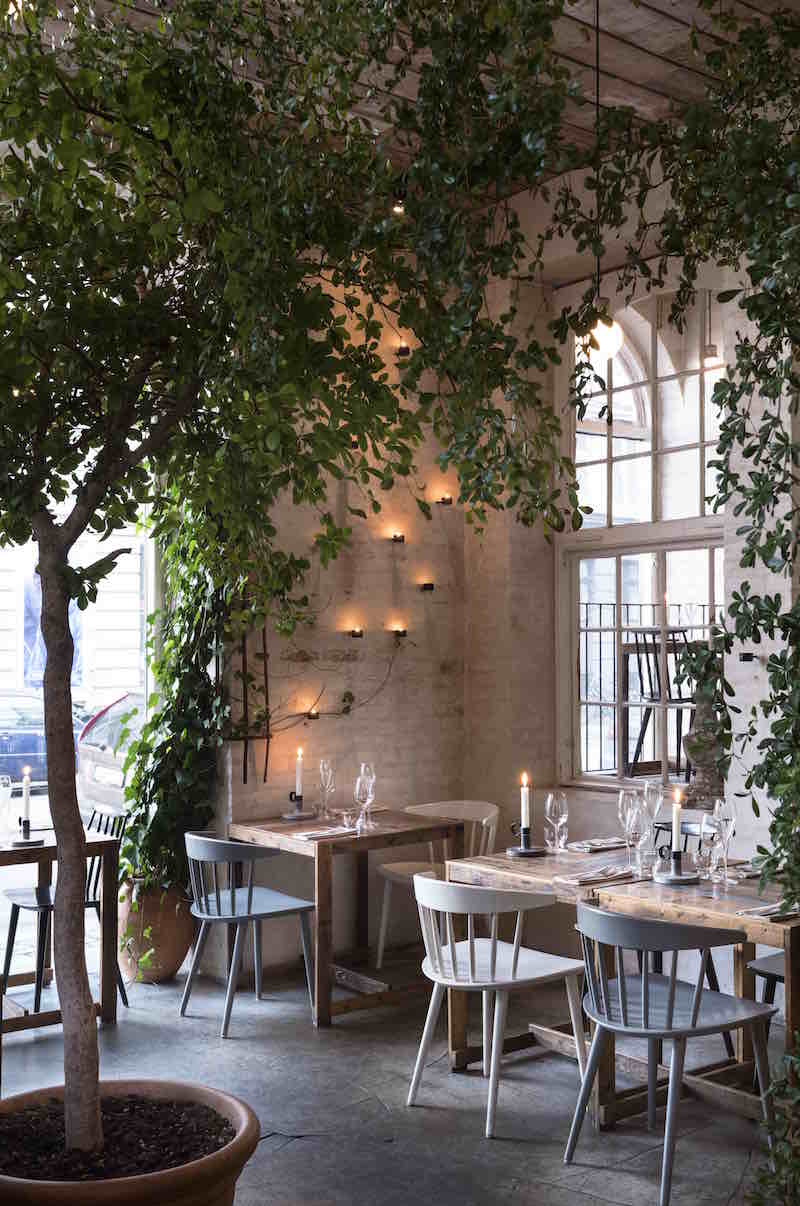 Copenhagen does that mix of fine dining and moreish street food really well. When you come across it, graze on traditional fare like smørrebrød (open-faced rye sandwiches), wienerbrød (a Danish puff-pastry treat), rød pølse (a red, boiled pork sausage), and Gammel Dansk (a bitter liquor for sipping).
For memorable dinners, the choices are myriad. Høst, named after the Danish word for harvest, serves quintessential Nordic cuisine – think smoked scallops with Nashi pear, creamy ratte potatoes with lemon thyme and black trumpet mushrooms, and apple sorbet with pound cake and red sorrel – with a seasonal bent. And, like just about everywhere in Copenhagen, the setting is also beautiful; Høst has won awards for its design as well as its food.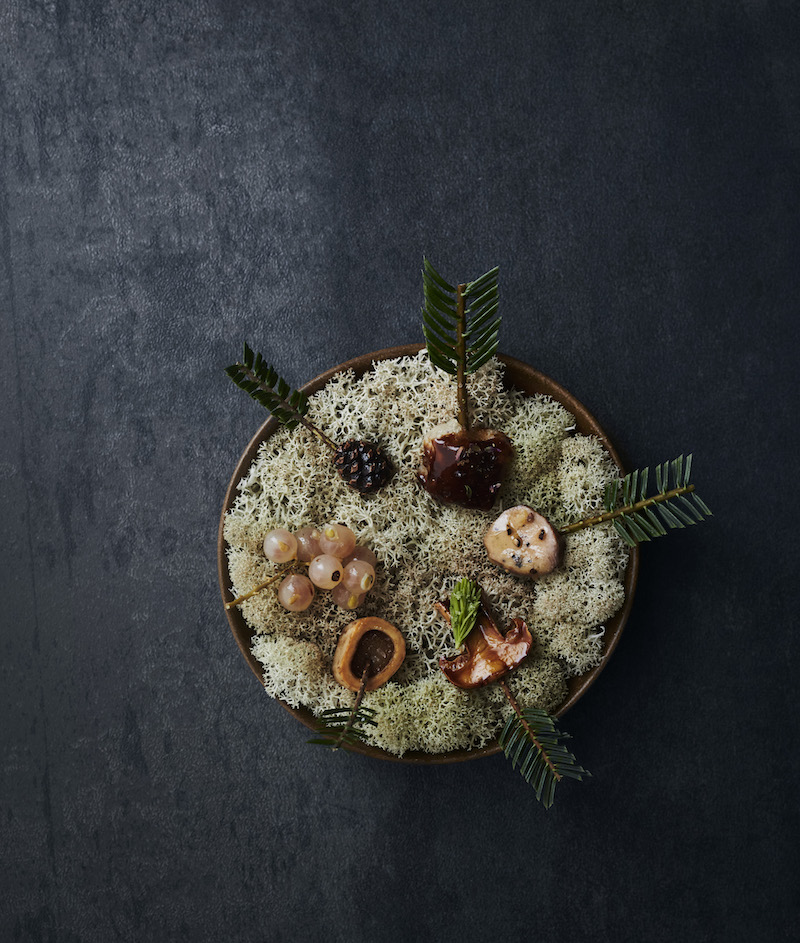 Noma, which as of 2019 is considered the second best restaurant in the world (it has claimed the top spot for four years previously), is unique in its approach. After moving his restaurant to a new lakeside plot with greenhouses in 2017, chef René Redzepi launched a new menu structure pegged to the seasons: four months of seafood, four months of vegetables, and four months of game. Each season contains around 20 courses – each as unexpected as it is delicious.
Another lauded restaurant flying the flag for New Nordic cuisine is Geist, a seasonally driven spot with a long menu of small share plates. For the most part, the menu is arranged with lighter, smaller dishes at the top and richer, larger dishes near the bottom. The genius of chef Bo Bech is evident in his simple, complementary flavor combinations. Think rose cabbage with squid and horseradish, young duck breast air-dried with pickled cherries, and the tongue-in-cheek dessert favorite: air in air in air tiramisu!