Cape Town Travel Guide: Where to Eat, Stay & Play in the Mother City
Cape Town Travel Guide: Where to Eat, Stay & play in the Mother City
Cape Town is singular in its beauty, a coastal city with a majestic mountain backdrop and celebrated design aesthetic boasting chromatic Muizenberg beach huts and the luminous residential neighborhood of Bo-Kaap. Add to that a noteworthy dining scene, neighboring winelands, plus nightlife and wildlife in equal measure, and Cape Town might just be the perfect vacation spot.
FTT co-founder Nick Van Sicklen calls it his favorite city in the world, noting that Cape Town is "like taking the best parts of Sydney, San Francisco, and Miami, and condensing it to half the size." Fresh off his South African honeymoon, Nick shares his favorite discoveries from the Mother City.
FTT Tips:
Uber is unbelievably affordable in CT. A 20 minute ride will set you back about $3, so you won't necessarily need to rent a car.
Clifton is our favorite beach in the city. Bring cash when you visit, so you can rent a beach chair and buy drinks.
If big nature is your thing, you'll find yourself spoiled for choice in Cape Town. Follow the lead of locals, and start the day with coffee and surfing, or an early morning trail run up Lion's Head. The city's most iconic peak, Table Mountain, is a bigger challenge, and not for the faint of heart or weak of quads. It's roughly a two-hour ascent up steep, rugged trails that occasionally call for all-fours scrambling, but when you finally reach the top, you'll be rewarded with views all the way to Cape Point. Grab a celebratory drink and snack from the cafe, then catch the cable car back down to the city.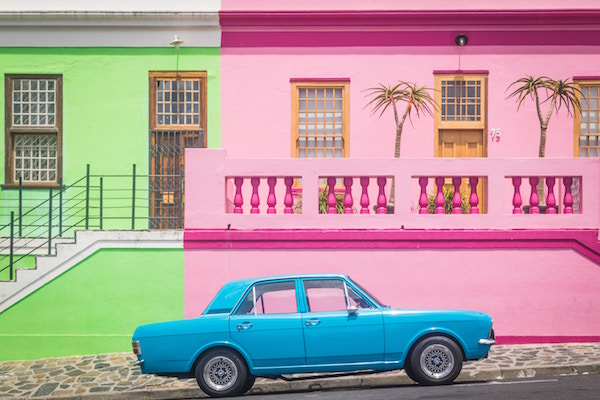 The gloriously vibrant neighborhood of Bo-Kaap is often listed in social media-friendly roundups of the most colorful places in the world. While these streets lined with vivid houses seem created for Instagram, their history is far more meaningful. Previously known as the Malay Quarter, Bo-Kaap was founded by freed slaves who originally hailed from South East Asia. During apartheid, the area full of whitewashed one and two-story homes, was designated a Muslim neighborhood. It was only after the repressive regime fell that the residents of Bo-Kaap painted each exterior – an expression of freedom, individuality, and ownership.
On a Saturday, make your way to the Old Biscuit Mill in Woodstock, a converted factory that's now a market. Inhabited by artisans of all descriptions, this is where you come to buy ceramics, jewelry, art, home decor, and beauty from the city's micro-merchants. It's also one of the best places to get a meal; the Mill is filled with food vendors offering every cuisine imaginable, including South African specialties.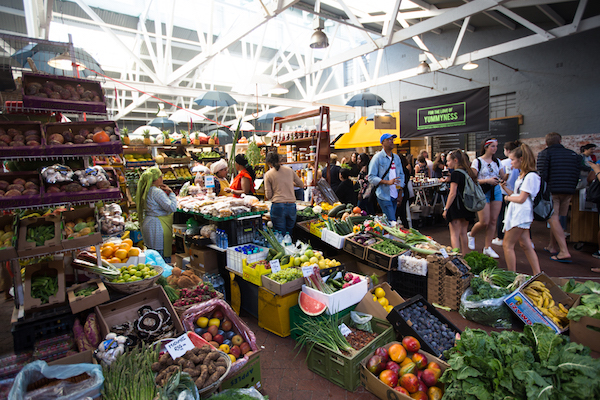 Another of Cape Town's myriad assets is wine country. Nick and his wife picked Franschhoek, which is an hour from the city and a little less tourist-filled than some of the alternatives. Using Le Petite Ferme, an upscale boutique hotel and wine estate with bucolic views, as a base, they zig-zagged across the countryside for tastings and meals at Babylonstoren, Boschendal, Delaire, and Le Mott. There are more than 250 wineries in the area, so you'll have no issue pleasing your palette.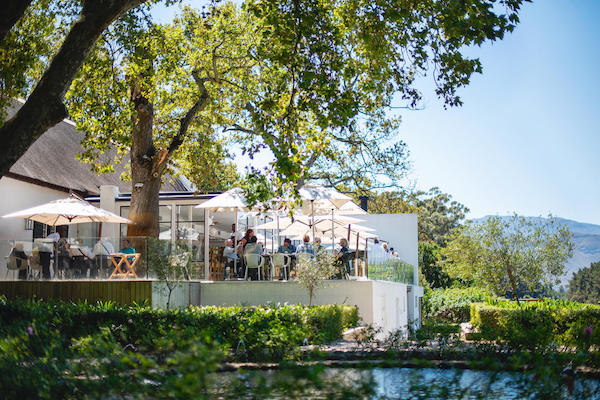 The buzzy Victoria and Alfred Waterfront development is made for visitors, with its sleek harbor setting and striking Table Mountain backdrop. Alongside swanky restaurants and shops, this is where you'll also find many of Cape Town's most high-end hotels, including The Silo – 28 colorful rooms that feel oh-so Cape Town, housed inside a glittering tower of geometric windows – and One & Only, a luxurious waterfront property boasting an infinity pool surrounded by designer cabanas, and a private marina that lends itself to stand-up paddle boarding sessions.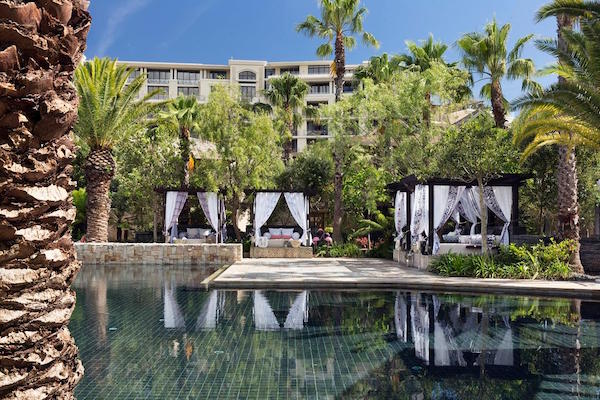 For affluent and trendy Malibu Beach vibes, make Camps Bay your base. Our top pick for accommodation here is The Marly, a boutique hotel with mountain views out of one side and unobstructed Atlantic ocean vistas from the other. The Marly is sleek. Rooms have an airy color palette with swirled marble coffee tables, reclined chairs encased in white leather, mirrors that lend a spacious quality, and balconies made for watching flamboyant sunsets.
It's difficult to imagine a more gorgeous restaurant than Kloof Street House. A Victorian house divided up into distinct dining spaces, the restaurant's decor is eclectic and charmingly eccentric in places. Enjoy a menu of deliberately sourced ethical meats and local veggies in the snug library during cooler weather, or dine out in the verdant garden if the evening is suitably balmy.
La Perla is a dining institution in Cape Town and has been drawing an impressive crowd of celebrities and taste-makers since its founding in 1959. Beloved for its beachfront patio and the finest seafood in the city, this is the place to come for your fill of lobster and icy-cold white wine.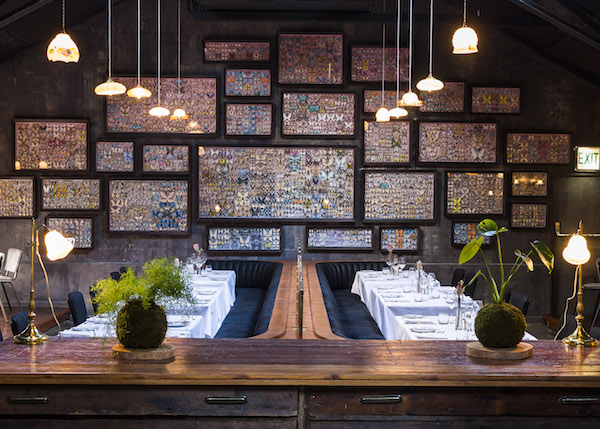 Everybody raves about Test Kitchen, but Nick rates its sister restaurant, The Shortmarket Club. This beautiful space, decked out with leather banquette seating, vintage lamps, and a wall of framed butterflies, is known for its constantly changing menu. Whatever the chefs happen to be cooking up on your visit, expect it to be plated like a work of art and impeccably paired with local wines.
Set amid the perfect boulders of Clifton, Bungalow is an oceanside happy hour spot with views of the Twelve Apostles and Lion's Head. Nick calls it the best sunset spot in the city, with a Hamptons-like crowd, Mediterranean seafood-centric menu, and a lengthy Champagne list.
Gin is the tipple of choice in South Africa at the moment. There are approximately 30 distilleries in the Western Cape, and the city itself has a slew of cocktail bars that specialize in the drink. Our recommendation is Botany, a gin spot hidden behind the courtyard of Patina Steak restaurant in the Newlands Quarter. It's got a gin menu as long as your arm, and more varieties of tonic water than you ever knew existed. The decor is on-point, too. Vintage mirrors, velvet seating, hanging ferns, and etched crystal cocktail glasses feel like a very appropriate aesthetic for a speakeasy bar that celebrates the botanically infused spirit.
If you're after more of a scene, head to Camps Bay rooftop bar, Chinchilla. The style here is beachy, with basket lampshades, a long wooden bar, and bright cushions with pom-pom trim. It's a popular choice for the sundowner set, who congregate over cooling cocktails like the Wave of Ginger (Ciroc vodka, fresh watermelon and cucumber juice, ginger beer) and seafood snacks, from oysters to grilled shrimp with lemon, butter, and spicy garlic.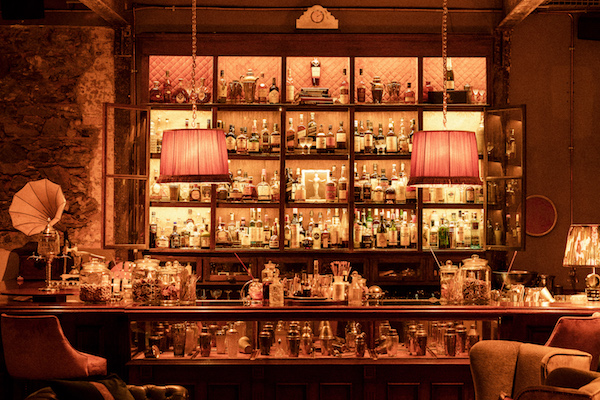 The Art of Duplicity takes the speakeasy theme and runs with it. You need a password to enter this establishment, which you'll get when you make a reservation, along with a clue to its secret address. Resident mixologist, Brent Perremore, won in the regional leg of the World Class South Africa Mixology Finals 2018, so expect complex and uniquely flavored cocktails here. Visit The Art of Duplicity on a weekend evening and sip to a soundtrack of live jazz that'll make you feel as if you're in 1920s New York.
Gigi Rooftop bills itself as "a living room for the neighborhood" – a place where overstaying your welcome, lounging on a leather sofa or by the pool, is encouraged. Situated on the 6th floor of the Gorgeous Gorge hotel, in the historic downtown area of Cape Town, Gigi's is as pretty at night, when spotlights illuminate the jungle of potted and hanging plants, as it is during the daylight hours.